How the future of TV was reshaped by 2020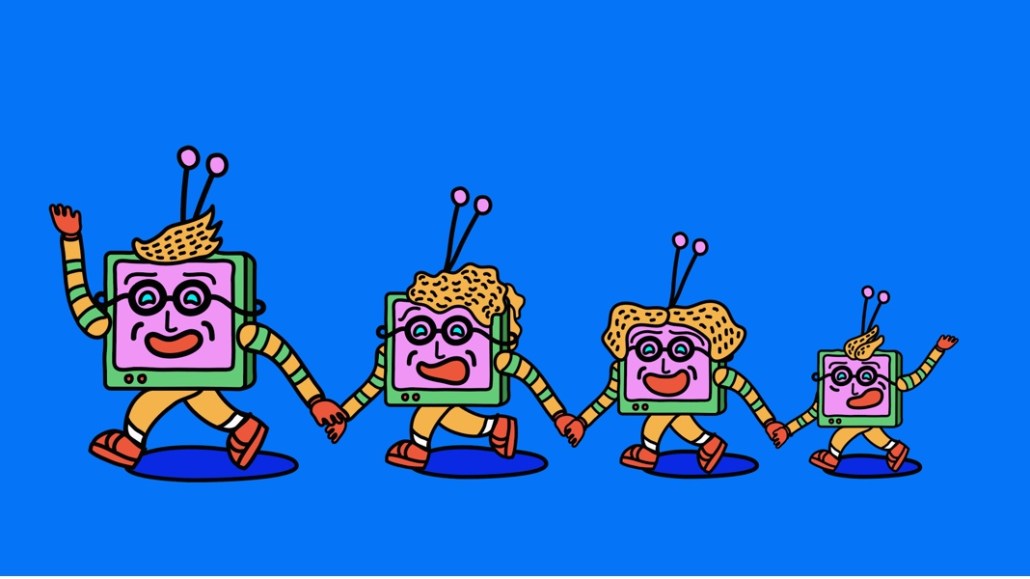 Ivy Liu
This year, 2020, won't end when the calendar flips to Jan. 1. Its impact on the future of TV — that blurring of traditional TV, streaming and digital video — will continue into next year and the foreseeable future.
And the view on what's to come is ridiculously fuzzy.
So let's set aside looking ahead until the next edition of the Future of TV Briefing and end the year looking back at how the TV, streaming and digital video industry changed in 2020.
This year everyone — from major media conglomerates to TV advertisers to digital video producers — had to adapt in ways they hadn't needed to before. While the shift to streaming has been in plain view for years, in 2020 TV network groups had to speed up their own internal shifts, and connected TV platforms, streaming services and digital video platforms accelerated their own development cycles in response to the streaming viewership surge. Meanwhile, the traditional TV advertising industry had to find a newfound level of flexibility, as did TV, digital video and commercial producers who had to pivot to remote productions. But not everyone adapted well to 2020, which marked the first full year of the streaming wars — as well as its first casualty.
Streaming took center stage
For the better part of the past decade (at least), streaming has been on pace to usurp traditional TV as the dominant way that people watch shows. Technically, that has yet to happen. Even in the second quarter, when shelter-at-home orders were at their strictest, adults in the U.S. spent, on average, 4 hours and 8 minutes per day watching shows on traditional TV compared to 1 hour and 12 minutes spent streaming programming on CTV, according to Nielsen. But at some point, that balance will change, and that tipping point is nearer now that the companies making the shows are prioritizing streaming.
Disney, NBCUniversal and WarnerMedia each announced massive reorganizations to put streaming at the center of their operations. The moves make it likely that even more movies and TV shows that would have been otherwise slated for release in theaters or on linear TV will premiere instead on the companies' respective streaming services, as WarnerMedia is already doing to Hollywood's dismay. Adding to that likelihood is the fact that 2020 served as the first full year of the streaming wars. Following last year's debuts of Disney+ and Apple TV+, this year WarnerMedia's HBO Max and NBCUniversal's Peacock rolled out, while Discovery and ViacomCBS each announced plans to launch (or relaunch) their own standalone streamers in 2021.
The ad-supported front of the streaming wars also heated up. While ViacomCBS's Pluto TV remains the dominant free, ad-supported streaming TV service, Amazon, Roku, Samsung and Vizio stepped up their challenges by adding more 24/7 streaming channels to their respective FAST platforms. Meanwhile, Peacock provides Disney's Hulu with its biggest competition yet among ad-supported streamers making actual TV programming available to people without pay-TV subscriptions. But Pluto TV continues to add more of that kind of content from programming libraries of ViacomCBS as well as AMC Networks.
Flexibility overtook TV and streaming advertising
The TV upfront market survived 2020, but TV advertising's model of large, long-term commitments took a mortal blow. The downside of advertisers locking themselves into year-long deals was put on display in March as advertisers in industries most directly hit by the pandemic, such as hotel and airline brands, tried to free themselves of as many advertising commitments as they could. TV networks accommodated these short-term relief requests. But in the process, they set up this year's upfront for a sea change in which cancelation options became a primary deal point as advertisers sought a greater ability to get out of their commitments should they choose.
Another seismic shift occurred in this year's upfront market. While the bulk of upfront budgets remained with traditional TV, connected TV emerged as the ultimate winner. Not only did Amazon, Roku and YouTube make upfront gains thanks to their CTV inventory, but TV networks used their streaming inventory to offset linear commitment declines. The money moving to streaming did come with a cost, though. Sellers discounted the prices of their streaming inventory to entice advertisers to redirect their dollars. The sellers' hope is that, once they have gotten advertisers in the streaming door, they will be able to increase their ad rates, but as demonstrated by their flexibility demands, buyers like to preserve precedents set in their favor.
Then again, the both the linear TV and streaming ad markets are tightening to the point that it's hard to see ad prices going anywhere but up. The lower-than-expected viewership since major sports' returned to TV pushed advertisers to turn to TV's scatter ad market to reach audiences, but that has sucked up so much inventory and pushed up prices to the point that advertisers are switching over to the streaming market, which has also been maxing out with one media executive saying their streaming inventory sold out before Thanksgiving through the end of the year.
Producers took their work home
The production industry basically came to a halt in the middle of March. In the weeks leading up to the production shutdown, producers had been stockpiling shoots so that the programming landscape wouldn't come to look like the early days of YouTube when webcams dictated production quality. Zoom-shot programming still became a new genre, but producers quickly developed the capabilities and processes to remotely produce shows and videos that more closely approximated a traditional production than a webcam confessional.
In the second half of the year, TV show, digital video and commercial shoots began to return to physical production. But by no means did production return to normal. In addition to new health and safety protocols that limited cast and crew sizes and prolonged production schedules, producers had to figure out how to arrange shoots that could be completed quickly in case the pandemic caused them to be canceled without insurance to cover the cancelation costs. While TV and streaming shows have continued to return to production with pauses when cast or crew members test positive for coronavirus, a surge in coronavirus cases since the fall has reasserted the need for remote production for digital video and commercial shoots, making what was a stopgap measure likely to be a long-term — and cheaper — aspect of production.
Quibi got taken out
This year marked the first casualty of the streaming wars, though Quibi was really the casualty of the company's own making. While some blame can be placed on the pandemic subverting its strategy to be the streamer of choice for on-the-go audiences, the bigger blunders were the absences of a hit show to hook audiences, a large programming library to keep their attentions and a CTV app to make its TV-quality shows available to watch on an actual TV.
There are plenty of lessons to take away from Quibi's demise. For starters, any streaming video service should include the TV screen in its distribution strategy (even TikTok is doing this). Also, having hit shows are important (see: Disney+), as is a strong programming library (see: Disney+). And if you're going to operate an ad-supported tier, ensure that advertisers will have an audience to see their ads, if not on the service in question than on another property, like how NBCUniversal is using its TV networks and digital properties as a safety net for Peacock. And finally, if a set strategy clearly isn't working in light of shifting audience preferences and a changing business climate, adapt. It was the only way to make it through 2020 and will likely see media companies, advertisers and producers through 2021 as well.
Confessional
"As an industry, we have done a godawful job of convincing the consumer that advertising subsidizes the entertainment ecosystem."

— Agency executive
Stay tuned: TV networks' advertising debts
The TV ad industry effectively operates via I.O.U.s. An advertiser agrees to pay a TV network a certain amount of money and in exchange the network guarantees to deliver a certain number of viewers for the advertiser to reach. If the network falls short, the guarantee turns to a debt the network now owes the advertiser. As the pay-TV subscriber base has eroded and traditional TV viewership has declined, these debts have piled up and are reaching a rubicon.
This year's NFL season has served to showcase TV networks' advertiser debt dilemma. As The Wall Street Journal reported, rescheduled games are pushing networks like NBCUniversal to lower ad prices to make up for the likely lower viewership of the new airing. Compounding matters, networks have already accumulated debt from previous games and other programs — including ones that aired more than a year ago — that fell short of viewership guarantees.
The combination of low viewership and piled-up debt means there is less and less inventory available for networks to use to make up for more and more viewership shortfalls. Additionally, that inventory scarcity combined with still-strong advertiser demand means that networks risk leaving money on the table if they use the inventory to settle old debts rather than to strike new deals at potentially higher prices. This dynamic is leading some networks to consider new ways of erasing their ledgers, including simply refunding advertisers, according to agency executives.
"In some cases, they have liability from two years ago. That stuff is at 10% to 15% cheaper CPMs than the new inventory. So just getting it off their books is beneficial because they're giving it away at the discounted 10% to 15% rate," said an agency executive.
Numbers don't lie
86.8 million: Number of subscribers for Disney+.
2: Number of seasons of "The Office" that will be available to stream for free on NBCUniversal's Peacock, with the full series limited to the streamer's paid tiers.
50 million: Number of people that use Amazon's Fire TV connected TV platform each month.
$1.175 billion: How much money Sony's Funimation is paying to acquire anime-centric streaming service Crunchyroll from WarnerMedia.
Trend watch: Streaming rebundling
First, streaming undid the traditional pay-TV bundle. Now, it's in the midst of a rebundling phase. As traditional TV network owners step up their streaming businesses, they are increasingly trying to set up their own versions of the pay-TV bundle.
TV network groups are becoming streaming network groups. Companies including Disney, WarnerMedia and ViacomCBS are putting together portfolios of streaming services that can be sold as a bundle or used to upsell audiences.
TV network owners are turning into aggregators. Companies including Disney, Discovery, NBCUniversal and ViacomCBS are using their streamers as platforms to package in programming from other companies.
These rebundling attempts show how stratified the streaming ecosystem is becoming. To establish themselves as must-buys for streaming subscribers — and for advertisers in the case of the ad-supported streamers — these companies are trying to set themselves up as one-stop shops a la Netflix. Otherwise, they risk becoming mid-tier media companies in a market that could split between a handful of massive platforms and a long tail of niche players.
"Ultimately there's going to be four or five media companies," said one agency executive. "It looks like AT&T are here to stay. NBCUniversal. Disney. ViacomCBS ain't there yet. Discovery's not big enough to be there by themselves. Maybe there's a legacy group of companies that work together to go direct to consumers." In other words, a bundle of bundlers.
What we've covered
TV ad market tightens up even more, but may loosen up soon:
In TV's scatter market, ad buyers saw the amount of available inventory dry up and prices soar in the weeks immediately leading up to and following Black Friday.
Inventory may open up and prices are expected to drop by Christmas, when the market reaches its annual low point.
Read more about the TV ad market here.
Digital video and commercial producers increase testing to protect talent on shoots:
Digital video and commercial productions typically rely on freelance cast and crew members, which can increase their exposure risks.
To mitigate the risk, producers are taking extra precautions when testing people before and when they arrive on set.
Read more about production testing here.
Publishers ready for rocketing ad spending from streamers in 2021:
Pop culture and entertainment publishers saw streaming services become a top advertiser category in 2020.
The increased activity among streamers has also been a boon to publishers' affiliate commerce businesses.
Read more about streamer ad spending here.
Marketers struggle with logistics and divining what Super Bowl ad themes will click with consumers:
A major challenge for Super Bowl advertisers this year is figuring out how to shoot their commercials.
Another obstacle is determining what Super Bowl viewers' moods will be when watching the ads.
Read more about Super Bowl advertising here.
What we're reading
Disney+'s big day:
Successful as Disney+ has been since launching in November 2019, the past year was basically a prolonged beta period for Disney's streamer in light of what the company has in store for 2021, according to The Verge. During Disney's investor day on Dec. 10, the company effectively showed it is making real the vision it originally had for Disney+ with planned premieres of new shows and movies from across Disney's portfolio that spans Disney, Lucasfilm, Marvel and Pixar.
Hollywood's programming pipeline:
Ever since the coronavirus crisis shut down physical production, a major question looming over the TV and streaming landscape was how soon might the industry run out of programming. The urgency surrounding that question has lessened to an extent, according to Vanity Fair. Productions have adapted to shoot remotely and, more recently, physically and safely. Meanwhile, TV networks and streaming services have acquired and licensed shows and movies to fill out their schedules and libraries as production returns and new programming results.
Indigenous people's lack of representation:
Indigenous people continue to be underrepresented in the entertainment industry, according to The Hollywood Reporter. Even after this summer's spotlight of diversity, equity and inclusion following the killing of George Floyd, there remain examples of Native and Indigenous people being excluded or not receiving equal treatment in programs depicting them, such as in ABC's "Big Sky" and HBO's "Lovecraft Country." As with the lack of diversity, equity and inclusion when it comes to other underrepresented groups, like Black and Latinx people, addressing the issue is not simply a matter of putting more Black people, Indigenous people and people of color on screen or behind the camera, but also ensuring they are treated fairly.
https://digiday.com/?p=386332