research
Three-quarters of European publishers surveyed by Digiday plan to increase revenues from video advertisements and branded content in 2019.
rundown
A common complaint from buyers is what they dub "knee-jerk" reactions from CMOs. One of the most interesting ones is how the stock market determines spending decisions.
Subscribe to Digiday+ Membership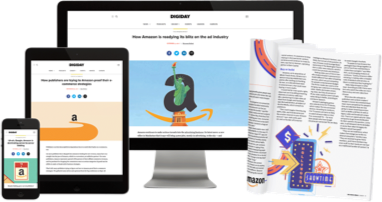 Digiday+ gives you an inside look at how digital is transforming the world of media. Join a growing list of industry executives who've made the decision to gain an edge, make smarter decisions, and connect with the people who matter.
Digiday Magazine
It's time for truth. "Brand safety is our top priority." "This isn't a pivot to video." "We put the reader experience first." "Our agencies are valued partners." If you work in media and marketing, you've probably heard these fibs so much, they likely don't even cause you to blink. That's why in our new issue of Digiday Magazine, we've put a spotlight on the truth and lies told in the industry.