research
Digiday Research surveyed 203 people working in publishing to ask about work, compensation and culture. Overall, 60% of respondents said they believed they were being fairly paid for the job they did. However, the results started to differ when broken down by gender.
rundown
The idea that direct-to-consumer companies thrive simply based off of social ads is no longer true. Those companies have diversified their advertising — and done so because they had to.
Subscribe to Digiday+ Membership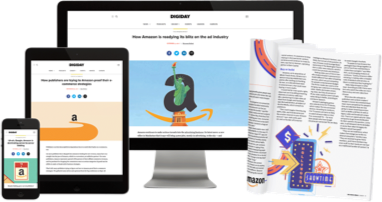 Digiday+ gives you an inside look at how digital is transforming the world of media. Join a growing list of industry executives who've made the decision to gain an edge, make smarter decisions, and connect with the people who matter.
Digiday Magazine
At Digiday Media, across Digiday, Glossy and Modern Retail, we cover how the industries of media, marketing and retail are changing, thanks to the advent of new technologies, new consumer behaviors, and changing business models. In this issue, we took a new approach to our examination of these industries. We stepped back to look at exactly how the way we work, live and shop today is changing the industries we cover, and the wave of cultural forces that are affecting them.
Digiday Events Briefings

Brands face some tough decisions ahead. In 2018 their demands for better control over the marketing landscape — from their agency partners to platforms — kept rising, and that trend will become increasingly pronounced in 2019. Meanwhile, brands face challenges as they figure out how to bring more capabilities in-house. At the Digiday Brand Summit in Palm Springs, California, marketers met to discuss these challenges and what the year ahead will hold.