research
Digiday surveyed 63 media buyers at the Digiday Media Buying Summit to learn how clients' brand-safety concerns have affected media strategies.
rundown
In this week's Rundown: Publishers look to new platforms for audiences, and Facebook's Cambridge Analytica headache could have repercussions far beyond Facebook.
Subscribe to Digiday+ Membership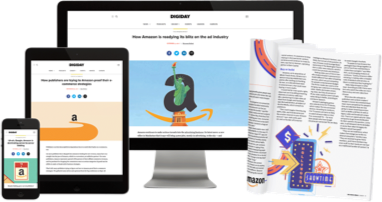 Join our community and get a first-hand look at how digital is transforming the world of business. Afraid of commitment? For a limited time, try Digiday+ risk free for 30 days. See all membership benefits.
Digiday Magazine
Digiday Magazine Issue 9
The media world is in the midst of a period of more significant upheaval, with tech giants sucking up the majority of ad dollars, digital advertising plagued by a lack of transparency and companies taking a hard look at culture impact. Fixing massive industries isn't as simple as hitting a button, but in this issue we explore the ways the media and marketing world is moving from an era where scale trumped loyalty, reach obscured impact and the short term dominated the long term.