research
Sixty-three percent of publishing executives said their company plans to increase the amount of content their produce, while not increasing their editorial budget.
rundown
Ads for Amazon's own products on its site are driving scrutiny from big brands over whether to buy ads from the retail giant.
Subscribe to Digiday+ Membership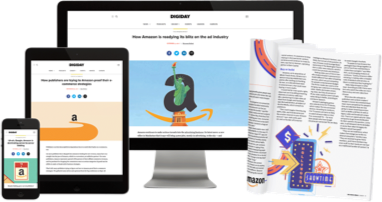 Digiday+ gives you an inside look at how digital is transforming the world of media. Join a growing list of industry executives who've made the decision to gain an edge, make smarter decisions, and connect with the people who matter.
Digiday Magazine
Those in media and marketing are no strangers to drastic changes, but 2018 brought much more of it than expected. After years of lead-up, many things finally came to a head. In this issue of Digiday Magazine we explore what the year ahead may bring, and lay out the industry's agenda for 2019.