research
While the #MeToo movement has made a big splash in the media industry and more people are discussing sexism and racism, a majority of the publishing workers that Digiday polled said they think things have not changed very much.
rundown
Until the ad tech industry standardizes video metrics and requires more transparency overall, people will never totally trust the numbers garnered from any source, first party or not. But after witnessing the fallout from Facebook's faulty video metrics, marketers are a lot more prepared and smarter about how to handle things.
Subscribe to Digiday+ Membership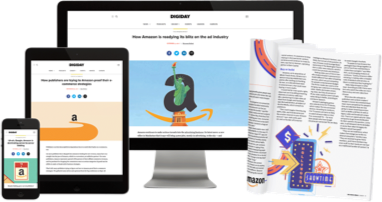 Digiday+ gives you an inside look at how digital is transforming the world of media. Join a growing list of industry executives who've made the decision to gain an edge, make smarter decisions, and connect with the people who matter.
Digiday Magazine
Business models across all industries are shifting. Talk to any executive about their challenges, the conversation will quickly turn to people — finding them, keeping them, motivating them. Our latest issue of Digiday magazine focuses on modern work through the lens of people, culture, automation, spaces and balance.
Digiday Events Briefings

Brands face some tough decisions ahead. In 2018 their demands for better control over the marketing landscape — from their agency partners to platforms — kept rising, and that trend will become increasingly pronounced in 2019. Meanwhile, brands face challenges as they figure out how to bring more capabilities in-house. At the Digiday Brand Summit in Palm Springs, California, marketers met to discuss these challenges and what the year ahead will hold.