research
In a survey of 343 publishers, vendors and agency executives this year by Digiday, around 30% and 40% were worried that their companies would be impacted by layoffs this year.
rundown
Unlike the crop of publishers that rode social distribution to easy scale several years ago, search-focused publishers rely on a much more stable and sustainable source of traffic.
Subscribe to Digiday+ Membership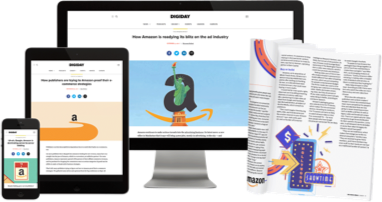 Digiday+ gives you an inside look at how digital is transforming the world of media. Join a growing list of industry executives who've made the decision to gain an edge, make smarter decisions, and connect with the people who matter.
Digiday Magazine
Our first issue of the year focuses on the shifting role of intermediaries. If there's one rule of the modernization of media and marketing, it's that the role of intermediaries is changing, in some cases becoming all-encompassing and in others (agencies) waning.