research
A new Digiday poll found that buyers are more concerned about a cookieless future than publishers are. Some 75% of the buy-side executives surveyed said that in the wake of Google's cookie-phaseout decision, they worry about their ability to target as well as measure ads.
rundown
During live broadcasts, some marketers with big budgets are buying multiple spots with the storytelling unfurling in sequential bits and thus mitigating the risk of annoying viewers.
Subscribe to Digiday+ Membership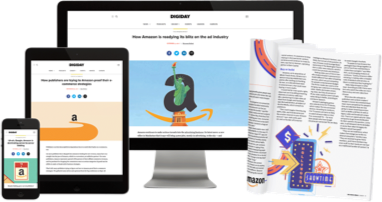 Digiday+ gives you an inside look at how digital is transforming the world of media. Join a growing list of industry executives who've made the decision to gain an edge, make smarter decisions, and connect with the people who matter.
Digiday Magazine
Business models across all industries are shifting. Talk to any executive about their challenges, the conversation will quickly turn to people — finding them, keeping them, motivating them. Our latest issue of Digiday magazine focuses on modern work through the lens of people, culture, automation, spaces and balance.
Digiday Events Briefings

Brands face some tough decisions ahead. In 2018 their demands for better control over the marketing landscape — from their agency partners to platforms — kept rising, and that trend will become increasingly pronounced in 2019. Meanwhile, brands face challenges as they figure out how to bring more capabilities in-house. At the Digiday Brand Summit in Palm Springs, California, marketers met to discuss these challenges and what the year ahead will hold.