rundown
While Amazon throws millions of dollars around on Hollywood-quality programming, Walmart has its sights set on cheaper content. It's also focusing early on ways to see immediate returns from those investments as it pushes into shoppable, commerce-driven ads.
Subscribe to Digiday+ Membership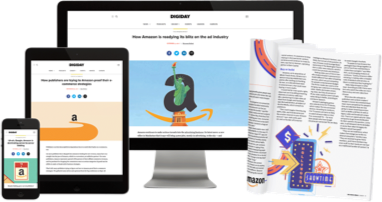 Digiday+ gives you an inside look at how digital is transforming the world of media. Join a growing list of industry executives who've made the decision to gain an edge, make smarter decisions, and connect with the people who matter.
Digiday Magazine
It's summer, which means it's time for the ad industry's annual pilgrimage to Cannes. But whether you choose to go or not — and whether you think Cannes is worthwhile or not — the industry's biggest and most expensive confab occupies a pretty special place in the industry. We explore what comes next for Cannes in our cover story, which looks at how much Cannes is under threat as every corner of the industry undergoes its own upheaval.