'CTV took from everybody': How connected TV won this year's upfront
October 28, 2020 • 10 min read
•
•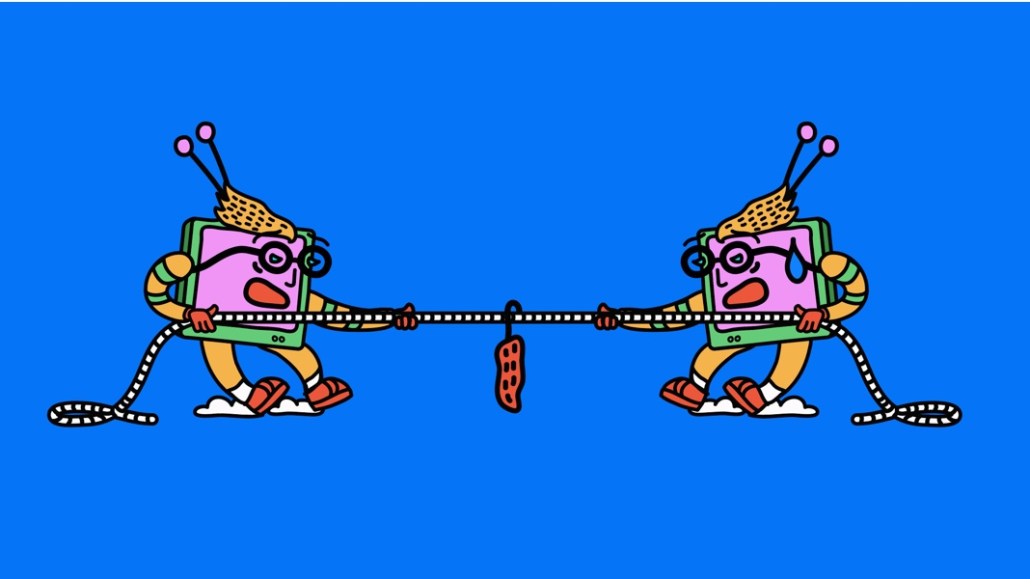 Ivy Liu
This Future of TV Briefing covers the latest in streaming and TV for Digiday+ members and is distributed over email every Wednesday at 10 a.m. ET. More from the series →
This is a sample of the Digiday Future of TV Briefing, a Digiday+ member exclusive feature where each week, senior media editor Tim Peterson explores the news and trends that matter in the business of TV and video. To get it every week, subscribe here and use promo code FOTV for 20% off.
Traditional TV may still receive the bulk of advertisers' upfront budgets, but connected TV continues to steal away share, especially in this year's upfront market. "CTV took from everybody. It took from linear folks. It took from traditional digital partners. That's where we know the eyeballs are going and the dollars have to follow that," said one agency executive.
The dollars have already started following audiences who are increasing tuning out of linear TV and into streaming. But this year that flow of money picked up pace. As the streaming viewership surge grew the pool of available inventory, sellers rolled back their streaming ad prices, which led a higher share of upfront ad dollars to roll in.
In 2019, 20% of clients' upfront budgets went to streaming inventory — including connected TV platforms like Amazon and Roku; TV networks' streaming inventory and digital video platforms like YouTube — according to a second agency executive. In 2020, that figure grew to roughly 25%, this executive said. For other ad buyers, streaming took an even larger share. A third agency executive estimated that 30% of their clients' upfront budgets this year went to streaming, and a fourth agency executive pegged the figure for their clients at north of 30%.
However, the migration of money from traditional TV to streaming did not necessarily mean money moving out of TV networks' hands. Major network groups, such as Disney, Fox, NBCUniversal and ViacomCBS, have expanded their streaming footprints in recent years, so the money at risk of straying from their linear inventory wound up going to their streaming slots.
"The networks got so lucky with these streaming services … because there was such an uptick in streaming viewership that advertisers were like, That's where I want to be," said a fifth agency executive.
But the TV networks' ability to hold on to advertisers' upfront budgets did not detract from the money that went to streaming-only companies like Amazon, Roku and YouTube, according to agency executives.
"CTV is all growing. So it's not one at the expense of another," said the fourth agency executive.
"There was so much money moving to [streaming] that everyone benefitted," said the third agency executive.
Both Amazon and Roku were able to win over advertisers with their ability to use their own user data to target audiences on their respective CTV platforms. And with more than 2 billion monthly logged-in users, YouTube continues to be a primary means of reaching audiences harder to find on traditional TV, despite agency executives not considering its content to be on par with TV in terms of quality. Of the streaming-only sellers in the upfront, "YouTube, Roku and Amazon probably came out the strongest through this whole thing," said the first agency executive.
Advertisers' budgets are not infinite, however. Streaming did take money away from other channels, but those were primarily channels like online display advertising and print media. "This year has been weird, but I would say the budgets that clients did protect was their video money, of which they leaned heavily into CTV. Display programmatic activations did take a hit," said the fourth agency executive.
So much money moved to streaming, in large part, because so many people started tuning into streaming when the coronavirus lockdown had everyone stuck at home. As of July 2020, there were 37.0 million households in the U.S. that stream shows and movies using a connected TV, a 16% increase year over year, according to Comscore.
That streaming viewership surge has increased the amount of available streaming inventory, which allowed streaming ad sellers to lower their ad prices by 5% to 10%, on average, in this year's upfront, according to agency executives. "Those rollbacks made sizable shifts," said a sixth agency executive.
However, for all the money moving to streaming, advertisers continue to quibble with the emerging connected TV ad market. Frequency management and measurement remain major issues, said agency executives.
And while companies including Disney, ViacomCBS and Roku have attempted to address the frequency management issue in their upfront pitches this year, the companies' efforts are largely contained to their respective walled gardens. "Frequency management is something that was touted a lot in the marketplace, but it doesn't feel like the challenge is solved," said the second agency executive.
To be fair, Roku does allow advertisers to use its OneView ad-buying platform to manage frequency outside of the inventory that Roku sells, but advertisers have to supply information regarding those outside buys and can be uncomfortable doing so because it could give Roku an unwelcome advantage in its dealings with advertisers. "Because Roku sells media, I don't like that," said the fifth agency executive.
Additionally, the streaming ad measurement landscape is spotty. Nielsen is able to measure in-demo impressions for Roku and Hulu and will start measuring YouTube's connected TV impressions next year. But agency executives say Nielsen-validated in-demo impressions are hard to come by across the broader ecosystem. Additionally, whereas traditional TV advertisers know exactly which program carried their campaign, that level of transparency is generally lacking in streaming environments such as Hulu, which only breaks down placements at the programming genre level.
"The lack of measurement and standardization of measurement is a hurdle. It feels less transparent than the television marketplace," said the second agency executive.
All of that being said, the streaming audience is swelling while the linear audience is eroding, and that has been reason enough for advertisers to redirect their dollars despite the aforementioned issues. "I wouldn't say [the frequency management and measurement challenges] are inhibiting [ad dollars], but I would say as an industry, we have work to do to make sure there's better measurement and therefore better efficiency," said the fourth agency executive. If the money is already flowing, imagine how the dollars might rush once these roadblocks are removed.
Confessional
"If you're selling a short-form show, there was no better place to sell it to than Quibi, even if there was no audience."

— Entertainment executive prior to Quibi's shutdown announcement
Stay tuned: Publishers' streaming strategies
Not every media company has made the move into streaming. Some digital publishers that have succeeded on social platforms like YouTube and Facebook are still assessing that market.
When looking at the connected TV environment, these publishers are staring down a decision not unlike the one they faced online: Should they try to get people to watch their videos on the publishers' own properties or should they distribute those videos on properties where people are already tuning in?
Online, the consideration was between a publisher's site and digital video platforms like YouTube and Facebook. On CTV, it is between a publisher's own CTV app and streaming TV platforms like Pluto TV and Samsung TV Plus.
For the most part, publishers are not seriously considering creating their own CTV apps. Many have had a hard enough time getting people to watch videos on their sites so the additional time and money required to develop, operate and promote a CTV app is a non-starter. That's why many media companies have opted to operate 24/7 streaming channels on platforms like Pluto TV that stitch together their social videos into always-on feeds.
However, so many media companies have created these 24/7 streaming channels that some publishers are growing concerned the growth opportunity may be over. Furthermore, the invasion of TV network groups like A+E Networks and Pluto TV parent ViacomCBS — that are rolling out streaming TV channels with actual TV programming — will likely make it even harder for publishers to grab audiences' attentions with their stitched-together social videos.
"We're trying to decide if that's a good play for us," said an executive at one large digital publisher. "We're seeing a lot of people build [streaming] linear offerings that don't seem to get off the ground."
Numbers don't lie
28.7 million: Number of total HBO Max subscribers by the end of the third quarter
2.2 million: Number of subscribers Netflix added in the third quarter
50 million: People that watch content derived from TV on Snapchat each month
Trend watch: TV's lack of leadership diversity
Despite all the calls this year for every industry to become more diverse and inclusive, white men continue to dominate the TV industry's leadership ranks.
According to the UCLA Hollywood Diversity Report published on Oct. 22, white men remain the majority among TV's leadership ranks, with 92% of CEO and chair positions being held by white people — 68% by men. The situation is somewhat more diverse at the senior executive level with 84% white and 60% male — but not by much.
Fortunately, there is reason to believe this trend is finally changing. The new head of Warner Bros. TV is Channing Dungey, a Black woman. Netflix's new global TV boss is Bela Bajaria, a woman of color. The new chairs of NBCUniversal's entertainment divisions are both women, with Frances Berwick running the business side and Susan Rovner running the programming side. And the new head of Disney's media and entertainment distribution division is Kareem Daniel, a Black man.
What we've covered
Twitch emerges as rising platform for beauty brands:
The list of beauty influencers and brands to have adopted Twitch is growing.
Some influencers see Twitch as a better alternative to Instagram's and TikTok's live-streaming platforms.
Read more about Twitch here.
TV ad buyers expect networks to tax upfront advertisers that waited to commit:
Roughly 10% to 20% of upfront advertisers sat our the initial negotiating window.
These advertisers are likely to be asked to pay 5% higher rates than those that have already made their commitments.
Read more about the TV upfront here.
Quibi's shutdown underscores economic challenge for big-budget, bite-sized shows:
Quibi's demise is not the death knell for premium short-form video, but does show the medium's financial limits.
Quibi's failure may not spur a recession of the premium short-form video market, but rather a correction.
Read more about Quibi here.
As YouTube adopts new standards, the transition from brand safety to suitability is accelerating:
YouTube is working on a common set of brand suitability definitions for advertisers.
The standardization could make it easier for advertisers to be less conservative about what content they block.
Read more about YouTube here.
What we're reading
TV's shrinking subscriber base:
The pay-TV subscriber base is obviously shrinking, raising the question of how small it will end up becoming. Three major media companies think they have the answer, according to CNBC. After another 25 million households likely cut the cord over the next five years, the number of households with pay-TV subscriptions will probably settle around 50 million, the media companies believe. Considering that Roku already has more than 43 million monthly active accounts, that means within the next five years the number of households with a Roku device could exceed those with a cable box.
YouTube's political ad deluge:
TV isn't the only ad market to tighten up this month due to the presidential election next week. YouTube has been running out of inventory to meet the influx of political advertiser demand, according to Bloomberg. The demand deluge has led to YouTube's ad prices doubling in some cases. According to the report, a lot of political advertisers are after YouTube's non-skippable ad inventory as well as its most popular videos, which are usually highest in demand and lowest in availability. With the TV and YouTube ad markets being tight, digital video publishers and long-tail streaming ad sellers could stand to benefit.
https://digiday.com/?p=381945
This week's Future of TV Briefing looks at how the streaming ad market's programmatic guaranteed vs. private marketplace debate is reaching a compromise.
This week's Future of TV Briefing looks at how this year's upfront and recent announcements from AMC Networks and Paramount indicate the progression of programmatic in the TV and streaming ad market.
This week's Future of TV Briefing looks at how major streaming service owners' subscription business fared in the third quarter of 2023.