'There wasn't a huge shift': TV upfront market did not undergo expected overhaul this year
September 9, 2020 • 9 min read
•
•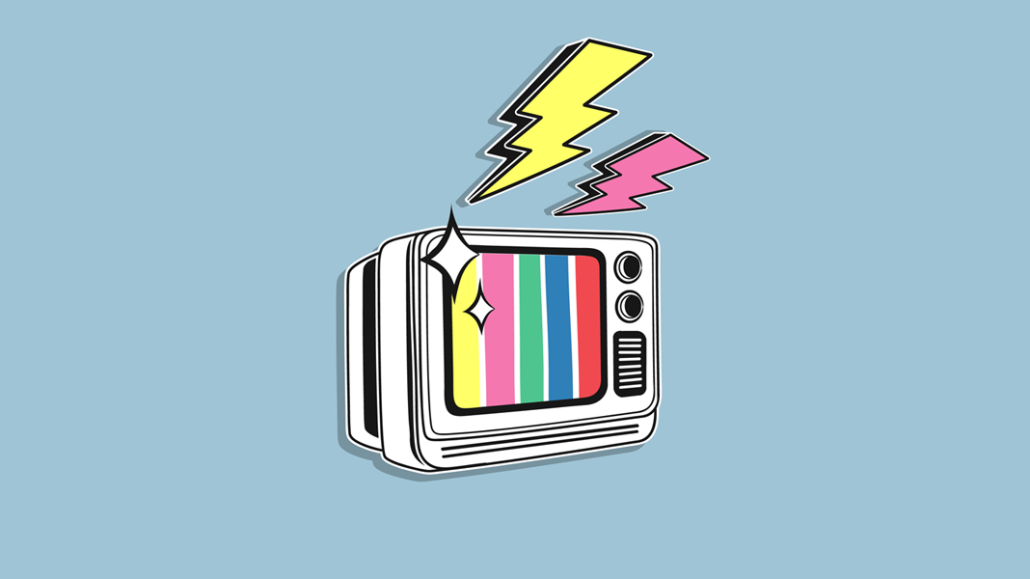 Ivy Liu
This Future of TV Briefing covers the latest in streaming and TV for Digiday+ members and is distributed over email every Wednesday at 10 a.m. ET. More from the series →
This year did not lead to the seismic shift that the TV upfront market seemed set to undergo in the wake of the coronavirus crisis.
Yes, there have been changes. Advertisers are receiving more favorable cancelation terms. Streaming is accounting for a larger share of where upfront ad dollars will go. However, the broad outline of the traditional upfront model remains in tact. This year, most advertisers signed deals with TV networks under the usual October through August broadcast window, and the majority of the money committed is earmarked for linear TV.
"There wasn't a huge shift," said one agency executive. "Everybody was pushing for increased flexibility clauses, and we got better terms than last year, but it wasn't dramatic." Other agency executives shared the sentiment that the upfront may have changed this year but only incrementally, as has been the case for the past several years.
"The conspiracy theorists back in April and May missed the boat by saying [the upfront] was going to fundamentally change. It didn't," said a second agency executive.
Despite the pandemic's impact on advertisers' businesses, there doesn't seem to have even been a dramatic difference in the amount of money spent in the upfront, with streaming gains helping to offset linear losses and the TV screen remaining the preferred device for brand advertisers. Multiple agency executives projected that the overall spend committed in this year's upfront has not increased or decreased by any significant measure compared to last year. "Last year the market was up high single to double digits. This year it will be much closer to low single-digit [increase]," said a third agency executive.
To be clear, that increase does not mean that advertisers are putting a lot more money to traditional TV. In fact, the second agency executive estimated the amount of money committed in this year's upfront to be "flat to down" compared to last year. "Where you're seeing the ups are streaming," this person said. Advertisers spent $20.28 billion in last year's upfront, according to an estimate from eMarketer.
Agency executives had expected TV networks' streaming inventory to account for roughly one-third of advertisers' upfront commitments, and the executives Digiday spoke to for this article said that is generally how negotiations have panned out. "For a lot of [the networks], their priority was to get as much money for streaming as they can," said a fourth agency executive.
The upfront changed the most on the flexibility front. Advertisers followed through on their plans to negotiate options to cancel a higher amount of their committed ad dollars and to shorten the deadlines for when cancelation requests need to be submitted before a quarter begins. Generally, advertisers' cancelation amounts increased from 30% to 50%, and the cancelation windows shrunk from 45 to 60 days before a quarter's start to 30 to 45 days.
However, in some cases, the flexibility negotiations went the other way. While streaming typically adheres to the Interactive Advertising Bureau's standard 14-day cancelation window, some TV network groups were able to get advertisers to agree to apply linear TV's 30-day-plus cancelation windows to the streaming side of their upfront deals.
The timing for when upfront deals take effect had seemed set to be one of the most drastic changes to the market and a sign of its overarching overhaul. In June, the Association of National Advertisers called for the upfront to switch to a calendar-year model, under which deals would take effect on Jan. 1 and run through Dec. 31. Major advertisers including Procter & Gamble backed the ANA's call. But then most advertisers, including P&G, proceeded to sign upfront deals under the traditional broadcast-year model.
"Calendar year wasn't fully embraced the way I think everyone had thought," said a fifth agency executive. One reason for that is the move of major advertisers like P&G to do their upfront deals early under the traditional broadcast-year model, which put pressure on others to follow suit. Additionally, the more favorable cancelation options have alleviated some hesitancy among advertisers at committing to spend millions of dollars.
The fourth agency executive said they had a couple clients shift to the calendar-year model, but even those advertisers only did so because they are still dealing with how the crisis has impacted their advertising budgets and already expect to return to the broadcast-year model next year.
The third agency executive estimated that roughly 10% of advertisers moved to the calendar-year model or dropped out of the upfront altogether to buy TV ad inventory in the scatter market, where networks sell the inventory left over from the upfront for advertisers to buy weeks and even days before an ad airs but historically at higher prices compared to upfront rates.
"If you had asked me in June, I would have thought 40% of advertisers would shift to a calendar upfront," said this executive. How things can change — or not.
Confessional
"We have deals with [pay-TV providers] where we get first right of sale, and yet Snap and Facebook don't want to give us first right of sale."

— TV network executive
Stay tuned: TV networks' streaming buyers
As TV network owners from Disney to WarnerMedia shift their focus to streaming, they have recognized original programming is important for attracting audiences. Problem is, original programming is also important for attracting audiences for their traditional TV networks. That makes deciding where a show should go among the most important business decisions these companies can make today.
The TV network groups have differed in how they handle this decision making, according to producers. NBCUniversal and WarnerMedia, for example, have had separate teams taking show pitches for Peacock and HBO Max, respectively, than the programming buyers for their linear networks. Discovery, meanwhile, has its linear buyers redirect projects to its upcoming streaming service and vice versa.
The recent reorganizations at NBCUniversal and WarnerMedia signal a trend toward a hub-and-spoke model similar to Discovery's setup. Producers would pitch a show to a buyer at the network group and that buyer would then decide which property would be the best distribution option, be it a network or streamer. And with companies like ViacomCBS filling up their linear programming pipelines this fall with shows that originally aired on their streaming services, it's just as likely that shows pinball between properties.
The hitch in all this, however, is the TV network groups' pay-TV contracts. As The Information previously reported, Discovery had to renegotiate its distribution deals with some pay-TV providers in order to be able to load up its streamer with more original shows.
Numbers don't lie
19%: Increase in money that advertisers are expected to spend on connected TV in 2020 compared to 2019.
1.25 billion: Number of people that watch at least 1 minute of a video on Facebook each month.
40%: Increase in film permit applications for the Los Angeles area in August compared to July.
Trend watch: Subscription streaming war escalates
Streamers, including Netflix, Disney+, HBO Max and Quibi, are stepping up their efforts to reinforce their subscriber bases.
Streamers are always trying out different ways to acquire new and/or lapsed subscribers. So in that respect, what the aforementioned companies are doing is nothing new. But the sudden trend of these stepped-up efforts suggests that they feel a need to get more aggressive as schools start back up and some people return to the office, cutting into their time for entertainment.
What we've covered
WTF is creative separation?:
Creative separation is the term for keeping certain types of TV and streaming ads from running next to one another.
The topic has taken on new importance as political ads begin to flood the streaming market, which has a harder time maintaining creative separation.
Read more about creative separation here.
Bud Light gets serious about esports:
Bud Light has created its own esports property on Twitch for top streamers to compete against one another.
The brand soon plans to announce a sponsorship deal with "a big streamer," said its director of sports marketing Joe Barnes.
Read more about Bud Light here.
What we're reading
TikTok's creator shield:
TikTok's support of creators could help the besieged app survive a forced sale and splintering of its global platform, according to Bloomberg. In addition to creating the $1 billion Creator Fund to pay some creators for posting to its platform, TikTok has helped its creators land talent agents and deals with brands and TV networks. The idea is similar to how TikTok is competing against Instagram — win over creators and their fans will follow — but with the added hope that the fans' loyalty to their favorite creators will extend to the platform supporting them.
Global guide to production restarts:
Variety has put together a breakdown of where TV and film productions are starting back up around the world. The country-by-country look includes the status of production, insurance coverage details, travel restrictions and list of projects currently in production.
HBO Max's advertising dilemma:
Next year WarnerMedia will add an ad-supported tier to its HBO Max streaming service. However, some of the streamer's highest profile programming — HBO shows — won't be able to carry ads, according to The Information. That would be great for HBO Max's ad-supported viewers, but not so much for WarnerMedia's advertising business if those viewers spend a lot of time streaming HBO shows. Consider that Hulu makes more money per-subscriber from its ad-supported tier than its ad-free tier.
If the same financial model were to apply HBO Max, the missed impressions could result in WarnerMedia making less money per ad-supported subscriber compared to those on HBO Max's ad-free tier.
https://digiday.com/?p=376923
This week's Future of TV Briefing looks at how the streaming ad market's programmatic guaranteed vs. private marketplace debate is reaching a compromise.
This week's Future of TV Briefing looks at how this year's upfront and recent announcements from AMC Networks and Paramount indicate the progression of programmatic in the TV and streaming ad market.
This week's Future of TV Briefing looks at how major streaming service owners' subscription business fared in the third quarter of 2023.