In a new streaming war, NBCU's Peacock takes aim at Hulu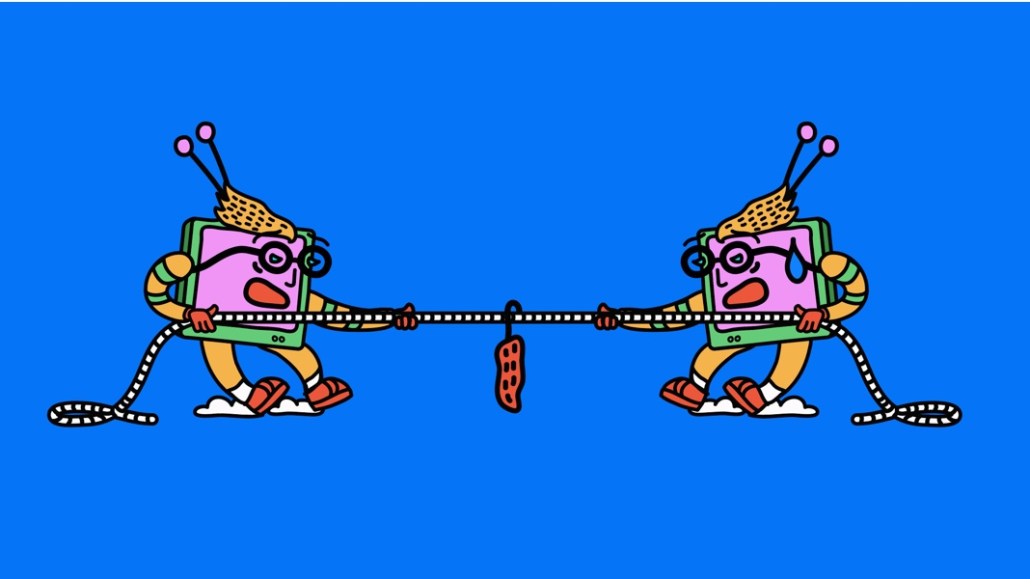 Ivy Liu
This article is part of the Digiday Video Briefing, which features must-reads, confessionals and key market stats. To receive the Digiday Video Briefing, please subscribe.
The streaming wars is not a single battle but rather a series of interrelated but separate battles involving different belligerents. While the Walt Disney Company created Disney+ to take on Netflix, NBCUniversal's introduction of Peacock sets up a second war to conquer ad-supported streaming services. In Peacock's sights: Hulu.
Hulu has enjoyed a 12-year head start, after being the original streaming video service for popular TV programming. While it's hard to recall now, Hulu was once a target of mockery — TechCrunch famously derided the joint venture as "ClownCo" — until it proved that entertainment giants could indeed create massively popular tech products on the back of great programming. That great programming allowed Hulu to solidify itself in the eyes of ad buyers as the top digital destination for TV ad budgets. YouTube might have the scale, but Hulu has amassed an audience of 29 million subscribers who are watching content that's more comforting for TV advertisers.
Now, NBCUniversal — whose parent company Comcast last year sold its stake in Hulu to Disney and that has the option of removing all its programming from Hulu in two years — has unveiled what is poised to be the most evenly matched competitor to Hulu, in terms of viewer uptake and ad budgets. Like Hulu, Peacock will offer a library of original programming, movies and TV shows. Also like Hulu, it will also feature a lighter ad load than TV, and its ad product portfolio largely mirrors Hulu's, including the pause and binge ad formats that Hulu has introduced.
The competition will only get stiffer for Hulu. In July Peacock's service rolls out nationally. WarnerMedia is planning that HBO Max will add an ad-supported tier in 2021. And Discovery appears to be poised to introduce its own streaming service for cord cutters that would likely be at least partially ad supported.
Traditionally, TV companies' streaming services have let them retain a grip on advertisers' TV budgets. ViacomCBS' CBS All Access streaming service is considered by ad buyers to be among the major ad-supported streaming services, but advertisers have historically purchased its ad inventory in a bundle with CBS's linear TV inventory, according to agency executives. Even NBCUniversal is initially relying on its biggest TV advertisers to fill Peacock's inventory.
Yet, the dollars that companies are committing to Peacock is not money that would have otherwise gone to NBCUniversal. Instead the money is coming from a broader pool of funds that advertisers allocate for TV and streaming, according to agency executives. It's a piece of the pie from which Hulu, connected TV platforms and other streaming ad sellers are trying to get a slice.
Similar to how the subscription-based streaming war hinges on service providers competing for audiences' finite time and budgets, ad-supported streaming companies such as Hulu and Peacock are contending not only for audiences' limited resources but also for advertisers'. "There is a relatively fixed amount of advertising budget out there for mass reach-capable premium video content," said an ad agency executive.
As is the case with the subscription-based streaming wars, the casualties in the ad-supported arena — at least during this initial phase — may not be the major streaming services but the smaller ones. The streaming ad market is a tangled web where many companies can sell the same inventory. To mitigate the risk of buying the same inventory from multiple sellers, many ad buyers opt to buy directly from streaming services and prioritize the ones that most likely to deliver the audiences they're after — and they tend to be the bigger players.
If an advertiser is chasing an audience that largely tunes into sports and news programming, "I tell my [demand-side platform], if they can serve all my budget in ESPN, CNN and Fox, then do it," said a second ad agency executive. "If they can't, then move onto what I would label tier two, which might be general-interest cable networks, and from there, move onto Pluto and Xumo and Crackle."
Hulu, for its part, has maintained its perch. Of the dollars that advertisers have thus far committed to spend on Peacock, "I didn't see anyone shift [money] from Hulu or plan to," said a third ad agency executive.
https://digiday.com/?p=357362