Here are the five major forces and trends that will shape the future of TV in 2021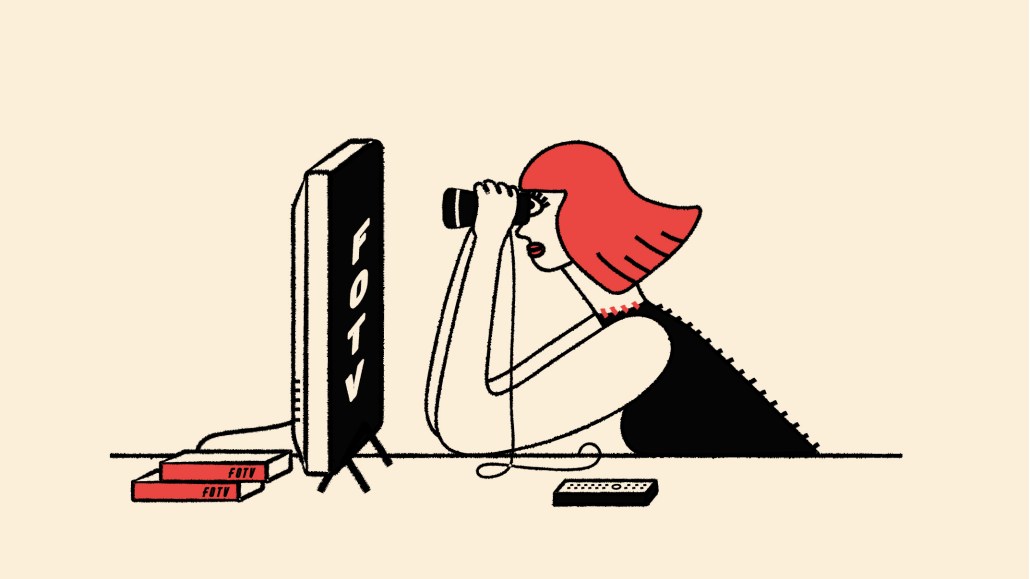 Ivy Liu
Last year reshaped the future of TV in myriad ways.
It catalyzed the shift to streaming, foisted newfound flexibility into traditional TV advertising and threw traditional production and programming pipelines in flux. Many of the changes that the TV, streaming and digital video industry underwent in 2020 will continue and compound — but they will also be put in check.
The streaming wars will intensify. So will the competition among free, ad-supported streamers. TV networks will face the potential fallout from acquiescing to advertisers' flexibility demands, while advertisers will see whether the money they moved to streaming in last year's upfront was well spent.
After TikTok's biggest year yet and Snapchat's big rebound, those two platforms will continue to face off with Instagram, and all three will attempt to contend with YouTube for creators' allegiances. And the uneven return to traditional production for shows, movies, digital videos and commercials may put new pressure on TV networks' and streamers' programming pipelines or prove that remote production is no longer a trend but an accepted tool for producers.
How exactly 2021 will further shape the future of TV is anyone's guess. But here are the major factors that will affect its formation.
The next phase of the streaming wars
The battlefield for the streaming wars is close to being set. Discovery kicked off 2021 with the debut of its standalone streamer Discovery+ on Jan. 4, and ViacomCBS will follow suit with the relaunch of CBS All Access as Paramount+ sometime early this year. Meanwhile, although WarnerMedia's HBO Max and NBCUniversal's Peacock launched last year, they were somewhat handicapped. Neither were available on Amazon's or Roku's connected TV platforms for months after launching. Peacock is still not available on Amazon's Fire TV, but it reached a deal with Roku last fall. And HBO Max secured distribution on Amazon's and Roku's platforms by year's end.
Now that nearly all the major subscription-based streamers are in market, the fight for audiences' wallets will escalate. Netflix has the high ground, but Disney+ quickly raced to 86.8 million subscribers in just over a year after its 2019 launch. With the average U.S. household paying for four streaming subscriptions, per Juniper Research, that leaves two slots for Discovery+, HBO Max, Paramount+ and Peacock. The competition is not limited to them, though. With 38.8 million subscribers, Hulu remains a major player. Then there are the niche streamers, like AMC Networks' horror-centric Shudder and documentary devotee CuriosityStream. Considering the challenging economics of operating a subscription-based streaming service, the heightened competition will put additional pressure on streamers to find ways to acquire and, as importantly, retain subscribers in 2021.
Free, ad-supported streaming bubble
There are so many free, ad-supported streaming TV services that the category has begotten its own acronym: FAST. Companies including Amazon, Roku, Samsung and Vizio have raced to roll out their rivals to ViacomCBS's Pluto TV and Comcast's Xumo, and TV networks and digital publishers have similarly sped up to spin out their own 24/7 channels to distribute across these services and give themselves a foothold on CTV. This category continues to be in the growth stage, but that phase is usually followed by growing pains.
As more FAST platforms bubble up, at some point that bubble will burst. Being free and ad-supported means these services live and die in accordance with the number of viewers they are able to attract and the amount of time they are able to get those viewers to spend streaming their services. Additionally, these platforms largely mirror one another, sharing many of the same 24/7 streaming channels and on-demand movies and TV shows. The lack of differentiation can have a dilutive effect. Why would someone take an extra step to install Pluto TV if The Roku Channel appears to offer much of the same programming and comes pre-installed? Or why try out Samsung TV Plus if a person is already accustomed to Pluto TV?
This differentiation dilemma is already leading the FAST platforms to separate themselves. They are creating their own 24/7 channels and locking up exclusive programming, as Roku is reportedly looking to do in buying Qubi's library. These steps toward separation could have ripple effects on the media companies distributing programming and generating revenue across the platforms, creating a domino effect of winners and losers.
Upfront fallout
The annual TV advertising upfront marketplace did not experience a seismic change in 2020 — at least not in a way that would become apparent in 2020. However, while upfront budgets were largely preserved and the bulk of that money went to traditional TV, the changes could show up before the next round of upfront negotiations kick off later this year.
In their latest upfront deals, advertisers secured more favorable cancelation options, such as the ability to scrap half of their quarterly spending commitments a month before the quarter begins. Moreover, some advertises and agencies back-loaded this flexibility into their upfront deals. This flexibility combined with linear TV viewership shortfalls makes an already unstable traditional TV ad market potentially even more volatile.
Adding further fuel to the fire is the money that advertisers moved into streaming last year in light of the viewership surge. As advertisers see how their fourth quarter streaming campaigns panned out, more money may be on the move. If advertisers find that streaming sufficiently boosted their businesses, they will likely spend more money on the medium. If not, that money may make its way back to traditional TV. Either way, the strategy could play into the hands of TV networks that operate major ad-supported streamers and may want to use this year's upfront negotiations to make up for last year's concessions.
Social video platforms' contest for creators
In the same way that Netflix faces its stiffest competition yet in 2021, so does YouTube. Google's dominant digital video platform has been fending off Facebook while contending with Instagram, Snapchat and TikTok, each of which are finally taking aim at YouTube's point of strength: providing creators the opportunity to directly make money from their videos.
In 2020, Instagram began testing a monetization program for its long-form video platform IGTV. TikTok announced the TikTok Creator Fund to pay some creators for posting videos. And Snapchat — which introduced its monetization program in 2018 and is coming off a business rebound in 2020 — formed its own program to pay creators for popular posts.
To an extent, these platforms are not playing a zero-sum game. Creators, like publishers, recognize the need to diversify and have found the people watching their TikTok videos, for example, are not the same as those following them on Instagram. But creators' time is finite, forcing them to prioritize certain platforms over others. And while creators have been able to repurpose videos between platforms, they are finding they need to be tailoring their videos to the respective platforms, as happened in the case of TikTok and Instagram's copycat feature Reels. If this trend continues and platforms' monetization programs mature to approach YouTube's standard, then creators may find YouTube finally receiving the competition — and creators reaping the revenue — they have been craving.
Programming pipeline pressure
While some TV shows, movies, digital videos and commercials had eased back into physical production before the end of 2020, a full-fledged return has not yet taken place. And it may not happen anytime soon with coronavirus cases on the rise (more in the "Trend watch" section below). The continued uncertainty around the return to production could impact TV networks' and streaming services' programming pipelines potentially to a greater degree than has been the case so far.
For the most part, networks, streamers, video publishers and advertisers were successfully able to adapt to last year's production shutdown. Networks and streamers picked up programming that had already aired elsewhere and took advantage of projects that had made it into post-production before the hiatus. Publishers and advertisers, meanwhile, shifted to remote production. But the entire industry had hoped to return to physical production in the fall. That didn't happen en masse, and the latest shooting hiatus could further delay the return, leaving networks and streamers' programming pipelines tapped out and sapped of shows to suck in audiences.
Alternatively, networks' and streamers' programming pipelines may be fine. Some shows and movies flocked to places like Canada to return to production. And some series, like ABC's "The Bachelor," formed their own bubbles to shoot while ensuring cast and crew members' safety. Depending on the broad availability of a coronavirus vaccine, physical shoots may be able to start up en masse by summer, and the remote production and post-production processes put in place following last year's hiatus could help to accelerate the turnaround of those projects.
Confessional
"In 2020, we decided that we needed to focus on the smart TV guys because the rate of growth in smart TV usage was outstripping Roku and Amazon Fire [TV] and Apple TV and Android [TV]. Our fastest growing subset [of viewership] has been on smart TV platforms."

— Streaming executive
Trend watch: Production on pause (again)
Hollywood's return to traditional production has become a series of restarts and stalls. The latest surge in coronavirus cases in Los Angeles has put another brake on film, TV, digital video and commercial shoots in the area.
It's worth noting that these production pauses are specific to Southern California, which has become a hotbed for coronavirus. Additionally, while these companies and organizations are taking these steps to restrict the disease's spread, California's recently extended shelter-at-home orders exempt productions, so movies, shows and commercials are technically still allowed to shoot in Southern California. But considering people's lives are at stake, producers and others have to ask themselves whether a piece of content is worth it, and many are acknowledging it's not.
Numbers don't lie
4.8 million: Number of people who watched each minute, on average, the Dec. 26 NFL game that was only available to watch via streaming services like Amazon's Amazon Prime Video and Twitch.
20%: Year-over-year percentage increase in ESPN+'s annual subscription price.
4: Number of paid streaming services that the average U.S. household subscribed to in 2020.
What we've covered
How ViacomCBS is managing the transition from linear TV to streaming:
When ViacomCBS relaunches CBS All Access as Paramount+ this year, it will officially (re)join the streaming wars.
The company is among the TV conglomerates attempting to build up its streaming business without tearing down its linear TV business.
Read more about ViacomCBS here.
Media companies' streaming inventory sold out early this fourth quarter:
Before Thanksgiving, some media companies' ad slots had sold out through the end of 2020.
Some ad buyers believe the sell-out claims to be a negotiating tactic.
Read more about streaming ads here.
What the AT&T-Fuse Media distribution dispute says about the pay-TV market:
Fuse claims AT&T discriminated against the network to favor the telecom giant's own TV networks, though the issue may be more a matter of AT&T cutting its affiliate costs.
Pay-TV distribution stalemates are likely to become more common and force smaller TV networks to pivot into streaming-only properties.
Read more about AT&T-Fuse Media here.
TV networks' debts to advertisers are piling up:
TV networks have fallen short of viewership guarantees made to advertisers for years.
These shortfalls piled up even more in the fourth quarter with lower-than-expected viewership for major sports.
Read more about TV advertising debts here.
What we're reading
Roku's Quibi catalog:
Roku is in talks to acquire Quibi's library of original programming to populate The Roku Channel, according to The Wall Street Journal. Quibi's content may not seem all that valuable considering how the mobile video service flopped and folded less than a year after launching, but there are two considerations to keep in mind. First, sometimes the issue isn't the programming so much as the platform (ex. how shows like "You" and "Cobra Kai" become legitimate hits after jumping from Lifetime and YouTube, respectively, to Netflix). Second, The Roku Channel is in need of exclusive programming to differentiate the free, ad-supported streaming TV platform from every other FAST service, both in the minds of audiences as well as advertisers.
Hollywood's diversity database:
Oscar nominee Ava DuVernay and former Warner Bros. executive Peter Roth are assembling a database of crew members from underrepresented groups so that film, TV and digital video producers can ensure their productions are diverse and inclusive, according to the Los Angeles Times. Called Array Crew, the database is the latest example of Hollywood's attempt to address the industry's historic lack of diversity on- and off-screen and erase the excuse of anyone attributing the lack of diversity to a dearth of — or difficulty in finding — talent from underrepresented groups.
The NFL's TV dominance:
NFL games remain the most popular program on traditional TV. Of the 50 most-viewed TV programs in the U.S. last year, 33 were NFL games, according to Sportico. That stat will likely help the league to push up its prices in the next round of rights negotiations. More to the point, despite live sports TV viewership falling short of expectations in the fall, 21 of the NFL's entries on the most-viewed list were games that have taken place since the start of September. In other words, even if people are tuning in less to linear TV overall, including live sports, they are still more likely to watch the NFL than anything else on TV.
YouTube's biggest star:
What the NFL is to traditional TV, Jimmy "MrBeast" Donaldson is to YouTube. In 2020, every video that Donaldson uploaded to the Google-owned video platform garnered at least 20 million views, according to Bloomberg. For as many people as say there is not a set formula for a video to go viral, Donaldson seems to have developed one that's actually not all that novel: The more that is put into a piece a content — not only money but also effort — the more likely a large number of people will watch it. That has worked on traditional TV (e.g. NFL games) and in theatrical films (e.g. Marvel movies), and Donaldson is proof that it also works in digital videos. On average, Donaldson spends $300,000 to produce a video. Of course, the formula is not so simple as setting fire to a pile of money (though that would probably work as a one-off stunt), and the fact that viewership and revenue is not actually guaranteed is what makes managing the economics of producing videos for platforms like YouTube such a challenge for individual video creators and publishers alike.
https://digiday.com/?p=387607