Future of TV Briefing: How the TV, streaming and digital video industry spent its summer
September 15, 2021 • 12 min read
•
•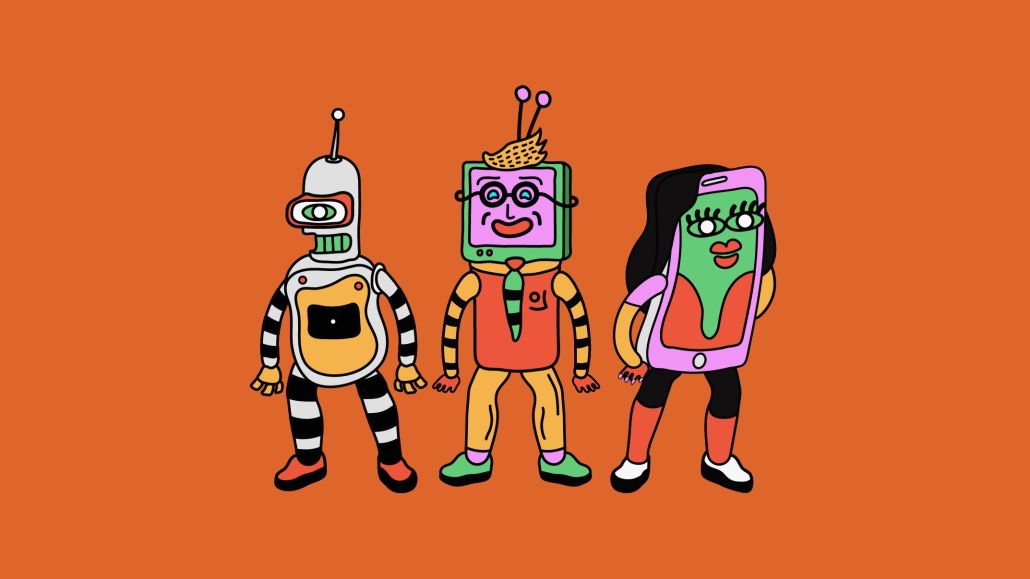 Ivy Liu
This Future of TV Briefing covers the latest in streaming and TV for Digiday+ members and is distributed over email every Wednesday at 10 a.m. ET. More from the series →
The Future of TV Briefing this week recaps what happened over the summer, including the return of mega-merger mania, the sped-up upfront cycle, the flattening streaming landscape and TV's measurement melee.
A busy summer break
Smart TV wars
Apple preps streaming push, Amazon eyes NFL Sunday Ticket, ViacomCBS reorganizes Paramount Pictures and more
A busy summer break
The key hits:
May was a month of deal-making, between the opening of TV's upfront marketplace and announcements of WarnerMedia-Discovery and Amazon-MGM.
In June, ad-supported streaming took the spotlight, with new major services emerging and a heightened role in the fast-paced upfront marketplace.
July provided a heat check, as Netflix saw growth slow and the delta variant crept into the picture.
A usually uneventful month, August was fraught with conflict.
Dear Future of TV reader, how was your summer? I can't believe it's already fall. It feels like the NewFronts were only last week. A lot has happened since then — ex. the Discovery-WarnerMedia merger, the latest upfront deals, the delta variant, the Disney-Netflix rivalry, things starting with letters other than "D" — so I thought I'd catch us up on what happened this summer.
May
The calendar may slate summer as starting in late June, but the TV and streaming landscape really heated up in May.
The month kicked off with the Interactive Advertising Bureau's Digital Content NewFronts, and immediately after the annual upfront marketplace opened for business. Broadcast network owners Disney and NBCUniversal were particularly quick to get the deal-making cycle started, using their limited linear inventory as leverage to press advertisers for double-digit price increases. The tight TV ad market propped up streaming's importance as an alternative inventory source, which explains why digital-only sellers like Roku exploited the opportunity to participate in the marketplace early rather than wait until the traditional TV deals were done, as had historically been the case.
Upfront deals were easily overshadowed by the end of the month, though. On the eve of TV networks' primary upfront presentations, AT&T announced that it had agreed to spin off WarnerMedia to merge with Discovery. The deal not only revitalized the mega-merger mania of the pre-pandemic era when Disney acquired 21st Century Fox, Discovery acquired Scripps Networks Interactive and AT&T acquired WarnerMedia, but it also sparked speculation of another M&A wave, with ViacomCBS and NBCUniversal considered to be the biggest potential buyers as well as targets. Spoiler: that has yet to pan out.
But before May was over, another M&A announcement rocked the future of TV's picture. Amazon said it had agreed to buy MGM. If that deal closes — a big if considering the breadth of Amazon's business and U.S. regulators' interest in antitrust issues — it will take one of the biggest independent movie and TV show providers off the market, potentially putting greater pressure on streaming services' abilities to churn out original programming to combat subscriber churn — a topic that we'll return in the second half of summer.
June
For as eventful as May was, the TV, streaming and digital video industry could have called it a season and broken off until September. And when it came to the upfront negotiations, that appeared to be the aim.
The upfront marketplace usually doesn't wrap up until July and can even extend into August. But major TV network owners, including Disney, Fox and NBCUniversal, closed up shop by the middle of June. Advertisers and their agencies may have appreciated the abbreviated buying cycle enabling them to take some actual time off during summer, but they were not so keen about inflated linear ad rates they received. Then again, they also understood this year's upfront marketplace may end up being an inflection point for the inevitable shift to streaming becoming the focal point. Traditional TV may still have higher viewership, but its inventory limitations led TV networks to turn away linear dollars for advertisers to redirect them to streaming.
And while streaming is still accruing audience, it took some sizable steps in June. After Roku rolled out 30 original shows for its free, ad-supported streaming TV service The Roku Channel in late May, the ad-supported streaming market received a further injection of inventory in June with the debuts of ad-supported tiers for WarnerMedia's HBO Max and ViacomCBS's Paramount+. Those marked the latest additions to a top-tier streaming ad landscape that for a long time was dominated by Disney's Hulu but now also features NBCUniversal's Peacock and Discovery's Discovery+, in addition to the flurry of FAST services that are aiming to attract streaming viewers away from ad-free services like Netflix.
July
July ended up feeling like a mix of aftermath and omen. Just as the industry seemed to have turned a corner in reeling from the pandemic and returning to the new normal, the delta variant — among other factors — began to pump the brakes.
After in-person production picked up to pre-pandemic levels during the second quarter, Hollywood's return to work had to take a breather due to the delta variant. Netflix began requiring cast members on its U.S. productions to be vaccinated. Sony Pictures Entertainment pushed back its office-return timeline. And movies and TV shows, like HBO's "House of the Dragon," had to suspend production after people on set tested positive.
Japan's growing COVID-19 case count compromised the Summer Olympics and likely contributed to the Games receiving its lowest primetime viewership since 1988. To NBCUniversal's credit, the TV conglomerate was able to fulfill its viewership obligations to Olympics advertisers, in part, by providing advertisers with more streaming inventory. Considering the tightness of the traditional TV ad market and the years-long trend of traditional TV viewership sliding, examples like that are likely to become even more common as this year's upfront deals take effect in the fall.
On the other end of the spectrum, however, Netflix's earnings report indicated how people returning to normal may have an adverse impact on viewership. The dominant subscription-based streamer saw its subscriber growth slow in the second quarter of 2021 and even lost subscribers in the U.S. and Canada. A dearth of original programming and the saturation of the subscription-based streaming market are also likely to blame. The latter seemed to be a particularly significant potential factor when looking at July through August's rearview mirror.
August
August was spent in the trenches. As everyone contended with the delta variant, combat intensified in the subscription-based streaming war, the short-form digital video battle and the TV measurement melee.
Netflix's reported subscriber slowdown raised the question of whether other streamers experienced similar struggles in the second quarter, signaling the long-awaited subscription fatigue had set in. It had not. Discovery, Disney, WarnerMedia and ViacomCBS each reported that their respective streaming subscriber bases grew during Q2. That's to be expected considering these are relatively new entrants to a market Netflix has owned for more than a decade. But Disney reaching 173.7 million subscribers to Netflix's 209 million subscribers suggests the subscription-based streaming war is beginning to be fought on a more level playing field.
Like Netflix, TikTok has also been seeing more companies come for its crown. Specifically Instagram and YouTube. A year after TikTok announced its Creator Fund to pay people for posting videos to its platform, in August YouTube likewise officially opened its wallet to pay people for posting videos to its TikTok clone YouTube Shorts. Instagram's parent company Facebook announced a similar move in July.
However, the most heated stand-off was hosted in a much more archaic arena. After TV trade group the VAB alleged in April that Nielsen had undercounted TV viewership during the pandemic and the Media Rating Council confirmed Nielsen's measurement mistake, the brewing conflict came to a head in August. First, Discovery CEO David Zaslav used a portion of the company's earnings call to call out Nielsen and call for the TV industry to move away from its primary measurement provider. Then, Nielsen said it would put its MRC accreditation on hiatus while the company worked to fix its system. Next, NBCUniversal called for the creation of a new measurement infrastructure that may include but not be limited to Nielsen and sent out proposal requests to an array of measurement providers.
So that was summer. But the season cannot be capsuled in time. Case in point: on Sept. 1, the MRC announced it had stripped Nielsen of its accreditation. Instead the fallout from the past four months will be felt into the fall and through to the future.
What we've heard
"Discovery was super bullish in the upfront and so difficult to negotiate with because their viewer is so different [compared to other TV networks' audience]. People will binge-watch 'Fixer-Upper.'"

— Agency executive
Stay tuned: Smart TV wars
The smart TV front of the connected TV platform war is intensifying. In the past week, Amazon has announced its first line of branded smart TVs, and smart TV maker LG announced that its advertising division will roll out its own CTV platform.
Amazon's and LG's moves indicate a blurring of the lines occurring between smart TV and CTV companies. Amazon and Roku may have built much of their CTV footprints by people plugging the companies' streaming dongles into their otherwise unconnected TVs, but increasingly people are trading in their old, dumb TVs for smart TVs, which can mitigate the need for a separate streaming device.
As TVRev noted in a report released earlier this month on the smart TV ecosystem, smart TVs account for half of TVs in the U.S., and smart TV makers are looking to grab a larger share of the streaming ad market, as they push out their own ad-supported streaming services and sell ads across third-party streamers available on their smart TVs.
To be clear, Amazon, Roku and even Google have struck deals with TV makers to have their respective CTV platforms power the manufacturers' smart TVs. But TV manufacturers like Samsung, Vizio and LG operate their own CTV platforms, and companies like Walmart and Comcast are reportedly working together to create their own smart TV powered by Comcast's CTV platform. These moves may amount to cutting off and even cutting into the CTV platform owners' share of the market.
That may already be happening. In the second quarter of 2021, connected TV devices saw their watch time increase by 5% year over year, while smart TV watch time jumped by 46%, according to Conviva. Although Amazon's and Roku's CTV platforms combined to account for 49% of watch time in the period, their share dipped from 52% in Q2 2020.
As stated in TVRev's report, "by rolling out their own simple, user-friendly interfaces, the smart TV [manufacturers] are beginning to make strides in getting users to either cut back on using streaming devices or not resort to one at all."
Numbers to know
30%: The percentage share of creators for streaming shows aired during the 2020-21 season who were women, compared to 22% for broadcast TV shows.
$6.5 million: The highest price that NBCUniversal has secured for a 30-second ad in next year's Super Bowl.
1.6 million: The number of people who streamed last week's NFL Kickoff Game, compared to 24.8 million people who watched it on traditional TV.
$18.4. million: How much money cable TV networks lost in affiliate fees because of carriage disputes that resulted in blackouts.
1.35 million: How many traditional pay-TV subscribers cut the cord in the second quarter of 2021, compared to 1.57 million in Q2 2020.
What we've covered
Why Immortals Gaming Club is turning the esports merch game on its head with its zero-profit strategy:
The Los Angeles-based esports team is hoping the price reduction attracts younger and less hardcore gamers.
The loss-leader strategy is uncommon in esports where a lot of companies are still seeking profitability and commerce is a crucial revenue stream.
Read more about Immortals Gaming Club here.
Why Canadian TV company Blue Ant Media has taken a niche, FAST-first approach to building up its U.S. business:
Rather than break into the crowded U.S. pay-TV market, Blue Ant has oriented its U.S. expansion around free, ad-supported streaming TV.
After soft launching in the U.S. on Roku's The Roku Channel in mid-August, Blue Ant's HauntTV has attracted roughly 600,000 unique viewers.
Read more about Blue Ant Media's FAST approach here.
Why esports companies are leveraging Snapchat to reach mobile gamers:
Snapchat's boom during the pandemic has turned the heads of esports media companies.
Snapchat has debuted almost 60 new gaming and esports shows on Discovery this year.
Read more about esports' companies Snapchat adoption here.
How Walmart is using interior design to tap into TikTok's Get Z audience:
The retailer launched a home channel on TikTok to target Gen Z shoppers in search of their first homes, apartments and college dorms.
Walmart plans to use influencers and produced videos about DIY decor.
Read more about Walmart's TikTok strategy here.
What we're reading
Apple plans to step up its streaming fight:
Two years after making its foray into the subscription-based streaming war, Apple seems to finally be ready to take the fight to Netflix, Disney and Amazon, according to The Information. The iPhone maker is expected to spend $500 million to promote its Apple TV+ streaming service and is looking to up its programming output, with one new show or movie slated to premiere per week in 2022.
Amazon closes in on NFL Sunday Ticket deal:
Amazon is looking to pick up the rights to the NFL's Sunday Ticket package, according to CNBC. The package, which allows subscribers to watch out-of-market games, would add to Amazon's growing roster of sports programming, which includes the NFL's Thursday Night Football games, the WNBA and various European soccer rights.
Hulu's price increase reignites subscription fatigue speculation:
Disney's Hulu is the latest subscription-based streamer to announce a price hike, a trend that seemingly must have some end, according to Los Angeles Times. People's pocketbooks probably do have some some upper limit on the amount of money they're willing to spend to stream shows. But how that budget may be allocated is where things get messy. Some people may be willing to pay a lot for a few major services, while others seek to spread out their options among cheaper, specialty streamers. And each month, the math may change based on what show or movie debuts or is taken off a given service.
TV networks expect record-breaking NFL season:
TV network owners like Disney, Fox, NBCUniversal and ViacomCBS wouldn't shell out billions of dollars to air NFL games if they didn't expect to make that money back and then some. This year — after NFL rights prices shot up to $9 billion per year — TV network owners are expecting a proportionally bigger payday, according to Adweek. Some TV networks nabbed double-digit price increases for their NFL ad inventory in this year's upfront market, and NBCUniversal is already securing 30% higher prices in the scatter market.
ViacomCBS rejiggers its studio to prioritize Paramount+:
A year after many media companies reorganized themselves around streaming, ViacomCBS's Paramount Pictures is separating its movie and TV divisions, according to The Wall Street Journal. David Nevins, who oversees Showtime and Paramount+'s original programming, will take the reins of the studio's TV division, which will prioritize producing shows for ViacomCBS's own TV networks and Paramount+ streaming service rather than selling them to outside networks and streamers.
https://digiday.com/?p=425775
This week's Future of TV Briefing looks at how the streaming ad market's programmatic guaranteed vs. private marketplace debate is reaching a compromise.
This week's Future of TV Briefing looks at how this year's upfront and recent announcements from AMC Networks and Paramount indicate the progression of programmatic in the TV and streaming ad market.
This week's Future of TV Briefing looks at how major streaming service owners' subscription business fared in the third quarter of 2023.