Future of TV Briefing: How Amazon, Roku and YouTube stepped up in this year's upfront market
July 14, 2021 • 10 min read
•
•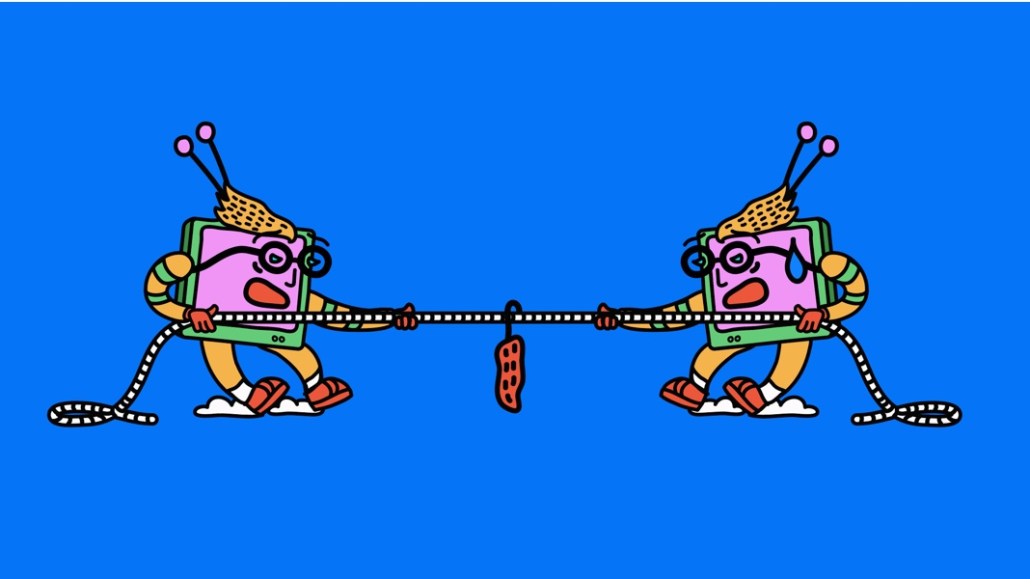 Ivy Liu
This Future of TV Briefing covers the latest in streaming and TV for Digiday+ members and is distributed over email every Wednesday at 10 a.m. ET. More from the series →
The Future of TV Briefing this week looks at how the competitive playing field changed between Amazon, Roku and YouTube versus traditional TV network owners for advertisers' dollars in this year's upfront market.
Streaming-only sellers step up
Anticompetition and the streaming wars
The virtual watch party isn't over
Comcast's Peacock strategy, Apple's NFL interest, Barbie's big break and more
Streaming-only sellers step up
2021 was a leap year for streaming-only sellers in the TV advertising upfront marketplace.
While the annual dealmaking cycle remains dominated by traditional TV network owners, streaming-only sellers like Amazon, Roku and YouTube are no longer taking a backseat to their linear counterparts. Amazon, Roku and YouTube may not have seized the wheel from traditional TV companies, but they have their hands on it now.
The key hits:
Streaming-only sellers like Roku and YouTube began negotiating with advertisers and agencies in this year's upfront earlier than in prior years.
The upfront approaches of Amazon, Roku and YouTube this year bore greater semblance with traditional TV network owners in some respects but contrasted starkly in others.
In a shift, the streaming-only sellers are beginning to sign upfront deals with individual advertisers instead of at the agency level.
The streaming-only sellers sought to exploit TV network owners' linear inventory limitations and juxtaposed their more flexible cancelation terms with TV's more rigid options.
Historically, advertisers and agencies dealt with the TV network owners before negotiating with the major connected TV platform owners and ad-supported streaming services. But not this year. Disney and NBCUniversal may have jump-started the upfront market in May, but the streaming-only sellers were right there with them, according to agency executives.
"We saw Roku and YouTube be more aggressive early than they have historically," said Stacey Stewart, evp and managing partner of integrated investment at UM Worldwide.
Case in point: On July 12, Roku announced that the CTV platform had wrapped up its upfront deal-making with the seven major agency holding companies.
Another shift was with whom the streaming-only sellers did their deals. Typically, Amazon, Roku and YouTube secure spending commitments with the agency holding companies, and the agencies then work with their clients throughout the year to direct the brands' ad dollars to the CTV platforms and digital video streaming service to fulfill the spending commitments. But this year the streaming-only sellers looked to lock up commitments at the individual advertiser level, which is the approach that the TV network owners take.
"The streamers, for the most part, were looking for client-specific registrations as opposed to holding company-level commitments," said one agency executive. A second agency executive said the shift indicates that the streaming-only sellers believe they can satisfy individual advertisers' audience needs and inventory demands.
That confidence carried over into the tone that Amazon, Roku and YouTube took in their negotiations. While TV network owners pressed advertisers to make their commitments early and were willing to turn away linear dollars to secure streaming commitments, the streaming-only sellers were more lenient. "It was a tale of two upfronts in that sense," said a third agency executive.
The streaming-only sellers may have rushed to the negotiating table, but they didn't rush the negotiations because they didn't feel like they needed to, according to agency executives, some of whom said they had not yet completed their upfront talks with all of the streaming-only sellers.
"I did not feel pressure from Roku, Amazon or Google to finalize a deal. If anything, it was more [those companies saying] 'We know dollars are being pushed out of the linear market. We're ready to take you because our scale is growing, and we want you to know we're here to take your money," said the third agency executive.
Additionally, the streaming-only sellers sought to separate themselves from the TV network owners by offering cancelation terms more favorable to advertisers. Roku, for example, offered the option for advertisers to cancel 100% of a buy up to two days before a campaign begins to run, while the others held to the Interactive Advertising Bureau's standard 14-day, 100% cancelation term, per agency executives. By contrast, some of the TV network owners sought to apply their more rigid linear cancelation terms — allowing an advertiser to cancel up to 50% of a buy no later than a month before it takes effect — to their streaming inventory.
However, the biggest factor in leveling the upfront playing field between the TV network owners and streaming-only sellers this year may have been the shift in perspective among advertisers. They see what Amazon, Roku and YouTube have to offer as not so dissimilar to TV at this point.
"There's a new definition of TV: watching TV-like content and watching content on the TV screen," Stewart said.
Of course, it helps that, in this year's upfront, the streaming-only sellers addressed advertisers' qualms with their content by offering show-level transparency through data clean rooms. But advertisers also have seen the stats that support updating their assessments. Stats like more than 120 million people in the U.S. watch YouTube on TV screens and the Google-owned video platform matched Netflix's share of total TV watch time,
"It's all about finding audiences with the right messages at the right time and in the right place and for the right price, and having Google in that consideration set is very important for the evolution of where consumption has gone and where clients need to be playing," said Geoff Calabrese, chief investment officer at Omnicom Media Group. "You can't just think of the world as you always have."
What we've heard
"It's getting competitive to get good content for FAST services. A lot of the stuff on our FAST channels are acquired programs, and what used to pass for 50-50 rev-share deals are now commanding significant minimum guarantees."

— Streaming executive
Stay tuned: Anticompetition and the streaming wars
The U.S. government's recent moves to restrict companies' anticompetitive actions could have a host of implications for the streaming market, from reinforcing Netflix's dominance to checking connected TV platform owners' power.
On July 9, President Joe Biden signed an executive order that, among other things, called for the Federal Trade Commission to evaluate the level of competition in digital marketplaces and to revisit mergers that have already closed. On the same day, the FTC reportedly opened an investigation into Amazon's planned acquisition of MGM, according to The Information.
As The Hollywood Reporter has already proffered, both moves may help to preserve Netflix's dominance of the streaming market and impede its main rivals from sizing up. Amazon's acquisition of MGM is designed to make its Prime Video service more competitive with Netflix's programming library, for example. Meanwhile, the planned Discovery-WarnerMedia deal is meant to put the combined company in a better position to keep pace with Netflix and Disney, which could come under scrutiny for its previous acquisition of 21st Century Fox.
Conversely, connected TV platform owners like Amazon, Roku and Samsung could see their positions in the ad-supported streaming market diminished, depending on how the FTC would opt to investigate competition in the streaming marketplace.
For example, the government agency may not like the idea of platform owners also operating their own streaming services that compete with other streamers distributed on those platforms. FTC chair Lina Khan has taken issue with Amazon's AmazonBasics competing with other merchants' goods on its e-commerce platform and could apply that perspective to the likes of IMDb TV, The Roku Channel and Samsung TV Plus.
Additionally, the FTC may not be wild about the data that CTV platform owners and smart TV manufacturers are able to collect and use to sell targeted advertising, from both a competitive and consumer privacy perspective. That a smart TV can track everything someone watches may not be a big deal, especially when it that information is used to recommend movies and shows. But the calculation may be different when that information is used to sell ads, especially if it gives the platform owners a better pitch than the long tail of ad-supported streamers already dependent upon them for distribution.
Then again, the FTC may be all for CTV platform owners emerging as potential disruptors to the digital ad duopoly of Google and Facebook. Then again, Google is also a CTV platform owner and that duopoly is actually turning into a triopoly with CTV platform owner Amazon.
Numbers to know
$60 million: How much money Disney's "Black Widow" earned from people buying access to the Marvel movie through Disney+.
29.4%: Increase in subscription-based streaming revenue in 2020.
53 million: Number of U.S. households that are expected to have traditional pay-TV subscriptions in 2024.
$94 billion: The amount of money that people are expected to spend on streaming subscriptions and on-demand transactions by 2025.
Trend watch: The watch party isn't over
Virtual watch parties have outlasted last year's quarantine. This year a higher percentage of people are using co-viewing apps and services to watch shows and movies with people outside their homes than did a year ago, according to Hub Entertainment Research.
In a survey 2,519 people in the U.S., 23% of respondents said they've used a co-viewing app or service this year, compared to 20% in 2020, per the research firm.
As might be expected, younger people are more likely to be the ones doing the virtual co-viewing.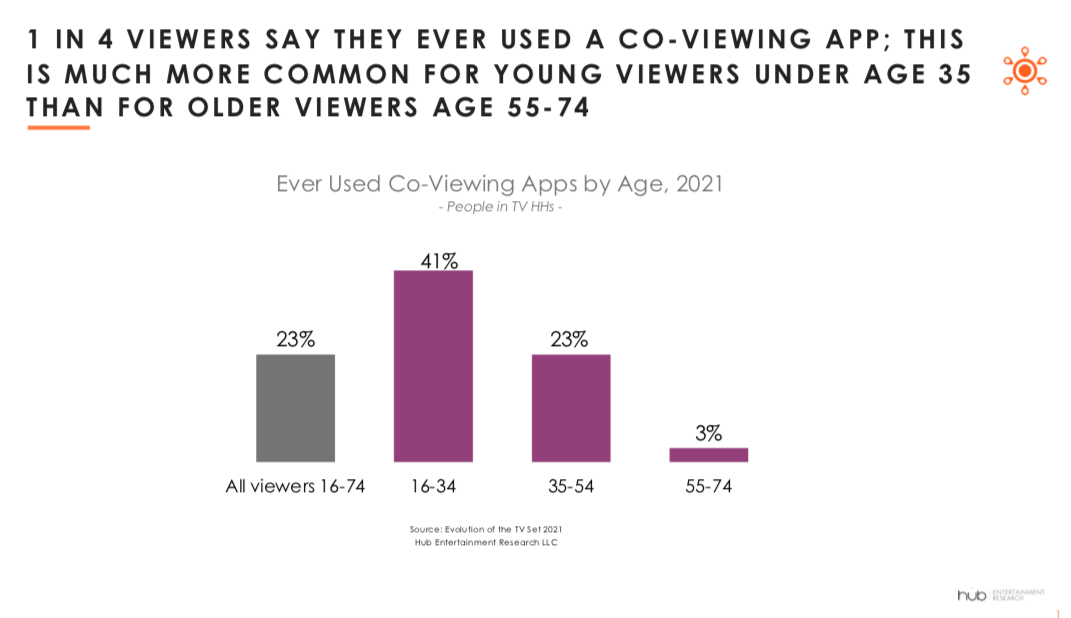 Younger audiences seem to be more split in which service they use for co-viewing, though. Amazon Watch Party is the most popular co-viewing service by a healthy margin, and it's much more popular among older audiences than younger ones.
Of people between the ages of 35 and 54 years old, 57% are likely to use Amazon Watch Party, compared to 37% for people between the ages of 16 and 34 years old, according to Hub Entertainment Research.
What we've covered
All Def owner Culture Genesis snags $5 million in revenue after gaining YouTube ad sales rights:
After acquiring All Def, Culture Genesis has secured the ability to directly and programmatically sell ads on its own and others' YouTube channels.
Culture Genesis expects to top $15 million in revenue over the next year.
Read more about Culture Genesis here.
Why Gallery Media is writing songs for brands on TikTok and Instagram:
The Gary Vaynerchuk-owned media company created a division that would act as an in-house music production company.
The division is effectively producing jingles for brands that people can use in their own social videos.
Read more about Gallery Media here.
How Faze Clan develops brand partnerships:
The esports organization has announced a new partnership each week for five straight weeks.
In May, Faze Clan announced a deal with Microsoft's Xbox 360 to create co-branded merchandise.
Read more about Faze Clan here.
Confessions of a commercial crew member on the headache of execs returning to set:
Some brand and agency executives are not thinking to get tested before they travel to set.
The executives are also not getting the PCR tests that have become industry standard.
Read more about commercial sets here.
What we're reading
Comcast pieces together its Peacock strategy:
A year after its launch, NBCUniversal's Peacock sits squarely in the second tier of streaming services, but parent company Comcast seems intent on pushing it up the ranks and pushing people to pay for it, according to Bloomberg. While 80% of Peacock's 14 million monthly active users are using its free tier, Comcast is paying to pump more programming into its paid tiers. Case in point: next year Universal Pictures' movies will become available on Peacock instead of HBO but only to paying subscribers.
Apple's interested in NFL rights:
Apple is among the companies kicking the tires on buying rights to the NF's Sunday Tick package, according to The Information. Acquiring the rights to air out-of-market games on Apple TV+ would be a boon to Apple's staid streaming service, and the company could also bundle the package into its Apple One subscription program. But that assumes that Apple ends up with the rights. Per the piece, the $2 trillion company isn't a serious potential buyer.
Mattel looks to make its mark in Hollywood:
Mattel is the latest marketer looking to break into the entertainment business, according to The New York Times. The toy makers have 13 movies in some stage of development and production, including "Barbie," which will star Margot Robbie and debut in 2023. As much as this may sniff of marketing, Mattel seems set on this being more a matter of a company squeezing its intellectual property for as much money as it can. Sounds like a traditional entertainment company already.
https://digiday.com/?p=420401
This week's Future of TV Briefing looks at what an industry group's conditional certification of three measurement currency contenders signals about the TV ad business's measurement overhaul.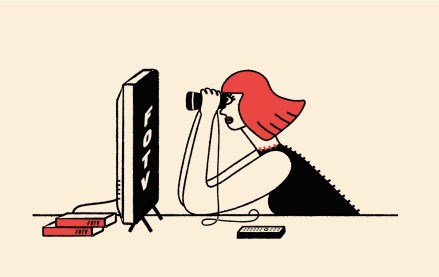 This week's Future of TV Briefing offers an updated list of the key terms that can cause confusion when talking about the TV, streaming and digital video industry.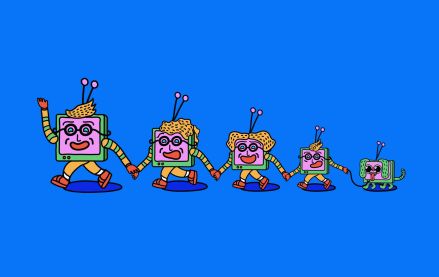 This week's Future of TV Briefing looks at what the Disney-Charter pay-TV distribution deal seems to indicate about the increasingly more-complementary-than-contentious relationship between traditional TV and streaming.