Digiday Research: C-suite publisher executives hold conflicting views on platforms
April 2, 2018 • 4 min read
•
•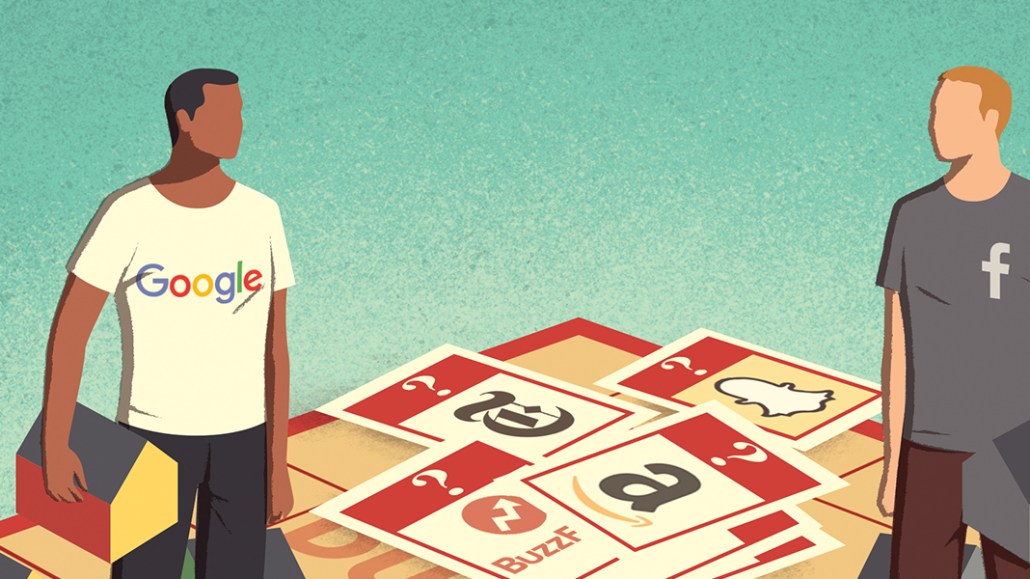 This research is based on unique data collected from our proprietary audience of publisher, agency, brand and tech insiders. It's available to Digiday+ members. More from the series →
At the Digiday Moguls event in March in Vail, Colorado, we sat down with 33 C-suite publisher executives to get their thoughts on publishers' relationship with the Google-Facebook duopoly. Check out our earlier research on European publishers' international expansion plans here. Learn more about our upcoming events here.
Quick takeaways:
Over half of publisher executives in Digiday's survey from the event are very or extremely concerned about ad spend going to the duopoly.
Respondents are split on whether Facebook and Google are media companies or tech companies.
Roughly two-thirds (64 percent) believe there's still time for Facebook-dependent publishers to diversify their audience sources.
Respondents have mixed reactions to Google's ad-blocking version of Chrome.
Concerns about the duopoly persist
With eMarketer projecting that Facebook and Google would gobble up 63 percent of the amount spent on digital advertising in the U.S. in 2017, C-suite publisher executives at the Digiday Moguls event were understandably concerned about the duopoly's dominance. Sixty-three percent of the executives surveyed said they were concerned, while 9 percent said they were not very concerned or not at all concerned.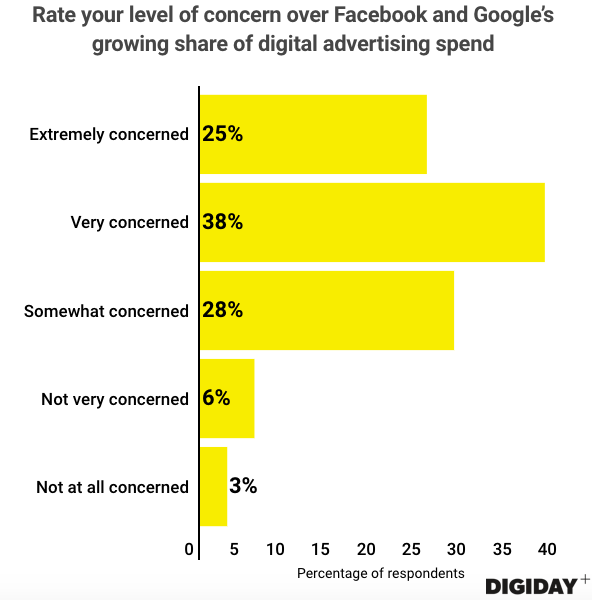 For the first time in the recent years, however, the duopoly is projected to capture a lower share of spending on digital advertising in the U.S. than the previous year. In 2018, eMarketer predicts the duopoly's share of U.S. digital ad spend to be 56.8 percent, down from 58.5 percent last year. Furthermore, 48 percent of new spending on digital advertising in the U.S. will go to Google and Facebook, down from 73 percent in 2016, per eMarketer.
These projections shouldn't mitigate publishers' worries, though. Most new digital advertising spend is going to platforms such as Amazon or Snapchat, and publishers are still fighting over the leftovers.
"The real issue is that Facebook and Google are taking 85 to 90 percent of every new dollar in the marketplace, and we're fighting for scraps," said one anonymous executive at the Moguls event. "The issue is not how Facebook is screwing me with distribution. They have a business to run."
Publishers won't cut ties with Facebook and Google
Publishers love to gripe about the duopoly, but they won't end their relationships with the platforms anytime soon. Ninety-seven percent of executives surveyed by Digiday view the platforms as frenemies, and no one considered them friends. Google and Facebook still provide 70 percent of publishers' referral traffic.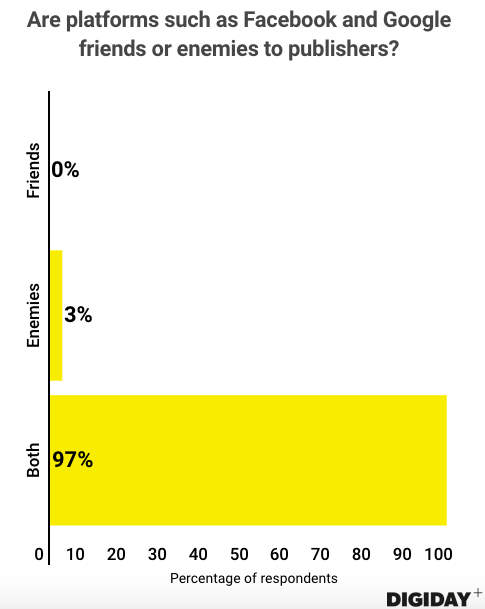 Are Facebook and Google media companies?
The question of whether whether Google and Facebook are media companies or technology companies elicits visceral responses from media executives. Facebook has long claimed it can't be a media company — which are subject to increased regulation and oversight — because it doesn't hire journalists. In an earlier conversation with Digiday, NBCUniversal's Linda Yaccarino said the platforms' behavior suggests they are media companies. "If you're in the business of securing billions of dollars of advertising budgets from big brand marketers," she said, "it would seem to be that's what they want to be." Respondents to Digiday's survey were divided on the issue, with just over half believing Facebook and Google are media companies.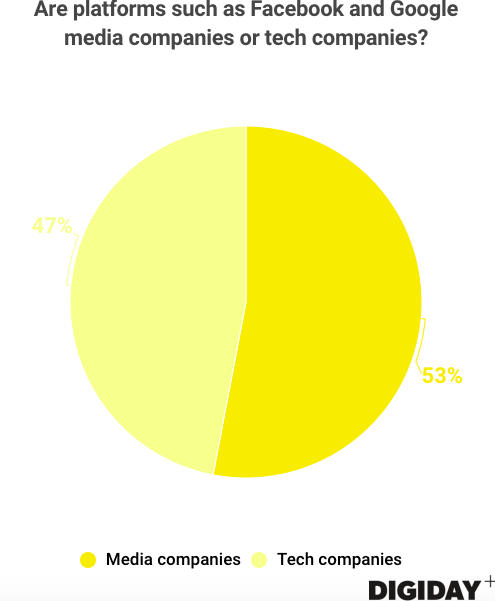 Publishers still have time to diversify audience sources
In the aftermath of Facebook's recent news feed change, publishers are scrambling to adjust their business strategies to avoid shutting down like Facebook-reliant peers Cooking Panda, LittleThings and Rare.
Two-thirds of the respondents to Digiday's survey believe there's still time for Facebook-dependent publishers to diversify their audience sources.
NowThis relaunched its website after Facebook's change, and social publisher Attn is producing more original video series for TV and Facebook Watch. Getting audiences to leave Facebook for owned and operated sites is difficult, but could pay off. Digiday research found that publishers make most of their money from digital video on their own sites rather than on Facebook.
Ad-blocking version of Google Chrome evokes mixed feelings
Last month, Google turned on the ad blocker in the latest version of its Chrome browser, a move it said is designed to remove intrusive ads that harm user experience. Google will rate publishers' websites based on the Better Ad Standards from the trade organization Coalition for Better Ads, blocking ads on publishers' pages if they fail to adhere to those standards. Many worry about the conflicts of interest this poses for Google, as the world's largest ad seller also becomes the arbiter of what ads are acceptable.
Respondents to Digiday's survey have mixed feelings about the Chrome ad blocker. Forty-seven percent believe it will create a better user experience for site visitors, and 44 percent believe it's a dangerous overreach by Google. (Percentages exceed 100 percent because respondents were allowed to select multiple responses, though few did.)
https://digiday.com/?p=281839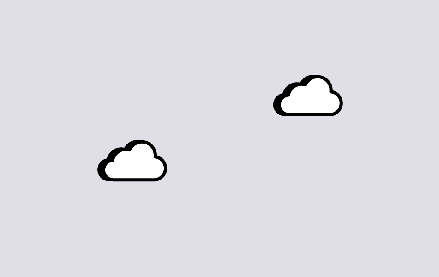 November 29, 2023 • 6 min read
Reducing carbon emissions from the digital ad ecosystem is an important priority, but various players are skeptical that much can — and is — being done to practice sustainability.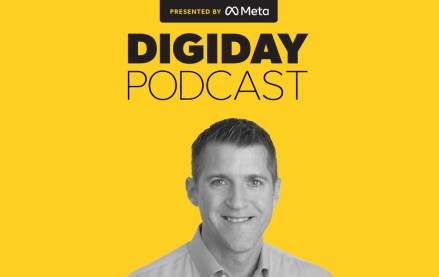 November 28, 2023 • 4 min read
Google's vp of global ads is confident that cookies will be gone from Chrome by the end of next year, despite all the challenges currently facing the ad market.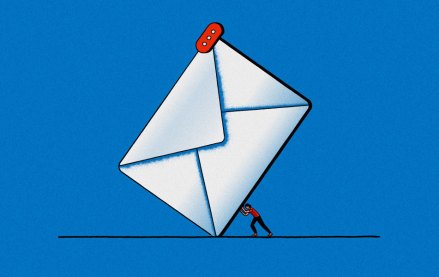 November 28, 2023 • 6 min read
Some email newsletter platforms' click-through rates are actually click-to-open rates, which are measured against the number of emails opened rather than the emails sent. But buyers seem to prefer it that way.