'All of these platforms are fickle': Overheard at Digiday Moguls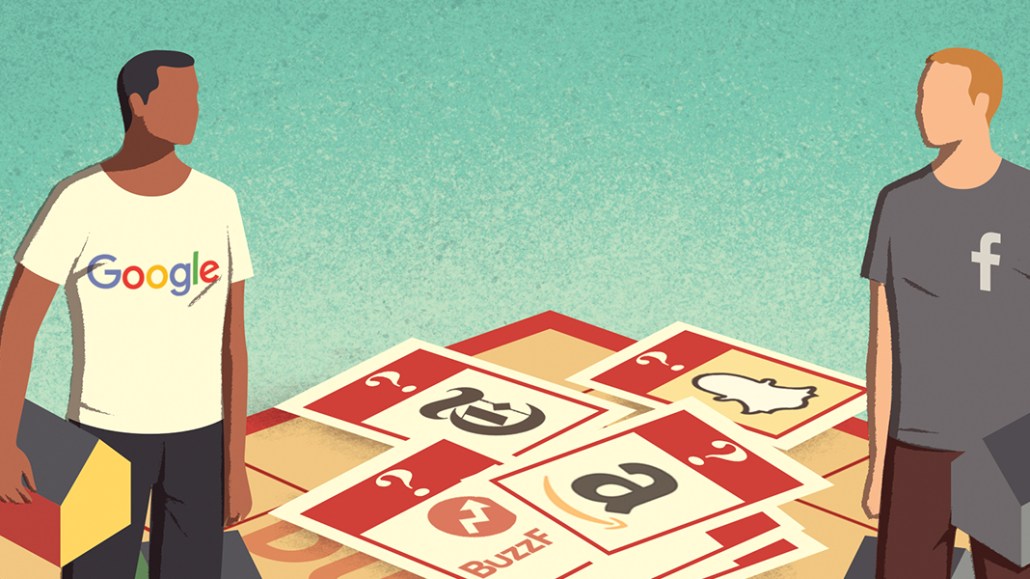 These are dark times for publishers, as media companies of all sizes are under increasing pressure to bring in real revenue. Digiday gathered C-level executives in Vail, Colorado, at our third Moguls event to discuss the issues on their minds — from ongoing Facebook monetization issues to developing new, non-advertising revenue streams.
Our Moguls events operates under the Chatham House Rule, which gives the media executives an opportunity to speak openly and honestly — and without attribution — about the challenges they're facing. Here's a selection of what was said and grabbed our attention in snowy Colorado.
On Facebook
"The typical view time on a Facebook video is that 90 percent drops off after 10 seconds, so you can't even get to the mid-roll."
"We were making on Instant Articles 30 to 50 percent of what we would make on a web-page view. But the question was: would Facebook favor the content and extend the reach? I don't know if we ever really saw that and we are certainly not seeing that. We came to a decision based on pure economics, mobile web is better."
"The real issue is that Facebook and Google are taking 85 to 90 percent of every new dollar in the marketplace and we're fighting for scraps. The issue is not how Facebook is screwing me with distribution. They have a business to run. They should do what's good for their business and we should make good business decisions on our own. We have to be smarter and more strategic about how we attack the real problem."
On Snapchat
"I have stopped thinking about it. I forgot it was still a platform."
On Pinterest
"Their partnerships team sucks. It's impossible to get a phone call returned. They've never prioritized publisher partnerships."
On Twitter
"One of the platforms that's working for us is Twitter. I think it will overtake Facebook for us this year. It's a lot less reliant on the quirks of the algorithm than Facebook is. It's our No. 2 source of traffic from platforms."
On Apple News
"We're doing tens and tens of millions of pageviews per month on Apple News, and we're making thousands of dollars. They really have to fix it."
"We've had fill rates of 30 percent of articles that hit a revenue component. There's high engagement, lots of pageviews, but I assume Apple is going to wake up and figure out that there's still a lot of money to be made here."
On publishers lobbying for platform regulation
"I think Google and Facebook would be able to outspend on lobbyists than all of us publishers. It's a nice thought, though."
On Facebook relations
"There is a shit ton of confusion in the people making decisions at Facebook because everyone is frazzled. The best way to get Facebook's attention is to get your brand mentioned in negative stories about Facebook."
On platform equivalency
"Google rewards good content, Facebook rewards people who game the algorithm."
On trusting platforms
"All of these platforms are fickle. What might help you this quarter will screw you the next quarter."
On programmatic advertising
"Agencies want to shift money from direct [buys] to PMPs or open marketplaces. That's where they make the best margins. If you make everything available, you commoditize your inventory."
On consumer revenue
"We haven't done any paywalls on our sites just yet. It's hard to justify taking a chance on that and risking a loss in scale of the ad-supported business."
"People talk about how 'our audience trusts our brand.' Trust is the wrong word. You want audience reverence. You want your audience to revere your brand so much that they'll buy your tote bag."
"For legacy companies — The New York Times, The New Yorker — subscriptions make sense. For digital-only sites, no matter what number you put in front of users, I think it's going to be too expensive."
On the pivot to TV and content licensing
"In the world of episodic TV, you only make your money when you hit year five. It's a very hit-driven business."
"If a majority of what you do is evergreen, it's easier to find licensing dollars. If you're doing news and politics, the life cycle on that is a shorter window."
"[Content licensing is] a short-term versus long-term question. In the short term, the margins do make sense, but what are the opportunity costs in the long term? Facebook Watch was an interesting test case, because we launched a show and then had the option — because Facebook wanted to buy it — of selling Facebook the IP or self-funding it. It was a hard thought process, and ultimately went with the latter, in the hopes of seeing that long-tail value."
"In the short term, [selling IP ownership] is going to give us a calling card and credibility to negotiate better terms in the next round. You never want to say no to Netflix and the resources that they can provide — plus their lawyers versus our lawyers is not a conversation worth having. We're going to be forced to eat it in the same way we have been forced to eat it in many ways with Facebook. Until, after a time, we can build a reputation to build something at that $5 million per episode level."
"[TV] is a different clock where it can take two to three years to get something done, which is a different type of accounting than many in digital media are used to."
On selling branded content
"The devil is in the pricing. We in the industry haven't been smart enough about the pricing between sponsorships of pure editorial versus custom video created for the brand."
"We just took over a creative [agency-of-record] assignment for a full year's work; but you're only going to be able to do those types of deals in dribs and drabs. I had a direct relationship with the president of the brand and he didn't feel the costs were worth what they were doing, and so I told him to come direct to us."
"Vice had the gumption to do what I haven't been able to convince my CEO, which is to invest in an agency acquisition. You're going to need an infrastructure to jumpstart the agency part of your business."
On the importance of owned channels
"If we had pre-roll scale on our dot-com, the trajectory of our organization would be changed forever. If I could grab anything, I'd take that."
"We have gone all-in on YouTube because that has the best monetization path. But also what we put on YouTube can go on our O&O."
On GDPR
"I brought it up. My boss said he's appointed a couple of people to handle this. One of those people includes someone in legal. The people he appointed to handle GDPR are not capable of handling GDPR and what it could mean in terms of fines and everything else."