Digiday Research: European publishers grapple with Facebook's news feed changes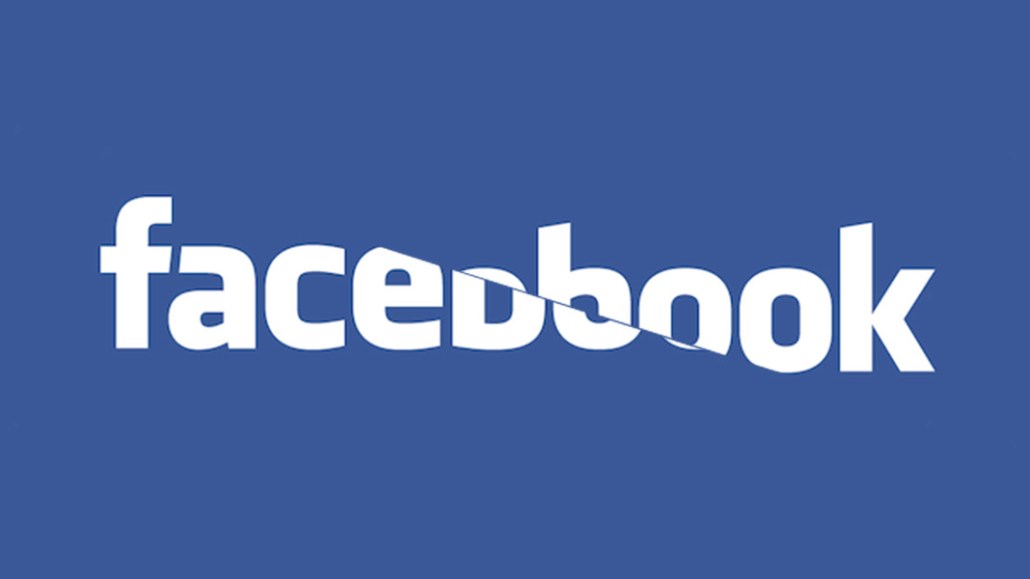 At the Digiday Publishing Summit Europe last month in Monaco, we sat down with over 80 European publishing executives to learn more about how publishers are adapting their strategies to Facebook's news feed algorithm change. Check out our earlier research on the video platform publishers are looking to use in 2018 here. Learn more about our upcoming events here.
Quick takeaways:
Only 6 percent of respondents to Digiday's survey at the event expect Facebook's algorithm change to significantly affect their audience size.
Thirty percent won't make any changes to their existing Facebook strategy.
Thirty percent will use other social platforms more and Facebook less.
News of Facebook's algorithm change travels slowly
Many publishers in the U.K. were shocked to learn about Facebook's changes to its news feed algorithm, which would reduce the organic reach of publishers' content on the platform. Although Facebook was no longer the greatest source of referral traffic for publishers before the change, some had built their business strategy around the platform. Digiday polled publishers to see how Facebook's change would affect their audience size, with 6 percent believing it would have at least a significant impact.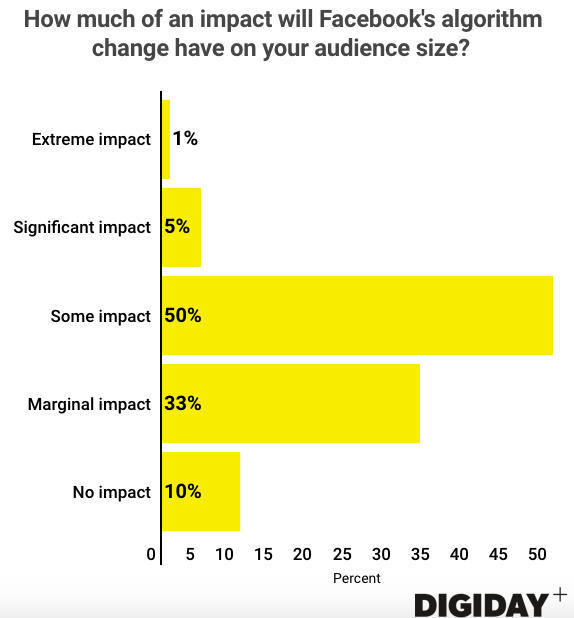 Publishers at risk of losing a significant or extremely significant portion of their audiences should heed the cautionary tales of LittleThings and Rare. Both Facebook-reliant publishers folded after seeing their audience size plunge following the algorithm change.
Publishers are trying different strategies to replace Facebook traffic
Publishers should be wary of consultants or other publishers that confidently believe they know the best way forward in a media landscape where they can no longer rely on Facebook to help build and retain audiences. The smartest publishers are testing multiple solutions, said one publisher consultant, speaking anonymously in Digiday's Confessions series. Based on that notion, respondents to Digiday's survey appear to be on the right track. No single strategy for approaching Facebook's algorithm change emerged as the favorite for respondents, who were allowed to select multiple strategies in the poll.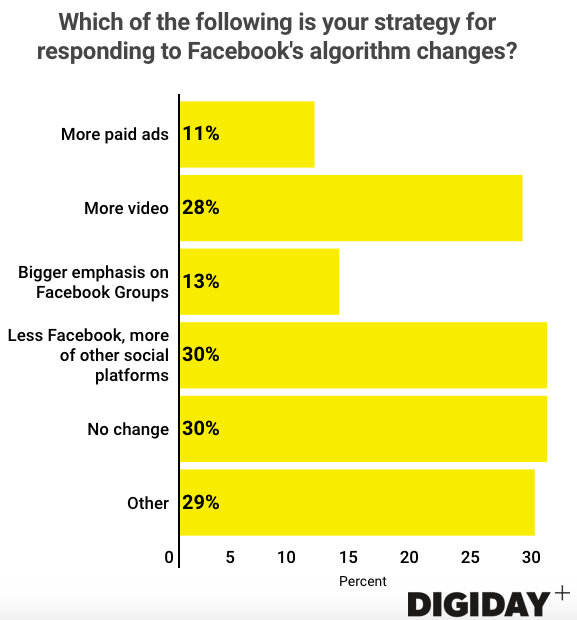 Some publishers are looking to other platforms to replace audiences created within Facebook, investing more resources in Apple News, Flipboard, Twitter and even LinkedIn as alternatives, though those platforms all lack Facebook's scale.
While some publishers may secretly be happy to end their "abusive relationship" with Facebook, roughly one-third of publishers are continuing with the strategies they used on Facebook before its news feed change. This is far from the first adjustment to Facebook's news feed, so for many publishers, the latest one is simply par for the course. Meanwhile, publishers that receive only a small portion of their traffic from Facebook don't have much incentive to adjust their strategies.
Nearly 30 percent of publishers in Digiday's survey shared other ways to counter Facebook's news feed change. Some, including Dutch broadcaster TV Midtvest, stopped posting content to Facebook, while others are producing Facebook Watch programs. Another proposal was to develop Facebook Messenger bots to interact with online users.