Future of TV Briefing: How the future of TV shaped up in 2021
December 22, 2021 • 10 min read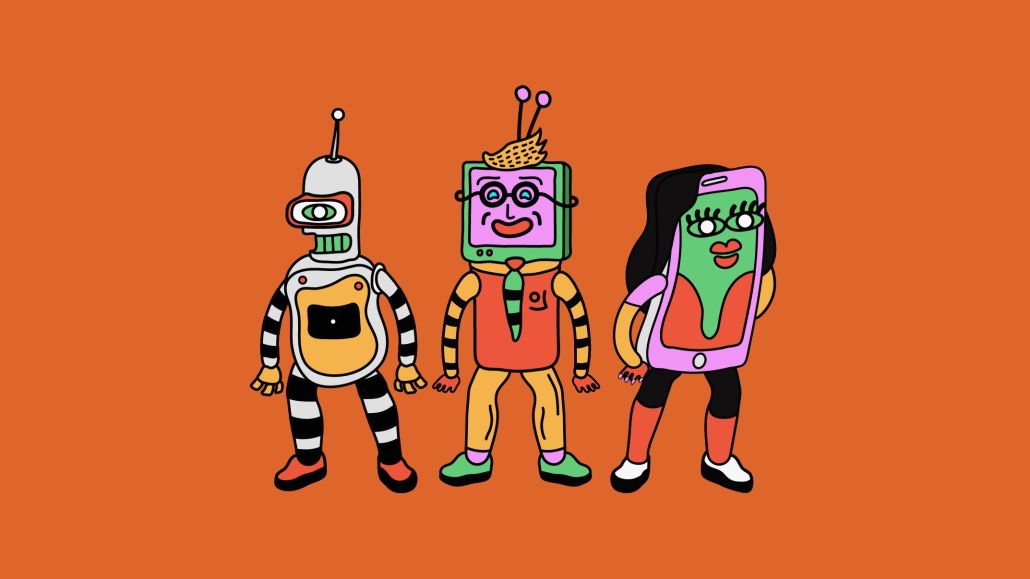 Ivy Liu
The Future of TV Briefing this week looks back at some of the biggest developments in the TV, streaming and digital video industry in 2021.
The year in review
Traditional TV loses steam as Disney+ rebounds
Hollywood employees rise up, TikTok pushes eating-disorder videos and more
There will be no Future of TV Briefing sent out next week, so stay tuned for a look at the top topics set to shape 2022 in the Jan. 5 edition. Happy holidays!
The year in review
The key hits:
The streaming wars flattened
The TV ad market tilted further but did not tip
Production settled into the new normal
The creator economy cashed in
Measurement blew up
The future of TV is one year closer. 2021 saw some shifts in the TV, streaming and digital video markets start to settle, while other aspects of the landscape only became more unsettled. As the year comes to a close, here are the trends and developments that dominated the past 12 months and set up for what comes next.
The streaming wars flattened
The streaming surge of 2020 settled down in 2021. While "growing" remained an apt description of the overall streaming market this year, the rise in the number of streaming services on the market spread out that growth a bit. Meanwhile, many of the biggest players saw their growth slow, and streaming viewership even stagnated in some respects.
The story of the streaming wars in 2021 was a tale of two halves.
In the first half of the year, Netflix and Disney's Disney+ reported slowing and even declining subscriber growth, as Discovery's Discovery+ and ViacomCBS's Paramount+ (re)entered the market and WarnerMedia's HBO Max received a boost from Warner Bros. film slate.
Then in the second half of the year — as people got vaccinated and spent more time outside of their homes — streamers across the board saw subscriber growth slip. Except for Netflix, which picked up the pace if only slightly. Meanwhile, streaming's monthly share of overall TV watch time has held flat since June, according to Nielsen's The Gauge report (the latest of which is covered farther down in this week's briefing).
Two-plus years after Disney and Apple kick-started the current era of companies rolling out subscription-based streamers featuring top-tier programming and often carrying a "+" in their names, the streaming wars continued to heat up in 2021. But unlike in 2020, when the major source of that warmth was the surge in overall streaming viewership, this year it was the pressure to keep people entertained amid all the competition, on-screen and off.
The TV ad market tilted further but did not tip
For the second year in a row, the TV advertising market was at a tipping point in 2021. Traditional TV audiences' attentions are shifting to streaming, and advertisers are following suit, and streaming is set to overtake linear. Blah blah blah.
That's all true, and yet the TV ad landscape has yet to come out on the other side of this rubicon. It's getting closer, though.
While traditional TV once again dominated this year's annual upfront marketplace, streaming was the cycle's centerpiece. TV network owners turned away linear dollars to redirect advertisers to their streaming inventory while also pressing advertisers to agree to new, higher pricing bases for that streaming inventory. Additionally, top streaming ad sellers like Amazon, Roku and YouTube stepped up their competition with those traditional TV companies for advertisers' upfront budgets.
However, advertisers continue to see traditional TV as the more cost-efficient means of reaching a large number of people. Broadcast and cable TV's majority share of overall TV watch time, as per Nielsen's The Gauge, only serves to reinforce that stance for now. Moreover, for all the grousing among ad buyers about traditional TV's limited inventory and high prices, streaming is in a similar situation but with a relatively smaller, more fragmented audience among ad-supported streamers.
That dynamic will likely change eventually. It may already be doing so, as some advertisers sat out this year's upfronts and others opted to cancel portions of their fourth-quarter upfront commitments, which could free up money to be diverted away from traditional TV. And at that point, the market will finally tip.
Production settled into the new normal
After all the upheaval to TV, video and commercial productions in 2020, 2021 was placid by comparison. There remained changes that productions had to manage through, such mask mandates and distancing requirements. However, by the end of the year, the state of production could be described as normal, albeit a new normal.
Production had begun its return to normal in the second half of 2020, but 2021 was when it actually approached normalcy. TV show, video and commercial makers found ways to put together all the same types of projects that they had produced prior to the pandemic, including programs shot internationally or in front of a live audience. Meanwhile, the availability of vaccines helped to ensure sets and studios offered safe working environments, though not all cast and crew members have been willing to get vaccinated.
The settling down of productions into this new normal was especially advantageous since production volume appears to have only ramped up. Not only have production companies proven they can put out traditional-looking programming despite the pandemic, but TV networks and especially streaming services are proving to be insatiable when it comes to loading up on new programming. Some producers have reported fourth quarters in 2021 that were not only busier than in 2020 but than in any other year, full stop.
This normalizing of production should help companies withstand the threat of the Omicron variant. However, with the entertainment industry's biggest union agreed to new contracts with film and TV studios that seek to improve working conditions for crew members, the time of change for productions is not over.
The creator economy cashed in
Well, 2021 came and went without Instagram or TikTok officially rolling out YouTube-style revenue-sharing programs for individual video creators (as of this writing). Nonetheless, this year indicated a boom period for the creator economy.
Instagram rolled out an affiliate revenue program for creators to make money by pushing sales of other companies' products, and TikTok added a tool for creators to sell their own products on the platform via Shopify. And after TikTok and Snapchat rolled out programs in 2020 to pay creators for posting to their platforms, Facebook, Instagram and YouTube followed suit with their own creator funds in 2021. Media companies like Tastemade are similarly getting in on the action by rolling out new programs to help creators — and themselves — make money.
Creators also continued to stretch beyond the usual digital video platforms to become more ingrained in the broader entertainment establishment. TikTok stars like Addison Rae and Charli D'Amelio starred in movies and TV shows on Netflix and Hulu, respectively. Meanwhile, controversial YouTube star Jake Paul has become one of boxing's biggest stars.
Meanwhile, the businesses of esports organizations like FaZe Clan and Team Liquid are reaching new levels of maturity. Team Liquid is allowing more of its creators to become investors in the company, while FaZe Clan is preparing to become a publicly traded company.
Measurement blew up
In January, no way did I think that measurement would be among the most seismic shifts to take place in the TV business in 2021. And yet here we are.
The foreshocks started in April when trade organization the VAB alleged that Nielsen had undercounted traditional TV viewership during the pandemic. Then the Media Rating Council confirmed the undercount. But then Nielsen remained the currency of choice in this year's upfront deals, and the measurement provider's position seemed secure and further secured by its plan to begin rolling out an updated measurement system in the fourth quarter of 2022.
Nope.
The situation got much shakier in August. First, Discovery CEO David Zaslav called for the industry to move away from Nielsen. Next, Nielsen offered to put its MRC accreditation on hiatus as it addressed its measurement system's shortcomings. Then, NBCUniversal announced it was developing a new measurement system and had solicited the participation of a host of alternative measurement providers as well as Nielsen.
And finally, on Sept. 1, the MRC announced that it had stripped Nielsen of its accreditation, and the TV ad measurement landscape as the industry knew it appeared on the verge of toppling for once and for all.
It has yet to do so. TV network owners, advertisers and agencies spent the remaining months of 2021 assessing the measurement ecosystem and setting up tests and relationships with various measurement providers — and setting up for a 2022 that is sure to be a big one.
What we've heard
"We're working through what is the approach to a premium service with an ad-supported model. What I think our audience will see in 2022 is us kind of experimenting with different pricing models to see what their response is to those."

— BET CEO Scott Mills on the Digiday Podcast
Stay tuned: Traditional TV loses steam as Disney+ rebounds
After increasing its share of overall TV watch time for three of the previous four months, broadcast TV ceded share in November 2021, while cable TV's percentage stagnated for the second straight month, according to Nielsen's latest The Gauge report. Streaming was also fairly stagnant, though, with the exception of Disney+.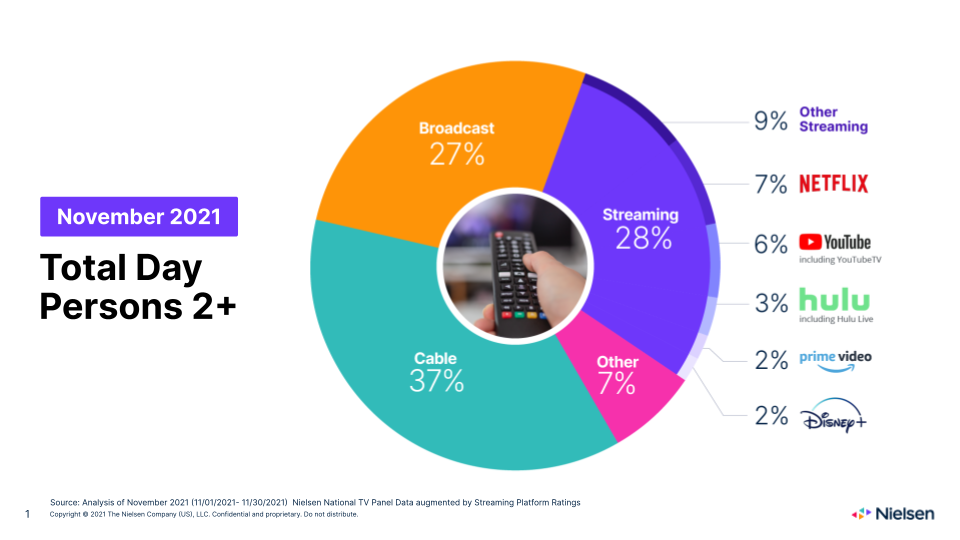 If the chart's streaming breakdown looks familiar, that's because not much has changed from October. In fact, the only streaming-related change was Disney+ adding a percentage point, likely helped by the service celebrating its two-year anniversary and adding Marvel film "Shang-Chi and the Legend of the Ten Rings" on Disney+ Day.
Cable TV's watch time share was also unchanged, but broadcast TV did lose a percentage point, as watch time for general drama shows fell by 12% month over month and sitcoms' watch time dipped by 7%. Those declines appear to have offset the 7% month-over-month increase in sports watch time.
As much as Disney+ may have been partially responsible for broadcast TV's downtick, gaming was likely another factor. The "other" category includes gaming and saw its watch time share rise by one percentage point.
Numbers to know
1,923: Original shows that were released on traditional TV and streaming in 2021.
$5.99: Monthly price that CNN reportedly is considering charging for a subscription to its upcoming CNN+ streaming service.
6%: Percentage increase year over year in viewership for "Jeopardy!" which is reportedly on the verge of a bidding war among TV station owners.
What we've covered
BET's Scott Mills shares plans for BET+ in 2022 and why the network has formed its own studio:
BET plans to test an ad-supported tier, the network's CEO said in the latest episode of the Digiday Podcast.
BET also plans to sell a subscription bundling BET+ and Paramount+.
Listen to the latest Digiday Podcast episode here.
Why a leading esports organization is inviting its players to become investors:
Team Liquid has expanded its ownership group to include five of its most prominent team members.
Each player used their own money to purchase shares of the company.
Read more about Team Liquid here.
TikTok creates a measurement training program for media agencies:
TikTok's program will train media agency employees on how to quantify the performance of campaigns running on the platform.
GroupM, Horizon Media and VaynerMedia's VaynerX have signed up to join the program.
Read more about TikTok here.
What we're reading
Nielsen lines up Disney, Magna to test new measurement platform:
As many members of the TV ad industry determine how to ease their reliance on Nielsen, the measurement provider has responded by getting Disney and Magna to sign up to test its forthcoming Nielsen One measurement platform, according to Ad Age. The support may serve as a counterbalance of sorts for Nielsen to maintain some gravitational pull as parts of the industry look to pull away from it.
Hollywood employees take a stand:
Entertainment industry labor groups have been getting more aggressive in standing up for employees when dealing with studios, networks, streaming services and talent agencies, according to The Hollywood Reporter. In addition to existing unions and guilds signing new agreements, new groups are popping up to protect creators and crew members.
Omicron hits Hollywood:
The Omicron variant has coincided with a rise in COVID cases around the world, including in the entertainment industry, according to Variety. That rise is leading to some productions being put on hiatus. However, the industry seems to be largely taking a cautious wait-and-see approach as it did with the Delta variant.
TikTok pushes eating-disorder videos to teens:
TikTok's content recommendation algorithm is showing teens videos about weight-loss tactics and purging, according to The Wall Street Journal. The recommendations are likely contributing to teens to developing their own eating disorders and are another example of how platforms not only struggle to rein in controversial content but amplify its spread.
https://digiday.com/?p=435588
This week's Future of TV Briefing looks at what an industry group's conditional certification of three measurement currency contenders signals about the TV ad business's measurement overhaul.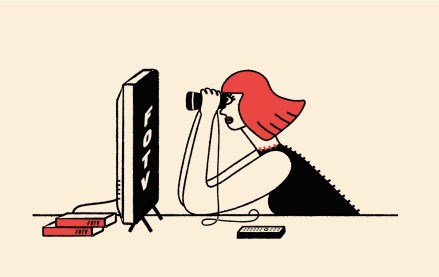 This week's Future of TV Briefing offers an updated list of the key terms that can cause confusion when talking about the TV, streaming and digital video industry.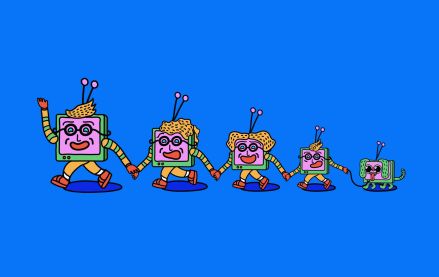 This week's Future of TV Briefing looks at what the Disney-Charter pay-TV distribution deal seems to indicate about the increasingly more-complementary-than-contentious relationship between traditional TV and streaming.