'Joining a consultive team to the leadership': Why a leading esports organization is inviting its players to become investors
December 15, 2021 • 4 min read
•
•
Ivy Liu
Esports organization Team Liquid has expanded its ownership group to include five of its most prominent team members, including Super Smash Bros. player Juan "Hungrybox" Debiedma and WNBA star Aerial Powers. This move represents an influx of capital for Team Liquid, with each player–owner using their own money to purchase shares of the company.
Team Liquid is one of the most well-known esports organizations, valued at $310 million by Forbes last year. Though it fields dozens of players and content creators, it invited only a select group of individuals to invest, a decision that co-CEO Steve Arhancet says was based on those players' close alignment with the organization's identity and philosophy. Debiedma, for example, is one of the longest-standing members of Team Liquid, having joined the team as a college student in 2015.
"They also have the resources to invest, from a financial perspective," Arhancet said. Of the five player–investors, two are career competitors who became wealthy via Twitch subscriptions and tournament winnings (Debiedma and Counter-Strike pro Jonathan "EliGE" Jablonowski) and three are independently wealthy celebrities (Powers, Dutch poker player Alexander "Lex" Veldhuis and actor–gamer Asa Butterfield). Though Team Liquid didn't share specific amounts, each player–investor made a substantial contribution. "It had to be at least a certain amount," Powers said, "but it could be more, of course."
Team Liquid is not the only top esports organization to invite players to become owners. In April, 100 Thieves granted equity to team members Rachel "Valkyrae" Hofstetter and Jack "CouRage" Dunlop; FaZe Clan member Nicholas "Nickmercs" Kolcheff became an equity shareholder in the organization the same month. In 2019, Søren "Bjergsen" Bjerg acquired a stake in TSM, though he was required to sell it off when he exited the team in October 2021.
"I wouldn't go so far as to say it's a trend — I mean, at the end of the day, I would love for it to be something that's kind of the norm," said Justin Miclat, Kolcheff's manager at The Kinetic Group. "Hopefully, more and more talent is creative enough to bring that type of value to the table, when it comes to orgs. I don't think that talent currently exists in the marketplace, beyond maybe a handful." As esports organizations race to establish diverse and sustainable sources of revenue, bringing players on as owners could bring a valuable perspective to teams' front offices; at 100 Thieves, for example, Hofstetter and Dunlop are actively involved in the search for revenue streams outside gaming.
Team Liquid's decision to invite players to invest could signal a coming rise in the phenomenon of player–ownership.
Unlike other recent examples, the move was explicitly an investment on the players' part — not simply a granting of equity as part of a contract negotiation. "There's a difference between being awarded equity as a form of compensation, to provide alignment to the organization, versus an elective investment of their own capital into the organization that they're part of," Arhancet said. "I think it speaks volumes to their own decision-making and degree of confidence."
For Debiedma, who quit his engineering job to become a full-time competitor in 2016, the invitation is evidence that a career in esports can be viable in the long-term, despite the relatively short competitive lifespan of most gamers. "I used to work in engineering, and those companies would offer chances for employees to help their retirement, things like 401ks and all that," Debiedma said. "Well, Liquid being an esports org, they were offering something a lot more unique."
Powers, who leads Team Liquid's internal diversity and inclusion task force, views her investment as an endorsement of the organization's belief in the importance of diversity, an opinion echoed by Arhancet. "When you think of equality and equity, this is the difference," Powers said. "This is, you know, putting your money where your mouth is. Who would've thought a girl from Detroit, Michigan, would have this opportunity and this blessing?"
After becoming player–owners, Debiedma, Powers and their colleagues will continue to do what they do best: compete and create content in their favorite video games. But these players' opportunity to invest in their own team demonstrates esports organizations' increasing awareness of the power and importance of team members as fundamental sources of content and value.
"It's a much more complicated relationship now, but I think for the better," Miclat said. "Both sides are realizing how much value there is beyond, 'hey, for this amount of money we'll compete on your pro team and we'll throw your logo up.' That shouldn't be the case anymore."
Moving forward, Team Liquid plans to take full advantage of the first-hand experience in its ownership circle. "We're able to go to these individuals, that we know genuinely from a financial perspective, but also that their heart is in our business, to solicit their feedback before making big decisions at the company," Arhancet said. "So it's like joining a consultative team to the leadership here at Team Liquid."
https://digiday.com/?p=435158
December 8, 2023 • 3 min read
For Atlas Creative, expanding into Roblox is not solely a play to scale up. The company believes there are concrete benefits that will come with having a hand in multiple metaverse platforms.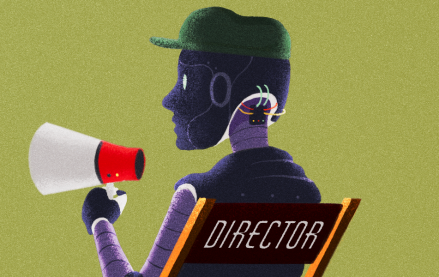 December 8, 2023 • 5 min read
Since ChatGPT became a breakout hit, the names of numerous AI companies and products have entered the cultural vernacular.
December 8, 2023 • 4 min read
Even as linear TV ad spend declines, 23andMe is reinvesting in the channel to boost brand awareness.