Digiday Research: Subscription publishers' biggest challenges, in five charts
September 9, 2019 • 4 min read
This research is based on unique data collected from our proprietary audience of publisher, agency, brand and tech insiders. It's available to Digiday+ members. More from the series →
More publishers are building paywalls and developing reader revenue strategies in the face of an increasingly unstable digital advertising landscape. For many, it's driven by a need to develop more reliable and sustainable reader revenue streams, and it's easy to see why. Digital advertising spend continues to flood to Facebook and Google, while the ad-tech ecosystem is being buffeted by the trend toward more privacy-focused ad environments, making publisher first-party data even more important.
But launching a subscription product is far from simple. Here are some of the challenges publishers have to conquer, based on Digiday Research.
The biggest challenge: Getting people to pay
Moving from open access to paid content is undoubtedly the biggest challenge publishers face when launching a new paid-for product. Convincing readers they need to pay for something that was previously free is made even harder when so much regular news is commodified.
According to Digiday research, 63% of publishers said that converting audiences to paid subscribers was the biggest challenge when adding a subscription product.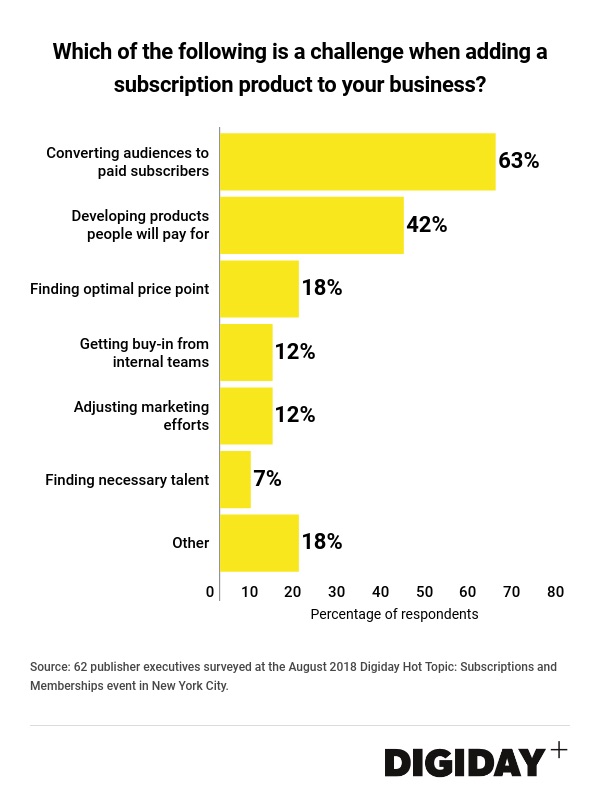 Publishers see encouraging early spikes when they turn on a subscription product as the most loyal readers start paying. As this levels out, they have to be more creative in how they market and convert customers, as such, adjusting marketing efforts was a challenge for 12% of respondents.
Getting buy-in from internal teams was also a challenge for 12% of respondents: While adding an additional revenue stream is a positive for the business, it's further down the line where tensions can arise between advertising and subscription departments, for instance, if both are angling for resources for product development.
A close eye on margin and resource
Subscriptions are a fairly solid and sustainable business, in comparison to the digital ad market at least, and it's one of the main drivers for publishers building out this revenue stream.
According to Digiday research, 20% of publishers have a margin of 50% or higher on their subscription product, while 9% have a negative margin. In another survey, 39% answered that their company spends less than 9% of the company's resources on the subscription product, 75% say they spend less than 24% of the company's resources.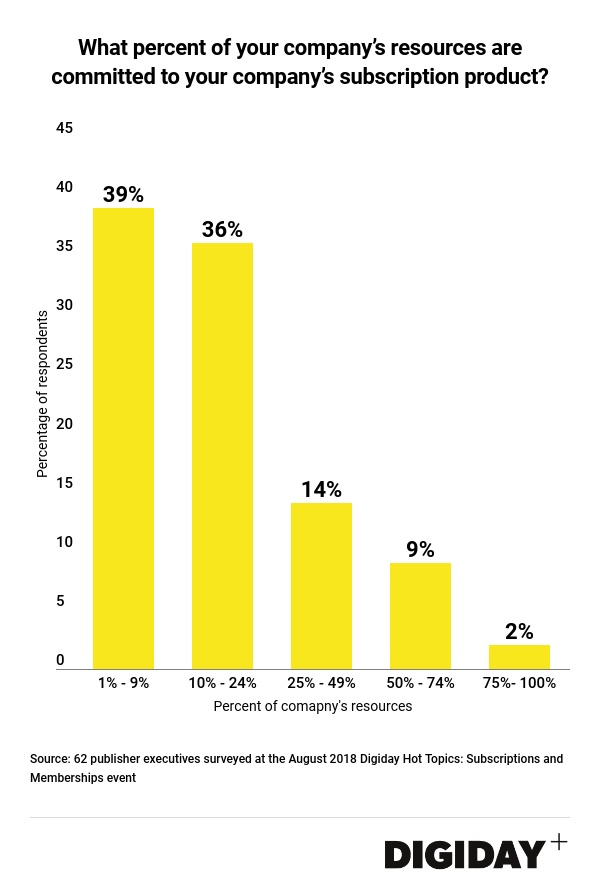 Shifting marketing efforts
The general consensus is that readers who visit publishers' owned and operated platforms are likely to convert at a higher and faster rate than third-party platforms, like Facebook and Google, which have been steadily dwindling in support and importance for publishers, (this relates to platform subscription products rather than paid-for social media ads). The Telegraph, for instance, has said that its app has the highest conversion rate of any channel, Apple News is second.
Digiday research found that a significant chunk — 65% of publishers — find that email newsletters are the most effective customer acquisition channel for subscription products, while social media ads score 9%. This may not be too surprising, the net cast with social ads is much wider than the number of people who sign up to a newsletter. And those who sign up have pro-actively shown they are fans.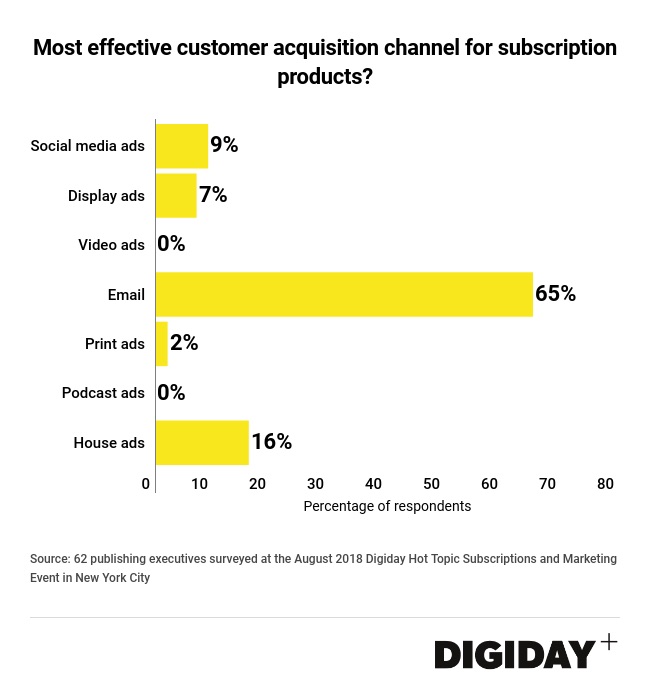 However, newer formats like podcast ads are becoming more of a regular feature on the marketing mix for subscription publishers, like The Economist, The New York Times and The Guardian. Publishers can get an edge while these channels are relatively new and uncrowded.
Playing with frenemies
Where there are new platforms, publishers will look for new audiences. Apple News+ launch earlier this year, and due for U.K. roll out over the next two months, has divided publisher opinions. Subscriptions publishers like The Wall Street Journal and New York Media are on the paid-for aggregator, while notable — and sometimes vocal — holdouts include The New York Times and the Financial Times.
The main reason for abstaining, according to Digiday research, is losing control of the customer relationship as Apple inserts itself between readers and publishers. Behind the uncomfortable revenue share — 50% according to reports — 15% of respondents are put off by the lack of access to audience data. Apple's ownership of the customer relationship and limited data sharing have been battles fought by publishers for years, but in regards to earlier versions of Apple News or Apple's app store.
Honing churn tactics
The more mature the publishers' subscription product, the more honed its retention strategy. Typically, the monthly churn rate for publishers is under 10%, according to Digiday research, which found that 41% said their monthly churn rates were 10 percent or more. This means they would need to acquire an entirely new customer base every year to keep their subscriber numbers level. The same number, 15%, have monthly churn rates under 2.5% and, at the other end of the scale, between 25% and 49%.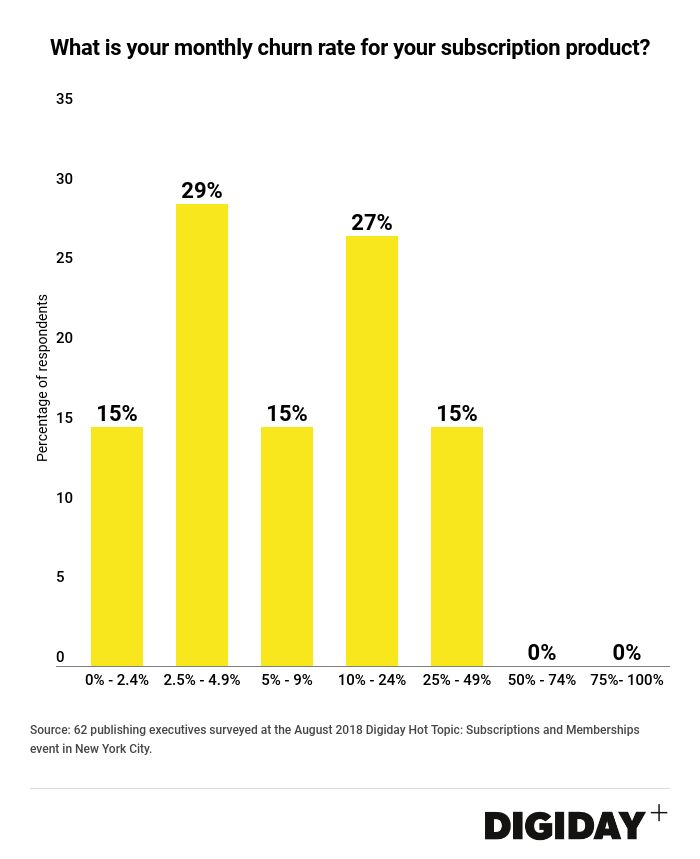 Measuring churn is a sticky business. Publishers are wary of sharing it, many measure it in different ways across different time periods, and factors like seasonality have a role to play. This makes finding industry-wide benchmarks hard.
Keeping people engaged requires a lot of moving parts within content, digital user experience and customer experience. The Times of London cut churn rate by 49% through a newsletter content recommendation service over the course of a year. Meanwhile, switching away from aggressively low introductory pricing offers, to money-off over a longer period of time, has helped improve monthly conversion rates for Axel Springer tabloid Bild. In any case, managing churn takes ongoing investment and evaluation, The Economist, for instance, has a team of 16 people working on retention.
https://digiday.com/?p=345471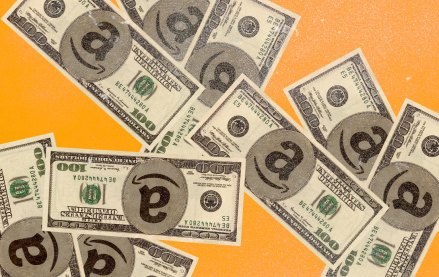 September 27, 2023 • 6 min read
The agency accused the e-commerce giant of conducting a range of anticompetitive behaviors that hurt both shoppers and sellers.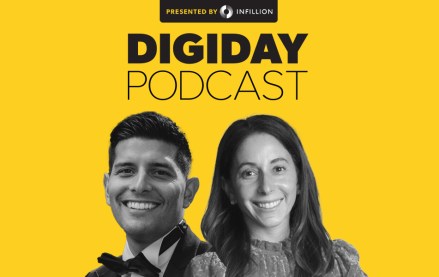 September 26, 2023 • 3 min read
In a live recording during the Digiday Publishing Summit, the news executives called for more nuanced conversations with advertisers around their brand safety concerns.
September 26, 2023 • 4 min read
After investing in one generative AI startup and suing another, the company will let customers create images on its website and an API.