Snapchat is trying to make inroads with advertisers in China
December 11, 2017 • 2 min read
• By
Yuyu Chen
U.S. tech companies and ad agencies are increasingly interested in the Chinese market, and Snapchat is no exception.
The camera company is looking for an international strategy manager based in Shenzhen, China, where Snapchat opened a research and development office last December, according to a job opening posted on LinkedIn on Dec. 8. This new role seems to go beyond the main purpose of Snapchat's Shenzhen office, which is to further develop Snapchat's Spectacles hardware.
The role of the international strategy manager is to "become an evangelist for Snapchat ad products in the China media community, including through direct meetings with advertisers, marketing events and trainings, etc.," according to the job description. People in mainland China are unable to access Snapchat, though.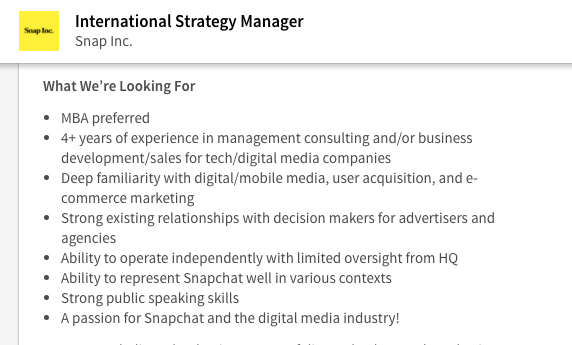 A Snapchat spokesperson said this role doesn't mean that Snapchat is shifting its focus on Spectacles development to growing its advertising in China. Instead, it is about working with companies and advertisers there, many of which use tech platforms to advertise outside of China.
"[This role] will be unrelated to our much larger hardware team and would be intended to benefit Chinese companies who sell products outside of China," said the spokesperson. "This is something that many companies blocked in China still pursue."
Snapchat's move seems reminiscent of Facebook Audience Network, through which Facebook — which also is banned in mainland China — is able to let Chinese companies advertise to Chinese people as well as let Chinese advertisers reach markets outside of China. It wouldn't be surprising if Snapchat is taking a page from Facebook's playbook in China. After all, Snapchat has aggressively grown its programmatic advertising business in the U.S.. From July to September, Snapchat's advertising revenue reached $204 million, 59 percent up from the same period a year prior, according to Imran Khan, chief strategy officer for Snap.
The company spokesperson said Snapchat's model is different from Facebook's in China, and that "it has nothing to do with an ad network."