Digiday Research: Brand marketers see more potential in AI than other technologies
Digiday's "Research in brief" is designed to give you quick, easy and digestible facts to make better decisions and win arguments around the office. They are based on Digiday's proprietary surveys of industry leaders, executives and doers. See our earlier research on whether publishers are making money on Facebook here.
Until technology replaces the human workforce, brands will look to implement it to improve their marketing campaigns and drive consumer purchases.
At the Digiday Marketing Summit last month, we asked 30 executive brand marketers about what technology would greatly influence future marketing. We focused on three popular technologies among brands today: artificial intelligence, augmented reality and virtual reality.
Of the three, brand marketers have the loftiest expectations for AI based on survey responses. Digiday research from December found that 46 percent of brands use AI in marketing campaigns. Earlier Digiday research found that in the past year, 23 percent of marketers used AR, and 33 percent used VR in a campaign.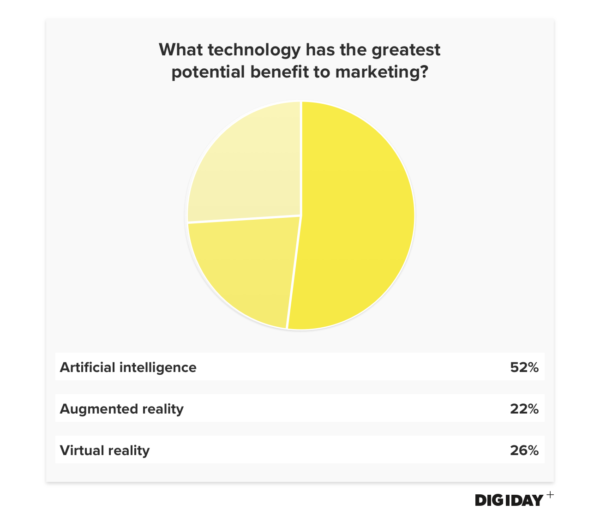 Brand marketers' perception that AI is beneficial to marketing likely comes from its myriad use cases. Thirty-one percent of marketers use chatbots, which are cheaper than AR and VR. Shake Shack, for example, deployed a chatbot last year to help answer consumer questions. But many companies have struggled with chatbots. Kiehl's, meanwhile, works with OrderGroove's AI to predict the timing of subscription renewal messages. Volkswagen uses AI recommendations to purchase social, display and search ads, while Dole employed Adgorithms' AI platform Albert to execute media campaigns for special products in Asia.
VR ads are still in an experimental phase for most brands, but companies like USA Network, Samsung and Honda have expressed interest. Brands are bullish on the immersive storytelling experience of VR ads, but production costs are often prohibitive, with content creation alone reaching $500,000. Brands like Excedrin have found success with VR campaigns, but even then, the VR ads necessitated social and linear video supplementation.
Though the least widely used among the three technologies, AR has gained traction among fashion brands. Modiface, for example, helped dozens of fashion brands launch apps that enable consumers to try on products before purchasing. Snapchat's use of AR also holds promise for brand advertisers trying to connect with young consumers.
https://digiday.com/?p=272499