Future of TV Briefing: How the coronavirus crisis reshaped (and sped up) the future of TV
March 10, 2021 • 13 min read
•
•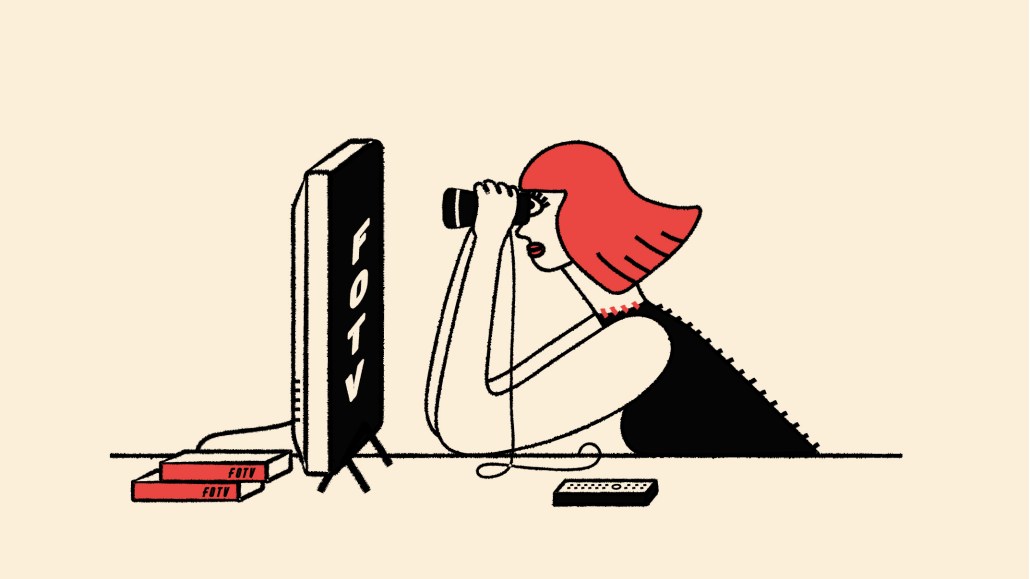 Ivy Liu
This Future of TV Briefing covers the latest in streaming and TV for Digiday+ members and is distributed over email every Wednesday at 10 a.m. ET. More from the series →
The Future of TV Briefing this week looks at how the TV, streaming and digital video landscape has been altered over the last year by the coronavirus crisis.
The future of TV today
TV distribution dogfight
Programming pipelines, Amazon's NFL talks and more
The future of TV today
In a sense, the TV, streaming and digital video landscape today doesn't look all that different from what many members of the industry had expected. It's just that they didn't expect it to look this way so soon.
The legacy of the last year, when the coronavirus crisis overtook the world, is the rapid acceleration of the many changes already underway in the TV, streaming and digital video businesses.
The key hits:
The rise in streaming viewership, especially on connected TVs, has narrowed the gap with traditional TV.
That has spurred more streaming shows to go into production, TV network owners to prioritize their streaming services and the traditional TV ad market to reckon with itself.
Short-form video platforms have stepped up, with YouTube sizing up its big-screen audience and TikTok, Snapchat and Instagram rolling out new moneymaking opportunities for media companies and creators.
All of that is to say, everything that has happened since last March has brought the future of TV closer to the present.
Streaming's viewership surge
Let's get this out of the way once and for all: The proverbial Year of Streaming was the 12-month period between March 2020 and March 2021. Netflix and Hulu and Roku may have been in market for more than a decade; free, ad-supported streaming TV services like Pluto TV may have been around for a handful of years; and Disney+ and Apple TV+ may have debuted in 2019. But the past 12 months have been the watershed year for the streaming market.
Case in point: On March 9, 2021 — two days before the one-year anniversary of the coronavirus crisis being declared a pandemic — Disney announced that Disney+ has topped 100 million subscribers. That eclipses the company's own projection that it would accumulate at most 90 million subscribers by 2024 and may be the strongest signal of streaming's widespread adoption over the last year. But it's far from the only one.
Not only did the subscription-based streaming market become more crowded with the launches of WarnerMedia's HBO Max, NBCUniversal's Peacock, Discovery's Discovery+ and ViacomCBS's Paramount+, but the ad-supported streaming market is also being flooded with an influx of 24/7 streaming channels on FAST services operated by everyone from Amazon and Roku to Samsung and Vizio to Comcast and ViacomCBS.
Underscoring the point, Disney, NBCUniversal and WarnerMedia have each overhauled their organizations to put streaming at the center of their operations, potentially at the expense of their legacy businesses — as in the case of WarnerMedia's plan to premiere Warner Bros. 2021 film slate simultaneously on HBO Max and in theaters.
Traditional TV's decline
Amid streaming's rise, traditional TV has continued its decline. Linear TV viewership dropped off last year even after major sports leagues like the NFL and NBA returned, and the pay-TV industry lost 6 million subscribers, according to research firm MoffettNathanson.
Those trends were already in effect before the coronavirus crisis pushed TV's most valuable programming, such as live sports and scripted shows, to pause production. And while that programming hiatus wouldn't have helped traditional TV to retain a hold on audiences' attentions, the bigger consequence of the past year is how TV networks have let their grip on their legacy linear businesses start to slip.
In addition to the aforementioned reorganizations, some networks are prioritizing programming for their streaming services over their linear networks. Meanwhile, many networks are prioritizing advertising deals that account for their streaming and digital video inventory over linear-only ad buys. The networks' profits still reside within their traditional TV businesses, but the companies have made clear those businesses are no longer the priority.
"[The coronavirus crisis] has just dramatically accelerated everything," said one streaming executive. "It has taken CTV from a hobby to a real business. It's still got a long way to go; it's only a couple billion [dollars] in advertising versus $67 billion or whatever [spent on linear TV advertising], but the sea change is clearly happening."
TV advertising's breaking point
The TV ad market is finally beginning to break from tradition. TV advertising's upfront model may have held up last year, and advertisers may have largely refrained from exercising their commitments' newfound flexibility. But changes are coming.
The viewership shortfalls and subscriber erosion have resulted in TV networks not reaching guarantees made to advertisers and pushing for advertisers to agree to having their ads run on the networks' streaming and digital properties. And that is leading agency executives to call for this year's upfront negotiations to serve as a correction for the TV ad market. They want the TV networks to acknowledge that linear viewership is on the downswing, and they acknowledge that advertisers need to become more comfortable buying networks' streaming and digital video inventory.
"Is this the year to reset the base? We need a market correction of some sort, but it won't happen in one fell swoop," said one agency executive.
Production's newfound nimbleness
The legacy impact of the last year on production won't be that it forced companies to learn how to produce shows, videos and ads remotely but that it has pushed them to be able to produce more programming overall.
As stay-at-home orders and production advisories have lifted, the volume of projects in physical production has ramped up to the point where producers face more competition for shooting locations, talent and crew members. But remote production and especially post-production capabilities have remained in the mix, enabling companies to put out more projects and cut costs. For example, travel and personnel expenses can be reduced if a subject interview no longer requires sending a 20-person crew to the person's home, but can instead be captured with one or two people working on location and others monitoring the production remotely.
The lower costs and lower barrier to production coincides with the rising number of original shows as companies try to stock their streaming services with as many exclusive series as possible in order to capture more subscribers. This emphasis on volume could be curtailing streamers' appetites for big-budget productions, however. "One of the things we didn't see this past year was huge, massive payments for hot projects. I wonder if the pandemic is speeding up a market correction where companies feel like they've been overpaying for content," said one entertainment executive.
Social video's maturation
The social video landscape seems to have been least affected by the last year. That's something of a shock considering how unruly the early weeks of the pandemic were for media companies and individual video creators on platforms like YouTube, Facebook and Snapchat.
Platforms' video viewership spiked as people were out of school and out of the office and found themselves with more free time for their feeds. But ad dollars evaporated as advertisers pulled back budgets to ensure their businesses survived the economic downturn, creating an economic dilemma for publishers and creators who had to pump out more videos to make as much money as they did pre-pandemic.
The situation has settled down since the spring, however. YouTube, Facebook and Snapchat ended 2020 on revenue high notes. And TikTok has not only survived, but thrived in the face of Instagram's copy-and-kill attempt with Reels and former President Donald Trump's demand for TikTok parent ByteDance to sell the mobile video app a quickly fading memory.
That isn't to say the social video picture has remained unchanged over the past year, though. It has become more mature.
Instagram, TikTok and Snapchat each rolled out new programs to pay publishers and creators for videos, such as Instagram's IGTV monetization test, the TikTok Creator Fund and Snapchat's Spotlight, respectively. All three programs indicate that the platforms recognize that they need to spend money to make money, recognizing that YouTube generated $19.8 billion in ad revenue last year in part because the Google-owned platform allows publishers and creators to directly make money from their videos. "They understand there has to be a relationship between having a broad group of content producers and the ability to drive ad dollars. Advertisers are asking the social platforms to upgrade their content offerings," said one media executive.
Speaking of upgrades, YouTube is moving up to the big screen and into a more direct player in the streaming wars. The platform remains mobile-dominant, but an increasing share of viewership is happening on TV screens. "Around 20%-plus of our views on YouTube are on a big screen," said a second media executive, who noted that the percentage of CTV views a year ago was around 11% to 12%. "It's incredible if you think about it. The toughest things about this world is to change consumption and usage habits." And to think how much —and how quickly — those habits changed in the past year.
Confessional
"Clients are tired of [TV networks] not investing in their traditional business model. All of their new investment around content, data and tech is for their future DTC model, which they're publicly stating will be less reliant on advertising. And yet they want the folks that have been their best customers for 25, 30 years to support their old model as they invest in their new model — and they're out of their fucking minds."

— Agency executive
Stay tuned: TV distribution dogfights
As TV networks roll out their standalone streaming services, their linear distribution negotiations with pay-TV providers are likely to become even more combative.
During Dish's most recent earnings call, the pay-TV provider's chairman Charlie Ergen said that the availability of networks' programming outside of their linear channels is becoming a major factor in distribution deals. In particular, he referred to Discovery, which launched Discovery+ in January, when he said "that you can get it on an a la carte basis, it'll affect future negotiations."
How exactly Discovery's roll-out of Discovery+ — as well as the rollouts of standalone streamers from other major TV network owners NBCUniversal and ViacomCBS — will affect their pay-TV dealings remains to be seen.
While the pay-TV providers will likely use the streamers' availability to demand that the TV networks agree to lower (or at least not raise much higher) the fees that pay-TV providers pay networks for each subscriber that receive their channels, the network owners that are rolling out the standalone streamers seem to have the advantage by virtue of owning networks that are virtually indispensable to the pay-TV providers. Discovery, for example, operates some of the most-watched cable TV networks, so a pay-TV provider would likely lose a lot of customers if those customers lost access to Food Network.
On the other hand, the networks still need that precious affiliate revenue from the pay-TV providers to pad their profits as they sink money into streaming. So for all the success Discovery+ has had so far, Discovery may have an upper hand at the negotiating table, but would not seem to be in position to be able to walk away from it altogether.
"Clearly there is one big, new variable that's in the mix now, so all of these discussions are one notch more complex than they used to be," said Discovery CFO Gunnar Wiedenfels at an investor conference on March 8.
Numbers don't lie
$102 million: The narrowing gap between Disney's ad revenue from ABC and its direct-to-consumer businesses, including Hulu.
34%: Percentage of people who subscribed to Apple TV+ in the first half of 2020 and are still paying for the streaming service.
$904 million: How much money Peacock lost in 2020.
Trend watch: Programming pipelines
After last year's production shutdown, the market for original shows has bounced back but more so on the streaming side of the industry than traditional TV.
By the end of 2020, the number of show development deals that streamers signed had increased by 38% compared to 2019, whereas the figure for linear TV networks had dropped by 42% year over year, according to research firm Ampere Analysis.
The growing number of streaming services on the market likely fueled the streaming development figure, and it was likely further fueled by the importance of original programming to attract audiences and acquire subscribers. The declining development of linear TV programing, however, is surprising — at least on the surface.
TV networks have had their programming calendars disrupted by the production hiatus and have accumulated debts to advertisers for falling short of the networks' viewership guarantees. So they would seem to be incentivized to ramp up development in order to refill their channels.
However, what seems to be happening is that network owners like Disney, Discovery and ViacomCBS have their own streaming services to pump with programming and are prioritizing them over their linear networks, according to an executive at a company that produces shows for traditional TV and streaming.
What we've covered
Advertisers' linear TV ad dollars don't carry as much clout:
TV networks are pushing for advertisers to let their ads run on the networks' streaming and digital video inventory.
However, price discrepancies and programming uncertainties are leading advertisers to push back.
Read more about TV advertising here.
PopSugar Fitness expands health and wellness coverage after success with at-home workout videos:
PopSugar is expanding its broader health and wellness content to complement its core fitness content.
The publisher has hired Jennifer Fields as its deputy editor of fitness.
Read more about PopSugar Fitness here.
What we're reading
Amazon wants the NFL all to itself:
Amazon is negotiating a deal with the NFL to pay roughly $1 billion to (almost) exclusively distribute Thursday Night Football games, according to CNBC. The deal would kick in in 2023, but the two sides are still sorting out whether the NFL would additionally air the games on its NFL Network. What's most notable about this deal is that Amazon would be producing the games' broadcasts, as opposed to airing a broadcast produced by a TV network. That change appears to be how Amazon would be in position to secure some exclusivity and to show how serious the e-commerce giant is about getting more live sports rights.
Facebook doesn't want to pay for sports:
Facebook is sitting out this round of NFL rights negotiations because paying for live sports programming doesn't fit its business model, according to an op-ed that Facebook's director of sports league and media partnerships Rob Shaw wrote for Sportico. Shaw seems to be trying to make a case for sports league streaming live games on the social network for free because a lot of people are on Facebook, the leagues or rights holders like ESPN could use the free broadcasts to convert viewers into ticket buyers or subscribers and eventually there will be money to be made. But his statements really boil down to this: Facebook doesn't think it should have to pay for live sports programming.
YouTube stars are starting up their own streamers:
The cycle of creators creating their own platforms to reduce their reliance on YouTube has returned, according to the BBC. Creators like Linus Sebastian and companies like Corridor Digital are not looking to directly rival YouTube but rather create a hub for their most-ardent (and therefore most lucrative) audiences who may be more willing to pay to directly support their favorite creators.
https://digiday.com/?p=403237
This week's Future of TV Briefing looks at how the streaming ad market's programmatic guaranteed vs. private marketplace debate is reaching a compromise.
This week's Future of TV Briefing looks at how this year's upfront and recent announcements from AMC Networks and Paramount indicate the progression of programmatic in the TV and streaming ad market.
This week's Future of TV Briefing looks at how major streaming service owners' subscription business fared in the third quarter of 2023.