Future of TV Briefing: Hollywood returns to production as stay-at-home orders, advisories lift
February 3, 2021 • 8 min read
•
•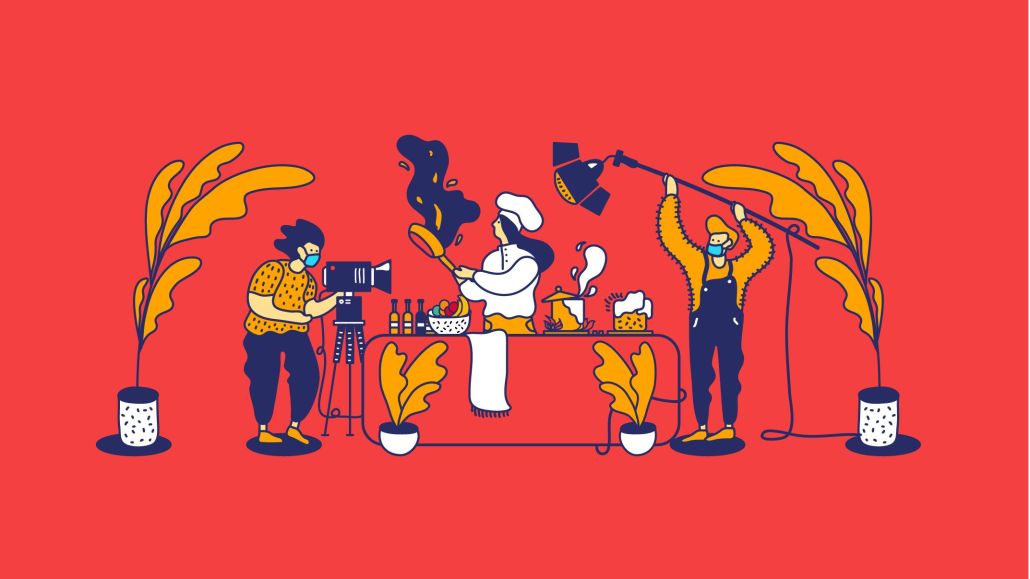 Ivy Liu
This Future of TV Briefing covers the latest in streaming and TV for Digiday+ members and is distributed over email every Wednesday at 10 a.m. ET. More from the series →
Hollywood has returned to set — although, it hardly left.
While the coronavirus crisis's resurgence in Los Angeles pushed some TV and movie productions to go on extended hiatus over the holidays, those pauses in production were voluntary and not universal. "We're pretending like there's not another giant outbreak in L.A., so we're still shooting," one entertainment executive said in early January.
To be clear, there were no rules barring TV shows, movies, digital videos or commercials being shot on location or in studio in Los Angeles as coronavirus cases increased in the area. There haven't been since June when California governor Gavin Newsom announced that production could resume. Even when Newsom imposed new stay-at-home orders in November, entertainment industry workers were classified as essential workers and thereby exempted.
However, even without rules barring physical production, entertainment industry groups, including SAG-AFTRA, the Producers Guild and the Joint Policy Committee — an advertising-specific industry group — asked producers to temporarily pause production. Some followed the recommendations; others followed through with production, while following health and safety guidelines to protect cast and crew members and try to prevent shoots from spreading coronavirus. But that's all in the past now.
On Jan. 25, the state of California lifted its regional stay-at-home orders. Those orders may not have directly preempted production, but their expiration would seem to be a symbolic gesture that could bolster confidence in the safety of shooting on set or in studio. Then on Feb. 1, entertainment industry groups' recommendations that commercial and independent shoots pause production in Southern California were officially lifted.
However, the guardrails have not been entirely let down. On Jan. 22, the Los Angeles County Department of Health updated its production guidelines to require polymerase chain reaction (PCR) tests — which are more reliable than rapid on-site tests — for all projects, including short-term and one-time productions. The updated guidelines also dictate that crew members who "consistently work within six feet of cast or talent who are not wearing face coverings," such as hair and makeup artists, must wear a double-up their face coverings, such as by wearing a shield over a mask.
The lifting of stay-at-home orders and production advisories combined with the updated guidelines is likely to spur a wider return to production in Los Angeles and the surrounding area.
"When everyone came back from the holidays, obviously case numbers were devastating in the country and L.A. and everything was shut down, so we pressed pause on a couple things that have just been re-lifted with the stay-at-home orders and the new guidelines. So we've started back up again," said one producer who works on digital and branded video shoots.
On the TV and film fronts, media companies are anxious to fill their programming pipelines. During AT&T's earnings call on Jan. 27, CEO John Stankey said that WarnerMedia is "still fighting through getting the pipeline" and that he hoped "we got the worst behind us" after California lifted its stay-at-home orders.
Similarly, commercial productions may begin to ramp up. These types of shoots tend to flock to Southern California's warmer weather during the winter months. And while the volume of commercial productions tends to drop down during January and February as advertisers get their budgets in order for the year, "we're finding right now that we are on average a little bit busier than normal because so many did pause," said the producer.
The lifting of stay-at-home orders and production advisories may ease other obstacles to productions' return, such as extended turnaround times for location permits. "There have been issues where the film office is closed down or people are furloughed, and we're not able to get permits in a timely manner," said Adam Zimmer, executive producer for West Coast at Valiant Pictures. 
However, in what would be an ironic twist, a widespread return to production could actually slow production. As shoots compete for locations and studio space, cast and crew members, a bottleneck may emerge.
Confessional
"Love Peacock, really great ad offering. But monthly active users as a transaction methodology is only benefitting Peacock. The advertiser does not win on that. Period."

— Agency executive
Numbers don't lie
17.2 million: Number of accounts that have activated their HBO Max subscriptions.
-48%: Decline in number of on-location shoots in Los Angeles in 2020 compared to 2019.
$6.9 billion: Amount of money that YouTube made from advertising in the fourth quarter of 2020.
493: Number of original scripted shows that premiered on TV and streaming in 2020, a 7% decline compared to 2019.
Trend watch: Pay-TV subscriber losses
Traditional pay-TV providers, including AT&T and Comcast, continued to shed subscribers in the fourth quarter of 2020.
Despite the ongoing declines, there may be a silver lining to the latest losses: They weren't as bad as before. AT&T and Charter, for example, each lost fewer subscribers in the fourth quarter of 2020 than they did in the fourth quarter of 2019. In fact, Charter ended 2020 with 19,000 more pay-TV subscribers than it had when the year started.
The decelerating subscriber losses suggests that the cord-cutting trend may be beginning to bottom out. The people who continue to pay for traditional TV are less likely to be willing to give up traditional TV, for reasons such as they are major sports fans, are averse to streaming or simply enjoy the traditional TV experience.
But that doesn't mean they won't eventually cut the cord. As TV networks like Discovery and NBCUniversal stand up standalone streaming services, pay-TV loyalists may reconsider their subscriptions. Additionally, if rights to major sports leagues are awarded to streaming-only players, even more households may follow suit.
What we've covered
How CBS will expand Super Bowl streaming viewership this year:
This year people will be able to stream the Super Bowl without a pay-TV subscription through the CBS Sports app on smart TV platforms for the first time.
Amazon will run a banner ad on the home screen for every Fire TV-powered TV in the U.S to promote the Super Bowl stream.
Read more about CBS here.
How brands like Chobani are using TikTok to reach new audiences:
Last week Chobani dropped a new, limited edition yogurt product but only made it available through TikTok.
However, Chobani is not yet ready to invest on TikTok the way it does on Facebook, Instagram and sometimes Twitter.
Read more about TikTok here.
How Covid-19 impacted DoorDash's first Super Bowl spot:
The 60-second commercial took four days to shoot, twice as long as it would under normal conditions.
Everyone except a core agency team worked remotely on the shoot.
Read more about DoorDash here.
Chipotle CMO Chris Brandt on figuring out the right tone for Super Bowl ads:
Chipotle wanted to avoid being preachy or heavy in its Super Bowl spot.
The company expects to spend a larger share of its ad dollars on traditional TV this year.
Read more about Chipotle here.
What we're reading
Hollywood's Covid compliance:
People tasked with managing Covid compliance on TV shows and movies are becoming overwhelmed by the challenges of the job, according to the BuzzFeed News. While productions have developed the semblance of covid compliance playbook — on-site testing, limited crew sizes, protective equipment for everyone — the people in charge with making sure cast and crew comply don't always receive sufficient training or information to ensure compliance. Also, they can run into issues where bosses refuse to comply and the employees don't feel like they have the power to press the issue.
CNN's former Facebook show:
CNN has decided to stop airing its live daily news show "Go There" on Facebook Watch, according to Variety. The show will still air on CNN's own properties. The news network had produced "Go There" for Facebook Watch since July 2019 but had also distributed it on CNN's site and apps, and the viewership comparison suggests why CNN may have opted to pull back from the platform. While the show likely received more views on Facebook than on CNN's properties, people only spent, on average, 20 seconds watching each episode on Facebook, compared to five minutes on CNN's properties.
A+E Networks' new upfront pitch:
A+E Networks wants upfront advertisers to pay for every adult that sees their ads on its networks, not just those in the hallowed 18- to 54-year-old age group, according to Broadcasting & Cable. The move makes plenty of sense. People who are 55 years old and older are traditional TV's biggest audience demographic, but TV networks don't make as much money from them because upfront advertisers are generally interested in younger viewers. But younger viewers are generally less and less interested in traditional TV. So TV network owners like A+Networks have to figure out how to get advertisers to pay for the people who are watching. Whether upfront advertisers will be willing to pay for those audiences is another matter that will remain to be seen as this year's upfront talks start up over the next couple months.
ESPN's yard sale:
ESPN is looking to free up money, such as by selling the X Games, according to The Information. The moves are meant to help ESPN to cover the expenses of building up its streaming business while managing its traditional TV holdings. In the case of the X Games, ESPN is considering selling the franchise's distribution rights, but still producing the action sports competitions. ESPN and its parent company Disney aren't the only TV network owners trying to balance their books as the profitable pay-TV business gives way to streaming's tighter margins. In addition to the layoffs at Disney, NBCUniversal and WarnerMedia last year, NBCUniversal plans to shut down its TV sports network NBCSN by the end of this year.
https://digiday.com/?p=392647
This week's Future of TV Briefing looks at how the streaming ad market's programmatic guaranteed vs. private marketplace debate is reaching a compromise.
This week's Future of TV Briefing looks at how this year's upfront and recent announcements from AMC Networks and Paramount indicate the progression of programmatic in the TV and streaming ad market.
This week's Future of TV Briefing looks at how major streaming service owners' subscription business fared in the third quarter of 2023.