Future of TV Briefing: How TV shows, movies are managing their returns to production
April 7, 2021 • 10 min read
•
•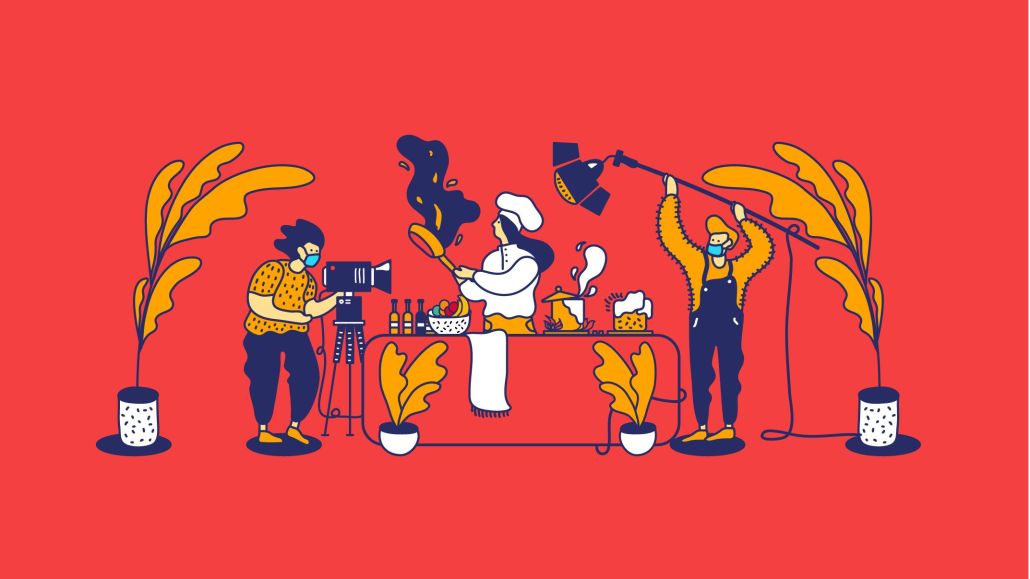 Ivy Liu
This Future of TV Briefing covers the latest in streaming and TV for Digiday+ members and is distributed over email every Wednesday at 10 a.m. ET. More from the series →
The Future of TV Briefing this week looks at the current stage of TV and movie makers' return to physical production.
Masks, camera, action
Pay-TV providers ease up on streaming restrictions
The resurgence of brand-produced programming, Facebook shortchanged creators, Disney's diversity push and more
Masks, camera, action
Following last spring's physical production hiatus, film and TV projects have largely returned to shooting in studio and on location. The productions themselves may not fully resemble pre-COVID sets — with cast and crew members in masks and keeping their distance — but the finished projects should bear little semblance with the Zoom-shot shows that sprung up in the early days of the pandemic.
"Most of our clients don't want the production to feel like, when you watch it five years from now, that that was made during the pandemic," said Eric Tomosunas, CEO of Swirl Films, which has produced shows and movies for TV networks and streaming services including BET and Netflix.
The key hits:
TV and film producers have had to adapt to protect cast and crew members without compromising what ends up on screen.
They have scheduled the timing of productions to lower their risks and the pandemic's impact.
They have also relocated shoots to places like South Korea that have better managed the pandemic.
Some projects, like those involving large, in-person audiences, have been slower to return.
Despite the resumption of production and availability of vaccines, COVID remains a concern.
Managing the pandemic's continued impact on physical production is no easy feat, however. TV and film producers are having to strike a balance between protecting people's health and safety and not compromising the quality of their projects. For example, to shoot scenes with a large number of people in the background — which are standard in many scripted shows and movies — Swirl Films has been framing shots in ways to make it seem like more people are in a scene than were actually on set as well as using technology to insert crowds during the editing process, Tomosunas said.
TV and film producers have had to consider not only what types of projects can be pulled off without the pandemic's impact creeping into the frame but also where those projects can be shot with minimal risk of interruption.
On March 1, AGBO — which produces movies and TV shows for the likes of Apple, Amazon and Netflix — started shooting a series called "Citadel" for Amazon, starring Priyanka Chopra Jonas and Richard Madden. So far the U.K.-based production has gone off without a hitch. "It's running like a functioning, typical, high-production-value TV show," said Mike Larocca, co-founder and vice chairman of AGBO.
However, the shoot's stable start was not simply a matter of luck. Its production "would have gone considerably sooner were it not for COVID. But we were just waiting for an opportunity to feel like the protocols were manageable, that the risk of repeated shutdowns were tolerable or lower than it was at the height of things," Larocca said.
The "height of things" in some places has been much lower than others. South Korea, for example, was quick to manage the coronavirus crisis, and as a result, physical production has rebounded more quickly in that country. "Unlike the U.S. or even Europe where everything was put to a halt, there were still productions going on in Korea," said Samuel Ha, founder and CEO of Bound Entertainment, which is currently producing a series called "Dr. Brain" for Apple TV+ in South Korea.
Not only were locations like restaurants open to TV and film shoots in South Korea, but the lower restrictions —including not being required to have COVID-specific insurance policies — made it easier to receive financing for productions and offset COVID-related costs, such as testing. That has led some projects that had been slated to be set and shot elsewhere to be moved to South Korea. "We sort of shifted the strategy of developing material and even changing the story to be shot in Korea," Ha said.
Some types of production, however, have been particularly difficult to pull off at a time when many people have yet to receive vaccines and everyone is still being asked to wear masks and socially distance themselves.
Since last spring, RadicalMedia, which has made films and series for Netflix, Hulu and A&E Networks, has been able to resume its full scope of projects, from a large-scale production that involved more than 100 people to more pandemic-friendly projects like documentaries that are more easily produced remotely. But the company behind the filmed version of "Hamilton" that premiered on Disney+ last July is only now beginning to gear up for filming Broadway productions.
"We have one beginning in less than a month, in which we're employing somewhat the equivalent of an NBA bubble for the talent on stage as well as the entire crew and anyone working on the project to be effectively quarantined for a period of time," said Jon Kamen, chairman and CEO of RadicalMedia.
Or take a show such as "American Idol," which pre-pandemic had been shot on stage before an in-person audience of hundreds of people. "Even with COVID protocols, those programs are incredibly challenging to produce," said Aaron Saidman, president of Industrial Media, which co-produces the singing competition series. Industrial Media and its production partner Fremantle have been able to adapt to produce a season of "American Idol" during the pandemic, but it had to be shot sans a studio audience. As COVID restrictions have lifted, the show has begun to open up its studio, albeit to a smaller in-person audience of roughly 50 people who are wearing masks, being tested and asked to sit apart from people outside their households.
However, while TV and film productions are returning to form, producers recognize they are not yet out of the woods. Vaccinations may be becoming more widely available, but the executives interviewed for this article largely expect to continue to adhere to the health and safety guidelines they have adopted through at least the summer. "In the short and mid-term range, I still think we're going to need and should have a robust set of safety protocols, irrespective of vaccine availability and actual vaccinations," said Saidman.
Stephen David knows firsthand that the coronavirus remains a concern. Last fall his company Stephen David Entertainment, which has produced shows for AMC Networks, History and Netflix, produced a show called "The Titans That Built America" in Ireland that had 150 people on set. The production followed all proper precautions, such as requiring everyone to wear masks, wrapped without a single person contracting COVID and will premiere on History on May 31. But six months after that show completed production, David found out on April 5 that one of his company's editors — a person who has been working remotely in post-production — had tested positive for coronavirus.
"We film and everyone wears masks and takes all the precautions, and you get the feeling like everything is fine. To have something like this happen in post — which is actually being done remotely — you realize it's still here," David said.
Confessional
"It's a constant challenge to stay on top of the networks to get the [make-good inventory for missed viewership guarantees] we need and not three months after the fact but in as real-time as possible. It's been a constant issue."

— Agency executive
Stay tuned: Pay-TV providers ease up on streaming restrictions
If the flood of TV network owners standing up standalone streaming properties weren't indication already, pay-TV providers are loosening their grips over TV networks' distribution footprints.
Historically, pay-TV providers put restrictions on TV networks' ability to make the programming they premiered on their linear networks available to people who didn't pay for TV. The providers pay the networks to carry their channels, so they understandably wanted to make sure people were incentivized to pay the providers to access that programming. But with the pay-TV subscriber base continuing to shrink, the pay-TV providers have wizened up and are permitting TV network owners to open up their shows to streaming-only audiences.
"They can't justifiably restrict us today from getting into this business because it is part of the business now," said one TV network executive.
Of course, there's a catch. A couple in fact. For starters, the pay-TV providers are not easing up out of the graciousness of their hearts. As much as they accept that streaming is part of the TV business today, the providers are also angling for the shift to benefit them financially. For example, a pay-TV provider may demand a network make its subscription-based streamer available to the provider's subscribers at no additional cost or call for the network to redistribute a portion of the affiliate revenue received from the provider by committing to spend that money on promotion via the provider's internal marketing agency.
"There's an acknowledgement that there's been a sea change in the industry," the TV network executive said.
Numbers don't lie
3.4%: Percentage increase in national TV ad sales forecast for 2021 compared to 2020.
$786.7 million: How much U.S. ad revenue ViacomCBS's Pluto TV is estimated to rake in this year.
35%: Share of 35 TV network owners' ad impressions in on-demand videos that Google's ad tech served on connected TV devices in the fourth quarter, compared to 40%-plus for mobile devices.
140%: Percentage increase in the number of complaints filed with the FCC between November 2020 and February 2021 over overly loud TV commercials.
Trend watch: The resurgence of brand-produced programming
Brand-sponsored programming has been a part of the TV business since its inception, but it seems to be on the verge of becoming a bigger aspect of the streaming industry.
Marketers including Shopify and Nike are pushing into paying for their own shows to run on services like Disney+ and HBO Max. The dominant ad-supported streamer, Hulu, has even started to build a business around brand-produced programming, with a reality competition debuting on April 26 that was created by Samsung.
Marketers' reason for producing their own shows to sell to streamers is pretty clear. Not as many people are watching ad-supported programming, as people turn away from traditional TV and tune into ad-free streaming services like Netflix and Disney+. In January, ad-supported programming only represented 34% of the time people spent watching TV and streaming, according to Nielsen.
However, for as much sense as it may make for a marketer to give people something they actually want to watch rather than interrupting them, brand-produced programming still has to prove it makes cents. These companies are spending thousands and millions of dollars on shows that are effectively offshoots of their marketing campaigns, so they need to show these shows are delivering are return on that investment. Considering how close to the vest Netflix has kept its viewership figures, the types of information that marketers are accustomed to using to evaluate their campaigns have been hard, if not impossible, to come by in streaming. "That's the big rut and probably why the industry hasn't grown," said one agency executive.
For brand-produced programming to become a central part of the streaming business, marketers will either have to surrender their KPIs and accept their checks like every other producer, or the streaming industry will have to come up with a way to measure these shows, that are emphatically billed as not being ads, as if they were ads — with all the metrics like brand consideration lifts, view-through rates and conversion measurements that entails.
What we've covered
Roku plans to debut Roku Recommends:
Roku will have a host highlight shows and movies available from streaming services across its connected TV platform.
The company has been pitching advertisers on sponsoring the videos.
Read more about Roku here.
TikTok's Karton Weiss wants brands to stop overthinking:
In the latest Digiday Podcast episode, the TikTok executive discussed its recent agency holding company deals.
Weiss also fielded questions about how TikTok's ad platform is developing.
Listen to the interview with Weiss here.
Electronic Arts produces shows to expand reach:
The video game developer concluded a two-part series on YouTube in March.
Electronic Arts is using shows to bridge the gap between gaming and mainstream culture.
Read more about Electronic Arts here.
What we're reading
Facebook shortchanged creators:
Facebook failed to pay some creators the full amounts owed to them for ads the platform sold against their videos, according to The Verge. The episode marks yet another example of creators finding fault with Facebook's creator tools and a lack of support from the platform. The Verge spoke with creators who said they had contacted Facebook about the issue but were not given any feedback.
AMC Networks isn't Netflix:
Rather than roll out an omnibus streaming service to rival Netflix, AMC Networks has opted to put together a portfolio of specialty streamers, according to The Hollywood Reporter. It's a smart strategy considering how the saturation of major subscription-based streamers and free, ad-supported streaming TV platforms seems to leave little room for a middle class of streaming outlets. But while AMC Networks operates specialty streamers like Acorn TV and Shudder, its seemingly flagship AMC+ seems like it risks becoming stuck in that middling middle ground.
Disney pushes for streaming audience diversity:
Disney has set specific goals to ensure it attracts Black subscribers to its streaming services, according to IGN. The company has already been achieved parity when it comes to retaining Black and white subscribers for Hulu, and it is looking to ensure Disney+'s and ESPN+'s Black subscriber bases grow at a pace that mirrors streaming and TV viewership.
https://digiday.com/?p=410077
This week's Future of TV Briefing looks at the post-strike landscape for producers preparing to pitch projects to TV networks, streaming services and film studios.
This week's Future of TV Briefing looks at what an industry group's conditional certification of three measurement currency contenders signals about the TV ad business's measurement overhaul.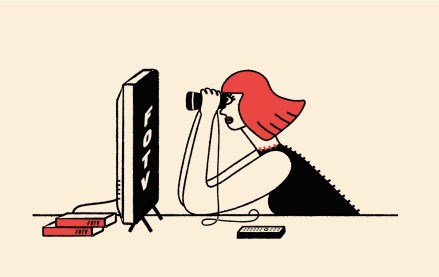 This week's Future of TV Briefing offers an updated list of the key terms that can cause confusion when talking about the TV, streaming and digital video industry.