Future of TV Briefing: How the economic downturn is affecting the market for streaming programming
August 3, 2022 • 9 min read
•
•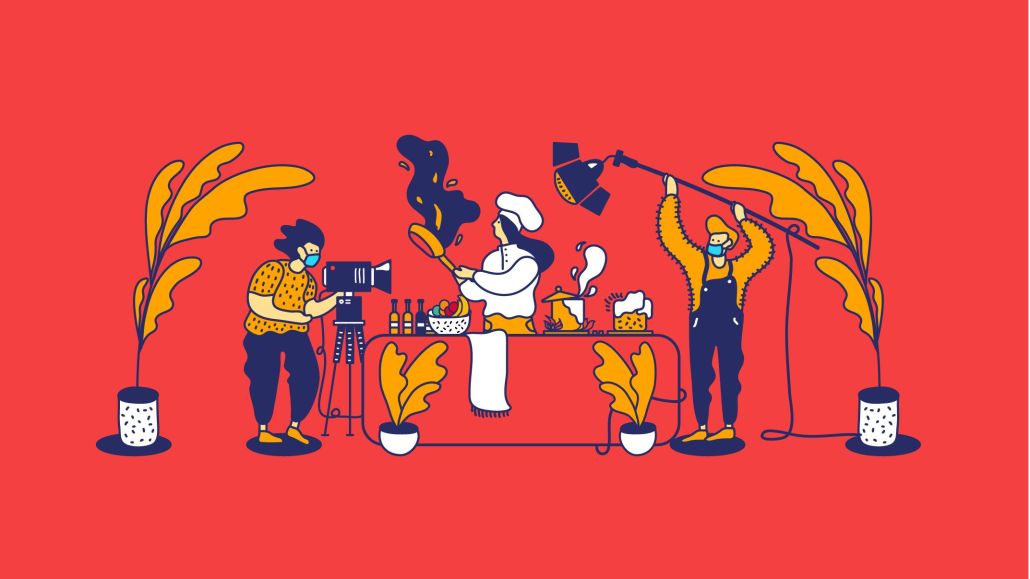 Ivy Liu
This article is also available
in Spanish
. Please use the toggle above the headline to switch languages. Visit
digiday.com/es
to read more content in Spanish.
This Future of TV Briefing covers the latest in streaming and TV for Digiday+ members and is distributed over email every Wednesday at 10 a.m. ET. More from the series →
This week's Future of TV Briefing looks at how the economics of TV and streaming production and development are shifting amid the broader economic downturn.
Production costs
The crawl to short-form video revenue-sharing programs
Reels' struggle for advertisers, Comcast shops for a TV maker, Twitch streamers' financial woes and more
Production costs
The key hits:
Rising production and financing costs are posing challenges to streaming distributors and producers but also opening opportunities.
Netflix and CNN Films have become more willing to co-finance productions.
HBO Max is putting deals on hold.
The global economy is in a state of flux, and so is the economy of TV and streaming production and development, as distributors seek to manage costs in a way that presents both opportunities and challenges to producers.
Netflix and CNN Films are showing producers a new willingness to co-finance original productions that would provide producers greater rights to projects, and HBO Max is putting deals on hold, according to entertainment executives. Spokespeople for Netflix, CNN Films and HBO Max did not respond to requests for comment.
At the same time, the costs of production have increased with the broader macroeconomic trends of rising inflation, rising interest rates and ongoing supply-chain constraints, which are putting a further twist on the production and development market.
"The landscape is hard right now. From a producer side, our financing costs just went up because of interest rates. So forgetting the hard part about trying to find crews and locations — which has been really, really hard — just the cost of capital has gotten expensive," said one entertainment executive. They added, "if you look at a movie that's $30 to $50 million [to produce], there's probably another close to 750 [thousand] to a million dollars just in financing costs."
The overarching change to the production and development landscape appears to be a shift to the "age of austerity," as Bloomberg put it. As the entertainment executive said, "whenever the cost of capital goes up a little bit and when studios want to pay less in-year, all of a sudden they shift back to, 'Hey producers, can you help finance these things?'"
"What we're seeing is a world in which every streamer wants to be very competitive but doesn't have the dollars to buy projects outright," said a second entertainment executive.
Co-financing opportunities
Netflix's and CNN Films' openness to co-financing deals is one example of this shift. Historically, both distributors had largely sought to fund original productions in exchange for taking full ownership of shows. But over the past few months, they have talked with producers about co-financing arrangements, in which the distributors and the producers would split the production costs with producers regaining some rights to the project, such as the ability to eventually license it to other distributors internationally or distribute it through the producer's own streaming properties.
"What I'm hearing from Netflix is they're starting to be open to some of the negotiations that they did when they started out, which is 'co-finance with us. We'll carve out certain territories for you, and you have the ability to go use those territories to help offset the contribution you're making,'" said the first entertainment executive.
"Now CNN is open to co-financing projects in a way that they weren't six months ago," said the second entertainment executive.
Cost constraints
Of course, one thing that's changed for CNN Films specifically in the past six months is the closure of parent company WarnerMedia's merger with Discovery and Warner Bros. Discovery CEO's David Zaslav subsequent focus on cutting $3 billion in costs. That focus appears to be a factor in CNN Films' corporate sibling HBO Max similarly looking to manage its costs by temporarily pulling back on project pickups. "HBO Max is basically frozen," said a third entertainment executive.
"We just pitched something to HBO Max, and the executives really liked it and said, 'We're not in the place to buy right now,'" said the first entertainment executive.
Nonetheless, it'd be hard to see these changes in the entertainment market as being entirely separate from the broader economic downturn. Like companies in seemingly every other industry, distributors are trying to manage their finances to weather the storm should the economic conditions worsen. And there's also the element that the streaming surge of 2020 has given way to market saturation and subscription fatigue.
"Short of it is, yes, a lot more scrutiny on content deals," said Eunice Shin, who has consulted for companies including Disney, Warner Bros. and NBCUniversal and is a partner at consulting firm Prophet.
Opportunity costs
Furthermore, the broader economic downturn is playing a factor in producers' responses to the entertainment market's changes. Specifically, while co-financing deals can provide a path to more revenue from a project over the long run, they require companies to have the money to pay for the production upfront, which can mean going into deficit to finance a project in hopes of that eventual revenue covering the costs and then turning a profit.
Some producers are willing to take on the short-term costs with an eye toward the long-term gains as licensing opportunities open up as streamers look for movies and TV shows to stock their services internationally and as show makers stand up their own streaming properties. However, others are wary of deficit financing if those long-term gains are not so assured as they were in the era when a traditional TV show could run for multiple seasons and lead to a whole series of syndication deals domestically and abroad.
"We're not at a place now — and I don't know that we'll ever get back to a place — where you can strike lightning in a bottle and that one show funds everything else you do forever. It's become a bit of a volume business," said a fourth entertainment executive.
Another concern is the rising costs of production. In addition to the COVID-related costs introduced since the pandemic, rising inflation, rising interest rates and supply-chain shortages have increased production costs, such as driving up the price of set materials, as The Hollywood Reporter has reported.
"Production costs have gotten out of whack," said the second entertainment executive. "The price to hire an amazing [director of photography] five years ago is double or triple now. Part of that is because we had this amazing demand, which is incredible and I want the industry to thrive, but I think you've seen the cost of production get to a place that might be unsustainable long-term."
What we've heard
"Viewership [for live stoppable videos] is so low, even for big and influential partners. We're used to stuff getting millions of views. [With a shopping livestream], we make a thing that costs half-a-million or a million dollars, and 1,500 people are watching. How are [marketers] spending this much money for that many people?"

— Entertainment executive
The crawl to short-form video revenue-sharing programs
"Run" or even "walk" are definitely too strong of words to describe the efforts by platforms like TikTok, Instagram and YouTube to establish YouTube-style revenue-sharing programs for their short-form video products. So we'll go with crawl — which may even be overstating the situation.
In June, TikTok started testing a program called Pulse to share ad revenue with top video creators, but it's unclear how much traction that program has gotten so far.
"It came out with a splash, but I have not heard anything about it since," said one entertainment executive. Indeed, multiple top TikTok stars I spoke with during VidCon in late June were not even aware of the program.
Meanwhile, Instagram and YouTube have yet to announce any plans for revenue-sharing programs for Reels and Shorts, respectively.
"I'm just perplexed as to why [TikTok] haven't gone to the proverbial jugular and found a way to implement [a revenue-sharing program like] YouTube AdSense for creators on TikTok. It would be like a deathblow," said a second entertainment executive.
Numbers to know
13 million: Number of subscribers that Peacock had at the end of the second quarter of 2022, roughly the same as it has three months prior.
22.3%: Percentage share of U.S. households that used at least one free, ad-supported streaming TV service in the second quarter.
-240,000: Number of pay-TV subscribers that Charter lost in Q2.
>400: Number of TV showrunners that are calling for Netflix, Disney, Warner Bros. Discovery and others to offer protections for employees in states that have outlawed abortion.
What we've covered
Instagram is paying media companies to post Reels:
Last year Instagram rolled out a Reels bonus program for creators and has been expanded it to media companies.
In some cases, the maximum payouts can surpass $20,000 per month.
Read more about Instagram's Reels payments here.
Experts weigh in on the challenges of marketing TV shows in the crowded streaming space:
A surplus of shows may be making it hard for some series to gain audiences' attention.
The amount of money being spent on producing shows may limit the funds available to promote them.
Read more about TV show marketing here.
After organic success on TikTok, more DTC brands are diversifying their budgets:
After not advertising on TikTok a year ago, personal care brand Dr. Squatch is spending 15% to 25% of its budget on the platform now.
Brands are spending more money on TikTok, in part, to move money away from Meta-owned Facebook and Instagram.
Read more about marketing on TikTok here.
Roku reports advertising slowdown in the second quarter:
Roku attributed the ebb to advertisers pulling money from the scatter market.
The connected TV platform owner did not see upfront advertisers cancel their commitments in Q2 to a different extent than in other quarters.
Read more about Roku's Q2 earnings report here.
Why succeeding in gaming is critical for Netflix's long-term plans:
A year after launching its gaming business, it's unclear how successful the foray has been for Netflix.
Eventually, gaming could help the streamer to sell ads and subscriptions.
Read more about Netflix's gaming business here.
What we're reading
Reels is a real struggle for advertisers:
Advertisers are having a hard time figuring out how to adopt and adapt to Instagram's short-form vertical video format, which has led to some Meta employees telling advertisers to test their ads on TikTok first, according to Bloomberg.
Comcast shops for a TV maker:
As Comcast works to build up its connected TV and streaming business, NBCUniversal's parent company has talked with TV makers including Vizio about a potential acquisition, according to Protocol.
Twitch streamers confront the economic downturn:
Live-streaming creators are starting to see marketers and paid subscribers pull back amid the economic downturn, according to The Washington Post.
Instagram calls off more TikTok cloning (for now):
After an outcry among its users and the Kardashians, Instagram has decided not to go ahead with changes to its user interface and content recommendation algorithm that would have made the Meta-owned platform even more like TikTok, according to Platforms.
Sports leagues' dual-revenue stream:
Sports leagues like the NFL and NBA make billions of dollars from selling the rights to air their games, but they've also been building up their own direct-to-consumer streaming businesses, according to The Hollywood Reporter.
https://digiday.com/?p=459142
This week's Future of TV Briefing looks at how the streaming ad market's programmatic guaranteed vs. private marketplace debate is reaching a compromise.
This week's Future of TV Briefing looks at how this year's upfront and recent announcements from AMC Networks and Paramount indicate the progression of programmatic in the TV and streaming ad market.
This week's Future of TV Briefing looks at how major streaming service owners' subscription business fared in the third quarter of 2023.