Future of TV Briefing: TV news networks are stepping up streaming's centrality
September 22, 2021 • 10 min read
•
•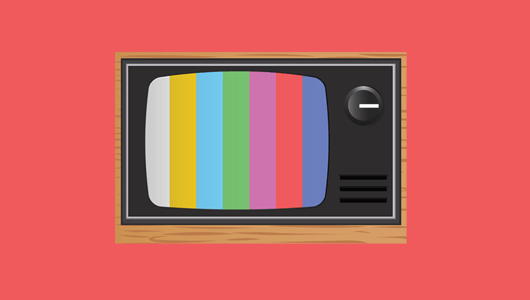 This Future of TV Briefing covers the latest in streaming and TV for Digiday+ members and is distributed over email every Wednesday at 10 a.m. ET. More from the series →
The Future of TV Briefing this week checks out the recent flurry of streaming activity among TV news networks.
The new broadcast news
TV-streaming viewership share shifts stagnate
Google preps FAST foray, TikTok loses Black creators, TV's bunny ears are back and more
The new broadcast news
The key hits:
ABC News, CBS News, CNN, Fox News and NBC News are each stepping up their streaming news operations.
The recent activity indicates how streaming is becoming more central to TV networks' news organizations.
The networks are also increasing their original programming efforts for streaming.
The news never stops, and increasingly it is streamed. While TV news networks like ABC News and CBS News stepped into streaming years ago, a recent flurry of activity indicates the central role that streaming is taking in the news organizations' future.
"The idea of what does news on streaming look like is really starting to crystallize," said Beth Hoppe, svp of longform at ABC News.
News networks race to streaming
"We all look at the landscape and see the numbers of more and more people leaving the linear space and going over to streaming," said Justin Dial, senior executive producer at ABC News Live, of the recent streaming activity among TV news networks. "The model we take here at ABC and ABC News Live is we want to be the network people find when they come to streaming."
As Dial's and Hoppe's comments indicate, though, the Disney-owned news organization is far from alone in its ambition to be streaming audiences' news network of choice. CBS News, CNN, Fox News and NBC News are similarly stepping up their streaming efforts.
ABC News plans to hire an svp of streaming and increase its streaming content production over the next year, per a memo sent to employees by ABC News president Kim Godwin on Sept. 2. "We continue to invest more in live programming and resources for ABC News Live and we're exponentially growing our narrative non-fiction slate of original programs for Hulu," said Godwin in an emailed statement.
CBS News plans to rename its news streaming service CBSN to CBS News later this year and will convert the former "CBS This Morning" studio into the organization's streaming studio, according to a CBS News spokesperson. Neeraj Khemlani, president and co-head of the ViacomCBS-owned news organization, announced the upcoming name change during an internal CBS town hall on Sept. 14. The move is meant to reflect how CBS News is unifying its efforts across traditional TV and streaming as well as between its national and local coverage, with its CBSN local streams set to be similarly renamed (ex. from CBSN Los Angeles to CBS News Los Angeles).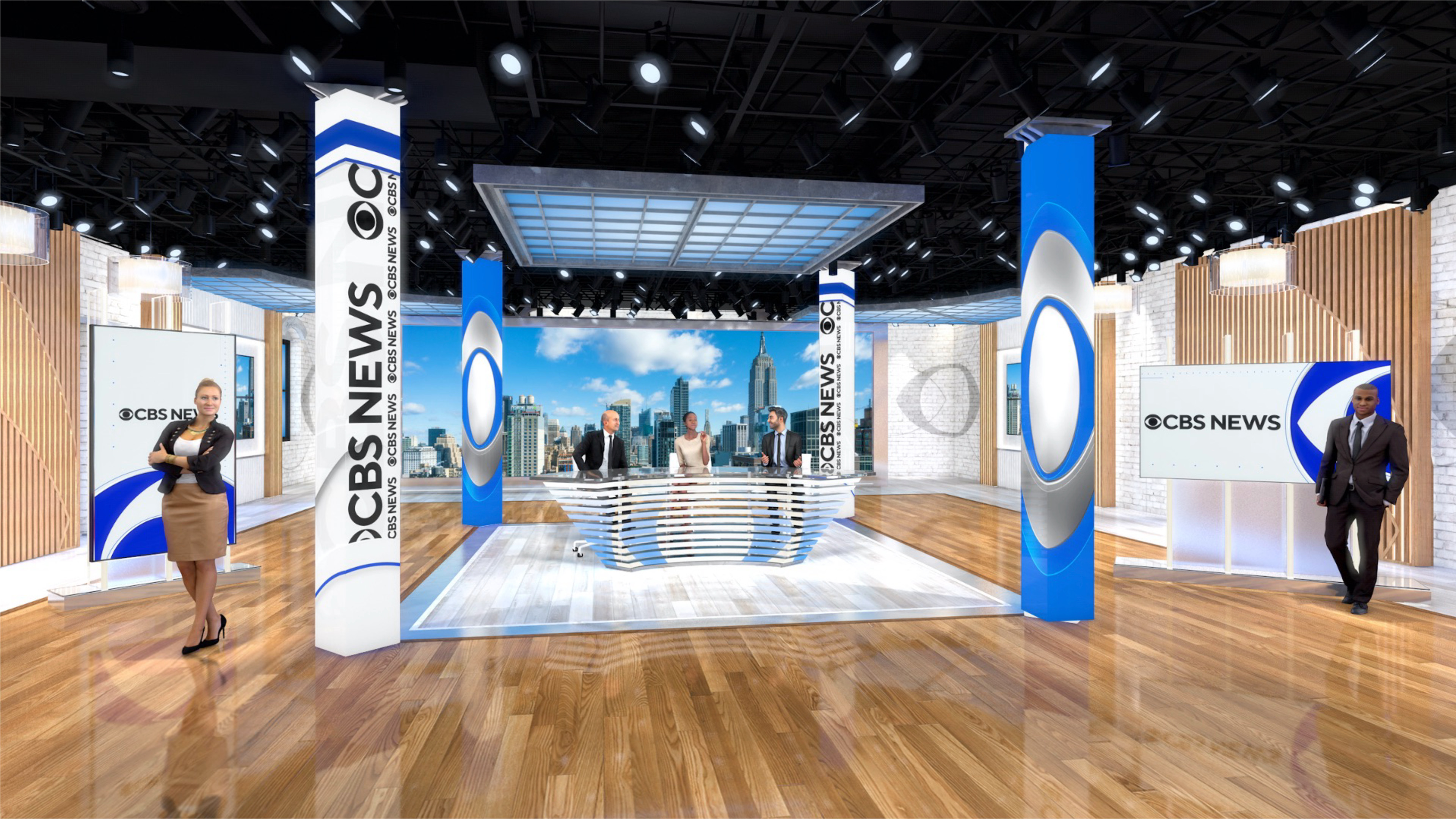 "We're not just seeing streaming growth nationally. CBS local news streaming is growing year-over-year as well. By unifying these organizations, we're building on this momentum. When you bring together a highly relevant local streaming service with a national and even globally resonant CBS News streaming network — that's where you really see the audience fully served," said CBS News and Stations president and co-head Wendy McMahon in an emailed statement.
NBC News, meanwhile, plans to hire people for nearly 200 news positions over the next year, "with the majority of these new roles supporting NBC News NOW's growing streaming operations," NBCUniversal News Group chairman Cesar Conde said in an internal memo sent to employees on July 27. An NBC News spokesperson said that a majority of those NBC News NOW staff have been hired as of this writing.
Additionally, Fox News and CNN are preparing to debut new streaming services. In October, Fox News will roll out its free Fox Weather streamer to pair with its Fox Nation subscription-based service. And in the first quarter of 2022, CNN will join the fray with subscription-based service CNN+.
Streaming becomes a centerpiece
The flood of streaming news moves follows a year in which both streaming viewership and news consumption surged. While TV news networks like ABC News and CBS News staked their claims in streaming years ago — having rolled out their streaming services in 2018 and 2014, respectively — they and others are building on the past 18 months' momentum to solidify streaming not as an offshoot of their linear TV efforts but as part of the same stem. "Both linear and streaming can and do exist side by side," Dial said.
This junction is similar to how TV networks overall have spent the past couple of years reorganizing themselves by putting streaming alongside linear at the center of their operations. And it suggests that news is becoming yet another heated battleground in the broader streaming wars.
The importance of original programming
In addition to the trend of streaming taking center stage at news organizations, the recent flurry of activity indicates a push to step up the networks' streaming programming.
That push toward more original streaming shows and specials is important for two reasons. First, it will give linear TV audiences more reason to check out the networks' streaming properties. And second, it will provide the networks a means of separating themselves, especially those that have maintained a more straightforward approach to traditional news coverage, which can engender trust but also relative homogeneity.
To push out more original news programming, CBS News has formed See It Now Studios. Run by former CBS News President Susan Zirinsky, the studio is producing programs, including documentaries, for ViacomCBSs linear TV networks and streaming properties, such as "The 26th Street Garage: The FBI's Untold Story of 9/11," which premiered on Paramount+ on Sept. 9.
Beyond the breaking news coverage streamed on ABC News Live and newsy documentaries like "24 Hours: Assault on the Capitol," which was released on Hulu after the Jan. 6 domestic terrorism attack on the U.S. Capitol building, ABC News is pushing out more original, long-form news programming on streaming that stretches into true crime and pop culture. Later this month, ABC News will debut a four-part true crime series called "Wild Crime" on sibling streamer Hulu.
"That's what we've been building capacity on my side of the house for. We're going to be delivering fast and furiously from here on out," Hoppe said.
What we've heard
"The things happening in the data privacy world are going to relax a bit. When people start to get many more commercials and the frustration of them not being personalized, you'll see those standards ease up a bit."

— Streaming ad tech executive
Trend watch: TV-streaming viewership share shifts stagnate
Remember a month ago when Nielsen's monthly TV-streaming viewership breakdown for July 2021 showed streaming cutting into traditional TV's watch time, little by little? And remember how the trend of traditional TV giving up a percentage point to streaming each month meant that streaming should overtake traditional TV's watch time by February 2023?
Well, we may need to update that timeline.
Nielsen's latest Gauge viewership report for August 2021 showed that traditional TV's and streaming's share of overall TV watch time held steady. As in stagnant. As in the viewership pie chart for August 2021 looks (almost) identical to the one for July 2021.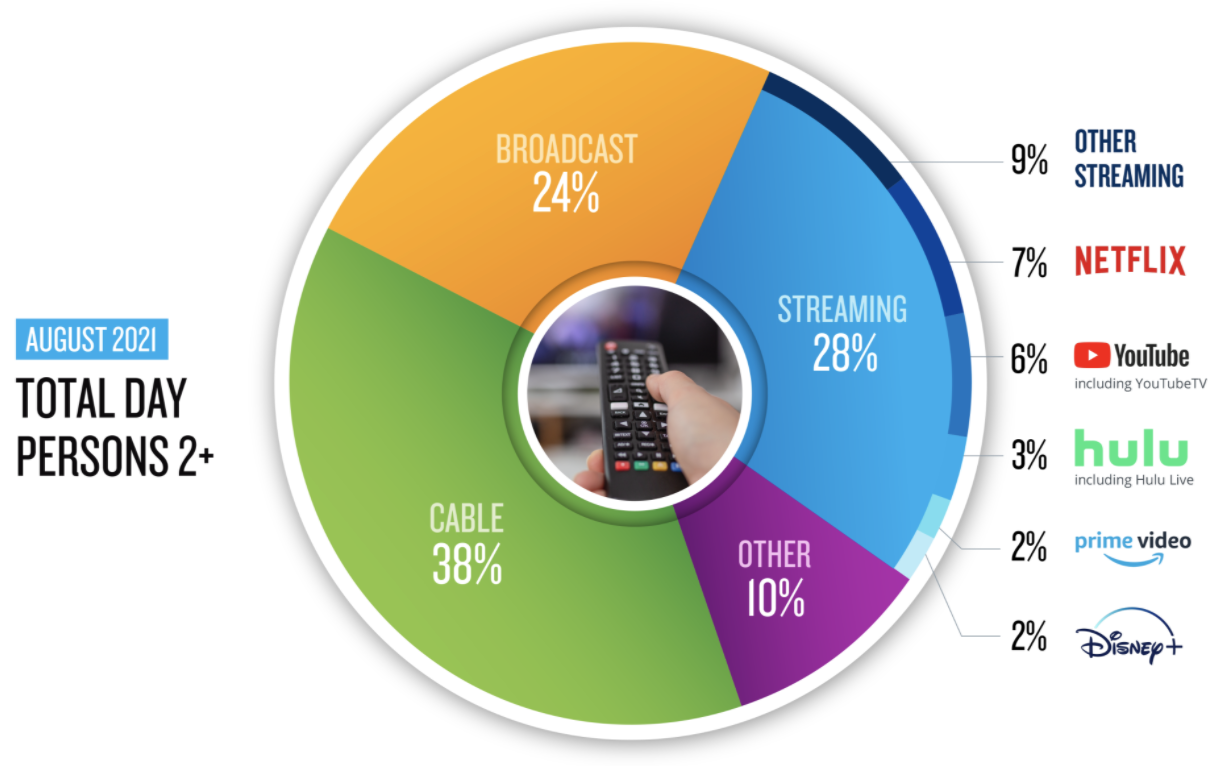 So what's to be gleaned from the latest Gauge study?
Well, in August 2021, traditional TV had the Olympics and the news of the U.S. pulling out of Afghanistan. People could have — and would have — streamed both events as well, but linear TV still has a lock on live events, which likely helped it to keep a lock on people's TV time.
Conversely, the major streaming services broken out by Nielsen didn't seem to have any standout new premieres in August. In late July, Netflix debuted a new season of "Outer Banks," and Disney released "Jungle Cruise" for Disney+ subscribers to purchase. Meanwhile, Hulu premiered "Reservation Dogs" and "Nine Perfect Strangers" in August, but neither seems to be bona fide hits. The same seems true for Amazon Prime Video's "Val" and "Annette."
Interestingly, the category of "other" streaming services did register a percentage point increase in watch time. This rise could be simply a change from 8.4% to 8.5%, which Nielsen would have then rounded up to 9% rather than down to 8%. Nonetheless, with Apple TV+ riding the new season of "Ted Lasso" and HBO Max buoyed by "The White Lotus" finale and "Suicide Squad" release, the increase may be more meaningful than a rounding error. Considering that streaming's percentage of watch time overall did not change — at least not enough to trigger a round-number difference — the group of "other" services cutting into the overall streaming watch time seems to be yet another signal of the streaming landscape starting to flatten.
Numbers to know
11%: Percentage of Netflix's and Disney+'s subscribers, respectively, who canceled their subscriptions to the respective services and then resubscribed within the past six months.
19%: Percentage of survey respondents who said they lived in streaming-only households, compared to 10% who said they lived in traditional TV-only households.
44: Numbers of Emmy Awards that Netflix received this year, tying a record.
What we've covered
As non-endemic brands eye gaming, a lack of industry standards is delaying their arrival:
A lack of gaming expertise at non-endemic brands is hampering their investment in gaming creators.
The industry is in need of basic terminology, video formats and sizing for in-game billboards and improved measurement.
Read more about gaming advertising here.
With user-generated content on the rise, platforms are emerging to support this new type of creator:
Companies continue to spring up to help non-professionals make money from the YouTube videos, memes and in-game applications they create.
Similar to creator networks on YouTube, these companies claim to want to help creators build businesses of which the creators are in control.
Read more about UGC creators here.
How Lockard & Wechsler Direct navigates clients through a tight TV marketplace:
Performance advertisers have struggled in a tight TV market where lowest-cost pricing has become harder to come by.
TV networks are pushing advertisers to commit a share of their ad spend to streaming.
Read more about Lockard & Wechsler Direct here.
TV networks, video platforms and publishers pitch advertisers at the IAB's Fall Marketplace:
TV, streaming and digital video ad sellers pitched programming and ad products.
Industry executives discussed topics like diversity in media and the fragmentation of streaming video audiences.
Read more about the IAB's Fall Marketplace here.
What we're reading
Advertisers angle for position in TV measurement shift:
TV's measurement mess appears primed to get messier. TV networks have been largely responsible for pushing measurement to the brink of an overhaul, but ad buyers are wary of ceding control to ad sellers, according to Variety. In short, the trade group representing TV networks — the VAB — has been spearheading a move away from Nielsen, and now the trade group representing advertisers — the Association of National Advertisers — seems to be looking to take a more active role so that whatever ends up happening doesn't serve ad sellers at the expense of ad buyers.
Google preps its own FAST foray:
Google is looking to join the increasingly crowded free, ad-supported streaming TV market, according to Protocol. The maker of Chromecast streaming dongles and Google TV connected TV platform is reportedly talking to 24/7 streaming channel owners about distributing their FAST channels on Google TV, potentially starting as soon as this fall.
TikTok is losing Black creators:
Black creators are leaving TikTok because they feel they are being subject to unfair treatment and provided unequal protection on the platform, according to Los Angeles Times. In addition to facing racist comments and the trend of white creators gaining popularity for appropriating memes and dance moves originating from Black creators, Black creators are taking issue with TikTok's unequal moderation practices, such as Black creators' videos being taken down while similar videos from non-Black creators remaining available.
TV's bunny ears are back:
People may have traded in their cable boxes and satellite dishes for streaming devices, but they are also picking up the original TV distribution product: antennae, according to The Wall Street Journal. Sales of TV antennae — which provide free access to local channels, including broadcast networks — have inched up over the past year, as cord-cutters seem to be looking to supplement their streaming with some traditional TV sans subscription.
https://digiday.com/?p=426494
This week's Future of TV Briefing looks at what an industry group's conditional certification of three measurement currency contenders signals about the TV ad business's measurement overhaul.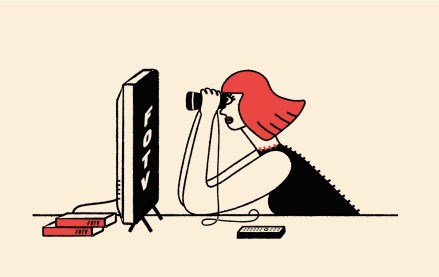 This week's Future of TV Briefing offers an updated list of the key terms that can cause confusion when talking about the TV, streaming and digital video industry.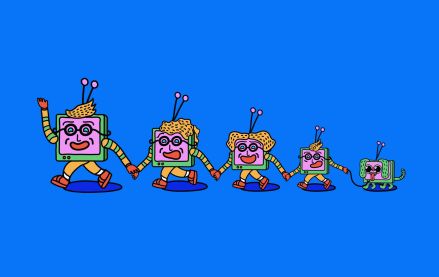 This week's Future of TV Briefing looks at what the Disney-Charter pay-TV distribution deal seems to indicate about the increasingly more-complementary-than-contentious relationship between traditional TV and streaming.