Media Briefing: Parenting publishers adopt newsier approaches amid an unusual back-to-school season
September 2, 2021 • 14 min read
•
•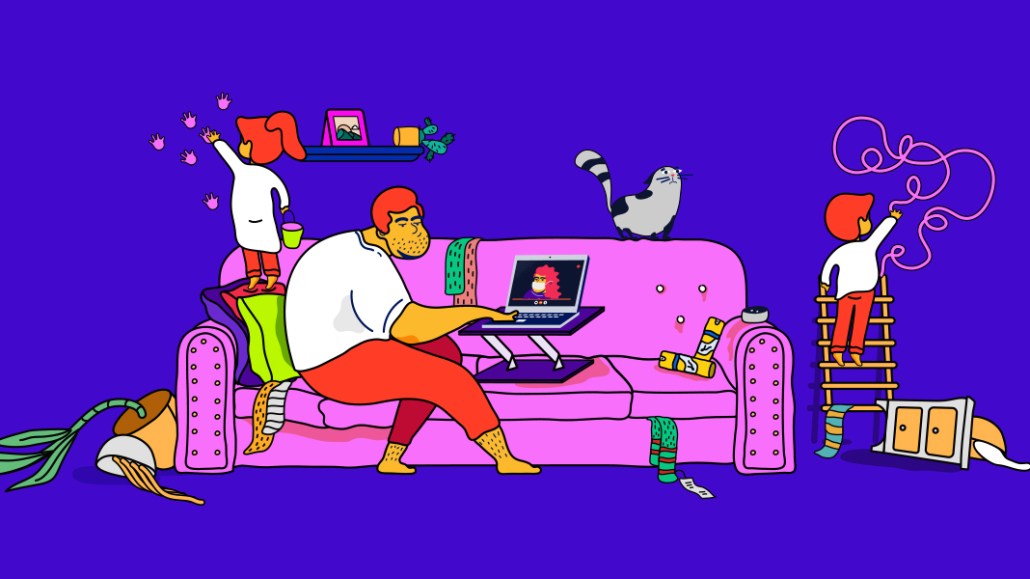 Ivy Liu
This Media Briefing covers the latest in media trends for Digiday+ members and is distributed over email every Thursday at 10 a.m. ET. More from the series →
In this week's Media Briefing, publishing reporter Sara Guaglione reports on how parenting publishers are adjusting their editorial approaches to help parents deal with the delta variant and its complicated back-to-school implications and logistics.
Parental advisory
The revenue diversification dilemma
3 questions with CNN's Courtney Coupe
Digital media companies debate SPACs, Facebook pulls back political articles, Wirecutter goes behind a paywall and more
Parental advisory
This back-to-school season is anything but ordinary, as parents and their children face returning to the classroom amid the ongoing and, in some areas of the U.S., worsening pandemic. School districts across the country are determining mask and vaccine mandates for students and their teachers. Some schools are going back to virtual learning, as COVID-19 cases spike due to the fast-spreading delta variant. As a result, parenting publishers at Meredith and BDG are adopting a newsier approach to their coverage to meet the needs of their audience.
"Back-to-school content is informed right now by the fact that we are starting another year under the shade of a pandemic," said Elizabeth Angell, editor-in-chief of BDG's millennial mom site Romper. "We're doing everything from the perspective that school is still not normal this year."
The key hits:
Some parenting publishers have seen an increase in traffic since the delta variant hit the U.S., as parents search for information and guidance for their families.
Publishers are balancing between covering "normal" back-to-school content with news updates, due to how time-sensitive the situation is for parents and their kids as they start a new school year under the stresses of the pandemic.
Parents magazine is looking to expand its news and trends editorial team to cover more breaking news and investigative stories for its audience.
Meredith's Parents magazine has published more news-related articles during the pandemic, including adding a hub for news stories in the past year. As guidance around the pandemic continued to change this summer, "we had this responsibility to parents to respond in a much more timely manner, so we turned towards doing more news," said Julia Dennison, digital content director at Parents.
Dennison is working on hiring more people to cover news and trends at Parents. "I would love to see us breaking more newsy stories and more investigative news pieces," she said. In the meantime, Dennison has shifted responsibilities of her existing editorial staff to focus on more news, as well as relied on Parents' freelance writers to publish quick turnaround news pieces. "But we do our own takes. We are not CNN," said Dennison. For example, Parents published a story about how the trend of fake vaccine cards was affecting kids in college.
Similarly, the editorial team at Romper is dedicating more time to keeping track of news updates that could affect its audience, according to Angell. For example, the outlet has published a guide on mask guidelines at schools across the U.S. Pandemic-related stories make up some of the most-read content on Romper's site, other than its core parenting guides, she said. "We are trying to balance both of those, because we don't want to miss something crucial to parents right now," Angell said.
Evergreen and news content teams at Scary Mommy (the publication for moms owned by Some Spider Studios, which was acquired by BDG in July) are both covering pandemic-related stories for moms — from CDC updates to rising COVID-19 cases among children — and publishing less of its usual entertainment content, said Maria Guido, executive editor of Scary Mommy. "We are covering the pandemic with a two-pronged strategy: getting the news, but the personal take too" with first-person essays from parents, Guido said. Unlike stories from the evergreen team, Scary Mommy's news stories don't contain any sort of "voice," but give the news straight.
An audience resurgence
Parenting publishers' news pushes appear to have helped boost their traffic numbers this summer. Interest in COVID-19-related coverage cooled over the past year, but as the delta variant took hold of the news cycle, parents want to know what it means for schools, and how it affects kids, Angell said.
In July 2021, Parents received 11.3 million unique visitors, a 106% increase year over year, according to Comscore. There's a shift in where audiences are coming from, too. Social media is referring more traffic to Parents' news coverage, through platforms like Facebook and Apple News, according to Dennison. While she did not share the numbers, Dennison said Parents' traffic typically comes primarily through search.
Over the past year, traffic for Slate's parenting column Care and Feeding has gone up by 62% in unique monthly visitors, 56% in total engaged minutes (or time spent on the articles) and 44% in page views, according to a Slate spokesperson. The column has seen "steady growth" in the number of questions it gets every week, which is in the "hundreds," the spokesperson said.
Scary Mommy's traffic spiked from around 5 million monthly unique visitors throughout 2021 to more than 12 million in July 2021, according to Comscore.
'We don't want to scare parents'
While the team at Romper understands that parents are worried about the health and safety of their kids, they are also "keenly aware" that families are experiencing the pandemic in a variety of ways across the country.
The goal is not to be "alarmist" with Romper's coverage, Angell said.
Guido echoed this sentiment and admitted it can be difficult to strike the right balance. "We don't want to scare parents, but we want them to know that we are dealing with something very different with the delta variant," she said.
Scary Mommy avoids publishing stories that could "cause panic" among parents. It also mixes serious news coverage with light-hearted stories and first-person essays. Its news team chooses carefully what breaking news to cover around COVID-19 and how it affects back-to-school plans, Guido said. Scary Mommy is hosting a panel on Sept. 8 featuring the American Academy of Pediatrics to address kids' return to school "despite local surges and the spread of the Delta variant," for example.
A lot of back-to-school content this year remains unchanged from years past: parents still want advice on their children starting a new school year and tips on school supplies, Guido said. But with kids of her own heading to school after Labor Day, Guido is "anxious" herself, and can empathize with parents who feel the same.
The pandemic is "definitely overshadowing everything… It's just a heavy time," she said. — Sara Guaglione
What we've heard
"Members were telling us: 'There's a lot here to read [on the website and app], we can't take advantage of all of it, we don't know where to look.'"

— Quartz editor-in-chief Katherine Bell
The revenue diversification dilemma
Since realizing their Facebook folly, during which many digital media companies hedged their bets on a singular platform to drive the majority of their traffic and advertising revenues, publishers have been championing diversity in revenue streams to ensure that that mistake would not be repeated.
And with the slow removal of third-party cookies threatening to have similar impacts on the business, many media companies are bullishly eyeing other revenue streams to help balance the scales even more in an attempt to make them disaster-proof.
This is evidenced by the vocal attempts of publishers in their investor pitch decks to minimize advertising as the white knight and push forth subscriptions, commerce, events and licensing, to name a few, as the promising new business offerings.
Forbes, for example, has a three-pronged revenue strategy that right now is heavily leaning on its advertising and branded content business, which it calls "media" in its investor presentation. The company, which last month announced it was seeking to go public via SPAC, is also planning to use any raised funds to invest in its paid consumer products, according to a report by Digiday's media reporter Sara Guaglione.
This year, 65% of the company's total revenue, or $138 million, is expected to come from this business, while brand extensions (conferences, licensing, insights and reprints) will contribute 22% ($47 million) and consumer products (digital subscriptions, newsletters and e-commerce) will round out the remaining 13% ($16 million) of revenue.
By 2023, however, the company is hoping to decrease its advertising dependence by 20%, making the mix 45% media, 38% consumer and 17% brand extensions, according to its investor presentation.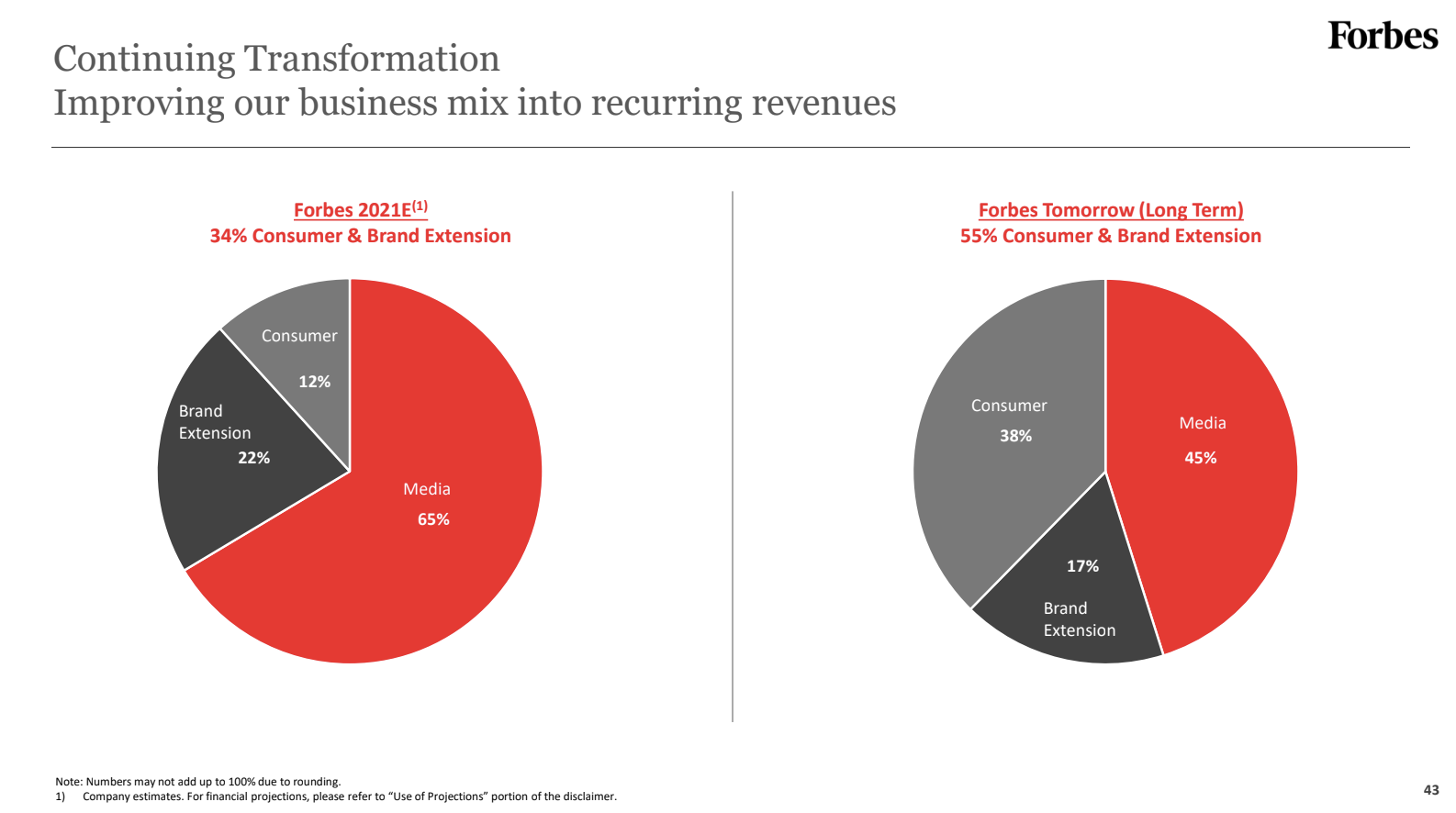 Historic growth in the consumer business indicates why Forbes execs would be optimistic about this revenue line— from 2019 to 2020, consumer revenue grew by 182% year over year from $3 million to $9 million. But that business is also predicted to decelerate over the next two years with an estimated 75% year-over-year growth rate in 2021 from 2020 and then only a 30% growth rate in 2022.
Meanwhile, brand extensions, which was also hit hard by the pandemic and lack of in-person events, took a 31% decrease in revenue from 2019 to 2020 ($58 million to $40 million) and is expected to increase by 19% this year and the next. It won't be until 2023 that this business will return to the level it was at in 2019 — at which point it was 27% of the company's total revenue.
Advertising revenue is expected to steadily increase over the next two years after taking a 12% year-over-year hit from 2019 to 2020 due to the pandemic. From 2019 to 2020, that revenue stream fell from a $150 million business to a $132 million business and is not expected to reach that level again until 2023 at the earliest.
This begs the question: If advertising revenue is growing from an already strong base — and media companies expect non-advertising revenue streams, like commerce and consumer products, to also contribute to their advertising businesses — how will consumer products and brand extensions rise up to not only meet but surpass advertising? — Kayleigh Barber
Numbers to know
34%: Percentage share of USA Today journalists who are BIPOC. Women now represent a majority of the newspaper's journalists.
$800,000: Annual revenue for Substack newsletter "Common Sense with Bari Weiss," which was created by former New York Times opinion writer and editor Bari Weiss, who left her role just over a year ago.
$3 billion: The amount of money that ESPN is seeking to license its brand to a major sports-betting company for a several-years-long partnership.
4.2%: The percentage increase of traffic to the top 20 concervative news sites during the week of August 10, which coincided with the the beginning of Afghanistan dominating the newscycle.
$85 million: The amount of money that Vice Media Group has raised from existing investors as the talks to go public via a special purpose acquisition company (SPAC) have ended.
3 questions with CNN's Courtney Coupe
CNN remains very much a TV news network, but it also operates a growing podcast network that increasingly features its TV talent. This fall, the WarnerMedia-owned news organization will roll out a slate of new podcast series, such as "Tug of War" hosted by chief international correspondent Clarissa Ward and "Total Recall: California's Political Circus" hosted by chief political correspondent Dana Bash.
These shows, which also include series related to wellness and pop culture, will balance out CNN's flagship daily news podcast "CNN 5 Things" as audiences look for podcast programming that offers a break from the news of the day.
"These are all topics that CNN has a right to play in because they can still speak to what's going on in the world without being 'What is this exact moment?'" said Courtney Coupe, svp of content strategy and operations for CNN+, the network's upcoming streaming service, who also oversees CNN's audio content.
The interview has been edited for length and clarity. — Tim Peterson
Does CNN's newest slate of podcasts signal any new developments in the company's podcast strategy?
I don't think it's a new development. We've definitely doubled down on audio this year. And one thing we're hearing from listeners is, of course, they value CNN for its information and expertise. But they also crave content right now that's news-adjacent. The news cycle has been exhaustive. So they they want content that still engages their intellectual curiosity. So we wanted to create a slate this fall that could give them the best of everything and everything they were looking for.
In March, CNN rebranded its "Daily News Briefing" to "CNN 5 Things" and has ramped up the output from two episodes per day to five. Why five and what effect has that had on the contents of episodes and listenership?
"5 Things" is our most successful podcast, and audiences have told us that they value it because it can give them the news they need but is so convenient. So in under five minutes, it's the five things they need to know at that moment. Obviously, news is breaking and evolving all day long, and listeners were telling us that they craved more of "5 Things."
We're currently in the process of scaling up that production right now. Within the next month or so, we're going to start launching weekend editions. And then we're going to continue talking to our listeners about what they want and what they need from "5 Things" so that we can see where their needs are.
Has CNN observed any changes in people's podcast listening behavior this year, especially as people have started to return to pre-pandemic routines like commuting to work and school or traveling?
Obviously, people went through that period where they lost their routines. They were turning to audio to fill a void, and that void was definitely around companionship. They came to our experts, our voices, for companionship because of the intimate nature of audio. I don't think that relationship has changed. Something that they're still asking us for and wanting from our podcasts — and something we're trying to build into the way we tell our stories — is really crafting that intimate relationship. Because who knows what the weeks and months ahead will bring with everything going on with COVID and delta.
What we've covered
The five-day in-person office workweek is dead:
Workers in the media industry are more likely to have permission to work from home permanently than they are to be expected to come into an office five days per week, according to new Digiday+ research.
Only 3% of 120 publishers surveyed said they have heard from their employers that they will be expected to go back to their desks five days per week.
Read more about the modern workweek here.
LinkedIn's Imani Dunbar is helping to build more equitable workplaces across industries:
As head of equity strategy at LinkedIn, Dunbar is charged with improving equity inside and outside the Microsoft-owned business-centric social network.
The Microsoft-owned business-centric social network not only provides a platform with tools through which hiring practices can be made more meritocratic but also offers an example of an equitable organization.
Listen to the latest Digiday Podcast episode here.
How a women's basketball vertical convinced the WNBA to fund its foray into print:
SLAM magazine's women's basketball social media vertical WSLAM is coming out with a special print issue sponsored by the WNBA, part of a growing trend to invest more money into women's sports and its coverage.
WSLAM's upcoming 82-page special issue will be sent to SLAM's print subscribers for free and available for purchase on SLAM's ecommerce site, slamgoods.com, for $8.99.
Read more about WSLAM here.
Publishers rethink their value to stave off subscription fatigue among new paying readers:
Publishers' subscriber retention rates are holding steady — for now.
Publishers are hiring more people focused on keeping and bringing in subscribers and also investing more in content across multiple formats to add to the value of a subscription.
Read more about publishers' subscription strategies here.
Vice reshuffles its ranks to prioritize publishing fewer words, more vertical video:
Vice's latest layoffs affected mostly writers and editors as the media company prioritizes video.
The editor-in-chief of Vice's digital team will now report to an executive who oversees video strategy and output.
Read more about Vice here.
What we're reading
Digital media companies are at odds about the future of the SPAC:
Special purpose acquisition companies (SPACs) were meant to be the saving grace for media companies, but in April, the SEC cracked down on SPAC accounting practices and the market came to a near standstill, according to CNBC. Still, July had the second highest number of SPAC transactions on record, and publishers are still figuring out what the path forward looks like for this financial solution. For example, Forbes announced plans in August to go public via SPAC at a $630 million valuation while Penske Media Group rejected eight SPAC approaches, calling SPACs "an investor fad."
How Robert Allbritton became one of the most successful media moguls:
By 2018, Allbritton spent more than $50 million of his family's money on growing his political blog Politico. Last month, he earned 20 times that amount back with the sale of his media holdings to Axel Springer for a cool $1 billion, according to The New York Times. Axel Springer first tried to buy the political website in 2015 for $250 million, but Allbritton held out. Six years later, the valuation of the company quadrupled thanks to its hefty profit margins, which were 20% last year and are projected to be about 30% in 2021.
Facebook will post fewer political articles in its News Feed:
Based on negative user feedback, Facebook will begin to de-emphasize political posts and current events content in its News Feed tab, according to Axios. This change — which Facebook began testing in February — could potentially lower the amount of traffic going to news publishers from the social media platform, but U.S. publishers will not be the only ones affected. The move will also be tested in other countries including Costa Rica, Sweden, Spain, and Ireland.
Wirecutter goes behind a paywall:
The New York Times is transitioning its product review site, Wirecutter, into a paid product, according to The Wall Street Journal. Once readers hit their tenth article in a month, they will be prompted to subscribe for either $5 every four weeks, or $40 per year. The site will also be an additive to the Times' premium subscription bundle, which bills subscribers at $25 every four weeks.
Media Rating Council suspends Nielsen's accreditation:
Measurement arbiter Media Rating Council has revoked Nielsen's accreditation after the measurement provider messed up its TV viewership counts during the pandemic, according to Variety. What impact the accreditation suspension will have on Nielsen's position as the dominant measurement company is anyone's guess. For what it's worth, the billions of ad dollars committed in upfront deals between TV networks and advertisers are not contingent on Nielsen being accredited.
https://digiday.com/?p=424627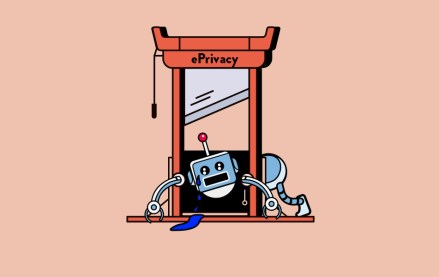 September 29, 2023 • 5 min read
•
•
Publishers are unsure if blocking AI web crawlers is enough to protect their content from being scraped and used to feed AI tools and systems.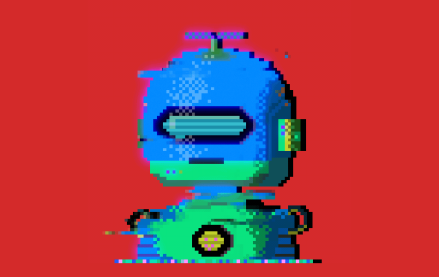 September 29, 2023 • 6 min read
•
•
New features include a new chatbot called MetaAI, Bing search integration, new AI image tools, and dozens of celebrity characters.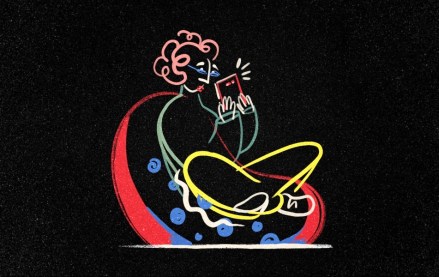 September 28, 2023 • 3 min read
•
•
The Financial Times has launched another lower-priced, subscription-based mobile app product a year after the debut of FT Edit to reach international readers.