Media Briefing: As student athletes begin signing brand deals, sports publishers want in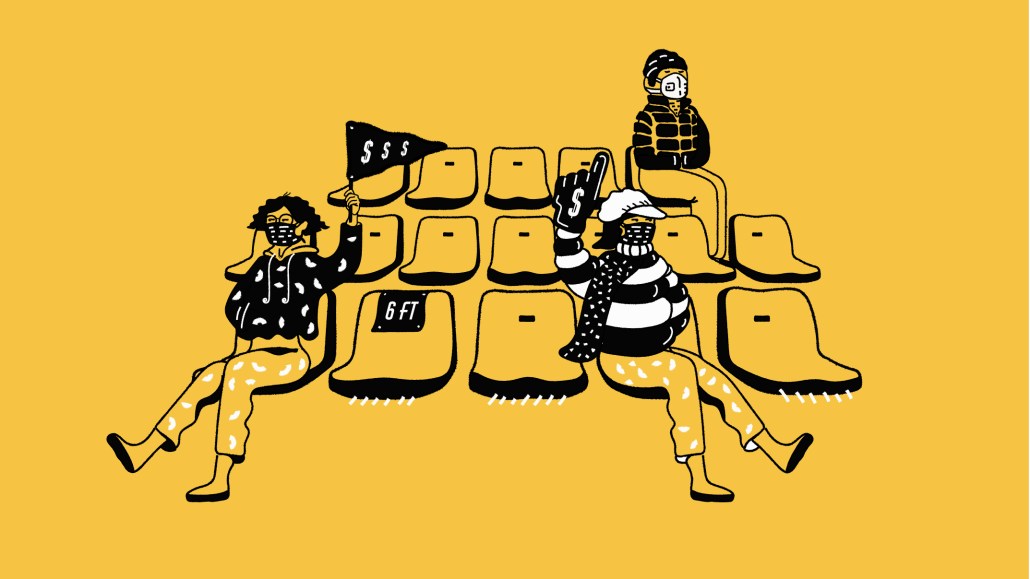 Ivy Liu
This week's Media Briefing looks at how publishers are starting to create series and new business franchises around student-aged athletes in both high school and college, now that the NCAA is allowing these players to monetize themselves in name, image, and likeness deals.
Student athletes are now available for brand deals and sports media brands are seeing dollar signs
Publishers' Comscore skepticism rises again
With cautious optimism, publishers are placing more safety protocols on large, in-person events
The Washington Post is making all employees get vaccinated, digital publishers like Vox Media and Vice and raking in the cash with film and TV series deals, porn is infiltrating news sites' old posts, and more.
Student athletes are finally available for brand deals and sports media brands are seeing dollar signs
There is a new cohort of public figures that marketers can now incorporate into their sports media budgets for brand deals: student athletes.
On July 1, the NCAA changed a decades-old rule that prevented current and prospective college athletes from making money off of their name, image or likeness (NIL). Now these 16- to 22-year-olds are in a position where they can make money from endorsements and sponsorships — all the while remaining eligible to play for their college teams.
Already, companies like Panini America, a memorabilia and trading card manufacturer, have penned deals with these athletes, such as an agreement with three college quarterbacks, D'Eriq King, Graham Mertz, and Matt Corral, to make branded footballs, helmets and custom prints that can be used in meet and greet signings with the players.
So naturally, where there are advertising dollars being spent, there are publishers playing to win a portion of those budgets. And the strategy they're taking is to go beyond the branded social media posts that rely solely on the number of followers the players have, but focus on creating shows and franchises that highlight players' personalities and passions outside of the game.
Team Whistle, for one, is in the process of filming two new shows for its social and CTV platforms that are personality-led by college athletes on both the men's and women's teams and focuses on their lives and side hustles off the court and field:
"Put You On" is a show where every episode a new college athlete takes a camera crew through the city or town where their college is located. It is meant to be a behind-the-scenes look into their lives, including where they like to hang out with friends or eat or study, but does not take place on-campus or during games.
The second show, "Side Hustle," also follows one player at a time, but looks at how these student athletes are in the process of monetizing themselves through NIL deals in between classes and practice. It is a spin off of 'My Hustle,' which focuses on professional athletes who are creating businesses outside of their sport.
The two new shows have yet to secure brand deals, according to Dustin Fleischman, svp of brand partnerships at Team Whistle, which means the young talent featured in the episodes will get the exposure, but not yet be paid. Typically once the company sells its shows to advertisers, any featured talent is paid for their appearances between $10,000 and $150,000, depending on their popularity, as a base amount, he said. This will also be the case for the talent on the new shows.
For now, exposure alone is an important element for this young cohort of talent. Team Whistle's audience of 4.2 billion views per month gives "athletes that traditionally do not have a large platform" a louder online presence, said Fleischman. "[Our] talent knows they need to be brands, which is the same thing with college athletes, and the only way to do that is to get exposure beyond their social handles."
Some publishers are seeing an even bigger opportunity with young sports talent that goes far beyond the NIL deals that are just now able to happen.
Overtime Sports spent the past year actively building an entire business that is designed to circumvent the traditional path to a professional sports career — AKA bypass any former or current NCAA restrictions — to establish the earliest possible relationship with the next generation's Lebron James or Katie Ledecky or Peyton Manning.
Called the Overtime Elite League, the digital sports publisher is not only drafting a group of 24 16- to 18-year-olds from all over the world to play basketball together in this new league, but also built an entire 100,000 sq. ft. basketball facility in Atlanta and assembled an accredited high school program for the athletes to finish their degrees while also learning about financial literacy and personal wealth management, according to CRO Rich Calacci. The first season of the Elite League will begin this September.
The idea is to create an alternative path to the NBA where the players are all fairly compensated for their time, Calacci said. Each athlete earns a six-figure salary while playing in the league with an additional signing bonus. If they choose to go to college after graduating from the league, they are given $100,000 in funding to pursue higher education. They are also given disability insurance, equity in Overtime and collective rights to any merchandising of their likeness. The only caveat is that they give up the chance to play basketball as part of the NCAA in college.
Granted there are significant upfront costs that Overtime has needed to put forth, the upshot for the media company is the ability to create live sports content, something it currently does not license from any of the major sports leagues or colleges, giving it the ability to start competing for ad dollars in that space.
"Brands are all trying to solve the same problem, which is, as younger viewers meaning 18- to 34-year-olds are watching less live television, how do they find a way to engage these viewers in a passion for them, and do that on social media?" said Calacci.
Not only that, but the 24/7 access to Elite League members gives Overtime an opportunity to create not just sports content, but personality-based lifestyle content with the players as well, giving them the chance to hone their own talent, Calacci said.
For years publishers have become more and more like talent management companies by either featuring popular creators in their programming or creating their own personalities in-house, like BuzzFeed or Bon Appétit or any publisher with a YouTube business, so this feels like a natural next step for media companies, according to Gabe Gordon, co-founder and managing partner of Reach Agency.
Barstool also announced earlier this month, just days after the NCAA changed its regulations, that it was launching Barstool Athletes, a talent agency for student athletes that will use its owned and operated platforms and social reach to magnify the talent they sign.
"These kids already have two jobs — they're athletes and they're students. They don't have content teams and not all of them are as good at making content. But where they don't have significant reach [on their own social handles], a publisher can [use] its paid media and existing channels to make [these athletes] have an even bigger [online presence]," said Gordon. "Publishers make a lot of sense from resources, sales, and amplification standpoint." — Kayleigh Barber
What we've heard
"The amount of anxiety that people are feeling, myself included, around returning to close spaces, I think you're going to see a dip in productivity as people go back into the offices. [Employees] are going to struggle with commuting, they're going to struggle because how they interact with people has shifted so much, and when you force that environmental constraint, [employees will say], 'It's 9 to 5, I'm going home and I'm not looking at that computer again.'"

— A CMO of a digital media agency on concerns about productivity during the return to an office
Publishers' Comscore skepticism rises again
The rollercoaster ride of 2020 changed a lot about the way publishers sell ads. And those changes have some media executives feeling freshly resentful of Comscore, the perfectly imperfect measurement firm that still plays a pivotal role in how ad buyers allocate their budgets.
With larger portions of digital ad budgets being spent programmatically (and in tighter windows), and as more direct deals focus on first-party data that both buyers and sellers bring to the table, publishers are grousing again about having to write big checks just to be considered for RFPs.
"The days of saying, 'We're this big compared to somebody else' are over," said an executive at one publisher that uses Comscore. "Now people say, 'I need 10 million actionable impressions on people who are looking to buy blue jeans.'"
This executive continued, "Today, whenever we get a big RFP, we just go to our programmatic partners, or to Liveramp or The Trade Desk and say, 'Give us a cap on how many people we have as auto intenders on these kinds of cars' or whatever it happens to be."
When Comscore first grew into the leading measurement provider, direct, site-wide deals were much more common, and third-party measurement and tracking firms were few and far between. As programmatic ad selling has grown and matured, there are many more places an ad buyer can go to find information about audiences and which sites they are visiting. "The DSPs know sites better than Comscore does," said an executive at a second publisher that uses Comscore.
Comscore declined a request for comment on this story.
That is one of several reasons why traffic measurement has taken a back seat to other initiatives, particularly cross-platform measurement, audience segmentation and activation.
And it is keeping some prospective publishers from pulling the trigger on becoming customers. "It comes up every month," one executive said, who asked not to be identified when discussing a prospective business partner. Even though being measured in Comscore helps mid-sized publishers get considered for RFPs — "It's critical to get in the door," that executive said. Those that don't have sizable direct sales businesses might not get significant value out of paying for measurement, the executive added.
But like so many media love-hate relationships, publishers still feel like they can't leave. "I proposed [dropping Comscore] to our audience measurement team recently," the first executive said, "and they acted like I suggested we jump out the window." — Max Willens
Numbers to know
$1.7 million: The amount of money the fact-checking media company Snopes raised to fight lawsuits. Legal fees account for about 20-30% of its annual revenue, according to a report by Axios.
$3 billion: The amount of money that will be spent on influencer marketing in 2021, a 33% increase over the previous year.
11%: The percentage of Comscore 50 media companies that give most American internet users an opportunity to manage what kinds of data those sites can collect and use.
<19%: The percentage of The Washington Post's total workforce that has self-reported themselves as Black as of the publication's latest workforce demographic report from June 30. This percentage has decreased by about 6% since 2016 when a quarter of the publication's workforce self-identified as Black.
With cautious optimism, publishers are placing more safety protocols on large in-person events
The Delta variant is here and spreading — but so are in-person events. Media companies are planning to gather thousands of people this fall to try to recover revenue losses from the canceled or postponed events that turned virtual (and oftentimes free) last year when the pandemic was raging.
But in-person events now come with a whole host of challenges that didn't exist in 2019. More precautions need to be taken to ensure events are safe to attend and instill confidence in attendees to actually show up.
The list of potential safety protocols Group Nine is implementing for in-person events is long, according to Lindsay Leaf, svp of experiential marketing at the digital media company, who plans to start an in-person franchise in September in a location yet to be announced. Among those requirements will be:
COVID testing as well as vaccation and mask mandates
Air filtration systems and temperature checking
Questionnaires to attendees and contact tracing
Sanitation stations, capacity reductions and cleaning crews
But the most unexpected one could be "enlisting an infectious disease epidemiologist to provide up-to-date guidance and oversight on flow and event components," Leaf said. She did not say in what capacity this person advised the executive team and whether this person was a full-time position or contracted.
All of this costs money, however. These extra precautions in light of the pandemic "will add hard costs to our budgets," Leaf said. The price won't come from ticket sales. Instead, the company will likely be covered by brand partners "who recognize the importance and necessity of implementing these safety measures," she said.
Attendance to Group Nine's larger events is expected to range from 1,000-2,000 people, Leaf said. In total, Group Nine had 530,000 attendees to its virtual events.
While The Atlantic's events scheduled for this fall will remain mostly virtual, the publisher plans to bring back in-person audiences "for a handful of events," said Candace Montgomery, svp and gm of AtlanticLIVE. The capacity, of which, will be about 75 people, according to a company spokesperson. All of the virtual and live fall events will be free to stream and attend.
Safety protocols for The Atlantic's events will mirror its office protocol, which requires all in-person guests to "attest to being fully vaccinated, and to wear masks indoors in accordance with the CDC's latest recommendations," Montgomery said. "Things are evolving by the day, and we'll need to be flexible and ready to keep adjusting as needed." (The Atlantic's offices started opening last week to fully vaccinated staff.)
Safety protocols for Forbes events are still under development, specifically around how to manage vaccinations and testing, but the media company is planning to resume in-person events this fall as well with hybrid or virtual components for each event, said Sherry Phillips, chief marketing officer at Forbes. "We are working with third-party vendors that are experts in health and safety," she said.
Each venue, capacity, location and current local and federal guidelines and mandates have to be taken into consideration when planning events these days, Leaf said, especially while "safety protocols are constantly fluctuating. (The CDC's official guidance was updated on Tuesday, now recommending wearing masks "in areas with substantial or high transmission" in indoor public settings, despite vaccination status. Cases in the United States have gone up 145% in the last two weeks, with an average of over 63,000 cases as of July 27.)
Publishers' efforts to protect event attendees from infecting one another largely come down to respecting an honor system. There "is definitely a level of trust when it comes to filling out a questionnaire in the same way there is when we go anywhere in public these days," Leaf conceded.
And media companies have multiple plans should these in-person affairs need to pivot back to virtual or postpone due to the Delta variant.
Virtual events during the pandemic have attracted an audience, despite the oft-spoken "Zoom fatigue." The Atlantic says it drew 4.5 million views to its more than 40 virtual events in 2020 — and had 50% more attendees to virtual events than for the whole of 2019. The publisher expects 40% YOY growth in event revenue this year. Last year, Forbes events had over 50,000 registrants for 66 events hosted in the latter half of the year.
What we've covered
Now hiring: The FTC seeks ad tech and social media experts as it shifts its approach to investigating data abuses:
Staff from the FTC's Division of Privacy and Identity Protection convened on Tuesday to evaluate research on issues including ad tracking and targeting practices and algorithmic tech.
As the industry hunts for clues for how the agency will approach data privacy issues under new, potentially more aggressive leadership, the focus of the event serves as an indicator of how the FTC might steer its enforcement attention toward going forward.
Read more about the changes to the FTC's research practices here.
LinkedIn looks to premium publishers as a way to drive subscriber revenue:
Linkedin launched a pilot program last month called LinkedIn Premium News, which gives LinkedIn Premium members greater access to content published by sites that use Piano's paywall technology.
LinkedIn Premium members get five credits every month to unlock paywalled content they discover on LinkedIn and read on publishers' websites. LinkedIn expects to send the participating publishers a stream of highly qualified leads for their own subscription products.
Read more about LinkedIn's Premium News pilot here.
How Yahoo is experimenting with platforms and partnerships to grow its audience:
Yahoo is on a mission to drive brand affinity across its portfolio by turning casual readers into fanatics who are willing to spend money with the media company.
In the latest episode of the Digiday Podcast, Joanna Lambert, head of consumer at Yahoo, said she wants to reach 900 million monthly, paying users by further enticing them with shoppable videos, online sports betting partnerships, cross-brand content offerings, and more.
Hear more about Yahoo's audience diversification efforts here.
In some California privacy cases, analytics trackers are in the crosshairs — and violators could be charged by the cookie:
As enforcement letters stream out to advertisers, social media sites, data brokers and ad tech firms from the California Attorney General's office, it is clear that California Consumer Privacy Act enforcement is not just about data breaches.
Multiple lawyers Digiday spoke to say letters companies have received, ask them to provide details about data sharing specifically in relation to their use of cookies and other tracking technologies for ads and analytics.
Read more about updates to CCPA enforcement here.
The Financial Times plans to open 2 more U.S. bureaus to target 'global Americans':
The UK-based publisher is opening new bureaus in Houston and Hollywood, part of the company's plans to reach more readers in the U.S. by further investing in the sectors — and the hubs — where American companies are dominant players on a global scale.
U.S. readership accounted for over 40% of FT.com's traffic in the week leading up to Election Day in 2020, Spiegel said — usually, it makes up about a quarter to a third of the website's audience.
Read more about The FT's expansion plans here.
What we're reading
The Washington Post is mandating coronavirus vaccinations for its employees:
The D.C.-based news publisher announced on Tuesday that proof of vaccination will be a condition of employment for all of its staffers ahead of the return to office, which is set for September 13, according to The New York Times. The Post currently employs over 1,000 people and will also require any in-office contractors and guests to show proof of vaccination.
Gannett is feeling bullish about making money on NFTs:
The publisher of USA Today and hundreds of local newspapers and news sites in the U.S. and U.K. sold its first non-fungible token (NFT) for $8,000 last month, the Press Gazette reported. In the Q&A with Gannett's chief product officer, Kris Barton, he revealed that NFTs pose an opportunity to monetize the coverage of breaking news and historical events by giving consumers a new way to collect that coverage and own a piece of monumental moments.
VidMe was bought by a porn company and now some publishers' old posts are NSFW:
The Washington Post and New York Magazine are two publishers that currently have pornography links embedded in old articles from the last decade, Vice reported. The now-defunct video hosting platform Vidme let its old domain expire, so a porn company bought it and now all of the Vidme links redirect to graphic pornography videos, creating a significant problem for publishers.
Publishers are cashing in on streaming deals:
Working with streaming companies on new series and films is proving to be very lucrative for some digital publishers, The Information reported. Vice Media is expecting its studio business to earn about $750 million in revenue in 2022 from projects like "American Gladiators" for ESPN and "India Predator" for Netflix. Group Nine's studio business represented nearly 15% of the company's total revenue in 2020. Vox Media has sold 50 film and TV projects over the past 15 months to Netflix, Amazon and Apple, CNN and HBO.
https://digiday.com/?p=421119