How podcast publishers and platforms are working to grow non-English language audiences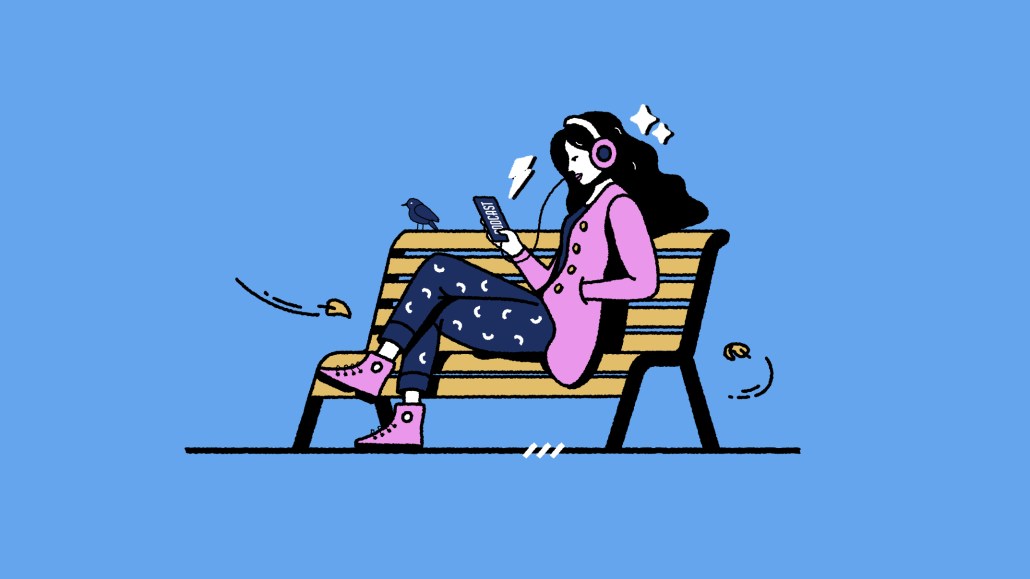 Ivy Liu
For bilingual people and international listeners, expect more podcasts coming your way from U.S.-based publishers and audio platforms this year. Companies like Vice Media Group, iHeartMedia and Tinkercast are ramping up podcast production in languages other than English, as they catch on to the opportunity to grow their global listener bases.
While the U.S. provides the largest market for podcast audiences, non-English-language companies offer large and growing listener bases. China and Brazil, for example, provide the second and third biggest audiences, and podcast listening growth in Latin American countries was slated to surpass that of North America and Europe in 2021, according to eMarketer.
In order to capitalize on the potential to capture a larger international audience, publishers and audio platforms have to adapt their podcasts into languages beyond English — and they are taking a variety of different approaches, from translation to duo-language production. They're also investing in podcasts produced specifically for non-English-language listeners.
"There's definitely a big trend in international growth over the last few years, so it's not surprising that publishers are looking to expand their offerings," said Dave Zohrob, co-founder and CEO of podcast analytics service Chartable.
The Washington Post hopped on this emerging growth area a couple years ago and continues to see it pay off. The news publisher launched a Spanish-language news podcast called "El Washington Post" in 2019, and in September 2020, it increased production from two episodes per week to four. Downloads increased 67% from 2020 to 2021, according to a Post spokesperson. Unique listeners were up by 48% from December 2020 to December 2021. The top countries for the show's downloads outside of the U.S. are Mexico, Colombia, Spain and Peru, the spokesperson added.
The Post is far from alone in tapping the international market. Of the 600,000-plus podcasts that launched in 2021 and tagged a language, a majority – 53% – tagged a non-English language, according to Zohrob. By contrast, in 2020 less than half of the 900,000 new podcasts debuted in 2020 were in non-English languages. After English, the top five most popular podcast languages were Spanish (18%), Portuguese (11%), Indonesian (7%) and German (3%). Those top languages did not change from 2020 to 2021, Zohrob said.
"We have seen the growth in international listening and the growth in native language podcasts, as have a number of our clients," said Stephen Smyk, svp of podcast and influencer marketing at audio agency Veritone One.
Translating podcasts for kids
Tinkercast, a children's podcast producer, is translating its flagship science and tech show "Wow in the World" into three different languages this year, including German, Japanese and Spanish, said Tinkercast CEO Meredith Halpern-Ranzer. Later, it will also translate the show into French, Hindi and Arabic.
On average, 17% of monthly downloads for "Wow in the World" come from people who reside outside of the U.S. Those people predominantly reside in English-speaking countries, including Australia, the U.K., New Zealand and Canada (which also counts French as an official language). But Tinkercast also sees listeners in China, Japan, Taiwan, Germany, Korea and Mexico, a spokesperson said.
The translation process will start by casting international talent to dub "Wow in the World" in non-English languages, as well as finding distribution and production partners in the corresponding countries, Halpern-Ranzer said. Eventually, the company plans to create original content for an international audience. But starting out with translations of popular podcast shows "is a nice easy step into the international market," said Tinkercast's Chief Operating Officer Jodi Nussbaum.
"Operationally, it's not a very big lift when we are just talking about dubbing audio," Nussbaum said. "It's a science-based show, and science is everywhere — and kids want to learn about science everywhere. We feel confident the content is going to work globally."
Veritone recently launched a solution called Synthetic Voice Cloning, which uses artificial intelligence technology to clone a podcast host's voice and translate for them in their voice. The technology helps to ensure the show's experience and tone aren't lost, Smyk said. It has the potential to streamline the translation process for podcast producers. "We've been talking to a number of podcasters about foreign language support of their content," Smyk said.
Creating original podcasts for non-English-language listeners
Vice Media Group has a three-pronged approach to producing more international podcasts, said Kathleen Osborn, vp of audio at Vice Media Group.
The first approach is developing original podcasts in languages other than English. Vice has created podcasts in Japanese, Dutch, Hindi and Spanish, among other languages. The team is working on launching a show in Arabic about video games this year and more shows in Japanese. Vice Media Group is also producing "a bunch of shows that are going to be reaching the market in India" in both English and Hindi in the next year or two, Osborn said. About 70% to 80% of Vice's podcast listeners are living in the U.S., but its international audience is increasing, Osborn said, though she did not provide further details. Some of these new shows will come from partnerships with audio platforms like Spotify, but Osborn said deciding on a distribution partner depends on where people are listening to podcasts in the countries they live in.
The second approach by Vice's audio team is creating spin-off series from popular podcast shows for different regions and languages. While Vice hasn't done this yet, Osborn said they are developing ideas in this area. For example, a Vice series coming out of Australia called "Extremes" looks at stories about "widely extreme behavior," such as a man who mailed himself from London to Sydney in a box, Osborn said. There's potential for creating a season in other languages that would contain stories not available in English, she said — such as something that happened to a French person who only speaks French.
"We are increasingly looking into taking successful formats and then making them in other languages — not translating it, but rather refitting it to fit the particularities of the culture," Osborn said.
The third approach is Vice's bilingual efforts, or what Osborn called "duo-language" podcasts. Rather than direct translation — which she believes doesn't work as well with the documentary-style podcasts Vice is known for — a project is developed in two languages simultaneously by two teams working together. A lead team works on a story in one language and a smaller team works with them to produce the story in a second language. This began in 2018, when partway through the production of the podcast "Chapo: Kingpin on Trial," the Vice team decided to also make a Spanish-language version. It became Vice's first audio documentary made in two different languages, but it meant "we did have to play catch up," Osborn said.'
Vice took the opposite tact with "The Crisis" — or "Contra Natura" in Spanish — which came out last March. From the get-go, the Vice team knew they wanted to produce the show in both English and Spanish. "What's good about going in knowing you want to do that, is inherently in the field… you can record and ask questions in Spanish, and record in English. You can also capture live translation," she said. Shows can then cross-promote the other language editions. In "Chapo: Kingpin on Trial" episodes, there were call-outs to the Spanish version to let bilingual listeners know they could listen in Spanish if they'd prefer.
Vice is also experimenting with publishing two episodes in the same feed at the same time, one in Spanish and one in English. The publisher has podcasts currently in development that will be in both English and Spanish, as well as a potential show made in both English and French, Osborn said.
Audio platforms are also seeing potential in global listeners
Platforms are also noticing an increase in international efforts. Susan Jurevics, head of international for Audible, said she is especially seeing an uptick in short-form podcasts on the Amazon-owned platform with topics relevant to a global audience, such as in sleep, wellness and sports. In 2021, worldwide Audible listening increased by 25% year over year, according to a spokesperson (Audible operates in 10 countries, five of which are primarily non-English: Spain, France, Italy, Germany, Japan). The company's newest audiobook and podcast-listening subscription service launched in September 2020 for Spanish-speaking listeners. In its first year, listeners consumed 225,000 hours of Audible Original podcast content, a spokesperson said.
It's been an area of expansion at iHeartMedia, too. The company launched My Cultura, a Latinx-focused podcast network, last summer. Conal Byrne, CEO of iHeartMedia's Digital Audio Group, said iHeartMedia will select limited series podcasts and translate them into Spanish. It will then publish the English and Spanish episodes simultaneously on the same feed so that listeners can choose to hear the story in English or Spanish. The company has already tested the strategy with the audio drama "Princess of South Beach," which premiered last October.
Within the past six months, iHeartMedia has signed deals with media companies NRJ Group in France and GEDI Group in Italy to co-create and co-produce new podcast shows for French and Italian-speaking listeners this year, respectively. Relevant audio content from iHeartMedia will also be translated from English into French or Italian, as will NRJ and GEDI content be translated into English. There will be more language-focused partnerships like this in the future, Byrne said.
"This is not going to be an anomaly. We are doing this with a bunch of limited series this year," he said.
https://digiday.com/?p=438317