Inside Halo Top's Instagram strategy
July 5, 2017 • 2 min read
• By
Digiday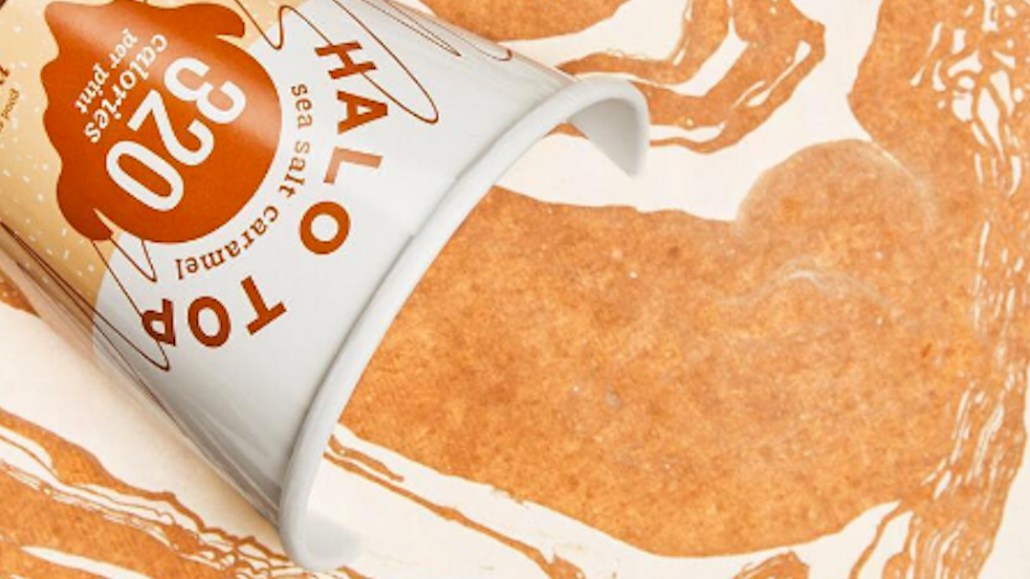 Peck & Company
Ice cream brand Halo Top's Instagram account features image after image of its carton pints swimming in melted swirls of vibrant oranges, purples and browns. It's such organic social posts that have helped launch the 5-year-old brand in stores nationwide without spending a penny on advertising.
Halo Top's Instagram account, which has 461,000 followers, emphasizes the packaging, with photos and GIFs of these pints set against minimalistic backgrounds and pops of color.
"Instead of cluttered or busy images with loads of messaging, we focus on clean images that allow our packaging and ice cream to shine through a bit," said Justin Woolverton, CEO and founder of Halo Top.
So far, it's worked. Over the past 10 months, the brand has seen a 160 percent increase in social followers, from 400,000 in August to 1 million today. According to Woolverton, sales have increased by 2,500 percent over the last year and the product is now available in grocery stores nationwide.
Woolverton also credits the brand's growth to its health-conscious and non-corporate message. "We work hard to make sure our voice comes through as best we can," he said. "That way, our fans can see we're just real people, not suited-up executives running focus-group studies on what people will respond to best."
This includes sharing messages from Halo Top's own employees and their favorite ice cream flavors. In various posts, Halo Top employees are named and quoted alongside their favorite pints, such as Chocolate Almond Crunch, Birthday Cake or Sea Salt Caramel.
https://www.instagram.com/p/BVaVKR6j7Ae/?taken-by=halotopcreamery
To keep the brand fresh in the eyes of consumers, the brand worked with Philadelphia-based creative shop Red Tettemer O'Connell + Partners for its first national digital campaign, which launched on social channels and digital platforms such as Hulu on June 29.
"The Perfect Pint" is a series of four humorous spots depicting an archetypal battle between an angel and the devil. In the first two spots, the devil tries to convince the angel to stop making the "sin-free" Halo Top ice cream because he likes how the decadent treat normally makes people feel "ashamed." The next two are slated to come out in July.
Putting money into its digital strategy won't break the spirit of Halo Top, said Steve Red, president and chief creative officer at Red Tettemer O'Connell + Partners. "[Halo Top wants] to stay young and hungry," he said. "All along the way, they were like, 'Is this what a big corporation would do? Let's do the opposite of that.'"
Photo Credit: Peck & Company