Digiday Research: Most agency staffers think their jobs are safe
January 30, 2019 • 3 min read
•
•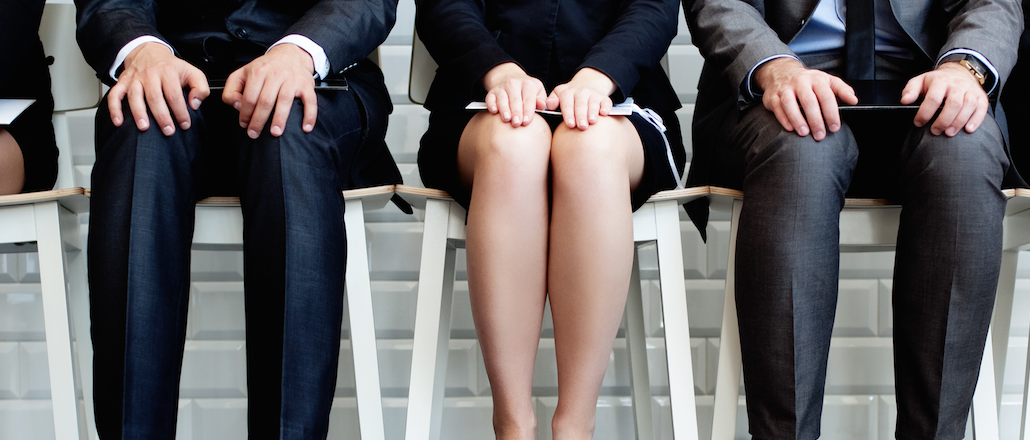 This research is based on unique data collected from our proprietary audience of publisher, agency, brand and tech insiders. It's available to Digiday+ members. More from the series →
This is part of a series examining agency culture, compensation, workplace environment and job security. The following data were collected with surveys of 446 agency professionals from holding agencies, independent shops and consulting firms, conducted in January 2019. Check out our research on agency compensation here.
The majority of staffers at advertising and marketing agencies believe their current jobs are safe, according to Digiday research. Seventy percent of the 446 agency professionals surveyed by Digiday this January said they believe their jobs are secure, while 15 percent said they thought their jobs stood on thin ice while another 15 percent said they were unsure.
But when it comes to what type of company respondents believe offers the best job security, the top choice among respondents was in-house agencies at advertisers. Roughly half, 49 percent, of agency professionals said client-side in-house marketing teams offer the best job security.
Compared to the average American worker, agency staffers' concerns over their job security is average. Research from the Gallup Poll Social Series  in 2018 found that 18 percent of Americans are worried about losing their jobs.
Even though U.S. unemployment may be near record-lows, agency workers alwayS have plenty of reason to be mindful of their job security. Agency reviews and shifting budgets can quickly lead to large-scale layoffs. Data collected by The Atlantic from the U.S. Bureau of Labor Statistics found that advertising jobs actually declined in 2017 for the first time since the Great Recession.
Agency staffers' views on their job security varied depending on whether they worked at media or creative agencies. Sixty-five percent of respondents at creative agencies said they thought their jobs are secure compared to 75 percent of those at media agencies or integrated agencies.
Advertising agencies are undergoing a period of consolidation, and creative agencies typically deliver thinner margins than media agencies. Because of that, creative roles could be the first to face the chopping block, or at least perceived to be. One junior agency staffer told Digiday that after getting laid off, they played it safe by choosing a job at a media agency because media agencies have needs for more employees than other types of agencies.
Recent Digiday research found that the majority of client-side marketers have already brought some or all of the creative marketing work in-house. Comparatively few companies conduct their own media buying, however.
Given the uncertainty surrounding ad agencies, it is not surprising that agency workers view in-house roles as more stable. Nearly half of agencies professionals surveyed by Digiday said in-house roles offer the best job security. After all, it is the advertisers that choose which agencies to work with and which to cut.
Several potential factors did not seem to influence the consensus that in-house marketing teams offer the best job security. Such variables included the type of agency respondents worked at, the ownership structure of the agency, or the number of years spent working at agencies.
For job security, opinions didn't change with age. Whether respondents had less than five years of work experience at agencies or more than 15 years of experience, they held similar views over job security. Though, people with less experience had slightly more optimism in the security of holding companies than people with 15 years or more experience.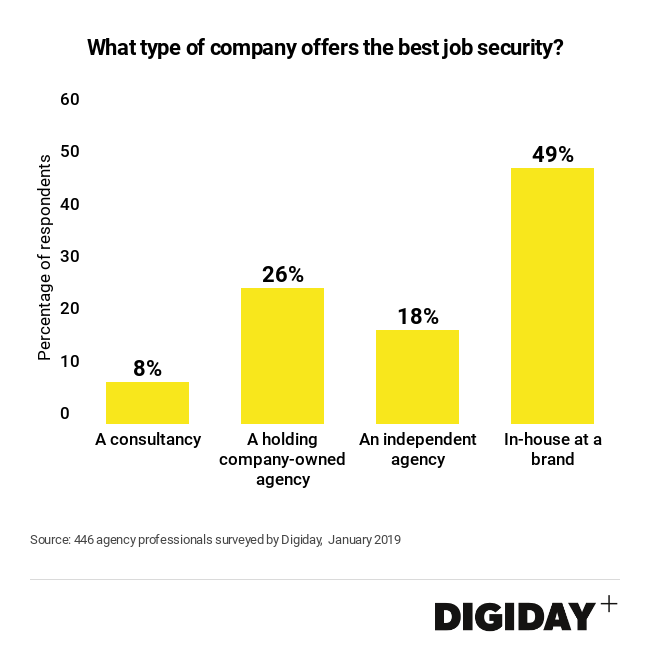 However, although respondents agreed that in-house roles offer the best job security, they each thought they worked at the next-safest type of company.
Aside from a uniform preference for in-house marketing teams, it would make sense that respondents have a preference for the type of companies they currently work in. Though higher salaries and a larger variety of work could certainly induce some agency workers to take risks and jobs that offer less security, it would appear only rational that agency staffers would choose to be employed at the places they believed are the safest.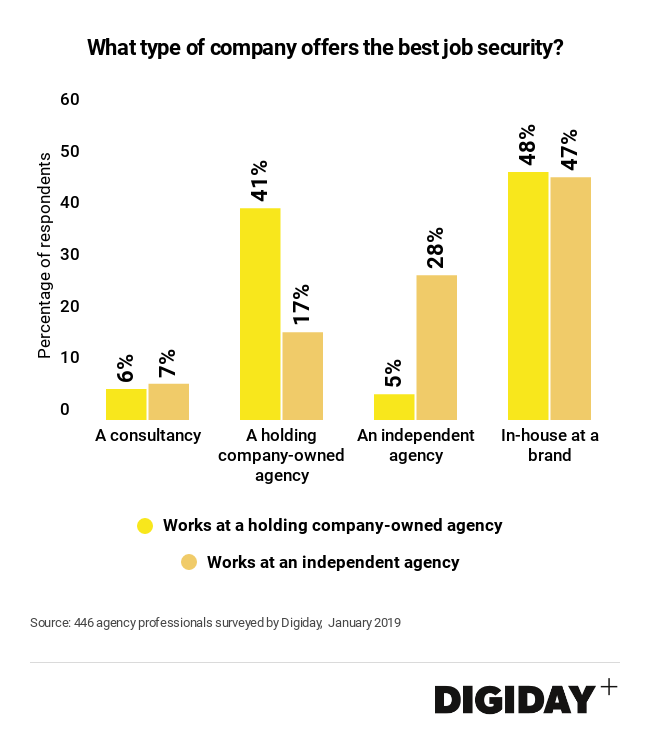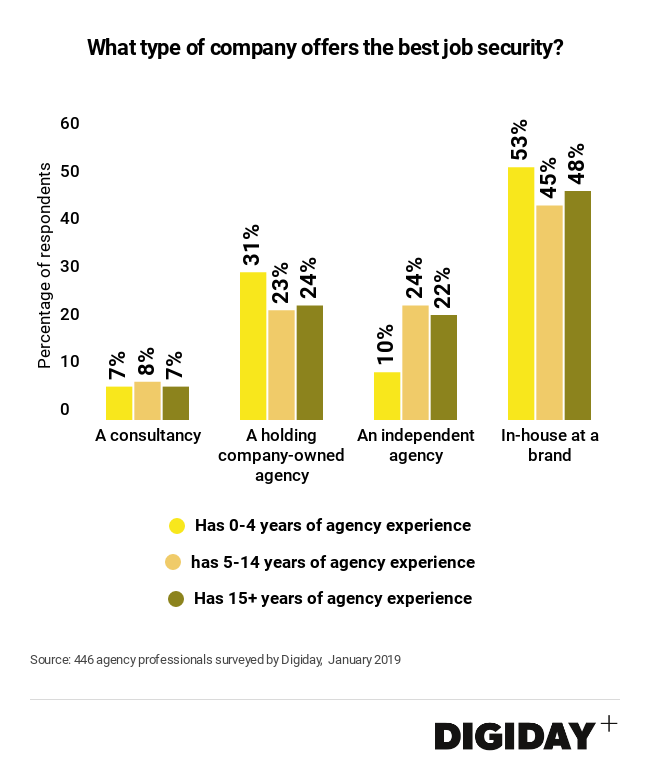 https://digiday.com/?p=320245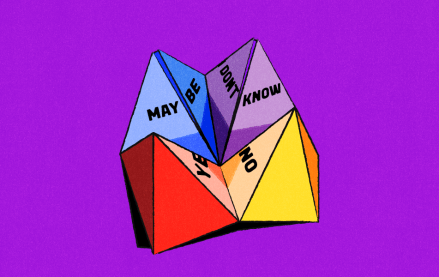 October 3, 2023 • 5 min read
•
•
Overall there's more due diligence from marketers when it comes to influencer marketing efforts now, according to marketers and agency execs, who say that there's been more rigor over the last year, and especially over the last six months.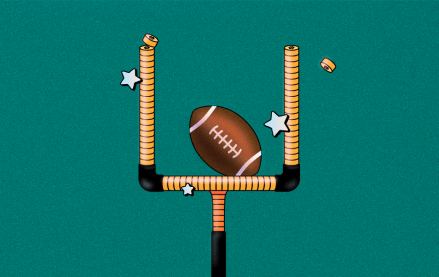 October 3, 2023 • 3 min read
•
•
The collaboration between the Los Angeles Rams and Snapchat goes back to 2020 as the Rams made became the first NFL team to conceive a Snapchat AR experience, affording fans the opportunity to virtually wear the team's recently unveiled uniform.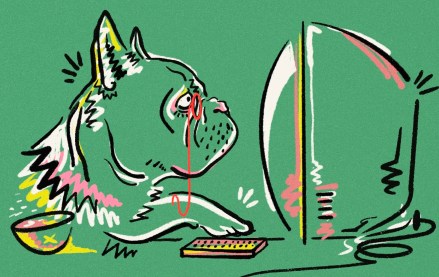 October 2, 2023 • 7 min read
•
•
When it comes to agencies, both of Meta's older sibling social media platforms may be past their primes.