Digiday Research: 76 percent of brands are avoiding Trump
January 24, 2018 • 5 min read
•
•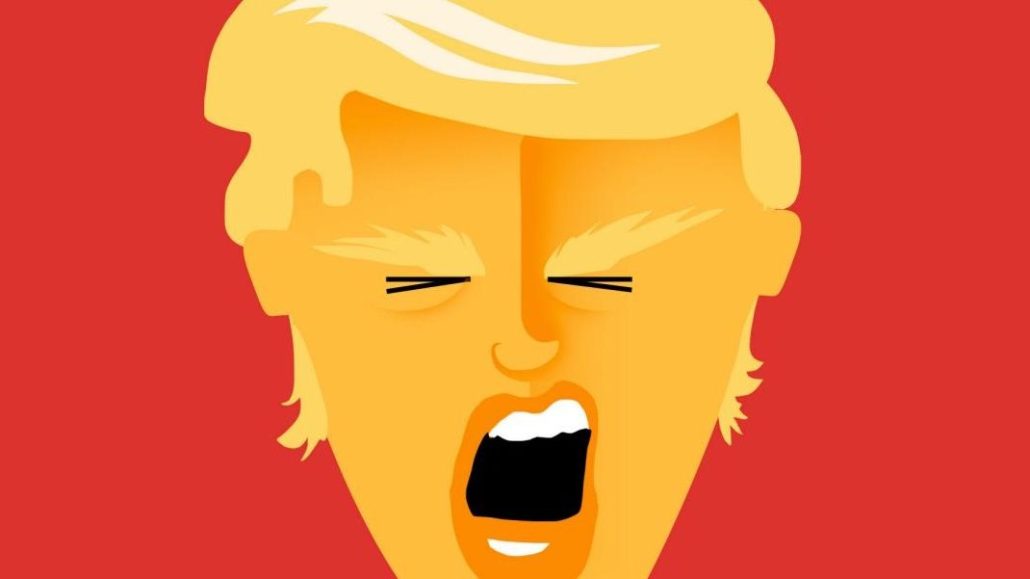 This research is based on unique data collected from our proprietary audience of publisher, agency, brand and tech insiders. It's available to Digiday+ members. More from the series →
At the Digiday Marketing Summit in December, we sat down with over 30 industry executives from major U.S. brands and discussed marketing in the era of Donald Trump. Check out our earlier research on the upcoming enforcement of the General Data Protection Regulation here. Learn more about our upcoming events here.
Top findings:
Seventy-six percent of brands said they explicitly avoid advertising next to Trump-related content.
Roughly three-fifths believe brands should not engage in cause marketing.
Only 14 percent think it's in a brand's interest to wade into political commentary.
Brands continue to keep their distance from Trump
Trump is the gift that stopped giving to publishers. From the height of the 2016 presidential election and throughout the beginning of the Trump presidency, publishers were awash with new traffic. Audiences couldn't stay away from Trump. But those times are over for publishers, as pageviews and subscriptions have flatlined. Readers have become accustomed to Trump's sensational comments and Twitter outbursts. HuffPost editor-in-chief Lydia Polgreen told Digiday that during a recent tour of the country, Americans were far more focused on local concerns, rarely mentioning Trump.
Although Trump helped drive subscriptions for many publishers like The Economist and The New York Times, brands were and remain desperate to keep their ads from appearing anywhere near him. Early last year, Digiday found that brands would rather forgo the opportunity to reach mass audiences than be associated with Trump. Being able to filter webpages via keywords in programmatic buying has made Trump content easier to avoid for brands and more difficult to monetize for publishers. Some publishers such as Politico and The New Yorker that sell ads directly have still found buyers among major brands for their Trump content.
But one year into the Trump presidency, brands' reservations remain firmly entrenched. Over three-quarters of respondents specifically avoid having their brand's ads appear next to Trump-related content.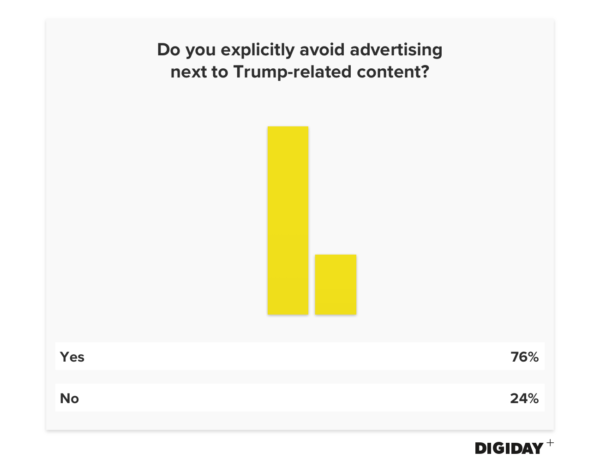 Brands refrain from taking stances on political issues
In an era of instant boycotts, it's no wonder that brands are hesitant to express political opinions. Companies like New Balance, L.L. Bean, Nordstrom, Under Armour and Pepsi were all burned when they were connected to politics. Budweiser won both critics and plaudits for their 2017 Super Bowl ad featuring the story of its German-immigrant founder.
A few companies have actively entered into the political fray, however. For example, Urban Outfitters created an election-themed clothing line that pandered to their mostly liberal millennial consumer base. Companies like Urban Outfitters and Budweiser have been the exception more often than not, though. Other companies have responded with statements to specific political events such as Trump's travel ban. In general, most brands agree that it's in their best interest to avoid political commentary. Nearly nine in 10 brands thought they should steer clear of politics, according to Digiday's survey.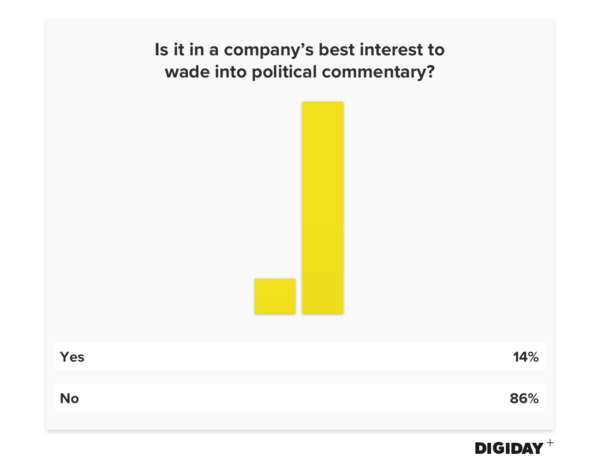 Brands' decisions to play it safe aren't surprising. What is surprising is the disconnect between what brands think they should do and what consumers say they want brands to do. A research study conducted by Sprout Social found that 66 percent of consumers wanted brands to take a stand on political and social issues.
Andrew Caravella, vice president of strategy and brand engagement for Sprout Social said, "Brands may understandably be more risk averse when it comes to publicizing a stance that has the potential to impact their bottom line—yet as customers continue to demand that brands speak up, we think more businesses will rise to the challenge. While taking a stand does have the potential for backlash, it is also a way to demonstrate leadership, clarify your brand's values and cultivate a more enthusiastic, loyal following among those you inspire."
That's not to say brands should rush to take sides on political issues. Relevancy matters. According to the Sprout Social report, only one in five people think a brand should take a stand on a political issue regardless of whether the issue identifiably connects to the business.
Despite the majority of consumers wanting brands to support key issues, the 86 percent of respondents to Digiday's survey who believe brands should remain publicly indifferent have good cause to do so. By speaking out on issues, brands risk sales to bolster public perception. Only 44 percent of people are likely to purchase more from a brand they agree with, as opposed to 53 percent who will purchase less from a brand they don't agree with.
Caravella cautions brands about only defining success by sales figures and challenges them to accept the changing (nature or incentive) of today's consumers. "One of the most valuable rewards brands can receive when they take a stand on social is a stronger sense of brand loyalty from their community. Increasingly, people want to feel that their purchases have a purpose… As has long been the case, your most loyal customers are the ones most likely to advocate for your brand and potentially spend the most over time."
Brands don't view cause marketing as an essential responsibility
While most brands continue to sidestep politics, brands are more likely to embrace cause marketing. However, the majority of brands do not think they need to conduct cause marketing. Just under 60 percent of respondents to Digiday's survey believe their brand does not have a responsibility to take on cause marketing.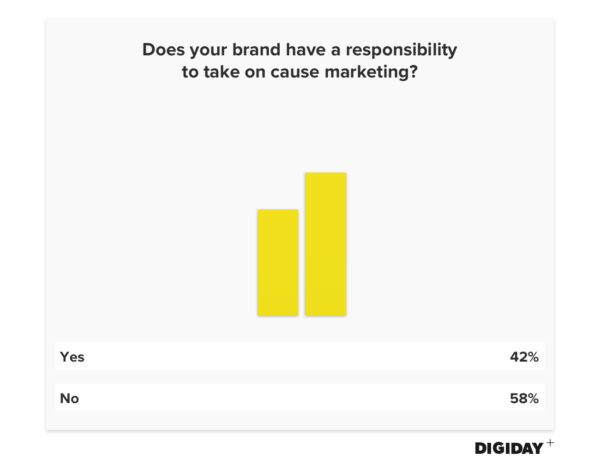 Cause marketing should not be confused with brands making a political statement, even though cause marketing can be interpreted as a political action. Political statements are unilateral actions, while brands typically partner with nonprofits for cause marketing initiatives.
A notable example was when Procter & Gamble's Dawn soap worked with The Marine Mammal Center to raise over $500,000 for animals affected by oil spills. Retail brand Kiehl's, which has donated over $1 million for HIV/AIDs research, teamed up with the Tegan and Sara Foundation to benefit LGBTQ women.
Cause marketing is not fit for all organizations, though. Several major brands have received public backlash for campaigns gone awry. And not all companies that conduct cause marketing do it for selfless reasons. American Apparel worked with the Human Rights Campaign on a "Make America Gay Again" campaign to boost sales and mask internal problems in the company. Julie Noiman, gm at Tigerspike, described the campaign as "a smart move for American Apparel."
https://digiday.com/?p=272982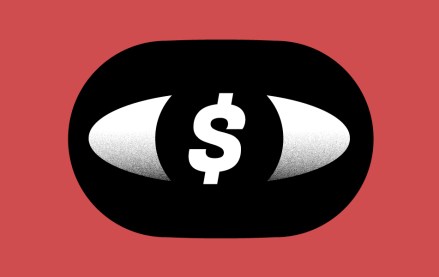 December 5, 2023 • 3 min read
The latest edition of the ANA's programmatic transparency report claims $22 billion can be saved by drastically cutting the ad tech bloat.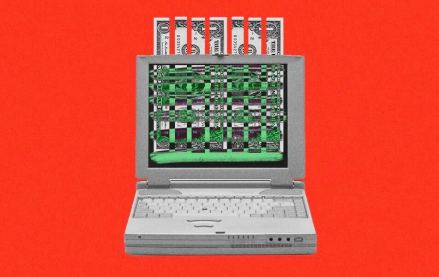 December 5, 2023 • 5 min read
Agency clients still see programmatic as an important part of their marketing budgets. But, overall, the uncertainty around programmatic could be causing them to lose confidence in online display ads as a marketing channel, and, as a result, agency clients are investing less in online display.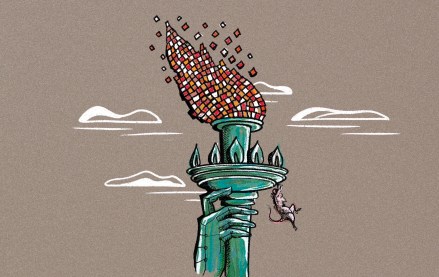 December 5, 2023 • 3 min read
There's a global AI race and different regulations in different countries might be slowing down – or speeding up – innovation. Here is a breakout of how regulations are being shaped on both sides of the Atlantic.