New Balance is learning exactly how fast it can backpedal.
Ever since customers called for a boycott after the company's vp of communications said it looked forward to working with President-Elect Trump — and a Neo-Nazi blogger called the shoes "the official shoes of white people" — the Boston-based shoe company has been doing damage control.
For the curious who Google "New Balance" and "Trump," the first result they get is a sponsored search ad encouraging customers to "read the facts" before they boycott the shoe. The link goes to a BuzzFeed news story providing nuance to suggest New Balance merely agreed with Trump's stance on trade.
It is unclear if New Balance itself bought the ad. New Balance didn't respond with a request for comment, we'll update if they do. A BuzzFeed spokesperson said the brand had not been in touch with the publisher before this ad went up and didn't know why it's linking to its story. "New Balance did not advertise with us on this and it appears they are using paid search to amplify a piece of editorial content outside of our knowledge or permission which technically goes against our terms of service," said a spokesperson.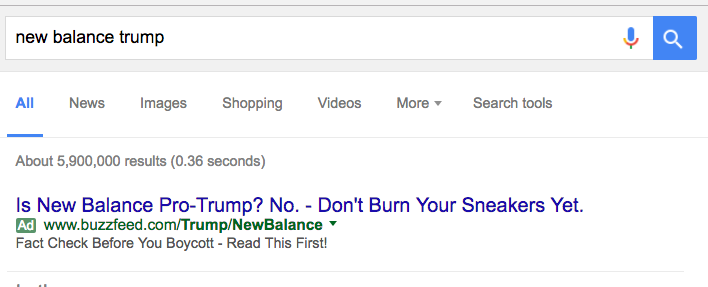 The company is also blanketing social media with its statements. Every comment on its Facebook posts right now is about Trump.
According to the BuzzFeed story, the communications official's comments were taken out of context. The official said the company was looking forward to Donald Trump's opposition to the Trans-Pacific Partnership, a 12-country pact that reduces trading barriers. Both Hillary Clinton and Bernie Sanders were also against the deal. After the social media uproar, New Balance said it supported Clinton and Sanders, and had a "unique perspective" on trade because it wants to manufacture more shoes in the U.S. A series of tweets clarified their positions.
— New Balance (@newbalance) November 15, 2016
— New Balance (@newbalance) November 10, 2016
For many customers, though, it still sounded like an endorsement of Trump. And when anti-Semitic and white supremacist website the Daily Stormer championed New Balance right after, that got worse. Distancing itself from the comments wasn't enough, so the company is now on a PR offensive.
Competitors are hot on its tail: Reebok Classics is tweeting at people who are threatening to boycott New Balance offering them a pair of free Reeboks.
@artsy_indy Since it looks like your toilet may be clogged, shoot us a DM & we'll send you some kicks to walk to the closest bathroom. 👀

— Reebok Classic (@ReebokClassics) November 11, 2016

It's been an unusual political season for many reasons. With voter emotions running high on both sides of the aisle, some brand execs have made missteps when vocalizing opinions of their own. Matt Maloney, CEO of Grubhub, wrote a staff e-mail which, among other things, said Grubhub employees who agree with Trump's policies should resign. The move sparked a Twitter campaign to boycott the company. Trump supporters also also launching boycotts against companies including Pepsi, where CEO Indra Nooyi said her employees are all "crying" over the election worried that minorities, women and LGBT people are no longer "safe." 
Brands have been advised for years to "join the conversation" on social media, but increasingly the conversation is wild-eyed people shouting each other down with accusations of intolerance and worse. According to Brandwatch, mentions on social media for companies in the crosshairs are through the roof, and they boil down to one question: Which side are you on? New Balance is the only company to make a pro-Trump comment since the election. Sentiment remained perhaps surprisingly somewhat positive on social media, compared with negative sentiments for companies that appeared anti-Trump.
"Trump supporters are in control of each of these conversations. We know this because they make it apparent in their social posts," said a Brandwatch analyst.
A current list of companies Trump supporters are being told to boycott can be found on Reddit, maintained by a user named "WhiteChristianMan."
Meanwhile, a spreadsheet has been circulating on Twitter listing the retailers that do business with the Trump family — including Amazon, Macy's, Marshalls, Neiman Marcus, Nordstrom, Bloomingdale's, and Lord and Taylor, all of which carry the Ivanka Trump collection — along with contact information their customer-relations departments.
Welcome to the new normal, brands.
https://digiday.com/?p=210347