Advertising Week Briefing: Why content creators are hopeful that AI will not replace them
October 17, 2023 • 4 min read
•
•
Ivy Liu
This article is also available
in Spanish
. Please use the toggle above the headline to switch languages. Visit
digiday.com/es
to read more content in Spanish.
The crunch of Advertising Week is back — and maybe in true full force for the first time since the pandemic.
Early Monday, long queues snaked around the new venue near Penn Station as attendees waited for badge pick-up. Lines and wait times didn't stop there. Restricted access to activations like Google's pop-up about its AI tools occasionally led to a sense of frustration among attendees, who grumbled about the logistics while they were in line. Panel discussions were also delayed. For example, Mapping the Journey: TV's Tomorrow in a Streaming-First World started a full hour later than its scheduled time slot. The delays caused logistical challenges.
Of course, Advertising Week's venue challenges are nothing new. Over the years it has moved around Manhattan taking up one venue (one that smelled remarkably of popcorn) rather than several. This year, everything is mostly in one location at the Manhattan Mall at 34th Street. Depending on the location, the ease of finding a quick bite or a place for a good drink for the elbow-rubbing meetings the event is all about can be tricky. This year may prove better than previous.
Influencers and AI
The prevalence of AI at this year's Advertising Week is clear. It continues to be the topic du jour for the industry. In recent weeks, influencers and AI — two hot button issues — have collided with Meta paying big names for their likeness to create AI personas and major influencers like Mr. Beast calling out AI deepfake ads. It's a strange time for influencers and AI.
"We put hours and days into making videos that reach the masses," said Sophie Cohen, a lifestyle influencer who creates content around vintage clothing for her 60,000 followers. Cohen attended Advertising Week at the behest of TikTok as the platform flew them in, representing creators via its own activation where her and other creators were testing out the activation and speaking with other reporters. "Everyone goes to TikTok to see creators and influencers, not the AI marketplace."
While AI has made remarkable strides in content generation, from writing to art and even music, there remains a distinct gap that only human creators can bridge, according to creators. While some recognize the capabilities, others worry about the harm of the surge of interest in AI.
"I'm against AI because it is harmful to the music industry," said Grace Hayes, a singer and influencer with 227,000 followers on TikTok. "Brands need to pay close attention to their investment choices because the rise of AI is a looming issue among different businesses."
Even with the surge of interest in AI, influencers and industry execs recognize the connection between fans and creators as something unique. Maintaining that connection and true identity of a creator will only become more important as AI adoption grows.
"Consumers are more likely to buy into a creator brand partnership when it feels real and tells a story synonymous with the creator's ethos," said Lin Dai, CEO of the Web3 data platform OneOf. "When a partnership feels random or disconnected from a creator's personal interests, consumers will tune out. It's important for creators and brands to be strategic when it comes to partnerships in order to amplify brand loyalty and drive revenue."
Better swag
Compared to the uneventful swag offerings from the previous year, this time around, various brands, such as DirecTV, Feevee, Shutterstock and TikTok, brought a diverse range of swag items. Maybe a sign that the economy isn't as bad as it may seem? A wishful thought. Goodies encompassed items like hats, bags, pins, books, delectable treats, and even coupons for discounts (which quickly disappeared due to high demand). Netflix also joined the swag scene, offering complimentary items like Funko Pops, socks, t-shirts, and more. However, there was a catch. Netflix swag wasn't simply on display: You had to test your skills at a crane machine to claim these goodies.
Elsewhere from Advertising Week:
Coming up
9:30 Navigating return to office: What does it mean for working moms?, The Insights Arena
10:10 Redefining success: Culture is the new KPI (hosted by Digiday senior reporter Kayleigh Barber), The Creative Showcase
10:50 Unlocking the power of AI for advertisers, The Great Minds Stage
11:30 Unlocking exponential entertainment with TikTok, The Great Minds Stage
12:00 Cheap impressions, burning planet: The unseen impact of media waste, The Screening Room
12:10 Netflix: The next era in advertising, The Great Minds Stage
3:30 Tapping into women's sports to drive performance marketing goals, The Insights Arena
https://digiday.com/?p=522059
December 8, 2023 • 3 min read
For Atlas Creative, expanding into Roblox is not solely a play to scale up. The company believes there are concrete benefits that will come with having a hand in multiple metaverse platforms.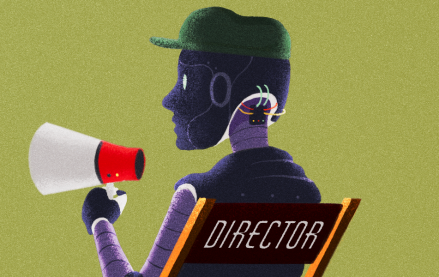 December 8, 2023 • 5 min read
Since ChatGPT became a breakout hit, the names of numerous AI companies and products have entered the cultural vernacular.
December 8, 2023 • 4 min read
Even as linear TV ad spend declines, 23andMe is reinvesting in the channel to boost brand awareness.