Future of TV Briefing: The 2023 glossary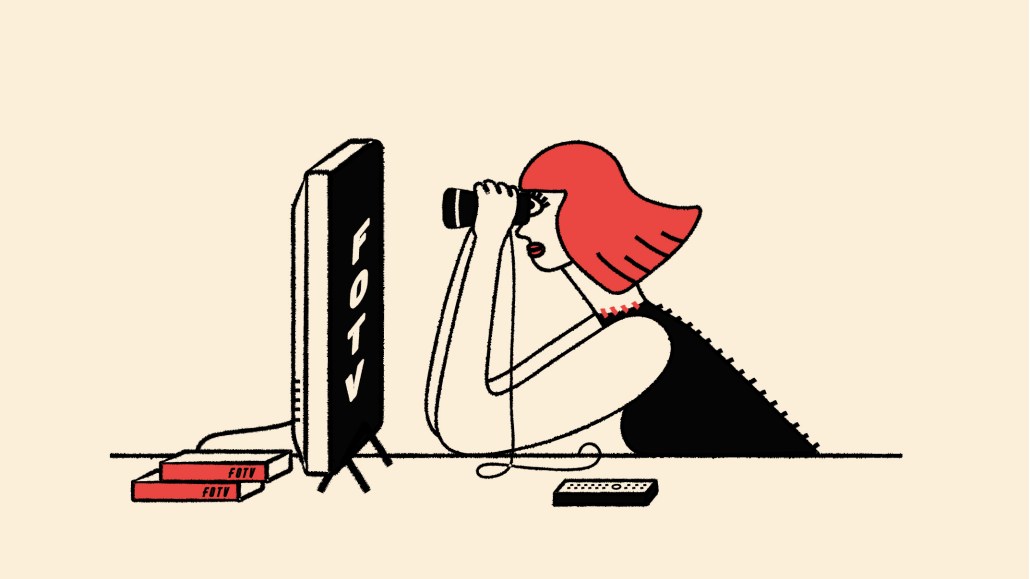 Ivy Liu
This Future of TV Briefing covers the latest in streaming and TV for Digiday+ members and is distributed over email every Wednesday at 10 a.m. ET. More from the series →
This week's Future of TV Briefing offers an updated list of the key terms that can cause confusion when talking about the TV, streaming and digital video industry.
The future of TV, defined
Measurement providers make moves
Traditional TV regains viewership share
Disney's ABC sale talks, A+E Networks' diversity ad deal and more
The future of TV, defined
It's been two years since we started publishing a glossary of key terms that people in the TV, streaming and digital video industry use and, often, misuse, and they're still all-too-often misusing them. Meanwhile, more terms continue to pop up that can confound even industry insiders. So here we are again republishing the guide with some more additions in hopes of clarifying future conversations about the Future of TV.
CTV
What it stands for: Connected TV
What it refers to: TV screens that are connected to the internet. This can be either a smart TV with its own built-in operating system or a regular, "dumb" TV hooked up to an internet-connected device like an Apple TV box, Roku streaming stick or Chromecast dongle. The point is that CTV concerns the TV as a device through which people stream services like Netflix and Disney+ — it is not synonymous with streaming.
How to use it: To refer to the TV screen as an internet-connected device or to refer to the audiences, programming or ads that are accessed through an internet-connected TV screen. Consider CTV to be the TV industry's analogue to the mobile industry's smartphone.
Example sentence: I don't want to watch "House of Dragons" on my laptop, so I'll stream it through HBO Max's CTV app.
OTT
What it stands for: Over the top
What it refers to: The method of distributing TV shows outside of — or, over the top of — a cable box or satellite dish. At least that was the original definition. This acronym was introduced to describe TV networks making their programming available on their websites and other digital properties. Eventually, that included Hulu, which was one of the pioneering streaming services and likely a major reason why OTT has become synonymous with streaming and conflated with CTV.
How to use it: Don't. Repeat: Do not use this acronym. Please. OTT was fine for a time, but that time has passed. As mentioned above, OTT has become synonymous with streaming, so let's just say streaming instead. That way our friends and family members will know what the hell we're talking about.
Example sentence: Remember when we used to say OTT? I'm so glad we all just say streaming now.
FAST
What it stands for: Free, ad-supported streaming TV
What it refers to: Streaming properties that resemble linear TV by carrying channels that air 24/7 based on a set programming schedule, are available for free and feature ads that interrupt the programming.
How to use it: To refer to the subsection of the ad-supported streaming market that mimics pre-DVR broadcast TV. The term FAST can be applied to the services themselves or to individual 24/7 channels that the services carry.
Example sentence: I don't feel like figuring out what to watch. Just put on a FAST cooking channel so we can start eating.
AVOD
What it stands for: Ad-supported video on demand
What it refers to: Video programming, such as TV shows and movies, that can be accessed at any time, are available either for free or a fee and carry ads that play before, during and/or after the program. AVOD's distinguishing aspect is that programming is available on demand rather than requiring people to tune in at a given time.
How to use it: With care. Before the rise of FAST services, AVOD was effectively synonymous with ad-supported streaming. Then FAST services came along and split the ad-supported streaming market into two sides — similar to how traditional TV has linear channels and programming available on demand.
But the line between AVOD and FAST is blurring.
A lot of FAST services, such as ViacomCBS's Pluto TV, have added programming that is available on-demand and carries ads. Meanwhile, originally AVOD services like Amazon's IMDb TV and Roku's The Roku Channel have added FAST channels alongside their on-demand programming libraries. In short, only use AVOD when referring to a subsection of the ad-supported streaming market in order to differentiate from the FAST subsection. If the distinction is unnecessary, opt for the umbrella term "ad-supported streaming."
Example sentence: I'm only interested in buying AVOD inventory because I figure those viewers are more likely to be paying attention when my ad airs.
TV
What it stands for: Television
What it refers to: 1) The large screen(s) in people's homes through which they watch video programming, ranging from live sports to sitcoms to movies to clips of cats. 2) The video programming that people watch on screens, including, but not limited to, the large screen(s) in their homes.
How to use it: To reflect the convergence between traditional TV and streaming. If a piece of programming can be watched on a TV screen, then it's TV. Someone who watches a piece of programming or an ad on TV is a TV viewer. An ad that plays on a TV screen is a TV ad.
Admittedly, expanding TV beyond the traditional definition is going to take some time, especially with TikTok having a CTV app so that short-form video can also be considered TV. But if the annual upfront negotiations in recent years are any indication, that broader meaning is gaining traction, especially with digital video platforms like YouTube rivaling Netflix's TV watch time.
Example sentence: I'm gonna go watch TV now.
Currency
What it refers to: The measurement metric(s) used as the basis for transactions between ad buyers and sellers. Historically, this has referred to Nielsen's Gross Ratings Point metric that gauges how many people may have seen a brand's ad on TV, but it can also apply to other types of measurement. For example, since Google sells search ads on a cost-per-click basis, clicks are the currency for search advertising.
How to use it: To refer to measurements strictly when a measurement is the metric dictating how much money is to be exchanged between advertisers and media companies or tech platforms.
Example sentence: I don't care how many people saw my ad. I care how many people purchased my product after seeing my ad, so let's use sales lift as the currency for this campaign.
Short-form video
What it refers to: Videos that are 10 minutes or shorter in length and published on vertical video platforms like TikTok, Instagram Reels and YouTube Shorts — for the most part. If that sounds incorrect, that's understandable. So let's spend a lot of time talking about the category of videos that are supposed to be concise.
For years, "short-form" referred to videos that were shorter than half-hour TV episodes and typically meant 10-minute-or-less YouTube videos. Then YouTube creators started making 10- to 20-minute-long videos, which begat the term "mid-form video." Then Snapchat created a market for sub-10-minute-long vertical videos, and TikTok shrunk the market even more with sub-60-second-long vertical videos.
Because nothing can ever be so straightforward, TikTok and Instagram have been blurring the definition of short-form video by extending TikTok video lengths to 10 minutes and Reels to 15 minutes. But rather than saying, "Screw it. It's all video" and sacrificing any shorthand for delineating among different video formats, let's stick with the historical 10-minute marker and add the vertical format as a filter.
How to use it: With context. If it isn't already clear, "short-form" is a relative term. A TV or streaming show producer may consider any YouTube video to be short-form, whereas a TikTok creator may consider any YouTube video to be long-form. So rather than use the term "short-form video" on its own, it's good to cite an example at the same time.
Example sentence: Our short-form video strategy right now is cutting clips from our TV shows and YouTube videos and reformatting them vertically to post to TikTok.
Long-form video
What it refers to: Videos that are more than a minute long and published on horizontal video platforms like YouTube, Facebook and streaming services. Basically any video that doesn't qualify as short-form video.
As mentioned above, for years long-form video implicitly meant TV-length or longer videos. But then platforms like Vine, Snapchat and TikTok have pulled at the other end of the video spectrum to make 10-minute-long videos feel relatively long. And some TikTok creators even consider plus-60-second-long videos to be long-form. That line of delineation is reinforced by YouTube's TikTok clone Shorts capping video lengths at 60 seconds, implying that YouTube considers 60 seconds to be the threshold between short-form and not-short-form, which we'll call long-form (at least for now).
How to use it: With context. Same with short-form video, which is not the same as long-form video.
Example sentence: My long-form video strategy is stitching together a bunch of my TikToks into one video and zooming in to fill the screen horizontally so they look like an episodic TV or YouTube show.
In-stream video ad
What it refers to: Video ads that are served within a video that a person signaled intent to watch. Examples: pre-roll, mid-roll and post-roll ads.
How to use it: With the words "consumer has requested" firmly memorized so that when someone questions why a pre-roll ad in an autoplay video doesn't count as in-stream, you can explain the core difference.
Example sentence: We charge more for in-stream video inventory because people are more likely to be paying attention to those ads.
Out-stream video ad
What it refers to: Video ads that are served to a person who has not signaled intent to watch a video. Examples: Standalone video ads that appear within written content, pre-roll ads attached to a video that plays automatically but that is not the primary content a person requested.
How to use it: Same as in-stream video ad explanation.
Example sentence: I can hardly even read the articles on that publisher's site because of all the out-stream video ads popping up on the page.
AI
What it refers to: The use of artificial intelligence technology to automate aspects of the production, pre-production or post-production process for shows, movies, videos and commercials. Specifically the use of tools like OpenAI's ChatGPT, Midjourney, Runway and Eleven Labs that are capable of writing scripts, producing images and videos as well as recreating people's voices.
How to use it: Prefaced with "generative" to distinguish from other forms of artificial intelligence.
Example sentence: No, the Wes Anderson AI videos aren't completely AI generated because a person still had to come up with the prompts to get the generative AI tools to create the clips.
What we've heard
"We already use Unreal Engine to create still imagery, but making video footage — and maybe even, down the road, commercials — I think will become more and more viable."

— Creative agency executive
Measurement providers make moves
For as stagnant as the TV measurement market felt in this year's upfront negotiations, some major measurement providers have gotten fairly active over the past couple weeks.
Each of these moves is significant, albeit in different respects. Nielsen's suggests the company is trying to right the ship after being stripped of its Media Rating Council accreditation — which was restored in April — and being sold to a private equity firm. VideoAmp seems to be similarly recalibrating its costs while building up its war chest. And then iSpot.TV appears to be bolstering its capabilities to keep pace as VideoAmp seems to have stepped up the currency competition in ad buyers' eyes.
"I think we're certainly seeing VideoAmp come out as a frontrunner," one agency executive told me over the summer as upfront negotiations wound down.
Numbers to know
15.05 million: Number of viewers that watched last week's "Thursday Night Football" game across Amazon Prime Video and local broadcast TV, according to Nielsen.
12.2%: Percentage share of shows that major streamers canceled between 2020 and 2023, compared to broadcast TV's 26.6% cancelation rate.
10s of millions: The size of the Disney+ subscriber shortfall that Disney expects compared to its 2024 target of 215 million to 245 million subscribers.
€345 million (roughly $368 million): How much money TikTok has been fined for violating Europe's General Data Protection Regulation by mishandling children's data.
$34 billion: How much money advertisers are expected to spend on influencer marketing this year.
Traditional TV regains viewership share
As kids went back to school and people squeezed in end-of-summer vacations, the amount of time people spent streaming shows and movies dipped by 1.6% in August from July, while the time they spent watching broadcast and cable TV increased by 1.6% and 1.7%, respectively, according to Nielsen's latest The Gauge viewership report. As a result, streaming ended up ceding some watch-time share to traditional TV, which regained a slim majority between broadcast and cable TV.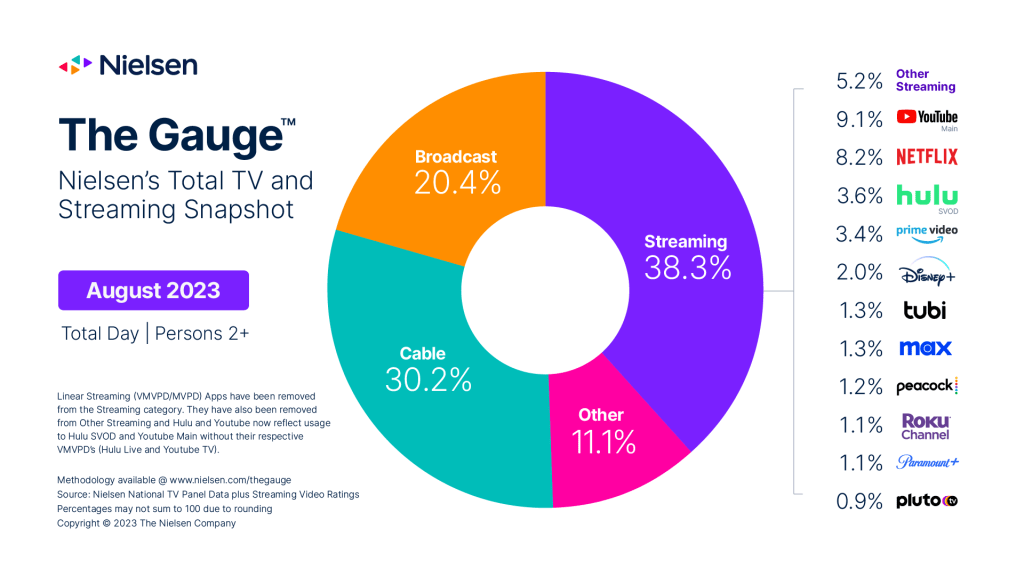 Leave it to the dog days of August and the ongoing strikes to be the banner month for broadcast TV this year. While streaming and cable TV each saw watch time decline month over month, broadcast TV's watch time notched a month-over-month increase for the first time since January.
Nielsen attributed the broadcast TV viewership uptick to "increased viewing in the 'participation variety' (e.g., America's Got Talent on NBC) and 'general variety' (e.g., Big Brother on CBS) genres." A.k.a. the stuff that broadcast TV networks will be stuffing their primetime lineups with for the next however many months.
Meanwhile, the measurement provider chalked up cable TV's viewership increase to senior citizens watching sports and news, with 85% of the increase coming from viewers who were 65 years old or older.
Despite the month-to-month increases, the amount of time people spent watching broadcast and cable TV declined year over year by 5.5% and 10.6%, respectively. Nielsen didn't detail streaming's year-over-year watch time change. Not that all that much seems to have changed on the streaming side in August.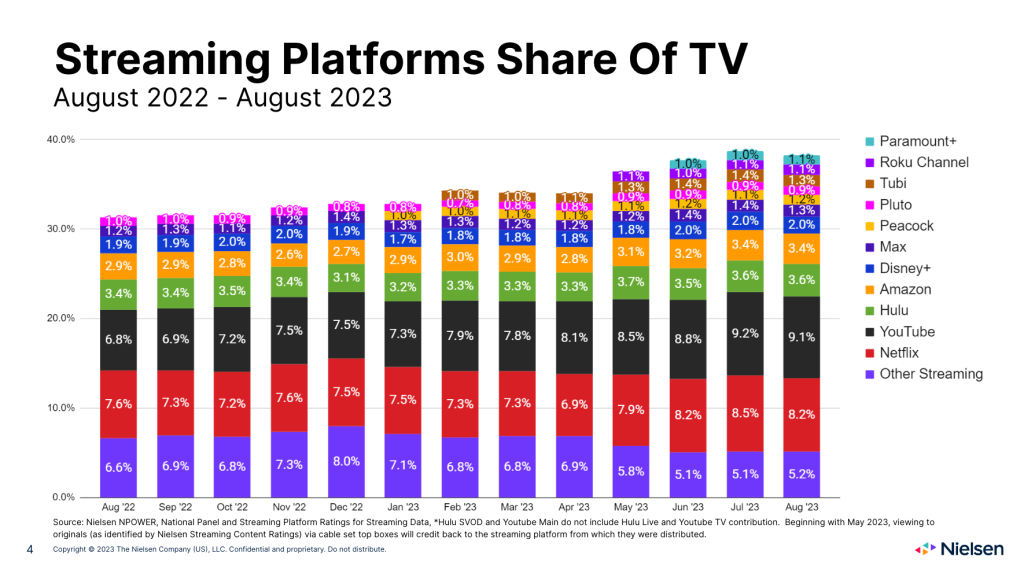 Among the streaming services, there weren't any significant shifts in watch-time shares. Netflix saw the biggest change in either direction by inching up 0.3 percentage points. The others stayed roughly the same, including Paramount's Pluto TV that still has yet to hit the 1.0% threshold since a year ago.
What we've covered
Why General Mills hopes music will help it have a viral marketing moment on TikTok:
The company has created a TikTok account for a musical brand mascot.
General Mills appears to be centering its strategy on the platform's propensity to popularize songs.
Read more about General Mills' TikTok strategy here.
Inside the TikTok Shop pitch to brands:
TikTok is running a referral fee promotion to persuade brands to join its shopping platform.
The company has also floated ad incentives for brands joining TikTok Shop.
Read more about TikTok Shop here.
The NFL gives creators access to its archives for content creation with pre-approved footage:
The league has opened up its Access Pass Program to creators for the first time.
The program allows creators to use the NFL's officially approved footage in their videos.
Read more about the NFL's creator strategy here.
What we're reading
Disney has talked with local TV station owner Nexstar Media Group about selling ABC and its corresponding local TV stations to the latter company, while media mogul Byron Allen has offered to pay $10 billion for three of Disney's TV networks — ABC, FX and National Geographic — according to Bloomberg.
A+E Networks signs diversity deal with GroupM:
The TV network owner has agreed to give the WPP-owned media agency network first dibs on opportunities to advertise against A+E Networks' diverse programming, according to Ad Age.
A swath of TikTok accounts are effectively serializing movies on the short-form video platform, which seems to be having a hard time policing the piracy, according to The Wall Street Journal.
Want to discuss this with our editors and members? Join here, or log in here if you're already a member.
https://digiday.com/?p=518350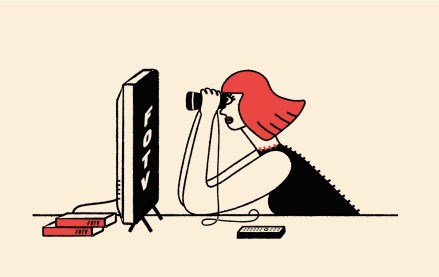 This week's Future of TV Briefing offers an updated list of the key terms that can cause confusion when talking about the TV, streaming and digital video industry.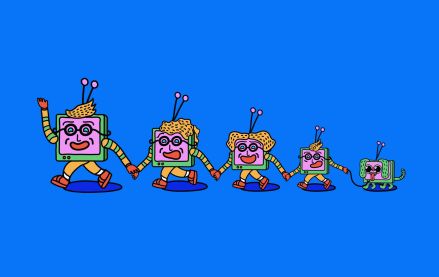 This week's Future of TV Briefing looks at what the Disney-Charter pay-TV distribution deal seems to indicate about the increasingly more-complementary-than-contentious relationship between traditional TV and streaming.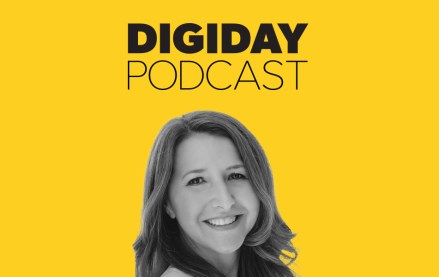 September 12, 2023 • 3 min read
Traditional TV now accounts for less than 50% of Georgia-Pacific's spending, but its share still exceeds streaming's.