Vanity Fair is joining the parade of publications at parent Condé Nast and elsewhere that are putting their digital content behind paywalls as ad revenue becomes harder to come by, although at a low price point.
Starting April 24, after people read their fourth article in a month, they'll be required to subscribe for $19.99 a year for either digital-only or print plus digital. (Video and slideshows will be exempt from the paywall.) To sweeten the offer, Vanity Fair also is rolling out a searchable archive of its articles, a subscriber-only newsletter and even considering giving subscribers access to its writers and editors.
"At a moment when quality journalism is not a luxury, but a necessity, it will enable us to invest in our reporting, writing, photography and video, expanding into new areas and onto new platforms, with you, our core readers and viewers, clearly in focus," wrote Radhika Jones, Vanity Fair's new editor-in-chief, in a note to readers.
Mike Hogan, digital director of Vanity Fair, said the paywall conversation started a few years ago when it became clear that chasing advertising through flyby traffic was a bad long-term business model and not very Vanity Fair-ish, anyway. The magazine laid the groundwork for the paywall, improving the user experience on the site, hiring big-name reporters and emphasizing analysis and original reporting of the sort that people are willing to pay for. In the past year, the site's traffic has grown 22 percent to 21 million total monthly unique visitors in March, according to comScore.
"We have a loyal audience — premium content, must-read content," Hogan said. "I still want a big audience, but my hope is we can add a new revenue stream that will let us produce more content and get paid double for it."
Vanity Fair had a couple of big boosts in print subscription sales in the past couple years, when it put Caitlyn Jenner on the cover and when it published a damning review of the restaurant at Trump Tower. The print subs boosts "encouraged us that we should push forth and make it happen," Hogan said of the paywall.
It'll be hard for Vanity Fair to live up to sibling title The New Yorker, whose digital paywall has been considered a big success but is an outlier, at an annual price of $120 for a print-digital bundle. (The net annual subscription price for Vanity Fair averaged $16.56 last year, according to the Alliance for Audited Media.) Like The New Yorker, Vanity Fair still has a sizable print circulation — 1.1 million, per the AAM — and there's a print-digital bundle option because a lot of people still like reading it in print. The company has said it would roll out more paywalls, and Vogue and GQ seem like the most likely next candidates, but execs wouldn't give specifics. "People will pay for incredible content that's exclusive and unique that we can't get elsewhere, and we have a lot of that at the company," said Monica Ray, evp of consumer marketing at Condé Nast.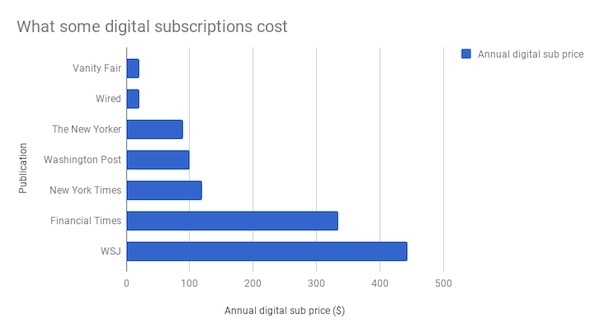 Vanity Fair's model has more in common with sibling Wired, which put up a paywall in February and also charges $20 a year after four free clicks a month, with three months free. (Vanity Fair will, however, borrow one successful trick from The New Yorker playbook: a free tote bag for subscribers.)
Ray said the Wired paywall has "gone extremely well," helping increase print and digital subscriptions over 200 percent over a year ago. She wouldn't say what her target is for the Vanity Fair paywall, though.
Another successful paywall publisher, The New York Times, has taken several years to get to 2.6 million digital-only subscriptions, or 3 percent of its digital traffic, according to the Times and comScore data.
Few publications at Condé Nast and elsewhere can get a lot of people to pay for their digital content. Vanity Fair also competes with a lot of entertainment and cultural reporting that's freely available. A 2017 Reuters Institute survey found 16 percent in the U.S. paid for online news in 2017, but 79 percent still said it was "somewhat or very unlikely" that they'd pay for online news in the future, and those who will pay are most likely to pay for news reporting and less so lifestyle and entertainment news.
Vanity Fair is aware that many people will never read enough to hit the paywall, but would argue that its coverage is superior to most and spans a big range of subjects, having expanded its business, politics and tech coverage with its Hive vertical. Hogan also points to the fact that people who would be targeted by the paywall — those who read five or more articles a month — is up 54 percent year over year. (Vanity Fair wouldn't say how much of its audience falls into that category, though.)
https://digiday.com/?p=285049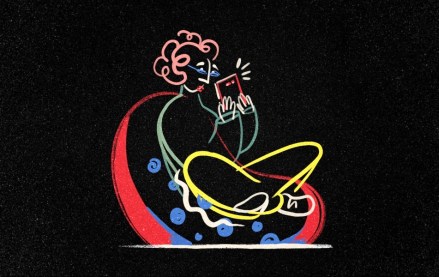 September 28, 2023 • 3 min read
•
•
The Financial Times has launched another lower-priced, subscription-based mobile app product a year after the debut of FT Edit to reach international readers.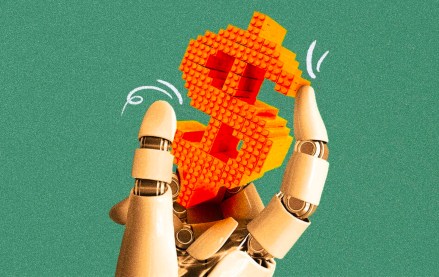 •
Publishers are starting to apply AI to their sales operations.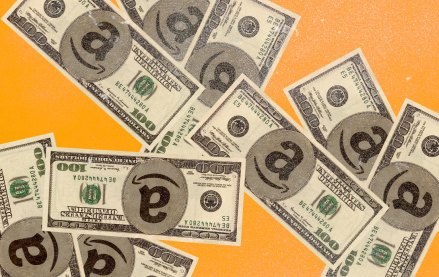 September 27, 2023 • 6 min read
•
•
The agency accused the e-commerce giant of conducting a range of anticompetitive behaviors that hurt both shoppers and sellers.