When Vanity Fair looks at powerbrokers, it finds them in New York, Washington, D.C., and, increasingly, Silicon Valley.
The publication on June 1 is rolling out the Hive, a vertical site dedicated to the intersection of business, politics and tech. The vertical draws on the publication's coverage of those areas, including its longstanding New Establishment List and Summit, a San Francisco event the Condé Nast publication has run for the past two years. Facebook CEO Mark Zuckerberg headlined last year's New Establishment Summit.
The Hive, led by editor Jon Kelly, digital director Mike Hogan and VF.com editor Matt Lynch, will publish more than 10 stories a day from high-profile writers including Nick Bilton, William Cohan and Sarah Ellison. BMW and Shinola are the launch sponsors.
The Hive is the first in an ambitious vertical strategy VF.com plans to roll out in the months ahead, with other verticals to come for its celebrity/style and Hollywood coverage. Traditional magazine websites typically resemble their print version, with the home page serving as the main entry point to its various sections. But Vanity Fair, which reached 8.5 million unique visitors in April (comScore), is recognizing that people are increasingly finding articles on the distributed web versus publishers' homepages and that a vertical with a strong identity has a better chance of grabbing people's attention in their social feeds.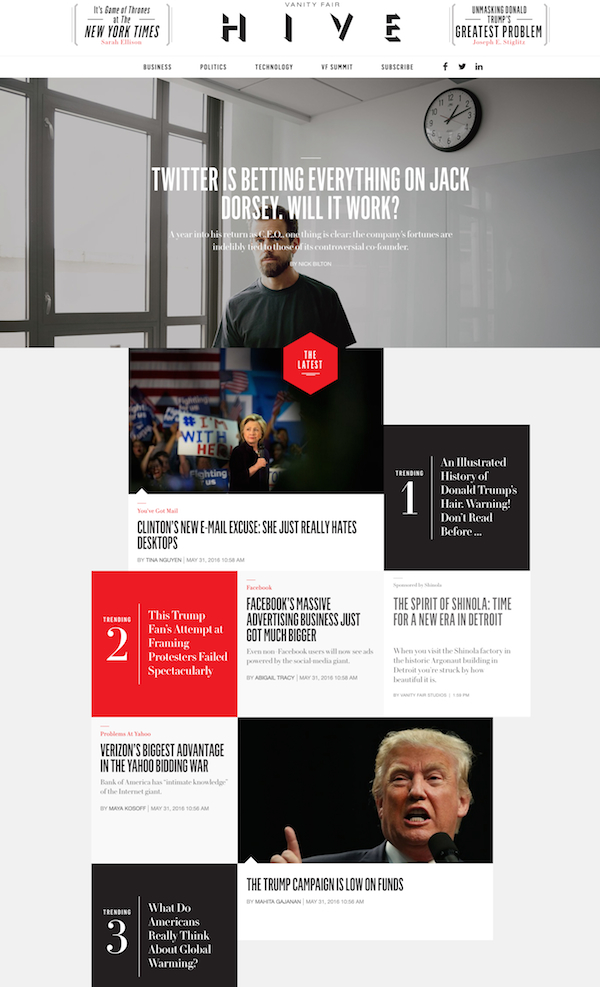 At the same time, Vanity Fair's editor in chief Graydon Carter had for a while wanted to launch an independent business news site with its own name. So they decided to make it part of Vanity Fair's vertical approach, and the Hive was born.
"What works brilliantly in the magazine is that sense of discovery, but that doesn't really work on the web," said Chris Mitchell, publisher and chief revenue officer of Vanity Fair. With the Hive, he said, "We get the halo of Vanity Fair, the built-in audience and SEO of Vanity Fair, but we also get to have it live in its own space, which is good for advertisers but also will be interesting to readers as well."
The branding question is one all digital publishers face today as they try to scale an audience. Some publishers are opting to spin off new brands, as New York magazine has with The Cut and Vulture and BuzzFeed has done with Tasty and Nifty, rather than trade on their existing names. As examples like that show, the power of Facebook means publishers don't even need a website to start a new brand, said Jeanne Bright, vp, group director of paid social at DigitasLBi. Publishers branching out this way still need to have some built-in audience, though, because consumers still need to opt in, said Benjamin Arnold, business director at agency We Are Social.
"That's not an easy task for any publisher seeking to diversify organically given the vast array of content out there and continued consumer cynicism about advertising — even that which is 'recommended by friends,'" he said.
The Hive will live on VF.com and trade on the Vanity Fair name, but will have its own social handles (@VFHIVE on Twitter and Instagram, for example), plus a daily newsletter, videos, live events and a podcast, all with the potential to be ad-sponsored, of course. In a first for Vanity Fair, in addition to Facebook and Twitter, the Hive will publish to LinkedIn, where, Hogan said, "there's a huge audience that cares about this content."
Vanity Fair covers a range of subject matter, and the people who come for technology news aren't necessarily staying for the Hollywood fodder. So on social media, the vertical strategy will let Vanity Fair tailor its content to the social platform that best suits it, like Instagram for celebrity articles. Still, Vanity Fair didn't want to give up the established links and name recognition it already has through the parent brand, so it decided to keep Vanity Fair's url in the Hive.
There were advertiser considerations, too. Vanity Fair wants to use the Hive to appeal to conservative business advertisers, and a vertical approach gives them the comfort of associating with an established brand but in a place that has its own look and feel. "For an advertiser like AIG, it's probably a turnoff for them to be on a site that's loaded with style or celebrity content," Mitchell said.
https://digiday.com/?p=180450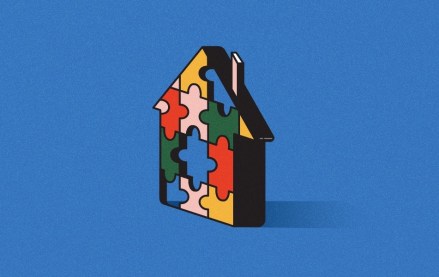 September 22, 2023 • 4 min read
Apartment Therapy's president Riva Syrop took the stage at the Digiday Publishing Summit to discuss the convergence of commerce and sponsorship revenue within its Small/Cool event.
September 22, 2023 • 4 min read
Media execs took stage at the Digiday Publishing Summit to discuss the growing importance of ROI in ad campaigns this year.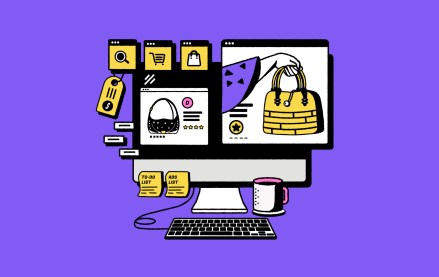 September 22, 2023 • 4 min read
CEO Satya Nadella said AI assistants will be as ubiquitous as PCs and will help users navigate across apps, operating systems and devices.