How Thrillist, Afar and others are using partnerships to create branded vacation businesses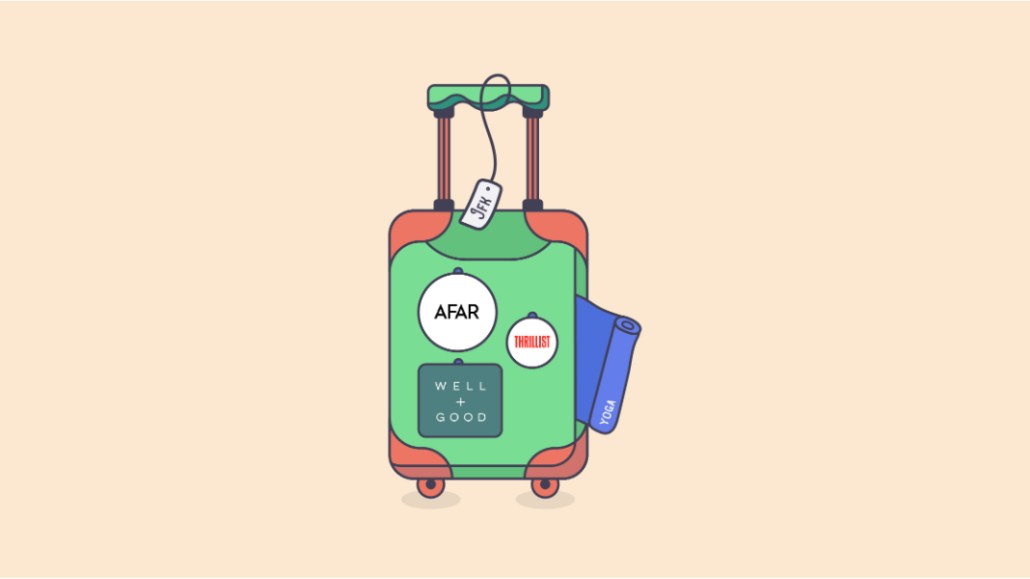 This year, those with a couple extra thousand dollars to spend could join Thrillist on an eight-day trip to Marrakech, Morocco, or set sail with Afar on a cruise from Barcelona to Rome. Or they might go on a relaxing four-day Well+Good fitness retreat to a high-end spa in Tuscon, Arizona.
Branded vacations aren't new for publishers — for years, many have used them to make more money off events. Now, more are trying to level up, offering more customized (and expensive) options to get more money off this type of effort.
Thrillist has been eyeing the chance to provide branded trips for years now, according to Thrillist president Ocean MacAdams, and experimented with a weekend getaway business a couple years ago. Now in 2020, the publisher is testing five- and eight-day international vacations.
The publisher's inaugural trips to Marrakech and Oaxaca, Mexico, will cost from about $3,000 to $3,500. While these two trips will be monetized only through ticket sales and lack brand partnership revenue, "we wouldn't be doing it if we didn't see some upside revenue potential," MacAdams said. He said he considered Thrillist's first two trips to be experiments; he will see if they end up being worth the time and the effort that executive travel editor Keller Powell and her editorial team put into programming them.
Thrillist is launching its Thrillist Trips program in partnership with Academic Travel Abroad, which will help with the logistics of planning five- and eight-day vacations. Powell's team selects the locations for the trips and approves the tour guides and experiences recommended by Academic Travel Abroad.
For next year MacAdams has ambitions for Thrillist Trips to host eight to 10 vacations — but with brand partners serving as sponsors and bringing in more revenue.
Brand partnerships serve as the vehicles for both Well+Good and Afar to reap the majority of their revenue from their travel businesses while consumer revenue provides a smaller share.
When Afar first started its Afar Experiences business eight years ago, the first trip to Egypt took a lot of energy and planning, chief revenue officer Ellen Asmodeo-Giglio recalled. The company has since hired a new head of experiences, who now leads all programming for Afar Experiences as well as Afar Sailings (the publisher's cruise vacation business that launched last year).
Well+Good CEO Alexia Brue said in 2018 her company assumed responsibility for most of the planning process for its first year of offering Well+Good Retreats. "It was like doing a wedding. We had to think through every single aspect and it was challenging from a resources and logistics standpoint," she said.
Last year her team kicked off a partnership with Miraval Resorts, which provides an anchor destination and leads some of the retreat excursions and activities, Brue said.
This year Well+Good will offer five retreats at Miraval Resorts facilities; that's one more than last year, Brue said. In addition, the publisher plans in 2020 to host other yet-to-be-announced retreats that will be custom created in coordination with specific client. "We've seen the demand from brands grow since launch," said Brue, adding that from 2018 to 2019, Well+Good had a 50% increase in the number of corporate clients paying to have a brand presence at the retreats.
Afar's Experiences business model, according to Asmodeo-Giglio, is to have one to three sponsors on board for the two- to four- day trips whose ticket prices average about $1,000 per day. Without a sponsor, Afar wouldn't do the trip, she said. These partners are often tied to destinations, such as the Dubai tourism board, or are hotel or airline companies.
For now, two is the maximum number of Experience trips Afar can pull off in a year, with at least six months needed for planning, Asmodeo-Giglio said. For Afar Sailings, as many as 30 guests are booked; AfarExperiences accommodate 40 to 60 guests.
"We spend a lot against the big trips," Asmodeo-Giglio acknowledged. While the Experiences and Sailings trips make significant additions to the company's bottom line, they are not top revenue drivers, she said.
Afar also has done smaller, turnkey travel events that require less hands-on planning and can be easily sold to sponsorship partners. One example is Afar's series of World in Focus photography trips in 2018 that were sponsored by Nikon. Those relied on outside operational partners (such as tour guides) who put together the 10-day programs. "The more we do turnkey experiences, the more it would help more with the bottom line," Asmodeo-Giglio said.
https://digiday.com/?p=359405