The Rundown: Podcast production companies and platforms pitch diverse audiences and ad targeting improvements at IAB's Podcast Upfront
May 13, 2022 • 8 min read
•
•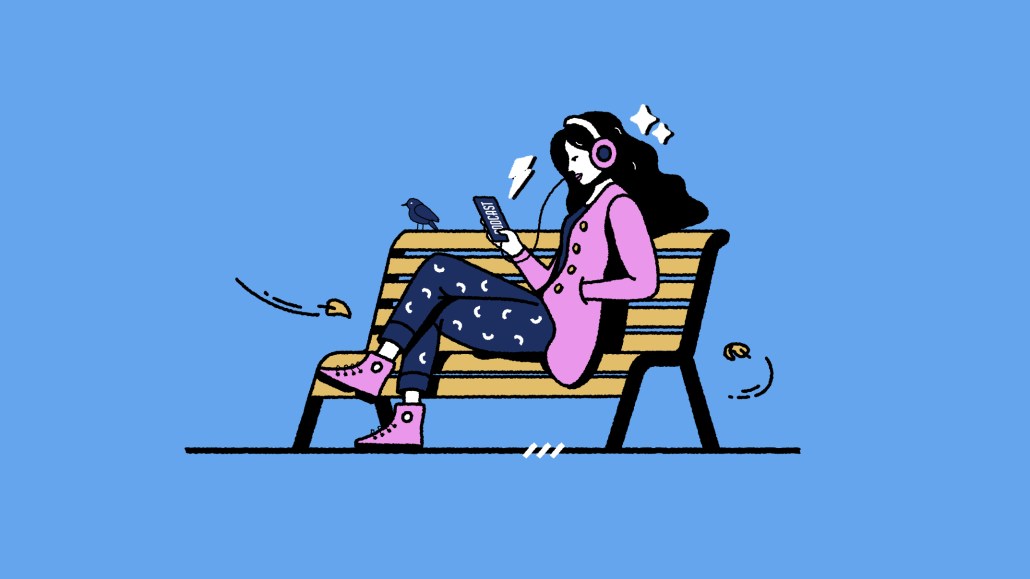 Ivy Liu
Improvements in podcast ad technology, as well as the diverse audiences and creators in the audio space, were the focuses of the Interactive Advertising Bureau's three-day Podcast Upfront this week, which wrapped on May 12.
The key details:
The IAB forecasted podcast ad revenue to surpass $2 billion in 2022.
The podcast industry is fully embracing dynamically-inserted ads.
On the other hand, some podcast companies touted the benefits of longer-form branded ad segments.
Machine learning can help advertisers target specific content and conversations in podcast episodes.
Upcoming programming being pitched to buyers ranged from true crime to comedy.
Industry execs touted the diversity of content, creators and audiences in podcasting — and the need for advertisers to back them up financially.
Podcast ad spend continues to grow
On Monday, the IAB released its annual U.S. Podcast Advertising Revenue study, which found:
Revenues increased 72% year over year to $1.4 billion in 2021.
The IAB forecasted podcast ad spending to exceed $2 billion in 2022 and almost triple by 2024 to over $4 billion.
Pre-roll advertising increased its share of podcast ad revenue to 32% in 2021, from 22% in 2020.
The share of podcast ad revenue served via dynamic ad insertion (DAI) — i.e. ads inserted at the time a podcast is downloaded or streamed, versus "burned-in" or "baked-in" ads, which are embedded in the podcast file and part of the episode's content — has almost doubled in two years to 84%.
Both host-read and announcer-read ads are largely being served via DAI (84% and 85%, respectively).
Announcer-read ads grew its share of ad revenue to 40% from 35% in 2020.
The industry fully embraces DAI
With the industry quickly shifting to DAI, more advertisers are moving into the podcast medium because they can use the same data they have to target their desired audiences on social and connected TV, for example, and apply that to their audio strategy, said Andre Swanston, svp of the media and entertainment vertical at credit reporting agency TransUnion, during a panel conversation on Wednesday's event (as opposed to an embedded ad, where every listener hears the same ad regardless of who or where they are). TransUnion, it should be noted, is a provider of that data. Acast, which claims it invested dynamic ad insertion back in 2014, touted its DAI tech and programmatic ad arm during its presentation.
DAI has also helped to open up podcast advertising to more categories, said Eric John, vp of the IAB Media Center, on Tuesday. In the same panel with Swanston, Ken Lagana, evp of digital sales at audio company Audacy, said the flexibility of being able to "put [dynamically-inserted ads] up and take them down in periods that are important" has opened up the podcast medium to advertisers in categories like automotive and for those promoting TV shows or selling tickets (the arts, entertainment & media category in IAB's report grew from 9% to 11% year over year — auto grew from 2% to 4%).
Longer-form branded ad segments
But, not everyone is behind the rapid adoption of dynamically inserted ads. During Wednesday's panel, Gary Coichy, founder and CEO at multicultural podcast network Pod Digital Media, argued embedded ads allow hosts to share their personal connection to the advertiser's brand, which has led to high brand lift in studies conducted by his company in the past year.
"I personally am really not a fan of the dynamically inserted ads being dropped into podcasts. I'm not there yet, but maybe I'll get there at some point," Coichy said.
"We're starting to really steer away from pre-recorded assets in the 15-second pre-rolls and the six-second mid-roll," Coichy said. "What we started creating is two to three minute segments within each show, and really creating these custom moments within each episode."
Slate also seemed to double down on more longer-form, custom ad segments, rather than the shorter pre-roll or mid-roll formats. Lily Butler, director of creative strategy at Slate, told advertisers at IAB's Podcast Upfront about the publisher's "branded mini features," which are 60- to 90-second segments she described as "fully custom, highly produced micro-documentaries that run in the middle spots" of Slate's podcasts. A podcast host can also set up a "pre-roll tease spot," which can signal to listeners that the mini-feature from the brand is coming up later in the episode. These longer-form custom segments have "outperformed" typical host-read ads, Butler said, though she did not provide specific stats to prove this during Slate's presentation.
"Spots and dots are done," Coichy said during Pod Digital Media's presentation on Thursday.
Focus on diversity, and international/multi-language podcasts
Much of the latter two days of the Podcast Upfront highlighted the diversity of creators, production companies and programming in the audio space.
Coichy said brands increasingly looking to "allocate [their] dollars toward the minority-owned, minority-operated company" has led to 40% revenue growth at Pod Digital Media year over year.
SXM pointed to recent partnerships with Latino podcast network Pitaya and Spanish-language podcast network Revolver. Wondery said its popular podcast "Dr. Death" has been translated into 11 languages, and its first original podcast series for the U.K., "British Scandal."
On the last day of the event, Uforia, the Spanish-language audio network owned by TelevisaUnivision; Black podcast networks Pod Digital Media and Mocha Podcasts Network; and Asian-American podcast "They Call Us Bruce" presented their existing and upcoming podcast slates for Black, Asian American and Spanish-speaking and Latinx listeners.
A panel discussion on how brands can embrace multicultural podcast creators urged advertisers to form longer-term relationships with diverse communities, rather than around tentpole moments like Black History Month, Women's History Month or Pride, for example.
"Budgets are coming in a bit more… But we are still seeing various situations where folks want to align with a certain endemic month," said Shantae Howell, creative director, Americas at Acast.
"It sets off the signals of: how are you supporting these communities throughout the year? Is this for you a moment in time? Because these are people's lived experiences. So when we are packaging up different programs we are thinking about making sure that… we can create a long-standing partnership that really sticks with podcasters and grows over time as you're growing that affinity with the audience," she said.
Machine learning in audio
Another area of podcast ad tech development spotlighted during IAB's event was machine learning. Conal Byrne, CEO of iHeartMedia Digital Audio Group, pointed to a deal announced in February with audio intelligence company Sounder. By integrating Sounder's AI and machine learning tools into iHeart's sales platform, advertisers can check content against IAB's brand safety standards as well as more effectively place ads in new and diverse podcasts in iHeart's network, according to the company. Machine learning can process speech to text and keyword tag podcast episodes "to ensure they are brand safe" for marketers' campaigns, Byrne said.
Digital audio ad tech company AdsWizz talked about its AI transcription targeting tool launched in 2020, which can target ads based on transcripts of the podcasts as well. So far, it's analyzed nearly 5 million podcast show transcriptions, according to the company's presentation.
As for machine learning at podcast analytics and ad platform Backtracks, CTO and co-founder Kevin Wright said the company's tech has indexed all English-language podcasts – over 35 million episodes – to produce transcriptions on what the audio is about and tags them by topics and keywords to provide advertisers with analytics, which can be used for search engine optimization, discovery (for finding podcasts on specific topics) and brand safety, Wright said.
Podcast hosting and monetization platform Acast's presentation touted the launch of its conversational targeting tool, which allows advertisers to target podcast conversations at the episode level. For example, if you're a food home delivery service and want to target podcast listeners, you can target individual episodes of podcasts where a host discusses what they're having for dinner, or their love of cooking – but not necessarily in podcasts that might traditionally fall under the "food" category, according to the presentation. A food home delivery service might appear on a sports, beauty or interview podcast show around a relevant conversation happening in that episode.
Upcoming programming
NPR pitched its new, short-form weekly comedy show "Everyone & Their Mom," which debuted in February and is hosted by Emma Choi.
WBUR brought up three new podcasts: "Great Job Everyone," a game-inspired, climate-focused podcast where listeners can influence the outcomes; "Captured," about a plot to take over the EPA; and "Beyond All Repair" about a cold case.
iHeart focused on its deals with the NFL and NBA to create audio content, as well as a deal with Paramount to co-produce a dozen shows together, including "The Daily Show with Trevor Noah: Ears Edition" and the upcoming "RuPaul's Drag Race" podcast. iHeart's presentation also brought up an upcoming slate of shows coming this summer from LGBTQ+ podcast creators and eight new shows coming from young podcasters in underrepresented groups, part of its Next Up program.
Sony spotlighted new seasons from existing franchises, such as "Fringe Network: Alien State" and "Chameleon: Season 4," and upcoming shows like "Defining Diego" and "Hill Crazy."
Vox Media wants to release more episodes of "Criminal" each month this year, as well as more episodes of "This Is Love." "We also have plans for two serialized stories that we hope to be able to announce soon," said Phoebe Judge, host of "Criminal" and "This Is Love," and co-founder of podcast production studio Criminal Productions, which Vox Media acquired last year. Vox also announced NPR alum Sam Sanders will soon release a culture podcast at Vulture.
Locked On, Tenga's sports podcast network, announced a new lineup of daily, home team sports podcasts, called "Hometown Sports."
And Wondery spotlighted a few new shows coming later this year, including "Fed Up," hosted by Casey Wilson; "Daphne," a new true crime series about a small island community; and "Stolen Hearts," a true story about how a female police sergeant fell in love with a British bank robber.
https://digiday.com/?p=448089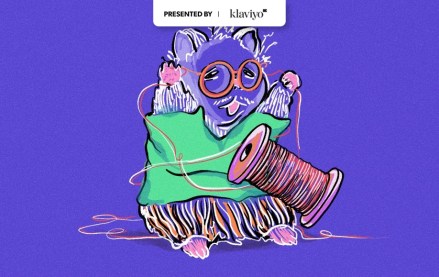 December 5, 2023 • 6 min read
News publishers are cautious to pour more resources into Threads, as limited available data makes it difficult to determine whether investing more into the platform is worth it.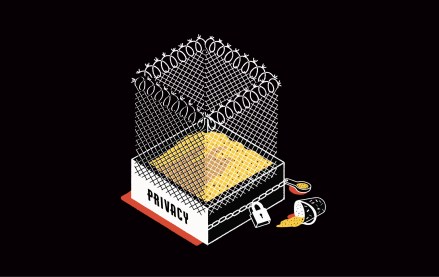 December 4, 2023 • 4 min read
FLEDGE stands for 'First Locally-Executed Decision over Groups Experiment' and makes ad auction decisions in the browser, rather than at ad server level.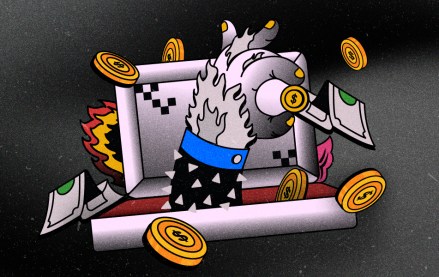 December 4, 2023 • 7 min read
A look at the genesis of ad tech, from the first online display ad in 1994 to the dotcom crash.