Subscriber-only podcasts are on the rise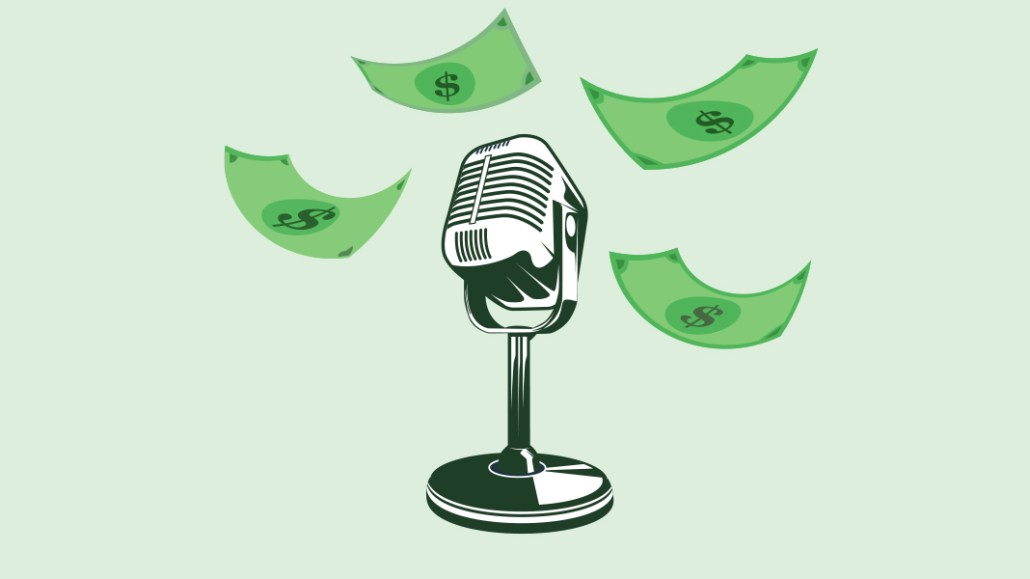 Ivy Liu
Podcasts are ever so slowly pivoting to subscriptions.
The broad move to consumer revenue in the publishing industry is spreading to podcasts, as publishers like Slate and The Athletic look to use the loyal audiences podcasts attract to drive paying subscribers and monetize this platform in new, non-cyclical ways beyond advertising. In other cases, podcast platforms like Stitcher are putting podcasts behind the paywall.
Audio is a big driver for Slate's membership product, Slate Plus, which has over 50,000 subscribers: Over 70% of members joined because of the publisher's podcasts; a leading reason for that is the ad-free listening experience it offers.
Slate gates some of its content for paid members, though David Stern, vp of product and business development, said his team has pulled away from doing completely paywalled series. Its top-performing podcast, "Slow Burn," mixes eight free, ad-supported episodes with eight bonus episodes, which are promoted in the free version.
But the company remembered the challenges it faced in building a paywalled podcast, so it decided to build a tech product, Supporting Cast, which enables publishers to put podcasts behind a paywall. Eighteen months after they had the idea, Supporting Cast's list of podcasts is now in the dozens. Stern expects that Supporting Cast will be a profitable line of business for the company, which is why he hired a sales rep and a development team to successfully build out the product. He also anticipates the product's revenue growing linearly, like Slate Plus' did. In its first year, Slate Plus brought in only about 10% of the revenue it did this year.
"Our revenue is going to grow in tandem with our clients'," he said.
The Athletic has instead taken a hybrid approach. It originally launched its first 20 podcasts as subscriber-only, but it now has 120 total podcasts, with most running at least some episodes for free. The Athletic co-founder Adam Hansmann said on a recent episode of the Digiday Podcast that podcast ads fetch $25 CPMs, making a freemium model more attractive than typical display ads.
Just two months after introducing advertising, this stream has grown enough in that time to compete with subscription revenue, with sales responsibilities falling on a very small team, according to Nick Adler, gm of audio at The Athletic.
The Athletic is also tracking how many people sign up for its membership product via unique URLs read on the shows and on paywalled podcasts' websites, though Adler wouldn't share how many conversions the company is making based on podcast listens alone.
Figuring out what should be ad-supported and what can support a subscription is a process, Stitcher CEO Erik Diehn said. Further, the formats that typically see subscriptions as a better strategy for monetization are scripted fiction, which may not drive as much advertiser appeal — or niche podcasts that have 10,000 to 50,000 listeners — since there are fewer options for those topics.
Vox Media, which doesn't have subscriber bonuses or paywalled content for any of its 200 shows, does offer an ad-free listening experience for its Today Explained and Reset podcasts through a partnership with Stitcher Premium, according to a person familiar with Vox's Podcast Network.
However, Diehn said that the majority of traditional publishers looking at different podcast monetization strategies are still pretty low, and while he has seen interest grow over the past year, many are still figuring out their overall podcast strategies and haven't advanced to consumer-revenue models yet. Those who have subscription models or are comfortable working in mixed revenue streams, though, tend to be more open to the idea of turning to a platform like Stitcher to provide those paid services. 
Some publications have also turned to platforms to see if a completely subscription-focused strategy will work. Podcast streaming platform Luminary has taken a complete opposite approach to monetizing podcasts, operating on a Netflix-like model offering exclusive podcasts for a flat rate of $7.99 per month. Publishers ranging from The Ringer to Pineapple Street Media to New York magazine have provided shows for Luminary since launch, and podcast publishers have been waiting to see if the venture-backed app is able to deliver on this consumer revenue stream to the same degree that ad-free streaming has for television.
The pressure to find new monetization avenues for podcasting is not as strong as it is for typical digital content. For now, the podcast ad market is buoyant. IAB's 2019 Podcast Revenue Report from June found that $479 million was spent on podcast ads in the U.S. in 2018, which was a 53% increase from $314 million in 2017. And the report estimates that this number will increase to $1 billion in 2021.
While Stern and Diehn said they see advertising being the dominant revenue-driver for podcasts by a significant degree at each of their companies, Adler said that The Athletic sees a healthy mix between the two businesses that doesn't have one dominating more than the other.
"There are only so many models under the sun. We have tried out so many variations of subscriptions," said Diehn. And while advertising remains the dominant revenue source for podcasts at the moment, he said there is more consumer revenue to be made in live shows and merchandise. But the largest other bucket of revenue he sees is in podcast adaptations into TV and film. 
This story has been updated to reflect the correct total of Slate Plus' membership.
https://digiday.com/?p=350372