Digiday Research: Publishers say Google's ad blocker will improve user experience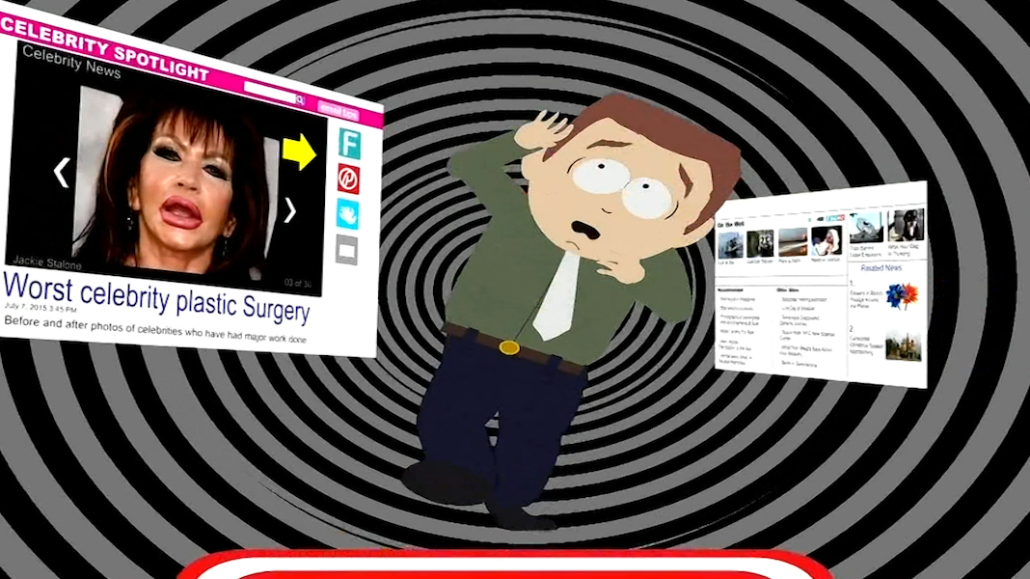 At the Digiday Publishing Summit in March in Vail, Colorado, we sat down with 49 publishing executives to get their thoughts on Google's ad blocker or "filter." Check out our earlier research on publishers' reaction to Facebook's January algorithm change here. Learn more about our upcoming events here.
Quick takeaways:
Slightly over half of respondents (53 percent) to Digiday's survey from the event believe Google's ad blocker will have a positive impact on user experience.
Fifty-eight percent of Digiday+ members think there's a user experience crisis in digital media.
Sixty-four percent of Digiday+ members believe Google's ad blocker is a conflict of interest.
Only 13 percent of publisher attendees block content to people who use ad blockers.
Many publishers have provided users with an increasingly bad experience on their sites, overwhelming them with intrusive ads and, arguably, driving them to adopt ad blocking software in droves. eMarketer estimates ad blocking among U.S. internet users will grow to 30.1 percent in 2018.
A user experience crisis
Digital media faces a user experience conundrum that publishers are just beginning to confront. With publishers desperate for digital ad revenue, many have opted to flood their pages with ads to bring in higher revenues. In an online survey of Digiday+ members, 58 percent believe there is a user experience crisis in digital media.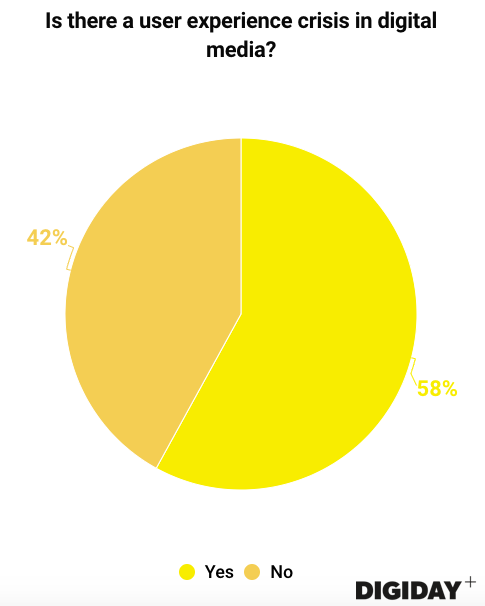 Google's move
After wrangling with ad blockers for years, Google launched its own ad blocker on its Chrome browser in February. Google claims the ad blocker will reduce users' exposure to intrusive and otherwise objectionable ads that harm user experience. Although Google's ad blocker could hurt publishers, 53 percent of the publishers surveyed by Digiday at the event believe Google's ad blocker will improve user experience on the Web overall.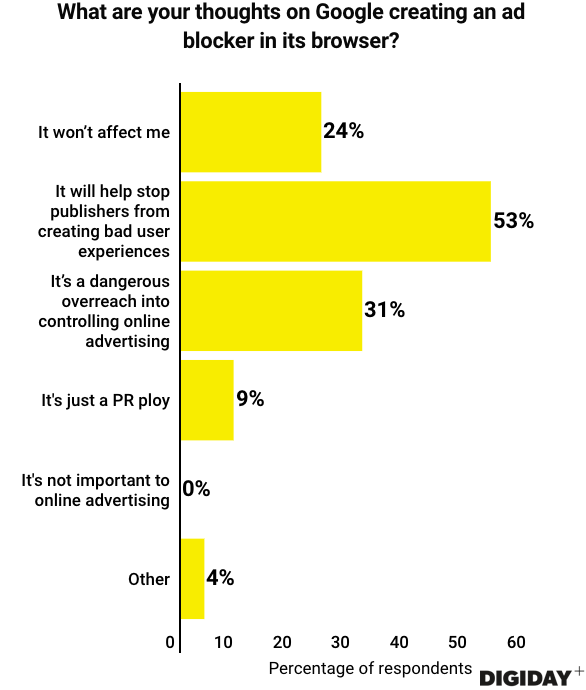 That's likely because the majority of premium publishers don't have ads on their sites blocked by Google, with only 0.7 percent of top sites, including publishers like Forbes, the Chicago Sun-Times and the Los Angeles Times, as of August failing to meet the Coalition for Better Ads' Better Ad Standards that Google uses to determine what ads to block. The vast majority of noncompliant publishers are smaller players.
Publishers could support Google's ad blocker because they benefit from improving their peers' user experience standards. Poor user experience may lead to the use of ad blockers. A survey conducted by PageFair found 43 percent of users who downloaded an ad blocker said they did so because of intrusive ads or because they received too many ads. In theory, with fewer publishers creating negative user experiences, there's a lower chance that someone will download an ad blocker.
Publishers question Google's motives
While the majority of publishers might have welcomed Google's ad blocker, 31 percent of respondents to Digiday's survey at the event said it is a dangerous overreach into determining the winners and losers in online advertising. To some, Google's ad blocker is hypocritical because it enables the world's largest generator of ad revenue to decide which types of advertisements are valuable and which are intrusive. A separate online survey of Digiday+ members found that 64 percent believe Google's ad blocker is a conflict of interest.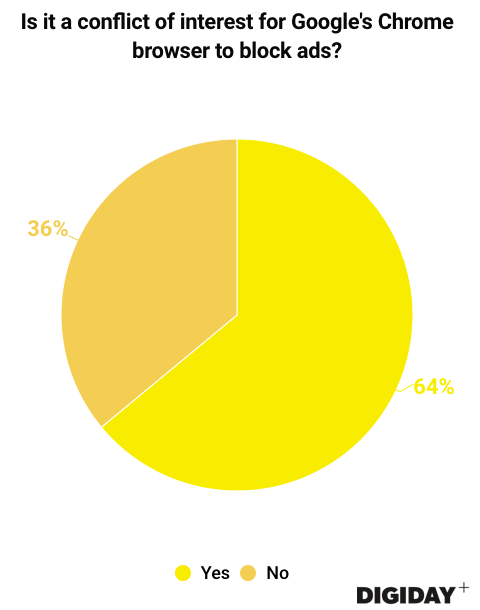 How publishers combat ad blockers
Part of the power of Google's ad filter is that publishers can't force a user to whitelist their sites and accept their ads if the user is running Google's ad filter. That's not stopping some publishers, with 13 percent of the publishers surveyed by Digiday at the event saying they attempt to restrict content to users employing ad blockers.
Publishers like The Atlantic and Slate have forced users to whitelist their sites or purchase subscriptions. Slate, in particular, said it was losing $1.5 million to $2 million dollars due to ad blockers. Whitelisting isn't guaranteed to work, however. The Atlantic expected to turn away 60 percent of the visitors to its site, while tech publisher IDG similarly lost 62 percent of its visitors. Given that publishers are pivoting to subscription models, the popularity of forced whitelisting remains to be seen.