Amazon pitches publishers a new header bidding wrapper
November 22, 2017 • 3 min read
Amazon is testing a header bidding solution called Unified Ad Marketplace with select publishers, according to three sources close to the product.
UAM, which is in a limited test, is a header bidding container that lets other exchanges or supply-side platforms bid on the same display ad inventory concurrently. Amazon UAM doesn't work with Prebid.js — an open-source header bidding solution that the likes of AppNexus and Rubicon Project have adopted — so publishers will need to set up a separate line item for UAM if they use it along with Prebid.js solutions, said two publishing executives interviewed for the story.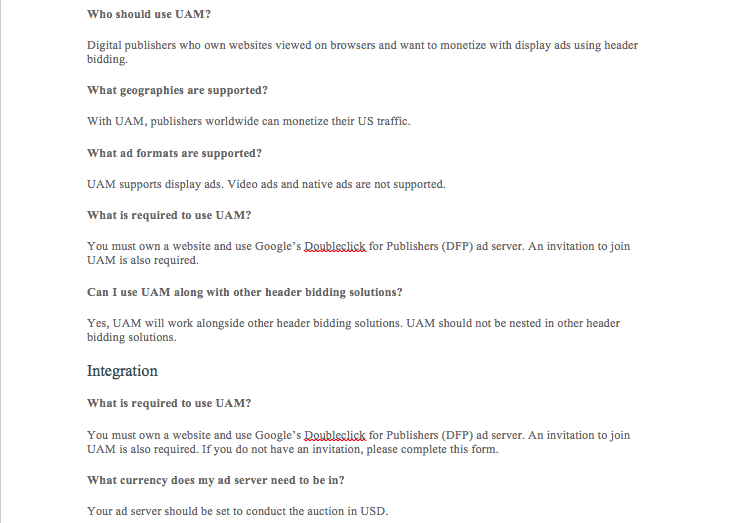 One midsize publisher said his team started testing UAM this month. Although his team hasn't yet received much information on UAM's performance due to its novelty, he sees many upsides. For instance, a big value-add is Amazon's "unique ad demand" — Amazon has users' email, credit card and shopping data that other SSPs don't have, so it can tie every data point together and serve very targeted ads, said this person. Meanwhile, UAM reacts to a bid request fast as it's cloud-based, and Amazon pays publishers every 60 days based on CPMs, while most SSPs pay publishers every 90 days, said this publishing executive.
"As a publisher, I don't have much bargaining power with SSPs on payment terms, so it's great that Amazon helps us reconcile billings with SSPs and pays us quicker," said this person. "Amazon also has safe demand — UAM doesn't provide in-banner video and mobile redirects that we found in lots of open exchanges."
By creating another ad tech product, UAM helps Amazon become a more serious threat to Google's programmatic dominance. Amazon already has the industry's most popular server-to-server wrapper in the industry, according to ServerBid. And its DSP business has grown considerably over the past year. UAM will help Amazon penetrate the market for smaller and midsize publishers' ad tech, which is a market that Google has had a stranglehold on.
UAM runs first-price auctions, and Amazon offers publishers auction-level data, meaning that publishers are able to confirm that they are getting the highest available rate for their inventory, according to a source familiar with UAM's development. But that doesn't seem to be enough for publishers.
The executive from the above midsize publisher believes a big downside of UAM is that Amazon's reporting is very basic. "You can't take bidding data outside of Amazon," said the executive. "Publishers usually take reporting from SSPs and use data tools to visualize that information, but UAM doesn't offer reporting API [application programming interface]."
Another executive from a major publisher, who also doesn't want to talk about UAM on the record, agreed that the data Amazon provides is the "bare minimum." This person added that Amazon will soon make UAM self-serve.
Amazon UAM is free of charge for publishers, but Amazon takes a cut of ad impressions sold. Digiday obtained Amazon's UAM instructions for publishers, which say that "UAM charges a 10 percent transaction fee by deducting 10 percent from SSP bid prices prior to conducting a first-price auction."
Of course, UAM is not Amazon's first foray into header bidding. Amazon introduced a header bidding wrapper called Transparent Ad Marketplace last December. UAM and TAM function in similar ways and are both part of Amazon Publisher Services, but the former seems to be developed for publishers — mainly small to medium-sized ones — that don't necessarily have partnerships with major exchanges, while the latter serves big publishers that want to manage exchanges they are already working with through Amazon, according to publishing executives.
"We are not big enough for [Amazon] to open up TAM for us, but I know that some publishers smaller than us use TAM," said the first publishing executive. "So [TAM] is probably like many coveted ad tech integrations, and it is about who you know, not always your volume."
https://digiday.com/?p=264758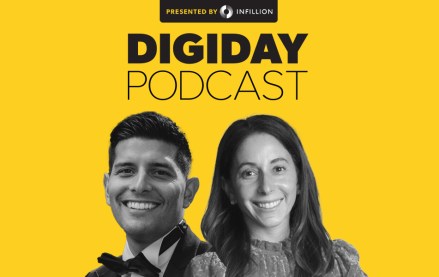 September 26, 2023 • 3 min read
In a live recording during the Digiday Publishing Summit, the news executives called for more nuanced conversations with advertisers around their brand safety concerns.
September 26, 2023 • 4 min read
After investing in one generative AI startup and suing another, the company will let customers create images on its website and an API.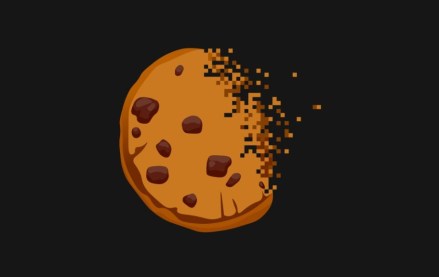 September 25, 2023 • 1 min read
During the Digiday Publishing Summit, execs from companies including Condé Nast, Dotdash Meredith and Thomson Reuters assessed the industry's readiness.