2022 spells more podcast partnerships for publishers as the audio field gets noisy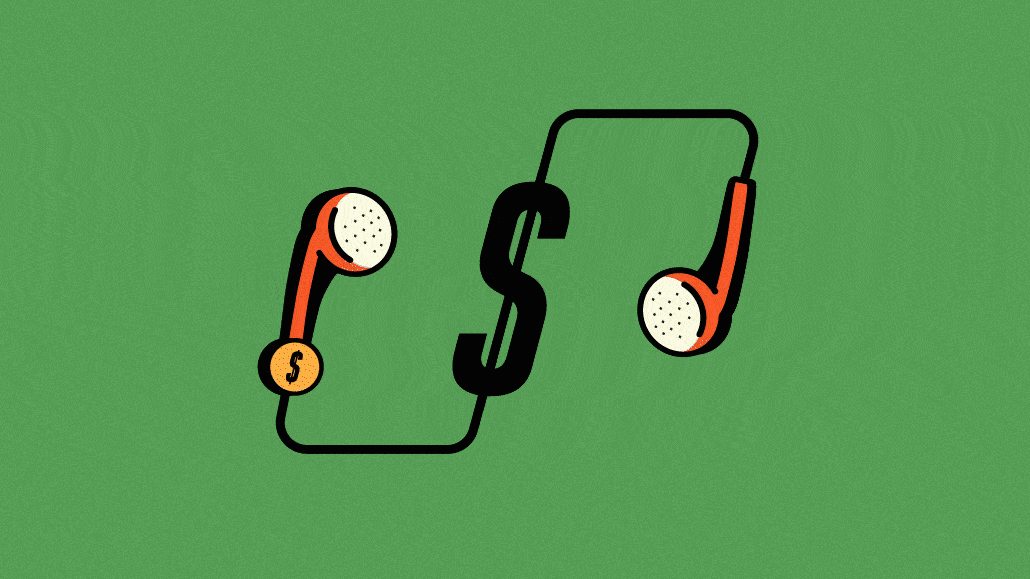 Ivy Liu
In an effort to up their audio games in 2022, a growing number of publishers plan to produce podcasts in partnership with other production companies and media organizations in an effort to stand out in an increasingly crowded field.
"At a minimum," working with partners on podcasts is for cross promotion purposes, said Kathleen Osborn, vp of audio at Vice Media Group, who plans to work with more outside organizations and platforms to create podcasts this year. "The stronger… reason to do it is much more about being able to do more and do it better. I think it produces better work, and engenders a more collaborative approach to the audio offerings," she said.
Steven Goldstein, CEO and founder of digital audio agency Amplifi Media, believes the reason more podcast partnerships are cropping up this year is because listenership has plateaued since last summer and competition for audience rises. "I think a lot of podcasts hit the wall," he said.
Of the 2.4 million podcasts on Apple Podcasts tracked by Podcast Industry Insights, 22% have produced a podcast episode in the last 90 days, according to Goldstein's analysis of the data published in December. Over 1 million of the 2.4 million podcasts have not produced content in over a year. While some of that could be attributed to limited series, Goldstein said it could suggest the difficulty of "creating a hit."
According to Edison Research and Triton Digital's Infinite Dial 2021 report, weekly U.S. podcast listeners listen to 5.1 podcast shows, on average. The number of English-language podcast series in the market increased by 39% from January 2020 through October 2021, according to podcast analytics and ad platform Backtracks.
More shows this year means listeners are "overwhelmed with choices," Goldstein said.
The publishers eyeing podcast partnerships this year
Podcasts created in collaboration with other organizations are being developed and discussed at publishers like Vice Media Group, the Los Angeles Times, The Washington Post and ViacomCBS.
"We're doing it more next year [2022] … we just haven't announced them [yet]," Osborn said.
Renita Jablonski, director of audio at The Washington Post, said "a couple of the ideas we are looking at developing could be ripe for partnering on, so it's certainly something that's on the table."
And Steve Raizes, svp at ViacomCBS Podcasts, said the team is "actively developing" new content with "really great partners," but declined to share who those partners are. ViacomCBS Podcasts has existing deals with iHeart and its cable network brands MTV and Nickelodeon, he said.
"Working with other production companies… is something I'm looking into. That's where the industry is going to be honest," said Jazmín Aguilera, head of audio at the Los Angeles Times.
At Vox Media, the daily explainer podcast "Today, Explained" will reach a larger audience through a new radio distribution partnership with WNYC Studios, said Vox Media Studios president Marty Moe said in an email response.
The Post and ViacomCBS declined to share how advertising revenue would be divvied up from podcasts created in collaboration with other organizations — both companies said they would not divulge details on individual podcast business deals. Vice Media Group did not respond to questions about revenue share by publishing time.
An L.A. Times spokesperson told Digiday, "We have worked with collaborators and vendors in a variety of ways and expect that each scenario will continue to be somewhat unique. In order to fulfill our creative and commercial ambitions – and expand our podcast portfolio – we're looking to partner with organizations and people who can help us tell more stories, and share revenue equitably."
Vying for more eardrums
Marketing a new podcast on an existing show can help bring over some of those listeners — a lot easier than trying to reach someone who isn't a podcast listener yet, said Stephen Smyk, svp of podcast and influencer marketing at audio agency Veritone One.
"The single biggest way that people historically have been able to cost effectively get new listeners is by promoting their shows on podcasts, or being a co-host on another podcast," he said. Podcast production teams might be spending money on marketing and not seeing it pay off with new listeners, Smyk added, so they are relying on the trusted voice of a podcast host to recommend a new show.
Promoting a competitors' content "might not be dissimilar [to the way] awards ceremonies are generally reflecting on the work of their peers," said Backtracks CEO Jonathan Gill. "We see that in podcasting now. In the one sense they are competitors, but when they do something great there's nothing bad about promoting that in the world."
Discovery of content in podcasts is "a hard problem" but cross-promoting shows is "making it easier to discover content…in an organic way," he added.
Fueling collaboration in podcast production
Gill said some organizations that produce podcasts could be "good at creating content but not good at getting it out to the world," while others might be "good at distribution but need original IP." Working together on a show means tapping into each organizations' strengths and giving the podcast a leg up.
Having an "outside collaborator" working with ViacomCBS on its podcasts means bringing together groups of people who are good at different things, Raizes said.
Osborn at Vice Media Group believes this kind of collaboration means podcast teams are "pushing each other to do cooler, more interesting, more satisfying, more impactful work," which "can be really additive for audiences."