Marketing Briefing: 'No inspiring message': Humor, charity become main themes ahead of the Big Game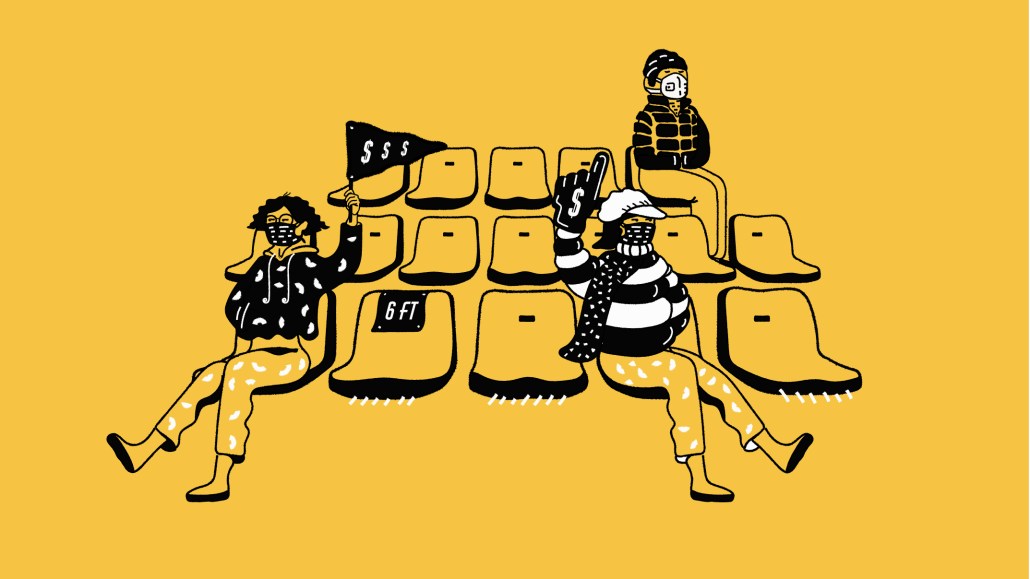 Ivy Liu
In December, it was unclear how marketers would approach the Super Bowl. Ahead of the Big Game this Sunday, marketers' plans for their ads are starting to come into focus as humor, celebrities and charity initiatives appear to be the most common themes.
Even as those advertisers attempt to use levity and donation initiatives to bring some normalcy to advertising's biggest day — without the audience gathering for Super Bowl parties or chatting about the ads in-person at work the next day — it feels the response to in-game advertising will be more muted than usual regardless of what airs. It makes sense that some regular advertisers are sitting out this year's prominent advertising event.
"The cultural environment around the Super Bowl is one that is turbulent and unstable week by week," said Andy Nathan, founder and CEO of Fortnight Collective. "Going all in on expensive ad inventory and a message played for laughs or other emotions might fall flat in a very turbulent cultural context, especially given that you have to lock your message months if not weeks in advance."
Navigating the tone and potential tonal issues likely played a role in those advertisers who opted to sit out of the game this year. The potential damage of being "tone deaf" during the Super Bowl is likely not worth the massive audience this year for some marketers.
"Unlike the post-9/11 Super Bowl, there is no inspiring message of shared grief or hope that wouldn't possibly be a trigger point to an inflamed debate about tone deafness or lack of awareness," said Ryan Ku, head of strategy and brand innovation at Eleven. "Any attempt to step around the fire engulfing the American zeitgeist using entertainment, spectacle or absurdity would be, again, an easy flash point to an angry debate regarding tone deafness or lack of awareness."
That's not to say there won't be success stories out of the Super Bowl. There are certainly lots of first-time advertisers — like DoorDash, Fiverr, Chipotle, etc. — hoping that will be the case for them. But for some the risk is not worth the reward.
Issues with the cultural context aren't the only difficulty marketers have been and continue to face when it comes to the Super Bowl. Putting together an ad that merits the hefty $5.5 million price tag generally means a movie-like production. But in the age of Covid-19, doing so is not an option for most brands.
"2020 played havoc on brand planning," said Mike Groenewald, group creative director at Chemistry. "In summer, when most of the planning for Super Bowl was meant to kick off, we were barely shooting anything, nevermind big Super Bowl-style spots."
(FWIW, in 2018, I spent a day on Paramount's backlot shadowing the team behind M&M's Super Bowl spot as they attempted to tell a bizarre tale of candy cannibalism starring Danny DeVito. The year prior, I went to Louisiana for Budweiser's Super Bowl shoot. Both productions were massive and lengthy with cast, crew, agency execs and brand execs all on set. That likely won't be the cast this year with scaled down sets due to Covid-19.)
It's still unclear how noticeable the production difficulties and necessary staff and cast reductions will be in the finalized ads. Regardless, there's a sense among advertisers and agency execs that whatever comes on Sunday "this season will end firmly with an asterix affixed to the winner," noted Nathan. "So too will the USA Today Ad Meter. Just a weird year. But hey, it sure beats incessant Zoom calls and toiling over homemade bread."
3 Questions with Microsoft CMO Chris Capossela
What's top of mind for you as a CMO right now?
Inclusion, sustainability, and security. These are all areas of importance for Microsoft and, as a senior leader, I focus a lot of my time thinking about questions like: How can we be more inclusive in our work; from the products we develop to the ads we put out? How do we support our customers and partners in achieving their sustainability goals as we move forward to do things like become carbon negative? What steps do we need to take today to keep people safe online as digital security becomes an increasing area of concern for commercial and consumer customers?
These are the kind of questions that aren't just a priority for me, but for everyone at Microsoft. What all of this comes back to though is purpose and people. As marketers, we should be focused on understanding the people at the heart of everything — from storytelling to how we develop tech.
How so?
This year we've seen how privacy is a top priority for everyone, which is why we unveiled our vision for the future of chip-to-cloud security, the Microsoft Pluton security processor, a partnership with leading silicon partners AMD, Intel, and Qualcomm Technologies. Pioneered in Xbox and Azure Sphere, it'll bring even more security advancements to future Windows PCs.
We've also continued to expand our offerings when it comes to Surface with an eye on end-to-end security so businesses and educators can feel confident in our products. This is how we, as marketers, can build trust with our customers. It's about showing, not simply telling — ask the hard questions, go deep on your commitments, and then demonstrate how you're making a difference in communities and improving your products.
What has been your biggest challenge?
Our CEO Satya Nadella has described my role as "chief growth officer." That's something I take to heart. One thing I've been focused on in recent years is how to drive forward new category creation and how we can continue to rethink business models. When you look at something like gaming, it now goes far beyond consoles.
For Microsoft, bringing streaming from the cloud to Xbox Game Pass has been revolutionary and opens up a new frontier with billions of gamers worldwide. In thinking about growth, this pandemic has shown me that the old way of doing things isn't always going to be the best way and that it's critical for marketers to embrace a "reinvention" mindset.
Take for example events; all our Microsoft events used to be in-person and, for almost an entire year now, we've moved them all to 100% digital. It was a huge undertaking, but it's also been a huge opportunity for learning and experimenting.
In rethinking how events are hosted online and through our process of crafting new virtual experiences, we've seen events like Microsoft Build and Microsoft Ignite attract larger, more global audiences than ever before. To give you an idea of the impact of that transformation: Build went from being an in-person event with about 6,000 attendees, to a new 48-hour virtual global developer fest with nearly 200,000 attendees; all because we were able to cut barriers to entry, such as travel and ticket costs.
And being able to take all our learnings and apply them to events like the first-ever, all-digital CES this year felt like a full-circle moment for our teams. This is the kind of innovation that happens across the company, and marketing has an important role to play in defining and driving that work by leveraging our deep understanding of our customers. — Kimeko McCoy
By the numbers
This year's Super Bowl looks a bit different than it has in years past. In a global pandemic, some advertisers have had to pivot their ad production and strategy. However, new data from Oracle says Super Bowl excitement isn't slowing down with more than 77% of those surveyed planning to watch the whole game. More by the numbers here:
67% of those surveyed rank the ads one of their three favorite parts of the game, trailing behind only the game itself at 71%.
53% say the Super Bowl wouldn't be the same without the ads, and 16% wouldn't watch it without the ads.
25% are more excited for this year's ads compared to past years, while 21% are less excited. — Kimeko McCoy
What we've covered
Senior news editor Seb Joseph reported out a cheat sheet on the coming impact of Apple's IDFA crackdown
Platforms, privacy and data reporter Kate Kaye's got an explainer on Google's FLEDGE
Wondering how marketers are using Reddit? Commerce reporter Erika Wheless has you covered
https://digiday.com/?p=392180