Digiday Research: Retailers put data to work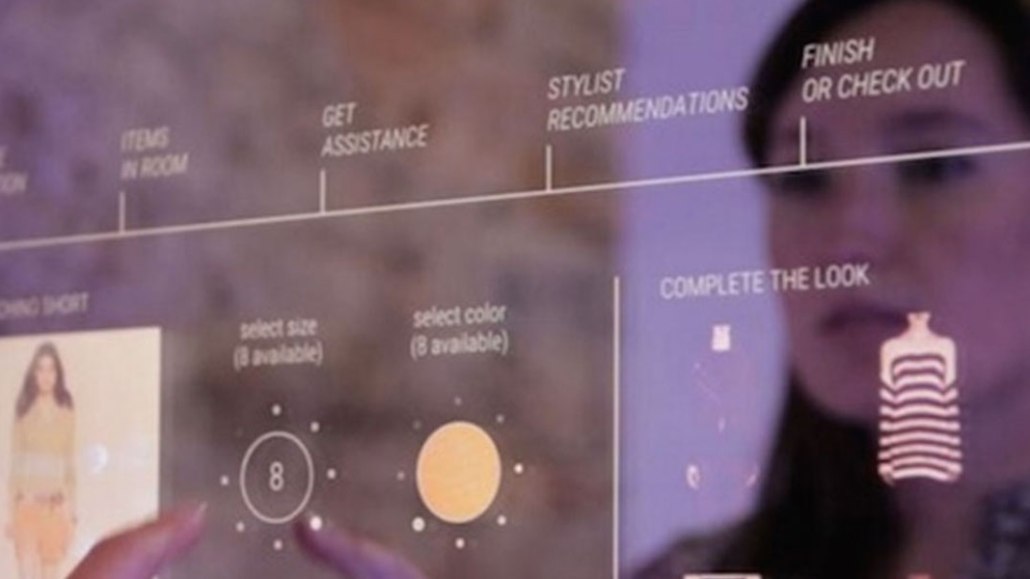 At the Digiday Retail Summit in February in Austin, Texas, we discussed with 53 retail leaders how their organizations are using online consumer data. Check out our earlier research on retail companies' subscription services here. Learn more about our upcoming events here.
Quick takeaways:
Seventy-nine percent of companies surveyed by Digiday said they use online data to improve marketing campaigns.
The least popular use of online data was creating targeted in-store advertisements.
Only 25 percent of surveyed companies plan to work with others to create multibrand stores.
Marketers use online data in many ways
Retailers today have access to massive amounts of online data on consumers such as online purchase history, web browsing habits from cookies and location data from mobile traffic. As competition between companies increases, online consumer data can play a critical role in developing a competitive advantage. Seventy-nine percent of companies in Digiday's survey said they use consumer data to enhance their marketing efforts, and 74 percent use it to improve brand visibility. Less than one-third of retailers said they use this data to create in-store advertisements.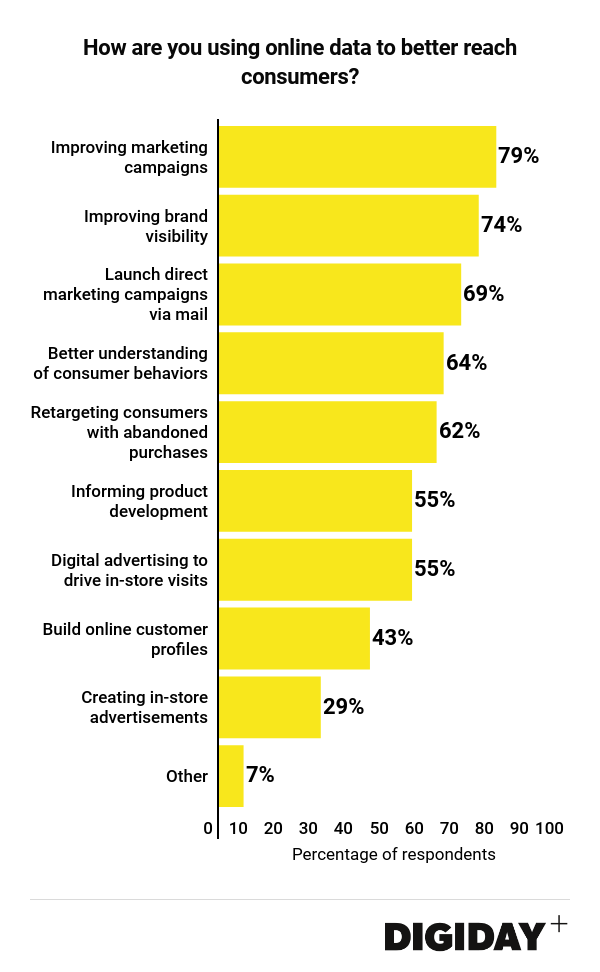 Retail marketers have good reason to want to apply their online data to marketing and branding efforts. Nine in 10 retail companies plan to increase their marketing spend in 2018. The amount spent by retailers on digital marketing, which is particularly reliant on online consumer data to be relevant, is expected to grow from 39 percent to 42 percent of retailers' marketing budgets in 2018.
While just over half of retailers surveyed by Digiday said they employ online data to help drive in-store visits, it was still one of the least popular ways retailers use their data, despite reports that brick-and-mortar stores are making a comeback and the fact that roughly 90 percent of retail purchases happen in stores.
Part of the challenge of using online data to improve in-store visits is that the teams responsible for collecting online shopping data and in-store shopping can be siloed from each other. Given that groups within companies can compete against each other internally, sharing online data between teams could be difficult.
In-store advertisements are also an unpopular way for retailers to use their online data. Theoretically, a company could target a shopper in a store with a coupon for the sweater that person looked at online last week. But major retailers can lack the technology or be unwilling to invest in it to make such an endeavor worthwhile.
Multibrand stores aren't widespread yet
Selling products in big-box department stores used to be the golden ticket for retail companies. However, the bureaucratic red tape involved in working with major department stores is making some retailers look for alternatives such as multibrand stores. Twenty-five percent of companies surveyed by Digiday said they plan to work with other companies and open a multibrand store.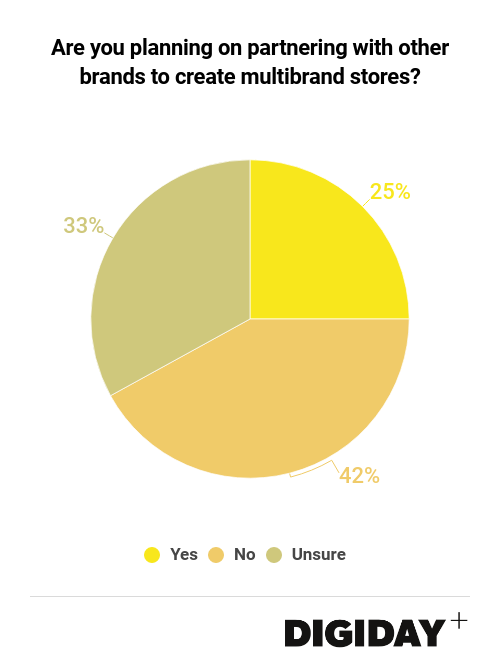 Multibrand stores appeal to small upstarts because they lack the resources to establish a store themselves. Developing a physical retail presence is becoming more important for companies, given that more retailers reported selling the majority of their products in owned brick-and-mortar stores, according to Digiday's previous research. While a third of respondents to Digiday's survey from the retail summit were unsure of their companies' plans regarding store partnerships, 42 percent said they had no plans. Retailers may be hesitant to open multibrand stores because they must sacrifice some control over the shopping experience to their retail partners.
https://digiday.com/?p=288141