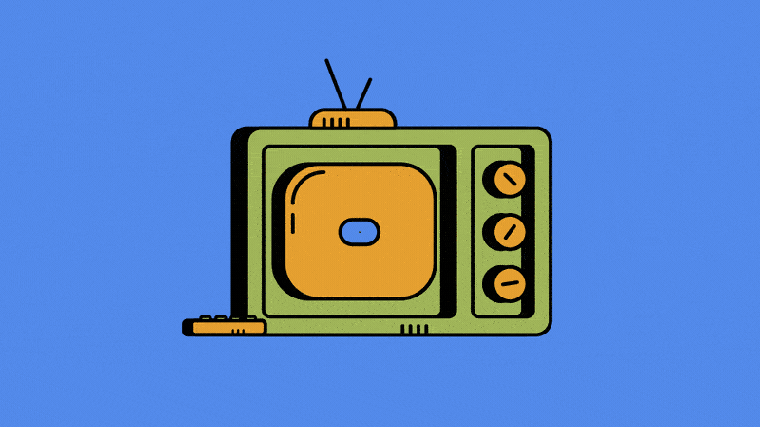 Ivy Liu
April 21, 2022 • 36 min read
With streaming services fast approaching linear TV as the preferred viewing platforms for many consumers, advertisers that traditionally spent the bulk of their budgets on network and cable TV are shifting more and more to streaming instead.
Linear TV has been declining in popularity since the mid-2010s and, according to Pew Research Center, ​​the share of Americans who said they watched TV via cable or satellite dropped from 76% in 2015 to 56% in 2021. Yet while traditional TV has suffered, streaming platforms have taken off. In just the last week of December 2021, audiences streamed 183 billion minutes, eclipsing the amount of time they spent streaming weekly at the height of pandemic-driven lockdowns in early 2020 (166 billion minutes). In total, Americans streamed almost 15 million years' worth of content in 2021, according to Nielsen.
Many of those Americans were choosing ad-supported streaming platforms. Advertising-based platforms' audiences grew 16% in 2021 versus 2020, twice the growth of subscription-based streaming platforms' 8% increase, according to MRI-Simmons' 2021 Cord Evolution Study. And more than 50% of U.S. internet users are expected to be ad-supported platform viewers by 2024.
Escalating viewership for ad-supported streaming services means not only will more eyes be on screens, but revenue is expected to increase as well. U.S. revenue for ad-supported streaming platforms will triple between 2020 and 2026 to $31 billion, according to a report by Research and Markets, with the U.S. growing its global total share from 37% in 2020 to 47% by 2026.
To gain an edge in the streaming wars and stand out to advertisers, ad-supported platforms are offering brands options to curry favor among consumers, increase purchase intent and reach large audiences and niche segments. In this report, Digiday presents an industry-level look at special ad offerings and a user-centric analysis of ad experiences provided by the top ad-supported streaming platforms, a group that includes:
HBO Max (Ads)
Hulu
IMDb TV (rebranded to Amazon Freevee effective April 27)
Paramount+
Peacock
Pluto TV
Samsung TV Plus
The Roku Channel
Tubi
YouTube
Some of the topics we look at include:
How ad placement options stack up across the platforms
Frequency capping ads to prevent brand fatigue among users
Ad targeting via automatic content recognition technology, demand-side platforms and first-party data collection to reach specific audiences
Innovative ad formats, including video action campaigns (VACs) and choice-based ads
Ranking the best and worst user ad experiences across ad-supported streaming platforms
How platforms use "older" QR code technology as a new CTA technique
How Hulu's choice-based ad format is improving user experience
The report aims to balance advertiser options with user experience in assessing key opportunities and challenges in this new frontier for the future of TV. But first, some background.
01
A dual-revenue model is twice as nice
There was a time not too long ago when streaming services' revenue models largely were split between subscription-based video on demand services like Netflix and Amazon Prime Video and ad-supported streaming services like Pluto TV and Tubi. Increasingly, platforms are now opting for both.
While it's easy to view the latter as a second-tier service, there's much money to be made by offering free or subsidized ad-supported content. The four leading ad-supported platforms in the U.S. (excluding YouTube) generated $3.5 billion in advertising revenue in the 12 months leading up to September 2021, according to Kantar. Hulu accounted for the majority of ad sales over that period, generating $2.1 billion of the total. Paramount+ was second at $822 million ads sold, followed by Peacock with $279 million and Tubi with $250 million.
In addition to coming in first in ad revenue, Hulu – which, according to Nielsen, was one of the top two ad-supported networks streamed in the second half of 2021 – is a leader in adopting the dual-revenue model. Hulu started as an ad-supported platform in 2008 and began offering an ad-free subscription service in 2015. But long before that, in 2010, it began operating a lower-cost subscription-based, ad-supported tier that generates more revenue per average user than from a user on the higher-priced ad-free tier.
Other companies are following suit, opting for the dual-revenue model for two fairly straightforward reasons: Traditional TV's dual-revenue stream – the combination of ad revenue and carriage fees – is dwindling; and companies stand to make more money in streaming from a combination of subscriptions and advertising.
Comcast's NBCUniversal launched Peacock in July 2020 with subscription-based, ad-supported tiers. WarnerMedia's HBO Max added a subscription-based, ad-supported tier in 2021, as did Paramount's Paramount+ – though technically Paramount+'s previous incarnation, CBS All Access, had already operated a subscription-based, ad-supported tier. Disney, which owns Hulu, plans to launch a new ad-supported tier for its Disney+ streaming service in the U.S. in 2022 followed by expansion outside the U.S. in 2023.
One final dynamic at play: In light of heightened competition, companies like Comcast, Disney and Paramount are engaged in a content arms race, pumping even more money into their respective platforms to boost their programming libraries and bolster their allure to subscribers. Comcast plans to spend $3 billion on Peacock in 2022; Disney was expected to spend $3.2 billion on streaming in the first three months of 2022; and Paramount said it plans to spend $6 billion on streaming by 2024.
Unfortunately, the platforms' revenues are not growing enough to cover those rising costs. Comcast lost $1.7 billion on Peacock in 2021; Disney's streaming division lost $593 million in the last three months of 2021; and Paramount reported 2021 streaming revenue of $1.6 billion, $600 million shy of its yearly investment.
This makes a diversified, ad-generated income even more appealing to streaming content providers at all levels. The discussion and analysis that follows is the result of a series of interviews with executives from seven of the platforms and a user-centric audit of ad experience attributes – including ad load, average frequency and more – across all included platforms.
02
Platforms woo advertisers with overlapping ad toolkits
To court advertisers to assist in attaining their dual-revenue dreams, the top ad-supported streaming services are offering a variety of ad placement options. Their goal is to help those advertisers give consumers a positive, integrated brand experience, a win-win for brands and streaming services. In this section, we'll explore some trends across ad offerings and highlight innovative ad formats platforms are offering to help advertisers stand out from the pack.
The platforms
Digiday identified the top-earning ad-supported platforms by 2021 ad revenue and also included other popular platforms selected by the Digiday editorial team for their prominence. In alphabetic order, the following platforms were selected: HBO Max (Ads), Hulu, IMDb TV/Amazon Freevee, Paramount+, Peacock, Pluto TV, Samsung TV Plus, The Roku Channel, Tubi, YouTube.
All platforms offer on-demand movies and TV series with advertisements. A number of the CTV platforms like Samsung TV Plus also offer traditional broadcast channels. Pluto TV offers live programming and Hulu recently added live sports programming. YouTube was a standout as the only audited channel which has user-generated content, but it made the list because it also hosts a large library of on-demand/ad-supported movies and television. Digiday also conducted interviews with executives from seven of the ten platforms which are part of the analysis.

Here's a summary of how ad solutions and specifications stack up across the platforms:
While the top streaming platforms strive to appeal to advertisers and viewers by differentiating their ad offerings and tech stack, there are some common strategies that ring true across the various services. They include frequency management, enhanced targeting capabilities (often via first-party data collection) and innovative ad experiences.
1. Avoiding deja vu by managing frequency
As binge-watching videos and TV series has become a standard viewer practice, more users prefer an experience without too many ad breaks or encountering the same ad more than once in a short period of time. And even if one platform is limiting how many times a user sees an ad, the user might see the same ad when they switch between competing platforms. As a result, managing ad frequency (or frequency capping) has become a top concern for platforms and advertisers alike.
In a report released in 2022, Tubi and FOX Entertainment found that 82% of marketers said ad frequency capping and management is an important factor when partnering with streaming TV.
Platforms are employing various techniques to ensure consumers aren't seeing the same ad repeatedly or across different publishers and CTV apps. Hulu, for example, has strict guidelines for ad repetition. "Our frequency is two times per hour four times per day, 25 [times] per week," said Lisa Valentino, evp, client solutions and addressable enablement at Disney Advertising Sales. "So, we literally have an hourly, daily and weekly frequency rule in place."
Other tools and techniques streaming platforms use for frequency capping include:
Google's Display & Video 360 frequency management feature (launched February 2022) allows marketers to control the number of times people see ads across CTV apps. If a marketer, for example, sets a goal of five ads per week, the service aims to show the ad five times in total across all CTV apps, not five times on each platform. That gives CTV streamers a smoother viewing experience and limits the risk of brand backlash because of ad overexposure, according to Google. Of course, this is limited to those platforms using Google's solution.
HBO Max's Brand Block is a sponsored content takeover in which an advertiser can lock up inventory for a given episode and pull back on interruptions during an extended viewing session. It prevents viewers from seeing the same ad in a single content block, while allowing advertisers to own more share of voice, according to Noelle Huynh, svp, advertising and measurement research, WarnerMedia Ad Sales.
Samsung TV Plus' linear ad reach multiplier uses automatic content recognition (ACR) data to identify Samsung's smart TVs that haven't been exposed to a brand's linear TV ads. "[We] pass that audience through their PMP (private marketplace), which guarantees that they're driving incremental reach while controlling frequency with their PMP campaign," said Tom Fochetta, svp, Samsung Ads.
Roku's OneView measures advertising reach and frequency across both TV streaming and traditional TV, as well as mobile and desktop. "We can manage that frequency, at the channel level, at the overall platform level, or if you're using OneView across all of the buys on your plan, not just Roku, but other publishers as well," said Jordan Rost, head of ad marketing, Roku.
Tubi's advanced frequency management (AFM) tool allows brands to reduce ad repetition by scanning frames to algorithmically identify logos and text. It prevents advertisers from placing two or more ads from a brand in the same program when advertisers buy from multiple aggregators and prevents targeting the same households multiple times.
2. Hardware gives Roku and Samsung a targeting edge with ACR
Another table-stakes tactic platforms offer advertisers to keep viewers' attention is ad targeting based on demographics like age, show genre, geographic location or gender, generally via demand-side platforms (DSPs). With multiple streaming services for viewers to choose from, it behooves platforms and brands to reach the right person at the right time, according to Noelle Huynh, svp, advertising and measurement research, WarnerMedia Ad Sales.
"We focus on driving efficacy for advertisers by respecting the time that we have with consumers through the ads we put in front of them," she said. "Audiences today are more engaged when the ad is personalized and doesn't interrupt or disrupt their lives."
Most platforms rely on targeting capabilities built into a handful of top DSPs like Adobe Ad Cloud, The Trade Desk and Yahoo to attract more advertisers. Tubi's chief revenue officer Mark Rotblat said using multiple DSPs provides increased opportunities for ad targeting. "We directly integrate with the demand-side platforms that are most often used in the video space […] and integrate our inventory in a way that improves the data matching that occurs for data-targeting campaigns," he said.
Platforms attract advertisers by boasting about the niche, varied segments they can target. For instance, Tubi says its audience is nationally representative and offers advertisers the ability to target ads "across geographic, economic and educational segments, and includes a large multicultural audience, comprising 40% of its user base."
With 51% of all adults bothered by irrelevant ads, ad targeting can be a useful way to reach a large segment of the population. However, according to a Morning Consult poll, 38% of all adults are bothered by ads that are too relevant to them or their lives. In other words, they are turned off by targeting that feels precise or invasive. Platforms and DSPs are addressing this issue by focusing on larger contextual audience segments and serving ads intended to be useful rather than meddlesome.
"Brands find that [for example] we can reach women 18 to 34 more accurately and more precisely than a traditional TV approach," said Roku's head of ad marketing Jordan Rost. "But we also understand what those same streamers are watching. Based on the types of content or the ads that they're exposed to, advertisers can re-engage with those same audiences."
The Roku Channel uses first-party data collected during device registration and through ACR technology built into its smart TVs for ad targeting. Most smart TVs come equipped with a built-in automatic content recognition (ACR) technology that identifies what is playing on a TV by listening to and/or seeing the screen. Advertisers can use ACR data to measure viewership and ad performance and to target ads. Smart TVs also collect first-party data from users when they sign up or via their IP address while connected. That gives The Roku Channel and Samsung TV Plus a particular targeting advantage.
3. YouTube and Hulu lead the pack in first-party data
First-party data reserves are increasingly becoming a crucial selling point to attract advertisers, as privacy concerns and regulations around the use of third-party cookies in programmatic advertising increase. Hulu and YouTube have the largest first-party data reserves compared to other platforms and rely on those reserves and in-house tech stacks to appeal to brands and target ads.
YouTube has access to Google's entire first-party search and browser history data by connecting to Google's DSP (Display & Video 360), the dominant DSP in streaming and online advertising. Google, as the publisher of YouTube, can count its own user login data as its first-party data. As a result, YouTube has direct access to the most real-time data compared to other platforms through a user's interests, search history, likes and dislikes through their video views – a strength furthered by its device tracking and geolocation capabilities. YouTube can target a user's location via IP address or through a mobile device's GPS, thus allowing advertisers to target not only based on where a user lives, but also by affinity, in-market and custom segments, and even local events.
Hulu is keeping pace in the first-party data collection game thanks to its relationship with The Walt Disney Company, which acquired Hulu in May 2019. Disney's ownership of properties ranging from TV network ABC to cable network ESPN to other streaming services like Disney+ provide it with a massive first-party data reserve.
"We offer a whole host of targeting that ties back to Disney's first-party data graph, over 1,000 segments that clients can choose within our data store," said Lisa Valentino, evp client solutions and addressable enablement at Disney Advertising Sales. "And that can be anything from demographic targets to psychographic targets … type targets, auto intenders." (Disney has so much data that it is now competing with the likes of Google, Meta and Amazon.)
Hulu also offers a proprietary self-serve tool – Hulu Ad Manager – which allows advertisers to target users by age, interest, gender, location and show genre. And for advertisers focused on CTAs, it offers GatewayGo, a direct-response advertising option in which viewers can request additional brand information via push notifications, email or by scanning a QR code. "The ad innovation is equal to the amount of data-enabled selling we're doing," said Valentino. "We're seeing big growth and leveraging our first-party data segments on top of our ads, so being able to buy lots of different segments … From a targeting perspective, I think you're seeing a lot of demand for that in the market."
And the rest of the flock is following suit, with platforms like NBCUniversal's Peacock shifting to proprietary first-party data platforms. In January 2022, NBCUniversal launched NBCUnified to consolidate first-party data across all of its media properties, including Peacock.
As platforms continue to experiment with managing ad frequency and targeting ads to specific consumer groups, a key consideration is user ad experience to ensure that the viewers they're monetizing aren't being pushed away by a cluttered or disruptive ad environment.
4. Innovation in interactive ads
One way to do this is by engaging viewers with cutting-edge interactive ads. Platforms and brands are hoping interactive ads will be a useful tool to gather data and measure brand engagement.
To provide effective interactive ads – both for data gathering and viewer engagement – platforms and brands must consider whether:
the customer is engaged by the ad and provides ad preference by choice
the customer can be followed throughout the brand-marketing journey; if they press "learn more" can their actions be tracked to and beyond a brand website?
the customer ultimately wants to put in the work required by interactive ads, perhaps preferring uninterrupted "binge ads" instead.
Below, Digiday has identified an array of interactive ad formats that platforms are experimenting with:
Ad Selector: Hulu viewers can be presented two or three "ad experience" options, selecting the one they want to watch. The experiences could, for example, be gender-based options or correspond to different household activities like gardening or cleaning. More on this in a Hulu case study below.
Skippable ad: There are three types of skippable ads:
a viewer can skip one or all ads in an ad break, often after a certain interval of time has passed
a user can skip the next ad break in exchange for watching a longer ad break first or interacting with an ad sponsored by the same advertiser (called a pod bounce)
a brand can sponsor an entirely ad-free experience in which a user can choose to watch one longer ad at the start of a viewing session in exchange for not seeing ads for the rest of the intended content
While some time focused on ads is lost, the goal is to build good will and positive feelings by helping the viewer enjoy the type of viewing experience they would prefer. Platforms we know offer skippable ads include Peacock and YouTube.
Video action campaign (VAC): A VAC ad allows the user to be taken directly to the brand's page to "buy now" or "learn more" by clicking an ad on their screen. For example, YouTube is providing these ads on CTV devices with a clickable prompt that appears in the corner of the screen when an ad plays. Additionally, prompts can result in a text message or email to be sent to the viewer with more details about a product – as long as a user is logged in and has provided email or phone data. Most ad-supported streaming platforms are currently offering VACs.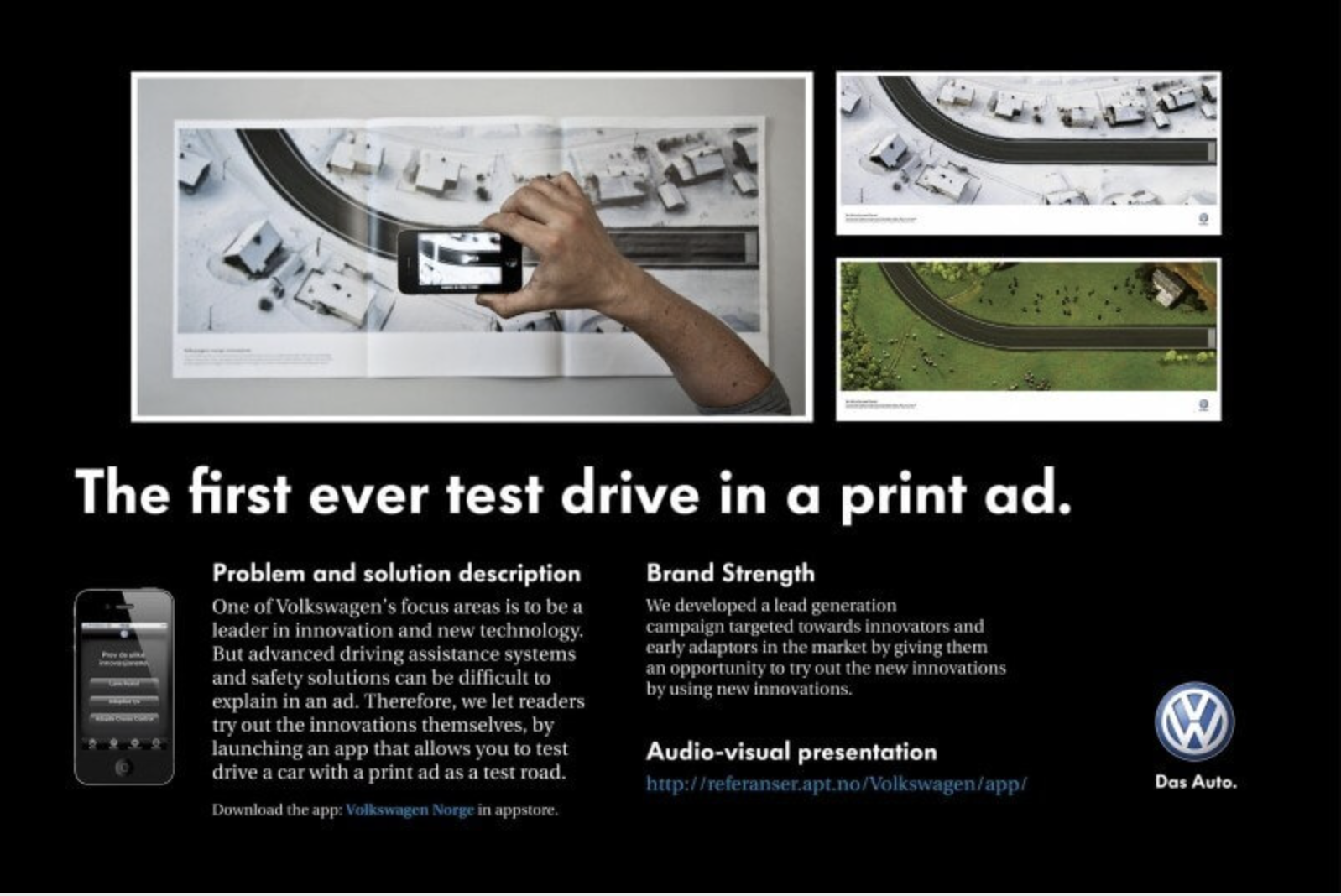 Pause ads: These ads only appear when users pause the video. A banner-like static ad or overlay is displayed during the pause, so viewing time is not forcibly interrupted and exposure to the ad is potentially lengthened based on the length of the pause. Platforms we know offer this format include Hulu, The Roku Channel and YouTube.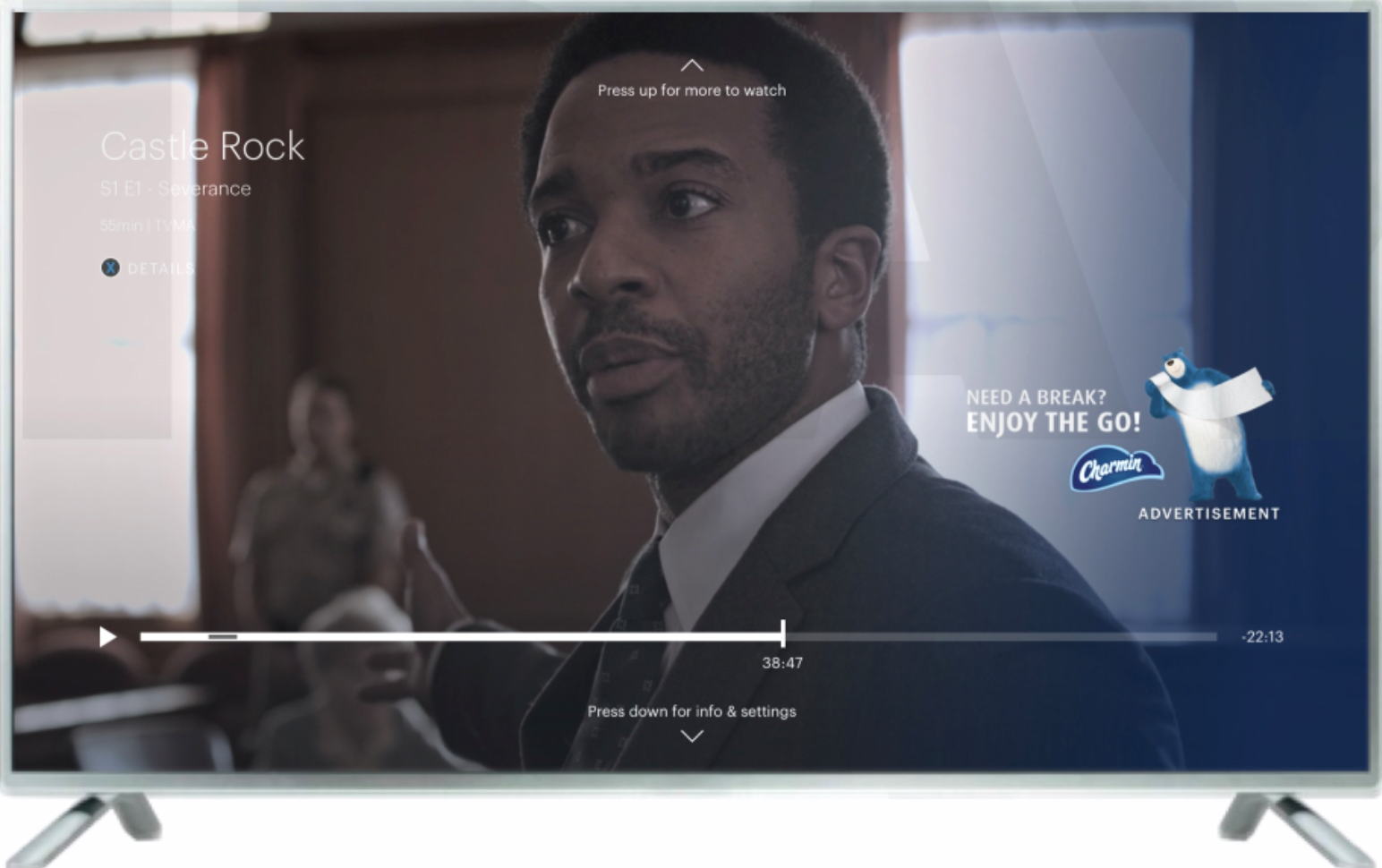 Geotargeted creative: According to NBCUniversal, which is currently testing these ads, this style of ad is best for brands with a delivery food service like Uber Eats or GrubHub. Based on user geotargeting, the ad is made more relevant to the viewer by integrating information about a local restaurant or offer.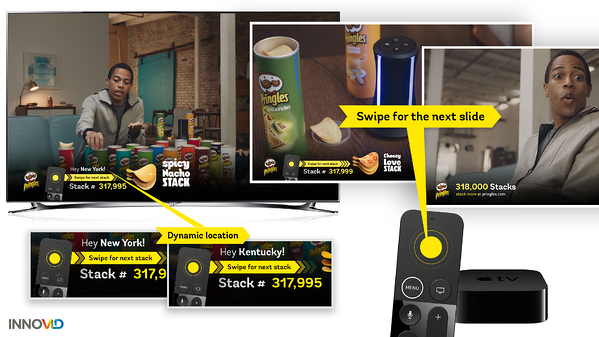 On-command/voice-activated ads: These ads use voice recognition and commands to direct a customer to a product's website or to get a coupon by text or email when a user speaks into their remote during a commercial. It's essentially a voice-enabled variation on a VAC. Platforms we know offer this format include Peacock.
Polling ads: The user is asked to respond to a quick interactive survey or poll from a sponsor – or the platform itself – to gain viewer feedback (and likely gather more data on the user). Platforms we know offer this format include The Roku Channel and YouTube.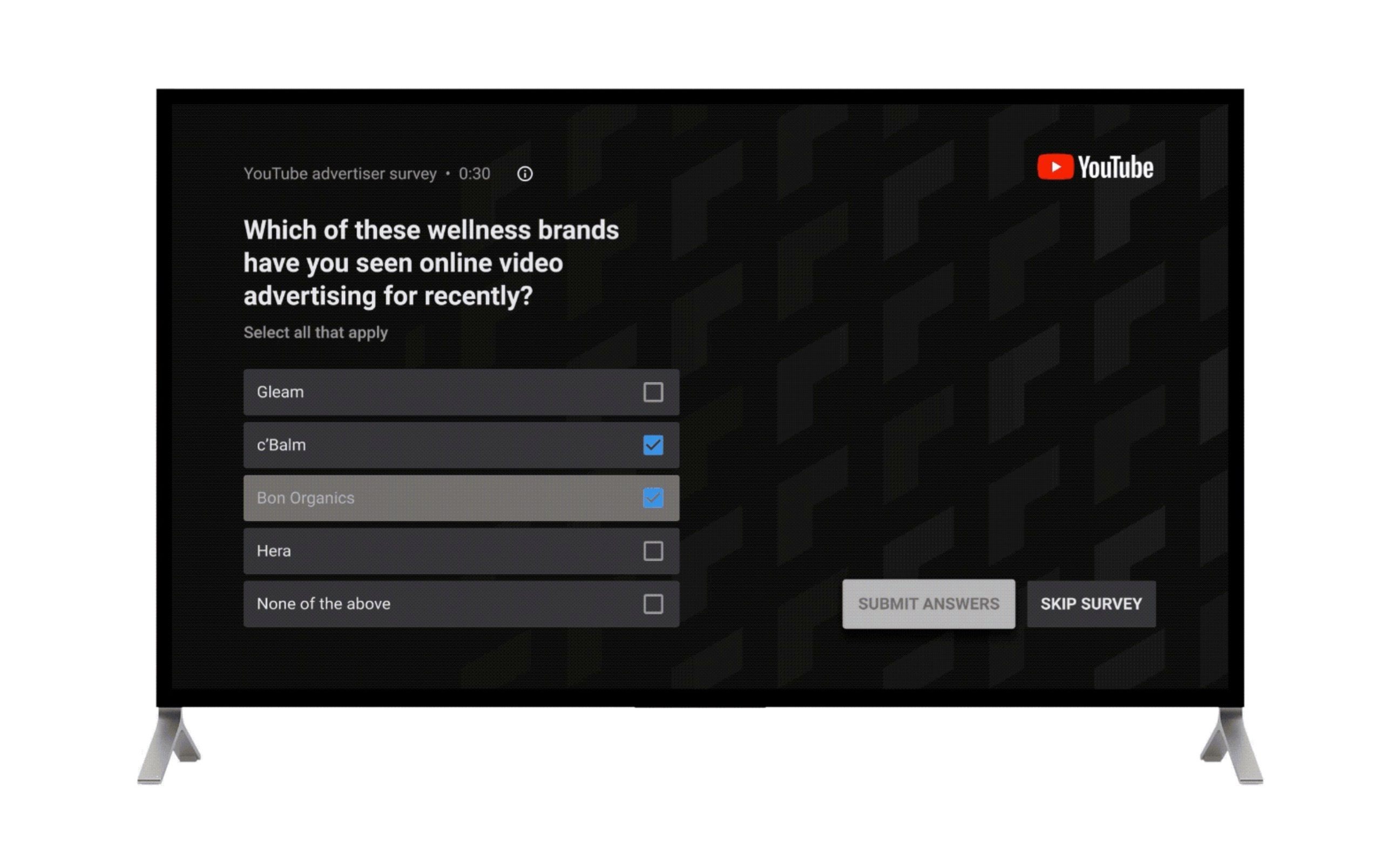 Between frequency management tools, first-party data and targeting capabilities and a set of emerging innovative formats at their disposal, advertisers have a wealth of options to help them structure a viewer's ad experience – an experience that could vary greatly depending on which streaming platform they're working with.
So which platforms are balancing those options best to not overwhelm or turn off their viewers? That's what we'll dig into next.
03
Ranking user ad experience across the platforms
As ad-supported streaming services vie for advertiser dollars, they are increasingly focusing on user ad experience – largely to ensure viewers have a positive interaction with brands. After all, if they don't, what's the point of advertising? How frequently ads are shown, the context in which ads appear and whether users react positively or negatively are all important aspects of the experience. A negative ad experience can upend the relationship between user, content creator and brand by increasing consumer annoyance and creating brand fatigue or backlash.
Multiple user-centric studies have shown attributes like long pre-roll ads, ads that overpower the screen and ads that cause eight-second latency contribute to a bad ad experience. According to a Morning Consult survey, 69% of U.S. adults said ads on streaming services are repetitive and 44% think that there are too many ads overall. So what's an advertiser to do?
To help point the way forward, Digiday conducted a user-centric audit of ad experiences offered by the top 10 ad-supported platforms and analyzed how customer experience differs across the platforms.
Our methodology
To keep the analysis objective, we focused on ad attributes common across the platforms. We excluded broadcast channel advertising because the ad experiences have not changed much over the years and the higher ad load of up to 16 minutes per hour, according to Samsung, would skew our results.
After consulting existing industry research, Digiday arrived at a set of established user preferences, which include the ability to skip ads, shorter ad lengths, fewer ads, shorter ad breaks, fewer ad breaks, fewer repetitive ads and the ability to see ad length. Digiday researchers then audited content from the top 10 ad-supported networks and ranked attributes based on those preferences, giving each a positive, neutral, or negative score.
The following full list of attributes were scored:
Ad-break length: A long ad break creates an interruption that distracts the viewer from the main video and causes annoyance. We subtracted one point for ad breaks greater than 60 seconds and added one point for ad breaks less than 30 seconds. User preference addressed: Shorter ads; Shorter ad breaks
Fewer ads: One to two ads create less interruption for the viewer, while four to six ads, especially if repeated throughout a program, create ad fatigue. We scored accordingly. User preference addressed: Fewer ads
Long pre-roll ads: A pre-roll ad longer than 30 seconds slows down the viewing process, so we removed a point. We also removed a point for long post-roll ads, which increase the ad load between videos and interrupt the binge-watching experience. User preference addressed: Fewer ad breaks; Fewer repetitive ads
Skippable ads: Skippable ads are uncommon (mainly offered by YouTube), but give the user the option to continue viewing the main video almost without interruption. This gets a point from us. User preference addressed: Ability to skip ads
Large ad load: Showing too many ads in a 30- to 40-minute episode creates an ad-heavy user experience. We subtract one point for an ad load greater than five minutes per hour. User preference addressed: Fewer ads; Shorter ad breaks
Advance warning of ad breaks: Telling consumers about upcoming ad breaks or specifying the length of an ad break allows the user to plan time around the interruption. It might not be the best bet for advertisers since the user may not watch the ad, but it allows for a better-informed experience and gets a point up. No advance warning loses a point. User preference addressed: Ability to see ad length
User ad experience ranking results
The table below shows how the 10 leading ad-supported platforms performed in Digiday's user-centric audit of ad experiences. Bear in mind, this is not an overall ranking of the platform, but a ranking focused exclusively on a user's ad experience.
After ranking the platforms from 1 to 10 (technically 9 due to some ties) based on ad experience, we found:
Platforms that kept ad loads light created the best user experience.
Those that offered innovative ad attributes, like the ability to skip ads, fell somewhere in the middle.
Services that offered long pre- and post-rolls ads and frequent ad breaks created a negative user experience.
Here's how the platforms stacked up by ad attributes:
Above-average ad experiences kept ad loads light
Digiday's analysis found that Peacock, HBO Max and Samsung TV Plus offer the best viewing experience of all platforms by keeping ad loads light. They tied for first place in our ranking.
Of the three, Peacock, with nearly 70,000 hours of on-demand offerings across original and NBCUniversal content, presents the best ad experience. "What really differentiates us is that we have one of the lowest, if not the lowest, ad load available in all of premium content," said Laura Molen, president of advertising and partnerships at NBCUniversal. Peacock's ad load is one of the lowest in our analysis, and the platform keeps ad breaks short and few. Peacock also gives users advance warning of ad-break length. 
And, to be clear, fewer ads do not mean less ad revenue; Peacock's approach has translated into significant returns. "We work with upwards of $10 billion in ad revenue," said Molen about NBCUniversal partnerships. "And in our most recent 2021-2022 upfront season, we had over $500 million dollars of Peacock ad revenue."
HBO Max has the highest subscription cost of all ad-supported platforms at $9.99 per month , but it makes up for it by limiting viewer interruptions with low ad load and no more than two ads per break. "Our team is very intentional in their design decisions," said Noelle Huynh, svp, advertising and measurement research, WarnerMedia Ad Sales. "As on-demand streaming has given consumers more control over the content they engage with, they have become more mindful of both frequency and relevance when it comes to advertising."
Compared to other platforms, Samsung TV Plus has a much smaller on-demand library, with series mostly including reality shows like Chef Gordon Ramsay's "Kitchen Nightmares." It also has more broadcast and third-party channels which, according to Tom Fochetta, svp, Samsung Ads, can have an ad load of up to 16 minutes per hour.
However, Samsung TV Plus caps ad load on its owned and operated channels, where it controls 100% of the inventory, at nine minutes per hour. In Digiday's audit of Samsung TV Plus' on-demand content experience, the ad load was even less.
Despite being fully ad reliant, Tubi – which rounds out the top tier of our ad experience ranking – keeps ads short and has shockingly few ad breaks. Unfortunately, when ad breaks do occur, they are 60-seconds or longer, and the user has no way to anticipate their length. However, because of the very low overall number of interruptions during the main video, it has one of the best ad experiences out there. Therefore, Tubi comes in at number four.
Chief revenue officer Mark Rotblat said a light ad experience plus its massive library size of more than 40,000 titles with 3.6 billion hours streamed in 2021 is what differentiates Tubi. "We're one of the few places in streaming that […] can get the type of combined scale that's actually reachable through advertising and that has a low ad load," said Rotblat. "It's only movies and television. It's not short form content, no user-generated content. It's 100% free."
Average ad experiences tried balancing ad load with ad pods
Conversely, the only ad-supported platform that offers short-form videos is YouTube – though only their longer form movie and TV content were considered for this analysis. It also happens to be the only platform that lets consumers skip ads during the viewing experience, a trait highly favored by users, according to large-scale studies.
On the downside, however, if a user fails to skip the ad, they could find themselves along for the ride through a five-minute-plus-long commercial. Additionally, most videos have long pre- and post-roll ads, making for an ad-heavy experience. YouTube also tends to interrupt users at unnatural junctures in long-form videos and sometimes also slaps banner ads across the lower third. All of these things considered, YouTube comes in at number five in our ranking.
To cut down on interruptions, YouTube has begun testing ad pods – two or more ads served back-to-back within a specific viewing period. The aim of these pods is to keep ad breaks short, even if they are regular, within videos. YouTube's ad pod research found that when users see two ads in a break, they experienced up to 40% fewer interruptions by ads in a viewing session.
"We know that viewers care about the frequency of ad breaks on YouTube, especially when they're watching for longer periods of time," said Brian Albert, managing director, Google/YouTube media partnerships and creative works. "We also know that the less frequently viewers are interrupted, the more likely they are to continue watching their favorite content and ads."
Here's a look at how the the platforms considered in our ranking structure their ad pods:
Because The Roku Channel and IMDb TV (soon to be Amazon Freevee) both offer similar ad experiences with relatively long and regular ad breaks – five to six ads per break – they tie at sixth place in our ranking. IMDb TV began streaming in 2019 as an ad-supported counterpart to Amazon's subscription-based Prime Video. Roku launched The Roku Channel in 2017 as an ad-supported platform that was "expected to have, on average, approximately half the advertising per programming hour as compared to traditional ad-supported linear TV." On the plus side, neither streaming service shows pre- or post-roll ads; and ad breaks, though long, are far apart, often with 12 minutes or more separating them.
Roku's head of ad marketing Jordan Rost said ad-supported streaming is one of the company's fastest-growing areas. "Last year was one of the first years where I would say TV streaming was on par with linear in terms of the upfront," Rost said. "We're just entering the beginning of the cycle now, and we're hearing a lot of enthusiasm from buyers about putting streaming first in their planning process."
Below-average ad experiences
While Hulu has gotten some attention in the streaming wars by offering interactive choice-based ads (more on that below), it's not creating the lightest ad experience. Therefore, the platform known for its sought-after original shows ranked seventh for its user ad experience in our analysis. Not only does Hulu show pre-roll ads around 30 seconds in length, but it also features ad breaks of at least 90 seconds each with four to five ads per break. These ad breaks occur about every 10 minutes within a 20-40 minute episode. Hulu attempts to make up for this heavy ad load by limiting ads during films to one pre-roll ad break.
This ad load would be more excusable if users weren't paying $6.99 per month to access Hulu's ad-supported content. Only at a higher-priced ($12.99 per month) ad-free tier are users granted a reprieve. But making some of those ads interactive does allow Hulu's advertisers to better engage with users, as it does through its choice-based ads, which allow users to choose from several different commercial options. "We own that intersection between creativity, and data and technology," said Lisa Valentino, evp, client solutions and addressable enablement at Disney Advertising Sales. "We're innovating with shorter formats, with more interactive formats, with more commerce-generating formats."
When it comes to giving users a choice of platforms, Paramount (previously ViacomCBS) entered the game in a big way by offering two ad-supported streaming services: Pluto TV, a free ad-supported platform; and Paramount+, which offers a subscription-based ad plan for $4.99 per month. But for user ad experience, that's where differences end.
Both platforms have long and frequent ad breaks, and users cannot pause ads during breaks – which then impacts the user's ability to engage with an ad, for example, by scanning a QR code. Neither platform emphasizes basic user-centric elements like informing the user of an ad break's length or making a visible effort to cap ad frequency. Because Pluto TV's and Paramount+'s ad strategies make for a significantly heavier and less transparent user ad experience, they rank last among ad-supported streamers.
04
The best platforms for advertiser needs
After that deep dive into both advertiser options and user ad experience for each of the platforms, Digiday looked at a few key areas crucial to advertisers and highlighted the platform that stood out when it came to each criteria. These are listed below, along with a brief explanation.
Best overall ad experience: Peacock

Ad breaks on Peacock are short and far apart. The platform also checks most of the basic best practices for user experience like providing ad break length and the ability for the user to see frequency of ad breaks in an episode or film. Peacock also does not usually show pre-roll ads and, when it does, they are short in length.

Premium, subscription-based ad experience: HBO Max

HBO Max's ad load is very light and uncluttered, and both user experience and content feel premium and exclusive.

Most interactive ads: Hulu

Hulu is the only platform offering choice-based ads and has the widest assortment of other interactive ad innovations like pause ads.

Overall targeting capabilities: YouTube

YouTube has access to data from Google Display Network and extensive targeting capabilities through its DSP and a trove of first-party audience data.
With the bulk of this analysis complete, we'll now wrap up this guide with a brief exploration of a platform-agnostic video tactic and a final closer look at Hulu – our selection for the platform with the most interactive ad formats.
05
A brief guide to QR codes, ad-supported streaming video's "newest" CTA tactic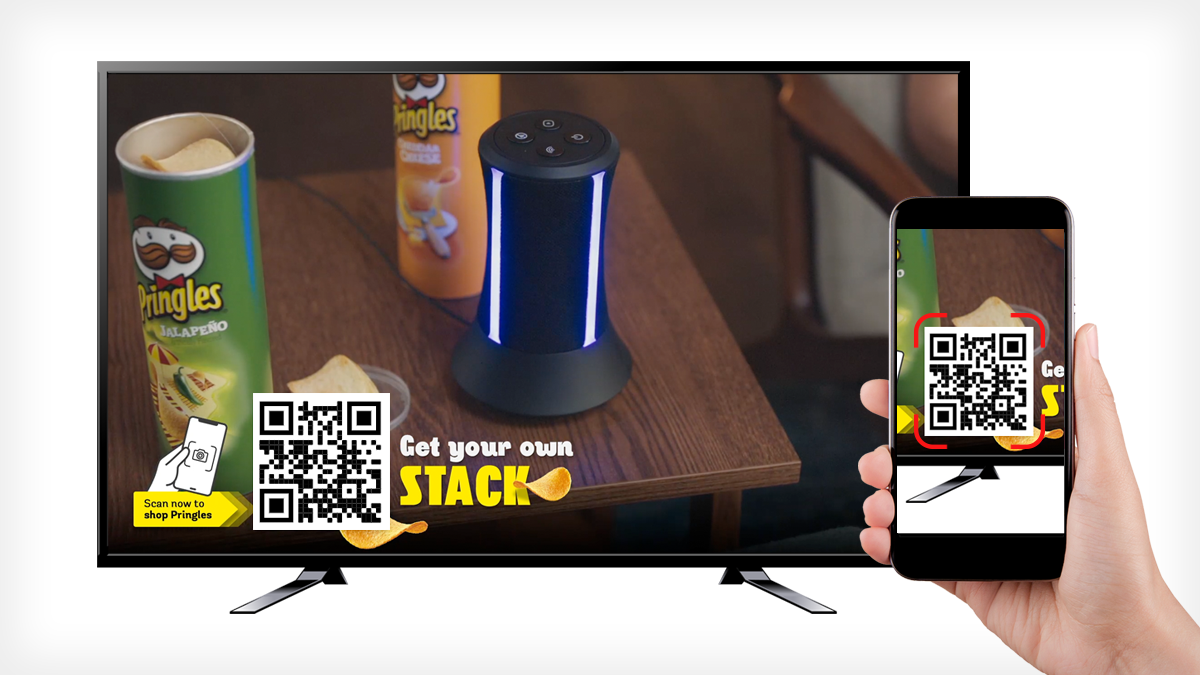 Consumers can't seem to put their phones down for a minute – even while they're watching TV. When non-skippable ads appear on the large screen, viewers tend to tune out to check the latest news alerts or respond to a text or an email on their smaller screens. For advertisers, it can be a struggle to hold onto their attention during commercial breaks. But rather than accepting camera-equipped mobile devices as a distracting disadvantage to reaching consumers, streaming platforms are trying to turn them into an opportunity using an old(er) tactic: QR codes.
What are QR codes and how are brands successfully using them?
QR codes were developed in 1994 by engineers at the Japanese company Denso Wave to track vehicles during the manufacturing process. But over time they've developed into a successful marketing tool for advertisers to raise brand awareness and track consumer activity.
The two-dimensional bar codes can be shown on-screen during a show or within a commercial and essentially serve as a link or digital CTA, which viewers can access by scanning a QR code with their smartphone camera. Once a smartphone reads the embedded data, it redirects the consumer to a website, usually a brand's homepage or seller platform where viewers can learn more or buy products. Advertisers can track how many viewers scanned a code, where those consumers live, and how long they spent on a brand's website. This gives companies a better idea of who and how many people are interacting with an ad and whether a particular campaign is reaching its target audience.
Roku's head of marketing Jordan Rost says he's seen increased use of QR codes in the last two years. "Many brands, including many performance brands, have included that in their creative so that people can continue on their mobile devices with the experience they saw on TV to browse, shop, and ultimately purchase," Rost said. And because functionality only requires that the code simply appears within an ad, it's a streaming-platform-agnostic solution.
Indeed, 45% of U.S. shoppers said they had used a marketing-related QR code in the three months leading up to a Statista June 2021 survey. (The share was highest among respondents aged 18 to 29.) And 59% of respondents believed that QR codes would be a permanent part of mobile phone use in the future.
Some of the more effective uses of QR codes in video ads include:
NBCU in 2019 aired a QR code ad for Lacoste apparel within a match at the French Open. While tennis star Novak Djokvoic was playing, the QR code and an image of Djokvoic decked out in the same outfit he was wearing in the match appeared on screen. Viewers who scanned the code were directed to Lacoste's website where they could purchase the items.

During Super Bowl LVI, Coinbase aired an ad for its "less talk, more Bitcoin" campaign that simply showed a color-changing QR code bopping around the screen for a solid minute. The ad grabbed viewers' attention and sent those who scanned it to Coinbase's website where they could get $15 worth of free Bitcoin for signing up.

Burger King, during the height of the COVID-19 pandemic in 2020, offered home-bound consumers the chance to score a free Whopper by scanning a QR code in several of its commercials. Hungry watchers who captured the code were taken to BK's website where they could claim a coupon to use on the BK app for a free burger.
Disadvantages of QR codes
Unfortunately, not all consumers will have their phones at the ready or, more importantly, care enough about an ad to find their phone, unlock it and scan a QR code. Time is also of the essence: Even if a consumer is inclined to scan a QR code, any amount of hesitation or slowness could cause them to miss the opportunity – though this is less of a problem with streaming platforms that allow the viewer to pause or rewind.
"There's still hope," said Tubi's chief revenue officer Mark Rotblat. "But the reality is, when people are leaning back and watching entertainment on a big screen, it's not that frequent that people pull up their phone and do that."
Viewers may also have privacy concerns and be reluctant to scan a QR code not knowing exactly what personal data is being collected and whether a marketer's website is sharing that data with other companies. Consumers who use a QR code scanner app instead of a smartphone camera – and they are out there – also run the risk of malware being installed on their device by the app.
What's in the cards for QR codes
According to eMarketer, the future of QR codes appears rosey, with the number of U.S. smartphone users scanning a QR code increasing from 83.4 million in 2022 to 99.5 million in 2025. That's a 19.3% escalation over three years. Hulu, for one, is investing in the tool. In June 2020, the streaming platform rolled out its GatewayGo direct-response advertising option. Viewers can request additional information from a brand be sent to their tablet or smartphone through push notification, email or by scanning a QR code during a commercial.
"The power of this ad experience lies in its ability to give viewers a simple way to engage with brands and take action on a mobile device," said Laura Nelson, svp, cross portfolio solutions, Disney Advertising Sales, in a statement at the time. "Ultimately, this helps advertisers get closer to their conversion goals with streaming TV."
Indeed, QR code use within streaming platforms escalated during the pandemic. Advertisers turned to the tool as a way to reach consumers at home where they lived and, thanks to stay-at-home orders, now worked, too.
"Now, people realize they can actually snap a QR code with their camera and [the tactic has] become more popular," said Martin de Dreuille, vp of global marketing for Grey Goose, in an interview with Digiday in December 2020. "It enables us to connect the top of the funnel, driving awareness of the brand and giving an opportunity right there when the brand is top of mind to order it or engage with the brand."
Whether other platforms and brands follow suit remains to be seen.
06
Case Study: Hulu takes user choice in advertising to a new level
Hulu has gone to great lengths to lead the pack of streaming platforms by trying to improve the user ad experience with interactive ad options, including pause ads and choice-based ads – a focus that has led to ad innovation across the board in streaming.
"We launched a lot of [the] ad units that are now finding their way into mainstream streaming from an industry perspective," said Lisa Valentino, evp, client solutions and addressable enablement at Disney Advertising Sales. That's certainly true for pause ads, which Hulu introduced in 2019, and which a number of other streaming platforms, including Peacock, are now offering.
One of the ad unit innovations Hulu has introduced is a choice-based ad format it calls the "Ad Selector." While Hulu has allowed users to choose between watching one long ad or multiple ad breaks in a viewing session for years, the Ad Selector, according to Hulu, "allows the user to control their ad experience by choosing the ad they want to see." Hulu gives the viewer two or three ad options from which to choose and asks "Which ad experience do you prefer?" The user then has 15 seconds to click an option using a remote or keypad.
All ad choices are sponsored by the same brand – though Hulu did experiment with offering choices among different brands in 2011. Once the user makes a selection, they're shown the commercial of their choice. If no selection is made after 15 seconds, Hulu randomly serves one of the ads to the viewer. Users don't have the option to skip an ad experience altogether, even though Hulu has also experimented with that feature in the past.
Hulu offers viewers several ways to choose which ad to watch:
By interest: for instance, gardening or house cleaning
By gender: for instance, a set of ads showcasing products for different genders' traditional preferences
By favorite celebrity: for instance, three ads featuring different musicians
By product: for instance, Coke, Diet Coke, or Sprite
For best results, Hulu recommends advertisers keep ads short (15 to 30 seconds), provide thumbnails representing the different ad experiences and give a minimum of two and a maximum of three ads from which to select. In Digiday's audit, the Ad Selector format did not appear on Hulu often, indicating that Hulu likely is managing its frequency effectively. When the ads do appear, they can generate a welcome moment of engagement in a generally passive experience.
"We've seen that the results for our advertisers go up in terms of favorability and considering all sorts of effectiveness measures when you make the consumer a part of that experience," said Valentino. "We also try [to] really think about context when we think about choice-based."
With the rise of contextual advertising, and privacy concerns in the ad-targeting market where gathering user data without consent is becoming more and more complex, are choice-based ads the best option to engage users? There are some clear pros:
The user chooses the advertisement they want to watch and are likely to view the brand experience more favorably because the ad is more relevant to them.
It is a less-invasive way to personalize ads – based on expressed user preference rather than tracking user data.
The initial selection acts as another point of user interaction and engagement.
The user can experience different versions of the ad each time they encounter the placement, moderating frequency
On the other hand, the selection could disrupt the passive, binge-watching experience to which streaming video users are accustomed, and extreme privacy-minded users might not like sharing even this level of data to the platform about their preferences. But the pros seem to outweigh those few cons. According to a 2018 study of choice-based advertising, "participants who chose their ads evaluated their advertisements more favorably than participants who did not have a choice."
Hulu's own research shows that choice-based advertising sees a 29% increase in purchase intent compared to standard video-only ads. And a recent Innovid report on CTV devices found that interactive choice-based ads – including Hulu's Ad Selector and the ability to skip ad breaks in exchange for an interactive ad – have a significantly higher engagement rate than most non-choice based ad formats: 21.5% compared to 0.6%.
But apart from YouTube's interactive skippable ads and survey ads, our interviews with industry executives showed that no other platforms have been as bold as Hulu in offering choice-based options. While all platforms considered in this report offer some level of interactive ads, these were rarely encountered in Digiday's audit, and the format is not always the best match for viewers who prefer passive binge-watching experiences, who might prefer QR codes and user prompts to "learn more" that invite but do not necessitate user interaction.
Still, segments of the agency world see this element of choice as one of the industry's next big things: 44% of creative ad executives have noted that choice-based ads are among the top-three ad formats they are excited to use. Time will tell how Hulu's choice-based bet pays off.
07
Conclusion
Ad-supported streaming services were on the rise prior to the pandemic, but with captive audiences trapped at home for months, their use exploded. Eager to tap into the ad dollars to be made with the rise in streaming's popularity, the platforms are experimenting with various advertiser options to do just that. But to keep their coveted audiences coming back to produce more and more impressions, ad-supported streaming services need to balance advertiser needs with user preferences.
To do so, some of the standard practices are employed, like frequency capping and targeting. But some platforms are already taking things further: Hulu is offering choice-based ads; YouTube gives consumers the option to skip ads, and further toward Tomorrowland, Peacock is even experimenting with things like voice-activated ad prompts.
At the end of the day, user experience is first and foremost in the minds of industry executives.
As more viewers switch to streaming and the amount of ad dollars directed to traditional TV falls, ad-supported platforms and advertisers themselves will need to continue tinkering with their revenue models and fine-tuning their ad offerings to match the ever-changing ratio of ads to content to continue to reach consumers – without alienating them.
https://digiday.com/?p=445516