Future of TV Briefing: The subscription-based streaming war is demanding bigger war chests
February 23, 2022 • 7 min read
•
•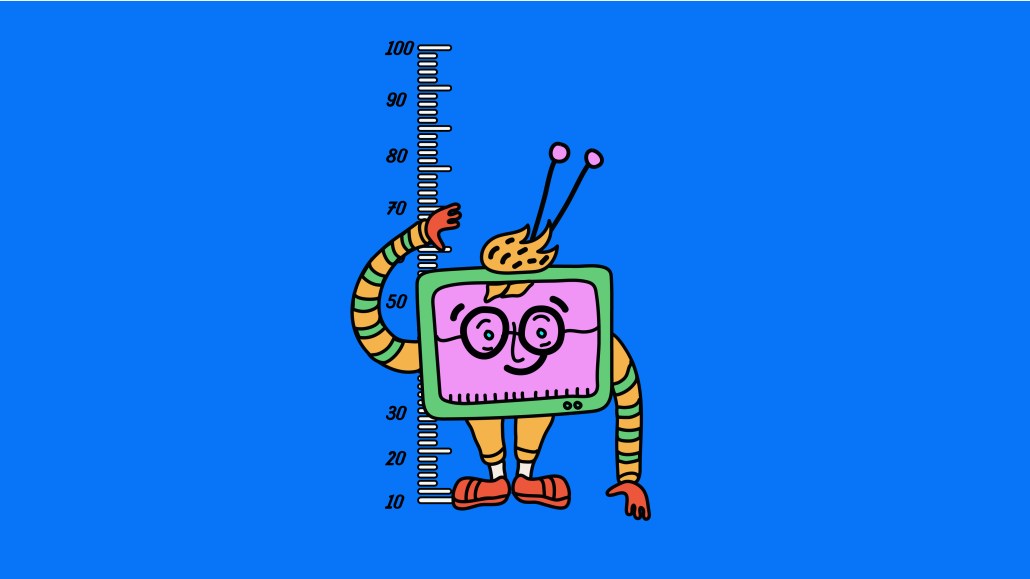 Ivy Liu
This Future of TV Briefing covers the latest in streaming and TV for Digiday+ members and is distributed over email every Wednesday at 10 a.m. ET. More from the series →
This week's Future of TV Briefing looks at what TV and streaming companies' latest earnings reports indicate about the state of the streaming business.
Streaming price hikes
Streaming steals viewership share from cable TV
Roku's smart TV ambitions, Hollywood's COVID protocols and more
The subscription-based streaming war is demanding bigger war chests
The key hits:
Increasing competition for subscribers is coinciding with increasing streaming investments.
However, not everyone is stretching their streaming pocketbooks to the same extent.
While the business of streaming continues to grow, that growth is getting more expensive.
In general, the fourth quarter of 2021 continued a boom period for the streaming industry that especially picked up in the early days of the pandemic. However, the 2020 streaming surge settled down in 2021 and, in 2022, the bill for companies to compete in the subscription-based streaming war is rising, as indicated by major streaming owners' recent quarterly earnings reports.
The market of major subscription-based streaming services has expanded significantly over the past two years. The array now spans the legacy set of Netflix, Amazon Prime Video and Disney's Hulu as well as relative newcomers like Disney's Disney+, WarnerMedia's HBO Max, Paramount's Paramount+ and Comcast-owned NBCUniversal's Peacock. And that widening field seems to be affecting every player's ability to accrue new subscribers — even Netflix's.
"While this added competition may be affecting our marginal growth some, we continue to grow in every country and region in which these new streaming alternatives have launched," Netflix said in a letter to shareholders published on Jan. 20.
In light of this heightened competition, companies like Comcast, Disney and Paramount are preparing to put even more money into their respective streamers in order to boost their programming libraries and bolster their allure to subscribers.
Comcast plans to spend $3 billion on Peacock this year, double its investment in 2021, and expects the figure to reach $5 billion "over the next couple of years," Comcast CFO Michael Cavanagh said during the company's earnings call on Jan. 27.
Disney's streaming programming and production costs totaled $3 billion in its most recent quarter, up 36% year over year. The company's streaming investment will balloon to $3.2 billion for the first three months of 2022.
Paramount spent $2.2 billion on its streaming businesses in 2021, up 120% from 2020. The company had already expected to increase its annual investment to $4 billion in 2024, but now it has revised that estimate up to at least $6 billion.
However, the streamers' revenues are not growing enough to cover the rising costs.
Comcast lost $1.7 billion on Peacock in 2021 and expects to lose $2.5 billion on the streamer this year.
Disney's streaming division recorded a $593 million operating loss for the final three months of 2021.
Paramount does not break out its streaming margins, but it reported streaming revenue of $1.6 billion for 2021, which was $600 million shy of its streaming investment for the year.
To be fair, this all seems pretty par for the course for streaming and, more broadly, technology businesses. Like Kevin Costner, these companies are all spending money to build their streaming Fields of Dreams and hoping that eventually the subscribers and their resulting revenue will come. However, what's becoming clear is that some of these companies are erecting stadiums and others are assembling relative sandlots.
Case in point: Disney will spend more on its streaming business in the first three months of 2022 than Comcast will over the entirety of the year. Similarly, in two years Paramount intends to spend half as much as Disney appears on pace to spend this year.
More to the point, even if Disney were to remain on track and spend $12 billion on streaming programming this year, that would still be below its primary competition. Netflix spent $17 billion on content last year. Meanwhile, the soon-to-merge Warner Bros. Discovery plans to spend $20 billion per year on content.
What we've heard
"Each [measurement provider] has a hole. They're all different [holes], whether it's methodology-based or some other reasons. That's why I think we're heading for at least this upfront, maybe one more [with Nielsen as the primary currency]."

— TV network executive on the measurement landscape heading into this year's upfront negotiations
Streaming steals viewership share from cable TV
Despite its growing pains, streaming is still growing — and at the expense of cable TV by the looks of Nielsen's latest Gauge report.
In January 2022, streaming's share of overall TV watch time in the U.S. jumped by more than a percentage point from December, while cable TV's share slipped by nearly two percentage points. Broadcast TV and the "other" category — which includes gaming and streaming through cable set-top boxes — remained fairly flat month over month.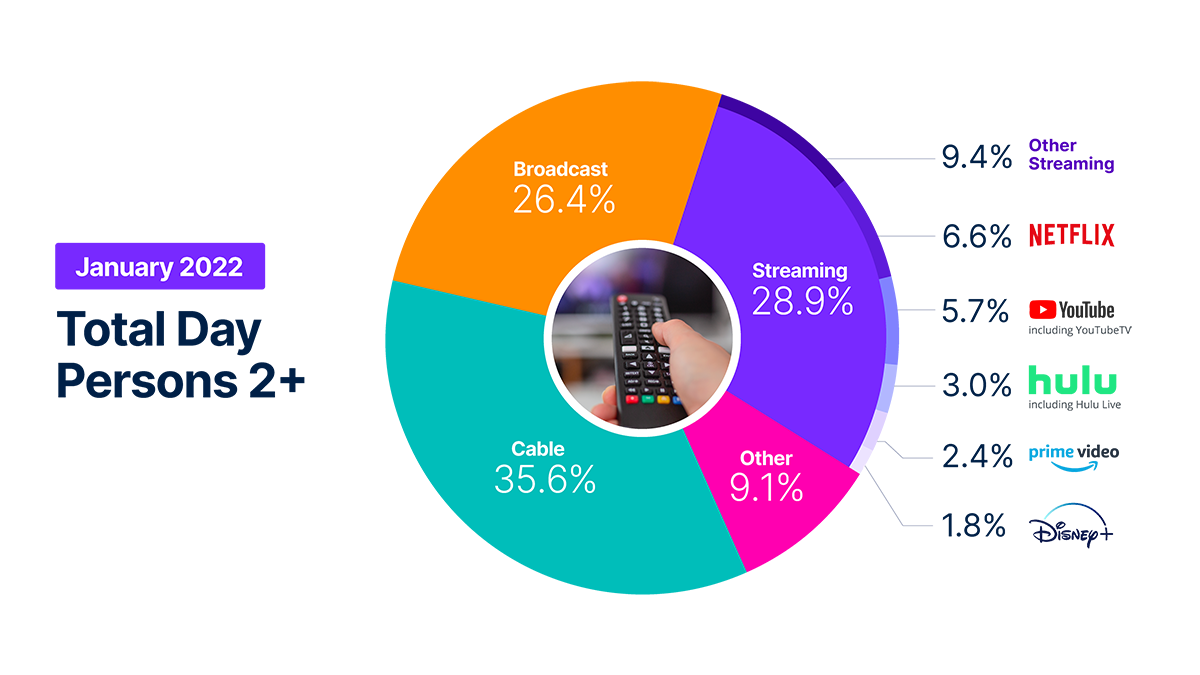 "For the month of January, streaming averaged 180 billion minutes per week — the highest average weekly figure of any month since Nielsen introduced streaming measurement," Nielsen wrote in a company blog post announcing the latest Gauge report.
As streaming's viewership share has grown, the streamers accounting for that growth is broadening — to a point. Netflix and YouTube continued to receive the largest share of viewership in January. And of the specific streamers broken out by Nielsen, the biggest month-over-month fluctuation was Amazon Prime Video ceding 0.3 percentage points of its viewership share.
However, the "other streaming" bucket — which would span the likes of HBO Max and Paramount+ as well as the host of free, ad-supported streamers — increased its share by 0.6 percentage points. Not a meaningless amount considering the competition for people's attentions across the broader TV and streaming landscape.
Numbers to know
11.4 million: Average number of people in the U.S. that tuned into NBCUniversal's prime-time coverage of the Winter Olympics across traditional TV and streaming, down 42% from the 2018 Games.
>9 million: Number of streaming subscribers that AMC Networks had at the end of 2021.
10: Days after FuboTV removed its monthly subscription option that the streaming pay-TV service reintroduced it.
What we've covered
In the age of ad tech mergers, IAS is prioritizing trust as it adds CTV sales to its business model:
Last year Integral Ad Science acquired CTV ad seller Publica.
IAS CEO Lisa Utzschneider discusses the deal on this week's Digiday Podcast.
Listen to the latest Digiday Podcast here.
Roku tops 60 million active accounts, but audience growth slows as hardware revenue sags:
Roku ended 2021 with 60.1 million active accounts, a 17% increase year over year.
However, that growth rate has slipped while Roku's hardware sales shrunk in the fourth quarter.
Read more about Roku's quarterly earnings report here.
Why Disney tapped a former theme park executive to lead its metaverse strategy:
Mike White had overseen the technology teams for Disney's theme parks, consumer products and interactive teams.
Disney has been turning its IP into immersive experiences since opening Disneyland in 1955.
Read more about Disney's metaverse strategy here.
A Q&A with Twitch vp of trust and safety Angela Hession:
Among the biggest challenges facing Twitch is confronting the "hate raids" that Twitch creators are being forced to endure.
In an interview, Hession discusses Twitch's updated hateful conduct and harassment policy.
Read more about Twitch's trust and safety strategy here.
What we're reading
Roku's smart TV ambitions:
As smart TV sales sag under supply chain constraints, Roku is kicking the tires on making its own smart TVs, according to Insider. Becoming a smart TV manufacturer could give the connected TV platform owner a greater ability to capitalize on its automated content recognition technology. And considering how competitive, the smart TV landscape is getting — Amazon, Comcast and Walmart entering the fray and Samsung and Vizio operating their own CTV platforms — Roku may feel some pressure to stand up its own smart TV business. However, it may risk upsetting the smart TV makers that plug its platform into their devices.
Hollywood's COVID protocols:
The movie and TV production industry has opted to extend its health and safety guidelines until Apr. 30, according to Deadline. The extension also includes some updated guidelines, such as "fully vaccinated" being redefined to include booster shots. Given the quantity and quality of films and shows that have been produced during the pandemic, it seems sensible that the entertainment industry would slow-roll the rollback of its COVID restrictions in order to avoid any potential setbacks from rushing to relax them.
Advertisers' panel pitch process:
The Association of National Advertisers is preparing to ask measurement providers to pitch their alternatives to Nielsen's panel, according to Ad Age. The pitch process seems set to center on evaluating non-Nielsen panel options. That would underscore the importance of the panel in whatever the future of TV measurement looks like. For all its faults — like relying on a slice of viewers to represent the overall audience in an increasingly fragmented era — the panel remains a key component for ad buyers who want to retain the more granular information it can provide.
https://digiday.com/?p=440208
This week's Future of TV Briefing looks at how this year's upfront and recent announcements from AMC Networks and Paramount indicate the progression of programmatic in the TV and streaming ad market.
This week's Future of TV Briefing looks at how major streaming service owners' subscription business fared in the third quarter of 2023.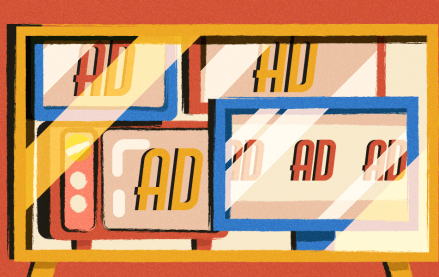 This week's Future of TV Briefing looks at what TV and streaming companies' latest quarterly earnings reports indicate about the state of the TV advertising market.