TV networks begin to signal willingness to prioritize streaming over linear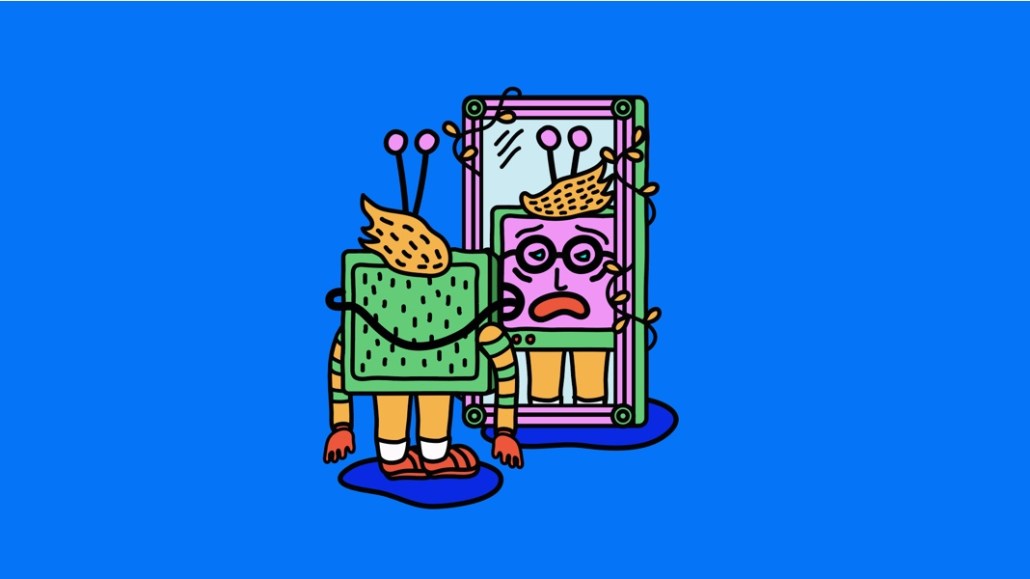 Image credit: Ivy Liu
A former TV industry executive described TV networks' transition to streaming as "a move between mountains." The legacy TV business has been in a downhill slide, while the streaming business is ascendant. But to move from TV's peak to streaming's steep slopes, TV networks first have to go through the valley between the two, said the executive, implying that the transition would require the decline—voluntary or not—of networks' legacy businesses.
Until recently, TV networks have tried to straddle both peaks. They required people to be pay-TV subscribers in order to stream their shows. The original programs they produced specifically for people to stream were either supplementary promotions of their linear shows or backdoor pilots for series that could be developed into linear shows. Their streaming ad inventory was sold in complement to their linear ad inventory.
All these moves were meant to protect the networks' legacy linear businesses — where they draw the majority of their viewership and revenue — as they established their streaming beachheads. However, networks seem to be nearing the point at which they will shift their weight from the traditional TV mountain in order to scale streaming's summit.
This inflection point has been most apparent in the streaming services that TV networks have introduced or acquired and that are untethered from their legacy linear businesses. ViacomCBS has CBS All Access and Pluto TV. Disney has Disney+ and full control of Hulu. Fox now owns Tubi. WarnerMedia and NBCUniversal have debuted HBO Max and Peacock, respectively.
More recently, though, there are signs of networks beginning to prioritize streaming over TV. NBCUniversal CEO Jeff Shell is moving resources from NBCU's TV networks to its Peacock streaming service and plans to adopt a hub-and-spoke model for NBCU's TV programming that would later determine which property or platform distributes a show, according to The Wall Street Journal. Meanwhile, WarnerMedia CEO Jason Kilar has told employees that going to direct to consumer through streaming is the future of the TV business and that he wants to move away from selling shows to other TV networks and instead make them for HBO Max, according to The Information.
Prioritizing streaming at the potential expense of networks' linear businesses is risky to say the least. Despite ongoing linear viewership declines, more people watch traditional TV than tune into streaming; which accounted for 19% of the time people spent watching TV in the fourth quarter of 2019, according to Nielsen. As a result, while streaming is expected by agency executives to account for a larger share of advertisers' upfront commitments, the majority of that money will go to networks' linear inventory. Additionally, networks enjoy a dual-revenue stream in traditional TV, thanks to the affiliate revenue they receive for each pay-TV subscriber that receives their linear channels whether those people watch their channels or not. Nice as it would be for all of those pay-TV subscribers to sign up for the networks' subscription-based streamers, the networks are unlikely to convert that entire cohort. 
But while the traditional TV business isn't going away anytime soon — its audience and revenue remains larger than streaming's — it isn't growing. AT&T and Verizon reported another round of pay-TV subscriber losses last week and agency executives expect that advertisers will spend less money in this year's upfront compared to last year and that a larger share of that money will go to streaming.
Nonetheless, linear's current importance can compromise networks' willingness to make moves in streaming that may jeopardize their linear businesses. So they are taking care with these steps.
Some networks are creating 24/7 streaming channels for services like Pluto TV that operate separately from their traditional linear channels. These streaming channels are unlikely to rival the networks' linear channels' revenue anytime soon. But as streaming viewership increases, linear viewership erodes and ad dollars migrate from linear to streaming, they have the potential to eventually become competitive. For now, though, the networks need to ensure these streaming channels don't upset the pay-TV providers.
"I'm not going to pretend that [the audience on] cable is not getting older. By putting shows on a place like Pluto — and only past seasons so it doesn't conflict with our linear deals — [is] a great way to introduce franchises to audiences of younger people," said one TV network executive.
At some point, the networks will need to make the tough calls to prioritize their streaming businesses over their linear businesses. Some already are, as evidenced by the leaders at NBCUniversal and WarnerMedia as well as Discovery's preparations to enter the streaming wars.
Discovery executives have disagreed over how much original programming its impending standalone streaming service should carry exclusively, according to The Information. Having exclusive original shows could make the streamer more attractive to potential subscribers, but it could upset the pay-TV providers that pay to distribute Discovery's linear networks, per the report. Yet, in another sign of the rubicon that networks are nearing, Discovery has reportedly renegotiated some of its TV deals so its streamer could have more exclusive programming.
Confessional
"Pluto is far and away number one. A distant second is Samsung [TV Plus]. Then there's everyone else."

— Entertainment executive on viewership for the 24/7 streaming channels it distributes across multiple free, ad-supported streaming TV services
Stay tuned: Corona-proof programming with a twist
After the coronavirus crisis shut down physical production in March, TV networks and streaming services scrambled to line up pitches for so-called corona-proof programming, or shows that could be produced remotely. That interest eventually abated as buyers stockpiled enough programming to fill their pipelines for a time. Now the concept has returned but in a new way.
"As cases have climbed back up, they want normal shows, but for us to pitch with covid plans," said one producer of recent development talks with TV networks and streaming services.
In other words, networks and streamers are looking for programs that resemble traditional fare and can be produced using the traditional means — in studio, on location, etc. — but that can adapt to be produced remotely in the event of another lockdown. The adjustments are what you would expect: how a program can be produced while adhering to social distancing guidelines and taking precautions like limiting crew sizes and requiring everyone to wear a mask (except for on-screen talent when cameras start recording. Shooting outside is another adaptation that producers appear to be borrowing from restaurants that have adopted outdoor dining.
"For any new project, you need to be able to say, 'Here's the covid-proof production plan," said the producer.
Numbers don't lie
$200 million: How much money TikTok will pay to creators through a new self-generated fund
4.1 million: Number of people who subscribed to HBO Max in the month after its May 27 launch
-11%: Forecasted decline in television ad dollars, according to media agency Zenith's latest forecast
4 million: Number of people who watched the first MLB game of the season
Trend watch: 24/7 streaming "pop-up" channels
NBCUniversal's Peacock streaming service only debuted two weeks ago but has already joined a trend among ad-supported streaming services. Beyond simply carrying 24/7 channels, Peacock has added a temporary, Olympics-related channel "Road to Tokyo."
Peacock isn't the first streamer to debut a pop-up channel to its linear channel lineup. ViacomCBS's Pluto TV seems to be the most active on this front, having added temporary channels for ViacomCBS shows like "Degrassi." An entertainment executive said that others, including Comcast-owned Xumo and Sinclair's STIRR, are in the market for pop-up channels. "It's just like a six-month programming stunt," this person said.
These streamers seem to be gravitating to popup channels as a way to differentiate themselves. The number of streamers featuring 24/7 channels has ballooned over the past couple years, with companies including Amazon, Roku, Samsung, Vizio and now NBCUniversal introducing their own properties running always-on streams. However, even though the number of streamers have grown, their channel lineups are largely the same, which can make it hard for audiences and advertisers to decide why to spend their time, or money, with one over another.
While these pop-up channels are being positioned as temporary, that designation isn't set in stone. "They say, 'We'll do a linear channel for several months, and if it performs well, we'll keep it up longer,'" said the entertainment executive.
What we've covered
TV networks, agencies discuss share deals to kick-start this year's upfront market:
Agency holding companies would commit to spending a specific percentage of clients' aggregate upfront budgets with a TV network group, rather than agreeing to spend a fixed amount of money.
Share deals are a way for networks and agencies to deal with the uncertainty around how much money individual clients will be willing to commit in this year's upfront.
Read more about TV upfront deals here.
What happens to ad dollars if sports go away again:
Unlike when sports went on hiatus in March, another pause in play may not put ad dollars on hold.
But the TV and streaming market may not have enough supply to hang on to the billions of ad dollars at stake.
Read more about TV sports advertising here.
YouTube's lowered mid-roll ad requirement may lead to shorter videos:
YouTube is reducing by two minutes the length requirement for videos to carry mid-roll ads.
The change may be an attempt by YouTube to remove the incentive for publishers and creators to pad their videos with extra content.
Read more about YouTube here.
What we're reading
Disney+ eyes older audience:
Disney+'s core audience are kids and families (and Disney, Marvel and Star Wars fanatics). But for Disney's streaming service to grow its subscriber base, it will need to appeal to the kinds of people who aren't so into PG-rated fare, according to The Information. Per the report, Disney+'s subscriber acquisition rate initially surged after debuting in new regions, but then leveled off, a sign that it is able to attract Disney diehards but has harder time winning over other demos. Now Disney is in the market for its own version of Netflix's "Stranger Things" in a bid to expand its potential audience and ensure its subscriber base continues to grow.
Apple TV+ looks to load up on movies:
Less than a month after Apple TV+ premiered "Greyhound" starring Tom Hanks, the iPhone maker wants to increase its streaming service's film slate next year to a dozen releases, according to Fast Company. As the report notes, movies seemed to be something of an afterthought for Apple when Apple TV+ launched. But apparently the premiere of "Greyhound" attracted an undisclosed number of new subscribers that has Apple thinking that premiering more movies will give it a promotional boost to garner more subs. It should also help to retain subscribers, considering that Apple TV+ lacks a sizable programming library. Basically, Apple, like Disney, has moved deeper into the pages of the Netflix playbook.
https://digiday.com/?p=373771