The streaming wars have escalated over turf grabs
August 26, 2020 • 8 min read
•
•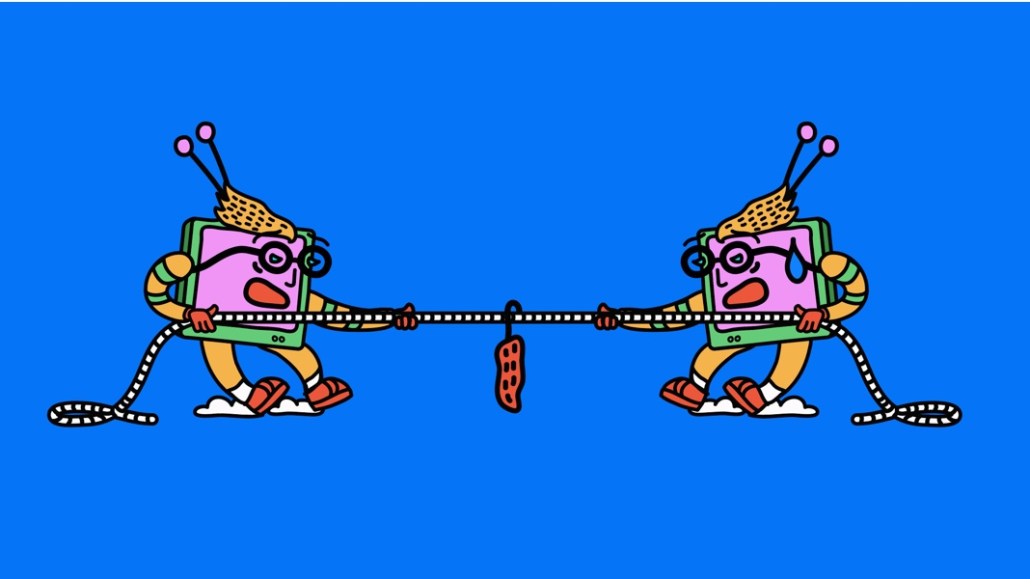 Ivy Liu
This Future of TV Briefing covers the latest in streaming and TV for Digiday+ members and is distributed over email every Wednesday at 10 a.m. ET. More from the series →
The streaming world is becoming more territorial.
Streaming viewership's increase since March has inflamed the various streaming battles into an overarching turf war. Subscription-based streamers like Netflix, Disney+ and HBO Max continue to duke it out, as are their ad-supported analogues like Hulu, Peacock and Pluto TV. Meanwhile, the connected TV platform rivalry between Amazon and Roku shows no signs of slowing, especially with Google poised to make a bigger play for a piece of the market with a new Android TV device in the works. But these fights are cross-pollinating into larger land grabs, creating a streaming ecosystem that is growing more fractious and fragmented.
Amazon's and Roku's distribution disputes with NBCUniversal and WarnerMedia have been the most explicit examples yet of streaming's bellicose state of play. The CTV platform owners reportedly want a slice of Peacock's ad inventory that NBCUniversal is reticent to surrender, and WarnerMedia is reportedly trying to avoid sacrificing a direct relationship with its subscribers by making HBO Max accessible within Amazon's and Roku's own streaming apps.
A more recent sign of the growing antagonism is the unease that Apple, a relative Switzerland among CTV platforms, could become more assertive in its dealings with media companies distributing apps on Apple TV. That fear has yet to be substantiated. But one media executive said they see the potential for Apple to abandon impartiality in light of its fight with Fortnite maker Epic Games and its recent deal with ViacomCBS to sell bundled subscriptions to CBS All Access Access and Showtime but require that those subscribers only access their subscriptions through Apple's own Apple TV app.
The turf war is not limited to the subscription side of the industry. As ad dollars shift from traditional TV to streaming, CTV platforms, streaming aggregators and individual media companies are similarly vying to situate themselves to be the one managing that money.
This right-of-sale dynamic appears to be particularly acute in the free, ad-supported streaming TV market. Newer platforms carrying 24/7 streaming channels from third-party media companies, such as Amazon's IMDb TV and Peacock, have taken full control of ad sales, sharing typically 50% of the resulting revenue with the media companies rather than splitting the channels' ad inventory so the media companies can sell some of their own impressions, according to media executives. 
Additionally, media executives said these so-called FAST platforms (free, ad supported streaming TV), in general, are licensing more programming to create their own channels over which they are also able to control ad sales, and media companies don't receive data regarding their channels' performance and viewership that is consistent across the platforms. "There's no common denominator to compare performance, so it's hard to know what content to be putting where," said a second media executive.
Meanwhile, bigger players in the ad-supported streaming space, such as the CTV platforms and media conglomerates, are becoming less interoperable, fragmenting the marketplace and frustrating advertisers. Case in point: After Roku acquired ad tech firm Dataxu last year, Amazon cut off Dataxu's ability to buy ads on Amazon's Fire TV platform. "CTV is moving to a few big walled garden providers that don't share inventory with each other," said one agency executive.
Confessional
"Fox was probably 85% sold in the Super Bowl at this time last year. [This year] it's a tough sell because there's so much ambiguity around it…. I think it's going to be a year where the Super Bowl is not filled until January."

— Agency executive on Super Bowl advertiser demand
Stay tuned: TikTok paying publishers
TikTok is doing what its primary rival, Instagram, has been largely reticent to do: writing checks to publishers.
TikTok made a big splash in July when it announced it would pay out $200 million over the next year to creators in the U.S. posting videos to its platform through a newly formed TikTok Creator Fund. However, while the fund's name implies it's limited to individual video creators, it is actually open to media companies as well, according to media executives familiar with the matter. A TikTok spokesperson did not respond to a request for comment as of press time.
It's unclear how much TikTok is willing to pay publishers as part of its Creator Fund or how many publishers it is willing to accept into the program. What is clear is that the money would go a long way toward getting publishers to produce original content for the platform that is under siege by Instagram, which recently introduced a rival product Reels, as well as the U.S. government, which is trying to ban the app from operating in the country.
"When they start saying, 'We'll give you money,' I'll have my team start focusing on doing more on TikTok," said a media executive who has been told by TikTok that publishers are eligible for the TikTok Creator Fund.
Numbers don't lie
$5.5 million: How much money ViacomCBS is looking to charge for 30-second commercials in next year's Super Bowl.
50 million: Number of people in the U.S. who use TikTok daily.
9%: Year-over-year decline in the money advertisers spent on TV in the U.S. between January 1 and August 15.
Trend watch: TV's scatter ad prices drop
Advertisers' excitement for the return of major sports to TV has abated as of mid-August.
When the MLB and NBA started up in late July, advertisers that buy TV inventory in the so-called "scatter" market — where networks sell ad space left unsold by the upfront sales process — found that inventory harder to come by, likely because of advertisers trying to gobble up the increased reach among sports-starved audiences. But by mid-August, scatter ad prices dropped by 30% to 40%, according to brand and agency executives.
"Right now I think advertisers are still skittish and don't want to make long-term investments," said Ron Blevins, vp of media at Marketing Architects, whose clients buy ads in the scatter market.
That could definitely be a factor. But another factor could be that it's August and that people just aren't watching as much TV right now. As Sportico reported earlier this month, overall TV viewership has fallen despite the return of major live sports.
When the MLB, NBA and NHL returned in late July and early August, "that created excitement. But now it's tapered off. We're kind of in the dog days of summer," said one agency executive.
Furthermore, outside of sports, there isn't much new programming for people to watch at the moment, which could be leading TV networks to discount their rates. Starting around mid-May, DTC brand Shapermint heard from TV networks offering 30% to 50% discounts for ads running on shows like "Good Morning America" and "The Ellen DeGeneres Show" (the latter may have other reasons for dropping it ad rates), according to Shapermint co-founder and CMO Massimiliano Tirocchi.
The discounts probably may not last for much longer, though. Advertisers typically spend more money on TV starting in September as kids go back to school, new shows debut and existing shows premiere new seasons. "Fall is traditionally the time when spend ramps up," Blevins said. Then again, there is absolutely nothing traditional about 2020.
What we've covered
Microsoft's hands-off handling of LinkedIn offers model for potential TikTok acquisition:
Microsoft taking a heavy hand to TikTok could mar its consumer-facing product.
But Microsoft could help TikTok to appeal to direct-response advertisers.
Read more about Microsoft here.
How Group Nine is selling advertisers on bigger and longer editorial deals:
Group Nine's NowThis and The Dodo has each launched new verticals with exclusive brand partners.
Group Nine calls this a "layer cake" strategy, wherein add-ons increase the deals' value.
Read more about Group Nine here.
What we're reading
TV upfront heats up:
Upfront negotiations between TV networks and advertisers are always somewhat contentious. The networks want advertisers to pay more money, and the advertisers want to pay less money, especially as TV viewership declines. But the talks are a bit more aggressive this year, with advertisers expecting to commit to spend less money overall with the TV networks, according to Variety. Agency executives had anticipated this year's upfront being a buyer's market after years of networks coaxing more money and higher rates out of advertisers, and the report makes it seem like that's exactly how the negotiations are playing out.
Netflix's talk show struggle:
Years after Netflix tried to get into the talk show genre with Chelsea Handler, it seemed to have succeeded with "Patriot Act," its version of "The Daily Show" hosted by Hasan Minhaj that Netflix promoted at events like Complex's ComplexCon. Nope. Netflix has canceled the series, and the decision suggests that the company has yet to figure out how to adapt the TV format to streaming, according to The Verge. The weird thing is that a talk show's success these days hinges on the popularity of clips on social platforms like Twitter, YouTube and Instagram, and Netflix seems to have stepped up its social game, as evidenced by its YouTube channel "Netflix Is a Joke" where it posts clips from its stand-up specials and even uploaded the entirety of Dave Chappelle's instant classic "8:46," which has notched 27 million views as of this writing. But as The Verge points out, the issue may be that people simply aren't looking to Netflix for topical, daily programming.
Streamers siphon TV networks' programming pipelines:
British TV networks are finding streaming services like Netflix swooping in to scoop up series that the networks had hoped to fill their linear schedules with, according to The Guardian. While the article concentrated on the U.K., a similar situation may be facing TV networks in the U.S., particularly those without subscription-based streaming services. A producer recently told me they are more willing to pitch projects to the likes of Netflix, Hulu and HBO Max at the moment because they are willing to pay more than broadcast and cable TV networks or ad-supported streamers.
https://digiday.com/?p=376031
This week's Future of TV Briefing looks at how this year's upfront and recent announcements from AMC Networks and Paramount indicate the progression of programmatic in the TV and streaming ad market.
This week's Future of TV Briefing looks at how major streaming service owners' subscription business fared in the third quarter of 2023.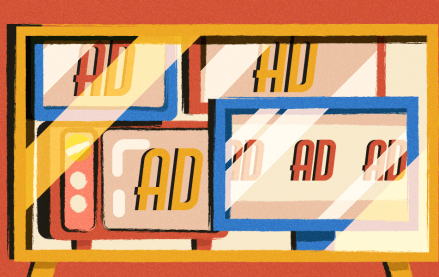 This week's Future of TV Briefing looks at what TV and streaming companies' latest quarterly earnings reports indicate about the state of the TV advertising market.