Future of TV Briefing: Digital video and commercial productions are approaching normalcy
June 9, 2021 • 10 min read
•
•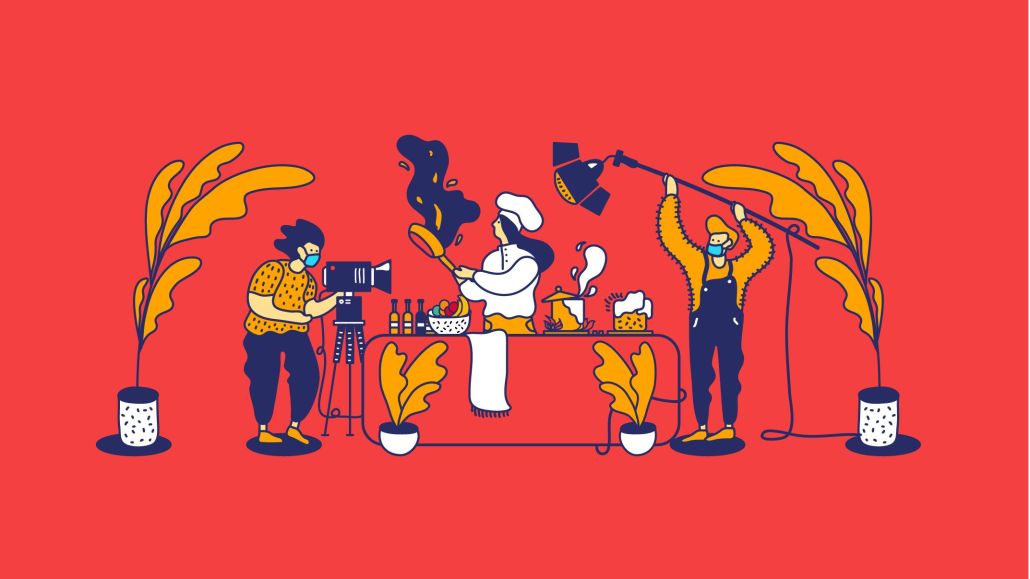 Ivy Liu
This Future of TV Briefing covers the latest in streaming and TV for Digiday+ members and is distributed over email every Wednesday at 10 a.m. ET. More from the series →
The Future of TV Briefing this week looks at how far digital video and commercial productions have come from the days of fully remote shoots.
The return to production's latest phase
The accelerated upfront
The ad-supported streaming battlefield
Rising production costs, Disney's and Comcast's custody battle over Hulu and more
The return to production's latest phase
Fifteen months after in-person shoots took a hiatus in the face of the coronavirus crisis, digital video and commercial productions still don't look entirely normal, but they're getting pretty close.
"We have a couple upcoming shoots that are going to be in-person, and the shoots themselves are going to feel relatively normal," said Jack Foster, art director and film director at creative studio Stink Studios.
To be clear, "relatively" is doing a lot of work in that sentence. A producer time-traveling from 2019 would still not see today's commercial and digital video shoots as normal. Mask mandates, testing requirements and distancing measures remain in place, and they will likely continue to be a part of production at least through the end of 2021, said Dani Hiravy, head of production at creative agency Mustache. Compared to the projects being shot entirely remotely in spring of 2020, though, productions are approaching normalcy.
"If it's on a scale of 1 to 10 normal or not, we're at like an 8," said Gabriella Mangino, executive producer at food publisher Food52.
The key hits:
Digital video and commercial productions have returned to shooting inside and have been expanding their crew sizes.
Between the typically busy summer season and the addition of remote capabilities, production loads are increasing.
While companies are relaxing some COVID-related safety measures, they plan to maintain many protocols until the pandemic is officially over.
Digital video and commercial productions began their return to normal last summer. When companies initially resumed in-person shoots, they typically limited themselves to shooting outside and with less than a dozen — at times, less than a handful — people working on location. Since then, as coronavirus case numbers have dropped and vaccination rates have risen, they have eased toward shooting inside and expanding their crew sizes.
"We are doing maybe not large-scale [productions], but we've got crew sizes exceeding 40 [people] at times," said Hiravy, noting that the agency continues to limit sets to only necessary cast and crew members. The average commercial project has 40 to 60 people working on set, she said.
The production return's latest phase is coming at an opportune time. Summer is typically a busy season for commercial shoots, and companies are already seeing brand activity pick up and even exceed pre-pandemic levels. Stink Studios is slated to have four to five projects going into production over the next few months, which is roughly double the number it had in production during the summer of 2019, Foster said.
For Food52, last year's shift to remote production has helped with the resumption of in-person shoots. The publisher developed and refined processes for being able to shoot in the homes of its shows' stars, like Sohla El-Waylly, Erin McDowell and Rick Martinez. So rather than having its stars return to shooting in its studio, which began reopening last summer, Food52 has continued to shoot in their homes with a limited number of crew members, such as a director and a couple people to manage lighting, IT and sound. That has enabled Food52 to produce more editorial videos — "Before with Sohla, we would only do one a day. Now we're up to three videos in a day with her," Mangino said — and has freed up Food52's studio for branded video productions.
"Our brands partnership work has been scaling up, so it means we can do three shoots for brand partnerships every week. Previously it was like one day a week," said Mangino.
However, even as production ramps up, companies are taking care to not race toward risk. Many of the health and safety protocols put in place last year, particularly mask-wearing and testing requirements, continue to be a part of production, but that has enabled companies to relax some measures as government- and/or industry-mandated restrictions lift.
"You don't want to lighten up too much too soon, but the things we're lightening up on are putting multiple people in vehicles," said Adam Zimmer, executive producer for West Coast at production company Valiant Pictures.
Productions typically rent out 15-person passenger vans to transport cast and crew members to and from locations. Valiant Pictures had been limiting its vans to only carry two or three people but has started to allow a few more people in each van, said Zimmer. The company had also been limited its lunch tables to seating two people at a time to each six-foot table and has similarly expanded that to a few more people per table. As a result, Valiant Pictures does not need to rent out as many passenger vans and tables for shoots, which has lowered its production costs by 5% to 10% on average, he said.
Food publisher Tastemade had been requiring cast and crew members to wear contact-tracing dongles that monitored whether two people were within six feet of one another for more than 15 minutes at a time, according to the company's head of production Kevin Furuta. But after Los Angeles County updated its guidance in March 2021 following a drop in hospitalizations, Tastemade relaxed the requirement. That has enabled the company to add extra crew members to productions.
"To be able to get extra crew members in there, that can help out a production. You're able to do more in the day," Furuta said.
Next week, Tastemade will take another step in its return to production. The company will implement a system to track cast and crew members' vaccination records — in compliance with federal health privacy law — in order to have fully vaccinated productions for some projects (the company will make accommodations for people who do not get vaccinated for health or religious reasons). But, even for fully vaccinated productions, protocols like mask mandates and cleaning procedures will remain in place, said Furuta, who noted that Tastemade has had no instances of COVID being spread on one of its productions.
However, even as restrictions lift and productions approach normalcy, "we are not going to ease protocols for the sake of easing protocols," Furuta said. The safety-first sentiment was shared by everyone that Digiday interviewed for this article. As Hiravy noted, "COVID is not over."
This article has been updated to reflect that Valiant Pictures had been seating two people at a time to each six-foot table. A previous version said the company had been seating two to six people per table.
What we've heard
"Facebook is killing it right now. We've just come off our best month ever [for revenue and video viewership]. We cut our content [output] by 30% and still killed it."

— Entertainment executive
Stay tuned: The accelerated upfront
The pandemic has sped up many areas of the media and advertising business, including the annual TV upfront negotiations. By February, advertisers and their agencies had already begun going over their plans for this year's buying cycle. And deal talks were already underway by the time the broadcast TV network owners hosted their presentations in mid-May.
Now, it's early June when the upfront market is usually just getting going, but ad buyers and sellers are already deep into their deal-making process. Broadcast TV network owners Disney, NBCUniversal and Fox are making sales, according to Variety, and some agency executives told Digiday senior editor of media buying and planning Michael Bürgi that deals could be finalized in the next week.
Driving the acceleration is the still-high level of demand for traditional TV inventory despite a dwindling supply. That isn't only pushing up linear TV ad prices but is also pressing advertisers that typically wait to do calendar-year upfront deals in late summer and fall to consider moving up their timelines.
"I have a couple calendar-year advertisers that I've heard word from partners that are like 'You might want to talk to them about switching that up because we don't know if there's going to be inventory for a calendar-year upfront, and if there is, it's going to be ridiculous,'" said one agency executive.
Numbers to know
1,000: Number of movies that ViacomCBS will add to Paramount+ this week.
$24.88: Price of Walmart's onn-branded connected TV device.
0: Number of broadcast TV networks' entertainment shows that received at least a 2.0 audience rating during the 2020-21 season.
7,000: Hours of Olympics programming that NBCUniversal will air across its TV networks, Peacock streaming service and other properties.
Trend watch: The ad-supported streaming battlefield
A year ago, the ad-supported streaming market was largely dominated by Disney-owned Hulu and free, ad-supported streamers like YouTube, ViacomCBS's Pluto TV and Roku's The Roku Channel. Since then, NBCUniversal rolled out Peacock nationally, and Discovery debuted Discovery+. Within the past week, WarnerMedia's HBO Max and ViacomCBS's Paramount+ have added ad-supported tiers to their respective services.
Given the influx of streaming services offering current TV programming and TV-quality original shows, the ad-supported streaming war is really only just kicking off. Case in point: the audience overlap among the major ad-supported streaming services is relatively minimal, according to an agency executive. As a result, advertisers are in a position where they feel the need to spread their money across the various properties until winners and losers emerge.
The primary deciding factor will be what shows and movies the services have on offer. That will come down to exclusive and original programming for attracting audiences and a sufficiently extensive library to keep them coming back.
But another factor will be cost. While YouTube et al. are available for free, the others largely require people to pay (Peacock has a free tier but limits its most prized programming to the paid tiers). The cost consideration is more nuanced than the straightforward price, though. What audiences may also consider is how much more or less they may have to pay for the services' ad-free options.
Discovery+: $4.99 with ads, $6.99 without ads
HBO Max: $9.99 with ads, $14.99 without ads
Hulu: $5.99 with ads, $11.99 without ads
Paramount+: $4.99 with ads, $9.99 without ads
Peacock: $4.99 with ads, $9.99 without ads
What we've covered
Why Instagram is starting its first training week for creators:
This week Instagram is hosting a virtual event to support creators on the platform.
The event will feature sessions with Instagram executives and creators as well as pitch-style competitions.
Read more about Instagram here.
Subscription-based streamers outstrip ad-supported services' share of watch time:
Of the time that people spent streaming video in 2020, 62% was spent on subscription-based services versus 32% on ad-supported services, per PwC.
The influx of major ad-supported streamers in the past year could eventually tip the balance.
Read more about streaming watch time here.
Why L'Oreal is turning to TikTok for commerce boost:
L'Oreal is starting to sell some products through TikTok, including a special TikTok Product tab.
The cosmetics company is also working with 14 TikTok creators to promote its products.
Read more about L'Oreal here.
Crooked Media will use Team Whistle's Snapchat Discover channel to drive views to its YouTube show:
Team Whistle will manage a Snapchat Discover channel for Crooked Media's "ALL CAPS NBA" show.
The Snapchat channel will feature cut-down versions of the show's YouTube episodes.
Read more about Crooked Media here.
2021 will be the year of CTV and flexible and transparent video ad buying:
Flexibility, CTV targeting and identity and transparency dominated the discussion at Digiday's Business of TV Forum.
Flexibility is not a fad, and how flexibility is found can be similarly fluid.
Read more about video ad buying here.
Mozilla calls on TikTok to tighten controls on political videos:
TikTok has come under fire for carrying videos that may be sponsored content but are not labeled as such.
TikTok provides a tool for some creators to label sponsored posts, but it's unclear how widely available it is.
Read more about TikTok here.
What we're reading
Production costs are on the rise:
A dearth of set-building supplies is pushing up production costs for movies and TV shows, according to The Hollywood Reporter. Materials such as plywood have tripled in price. To offset the increases, productions are opting to use cheaper materials or reuse already-built sets. Meanwhile, studios are looking to spread out where they set up shoots so that they aren't creating too much demand for materials in any one location.
YouTubers aren't journalists, says court:
The Washington State Supreme Court has decided that YouTube creators do not qualify as members of the news media, according to Reclaim the Net. The case highlights how outdated laws can be and how challenging the business of being an independent creator is. Per the law, a person would need to be part of an organization to qualify as a news media member. In that case, a creator would need to be recognized as an independent contractor of YouTube to meet the requirement.
Disney is fighting with Comcast over Hulu:
Disney may be the majority owner of Hulu, but Comcast still has its stake and is arguing that the former is limiting the streaming service's value, according to The Information. At issue is the decision Disney made last year not to roll out Hulu internationally. Disney executives had reportedly been wary of building up Hulu's value and, in turn, adding to the amount of money the company would owe Comcast for taking the latter's stake in the streaming service, per Bloomberg.
https://digiday.com/?p=417106
This week's Future of TV Briefing looks at the post-strike landscape for producers preparing to pitch projects to TV networks, streaming services and film studios.
This week's Future of TV Briefing looks at what an industry group's conditional certification of three measurement currency contenders signals about the TV ad business's measurement overhaul.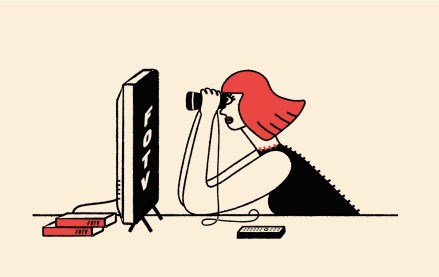 This week's Future of TV Briefing offers an updated list of the key terms that can cause confusion when talking about the TV, streaming and digital video industry.