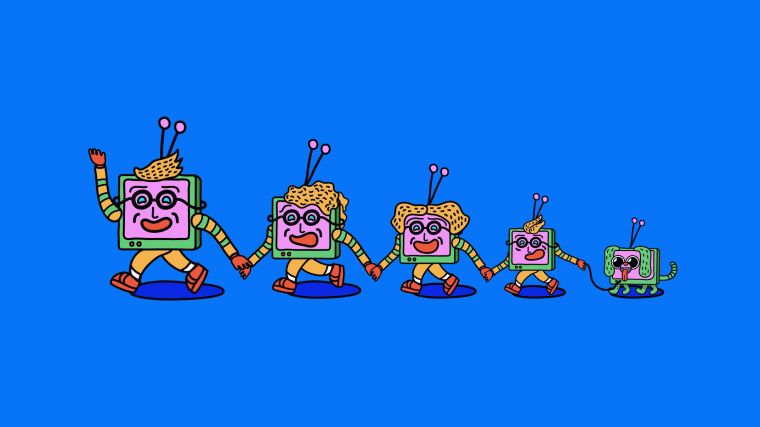 Ivy Liu
June 4, 2021 • 9 min read
•
•
Last year will likely be remembered as a key inflection point in the history of the TV industry. Against the backdrop of the Covid-19 pandemic, we saw audiences switch to streaming in droves, CTV advertising spend soar and upfront destabilized by cancellations and calls for greater flexibility.
We're still making sense of the ramifications of those developments, but life in the TV business stops for nobody, and 2021 is giving us no shortage of conversation starters to puzzle over. Digiday's Business of TV Forum on May 20-21 brought together a stellar lineup of industry luminaries to discuss the trends that are shaping the future of TV right now, from flexibility and CTV targeting to identity and transparency.
01
Flexibility is not a fad
It seems everyone in the industry has flexibility on their mind. As CEO of the Interactive Advertising Bureau (IAB), Dave Cohen talked about a forthcoming update of the IAB's terms and conditions. The new terms and conditions could see changes to the IAB's flexibility standard governing cancellations. Cohen said we can look forward to an announcement at some point in 2022.
We sounded out speakers throughout the forum about what they'd like to see built into the IAB's new T&Cs. Dave Sederbaum, evp, U.S. head of video investment at Amplifi, spoke about creating a more level playing field with consistent terms and some degree of uniformity to offer buyers flexibility. Other speakers emphasized the need for a more tiered understanding of flexibility. "I think I would rather not have standardization, because I think there are clients that don't necessarily need so much flexibility and there are clients that need a ton of flexibility," said Lisa Herdman, svp, executive director of strategic investments at RPA.
In the meantime, buyers and sellers are creating new frameworks to ensure flexibility for buyers while ensuring a minimum degree of predictability for sellers. So-called "endeavor" deals are one example, where buyers commit to a minimum guaranteed spend but can unlock additional benefits by leveling up their spend. However, the buyer can still opt out of the extra spending if performance fails to justify the spend or other circumstances arise.
Cohen said the long-term viability of these deals will rest on performance and productive relationships between the parties involved. "If you have an endeavor, you need to be in good faith, try to get to that endeavor," he said. "If you don't, you won't be able to do that many times because people don't believe your endeavor."
In other cases, consolidation of services is allowing for simplified transactions between buyer and seller, but still leaving buying agencies and clients with flexibility over how and where to allocate spend. "From our clients' perspective, it allows us to use data to transact in different ways, but not necessarily have to go strike 25 different deals to do that," said Nicole Whitesel, evp, advanced TV & client success at Publicis Media.
02
Clients are coming around to CTV
Stephanie Zuroff, director of business development & content partnerships at Samsung TV Plus, said the shift to streaming she saw during the pandemic shows every sign of holding. That compels advertisers to continue moving a growing proportion of budget to CTV. "Ninety percent of TV Plus users do not have another connected device plugged into their TV, so these are users that are not watching traditional cable," Zuroff said. "They're users that advertisers can't reach if they're not buying CTV inventory."
Client concerns around brand safety have eased significantly, according to Katie Watson, vp, technology & activation group, Spark Foundry. However, residual concerns remain around viewability, safety and effectiveness, though the specific issues will vary from client to client. And it pays to learn how to explain CTV to clients, said Dick Wechsler, CEO of Lockard and Wechsler Direct. Wechsler thinks of CTV as akin to direct mail campaigns, and one effective plank of a sophisticated multi-channel strategy.
Critically, advertisers are discovering that the ability to measure things like store visits and offer claims via CTV is one of the most compelling arguments for investing in the space. Allergan's senior marketing manager, Myles Dacio, said the shoppability that can be built into CTV campaigns with QR and SMS codes has a direct impact. "That was a game changer for us, seeing that we aren't only driving awareness, but lower funnel tactics as well," Dacio said.
More people are streaming than ever, but CTV audiences haven't necessarily given up traditional viewing habits. "A couple years ago people were thinking everyone wants to be on demand," said Samsung's Zuroff. "But really I think we're seeing a lot of users who don't know what they want to watch when they come."
03
Upfront's place in the programmatic future
Although upfront survived the crisis of 2020, there are legitimate questions about how the marketplace will look a few years from now — or if it will still exist at all. IAB's Cohen said he believes specific types of scarce assets will always support an upfront approach — sports and tentpole events, for example. "But there's a whole lot of other stuff …. that is being fed into linear broadcasts, CTV outlets, that will become far more automated than it is today," Cohen said. In the long run, the continued ascendancy of programmatic is all but inevitable.
Rising costs are also affecting the upfront market. Amplifi's Sederbaum acknowledged the expense, but said there's still a lot to like about the upfront market, conditional upon flexibility parameters being built in to protect buyers. "As long as you are making sure that it's delivering on your overall business objectives, it's the most cost effective way to purchase linear television," he said.
04
The identity conundrum
TV doesn't have a cookie problem like the broader programmatic advertising space does, but it does have its own identity issues. Open AP's announcement of its new Open ID identifier appears to be a step towards standardization, but there's much work still to do. Samantha Rose, svp, advanced TV & video solutions at Horizon Media, discussed Horizon's own identity framework, blu, which they're integrating with Open AP and other partners.
"I do feel like we're at a pivotal point now where it's not just theoretical, but there is progress being made," Rose said.
Debates also continue around optimizing the targeting mix. Unlike mobile, CTV is often centered around household-level targeting. We heard from a number of speakers about how rich data sets can allow CTV to achieve a high degree of granularity, but just because you can target a highly specific viewer doesn't mean you should. Clients have to remember that multiple people could be watching in one household, and that's an especially important consideration when children are involved.
"We have blu and it's been enriched with so many different data sources, we can get pretty granular," said Rose. "But obviously we want to balance that with making sure that it's right for a media buy."
05
The search for transparency
Transparency is still an issue, particularly when buying through streaming aggregators. The emergence of new walled gardens is another development that could impact transparency, but Rose believes there are reasons to be both nervous and hopeful.
Rose said that streaming services that were born out of traditional TV networks should have few grounds for apprehension around greater transparency. "They understand the kind of information that people are looking for and clients and advertisers and agencies are looking for and they're willing to share it because that's the kind of information that we've always been able to get on the TV side," she said.
06
WTF is … The scatter market
The scatter market exists to allow a degree of ad-hoc purchasing within the generally rigid upfront market. Upfront purchases are made months in advance, committing the advertiser to a specific slate of spots aimed at a targeted demographic. The scatter market is used to sell the remaining space, giving advertisers an opportunity to buy placements at short notice. Scatter advertising is typically sold at higher prices than upfront, but pricing isn't everything — the buyer may be motivated by a desire to hedge against other purchases or to take advantage of a favorable market or economic climate. The scatter market was huge in 2020, and continues to offer buyers flexibility that is otherwise lacking within upfront.
"If 2020 taught us anything, it was that every single dollar that we invest has to have a return on it." — Dave Sederbaum, evp, U.S. head of video investment, Amplifi
Sederbaum spoke bout ROI in the context of building flexibility into the upfront market in linear TV. His take was that the upfront is basically a good way of buying, but the process needs to be modernized. With linear audiences declining, flexible terms give the buying agency a way to ensure they obtain value from their investments. "I don't mean to imply that two years ago as an investment lead I just wasted money," Sederbaum said. "But meaning that when things become economically challenging, you need to make sure that you're delivering on everything you do." That's a mindset that could serve buyers and sellers well as we move past the pandemic.
"You need to make sure that your message is connecting with consumers on a more personal level, your message needs to be creative, it needs to be innovative and it needs to provide value versus being that creepy annoyance that sometimes happens in this space." — Stephanie Geno, CMO, Innovid
From a content delivery perspective, personalization is at the heart of so much of CTV's value proposition, with algorithmically-powered recommendations, curated watch lists and so on. Geno said advertisers have to apply the same instincts to create messaging that resonates with audiences. Don't lean on reach alone to secure ROI, because it won't happen. Geno admitted that diving into personalization can feel like "boiling the ocean," but she said Innovid's investments in advanced creative have delivered impressive returns.
"We have to establish a new lexicon and we need to create measurements and goals that make sense within a business model, because ultimately what matters is ROI." — Dick Wechsler, CEO, Lockard and Wechsler Direct
One of the biggest challenges the industry is facing is agreeing on how we talk about advertising, performance and measurement. Wechsler discussed how clients still lean on traditional metrics like cost per point long after it has been rendered irrelevant in local markets by the collapse in linear TV audience. Communication breakdown makes it harder for everyone to do business, and Wechsler said agencies and sellers need to shift the conversation and invest time in helping clients understand CTV to build their willingness to test and learn.
However, the industry continues to cry out for some standardization of terms and measurements. "Nielsen made our lives really easy for a long time," Wechsler said. "Nielsen was the whipping boy we loved to hate. But the reality was it was the currency, it was the language, so we were all speaking the same dialect and we were able to communicate."
Innovid's Geno said the company's CTV testing has seen advanced creative perform significantly better than standard pre-roll advertising. "We saw advanced creative do a 309 percent lift in engagements and an average of 34 seconds of additional time earned," she said. "Interactive CTV generated an incremental 63 seconds of time earned, so that means that people are choosing to actively spend a minute plus with your brand above and beyond that standard 30-second spot."
https://digiday.com/?p=416528