'We're an anomaly': Barstool Sports CEO Erika Nardini on building a 'lifestyle brand'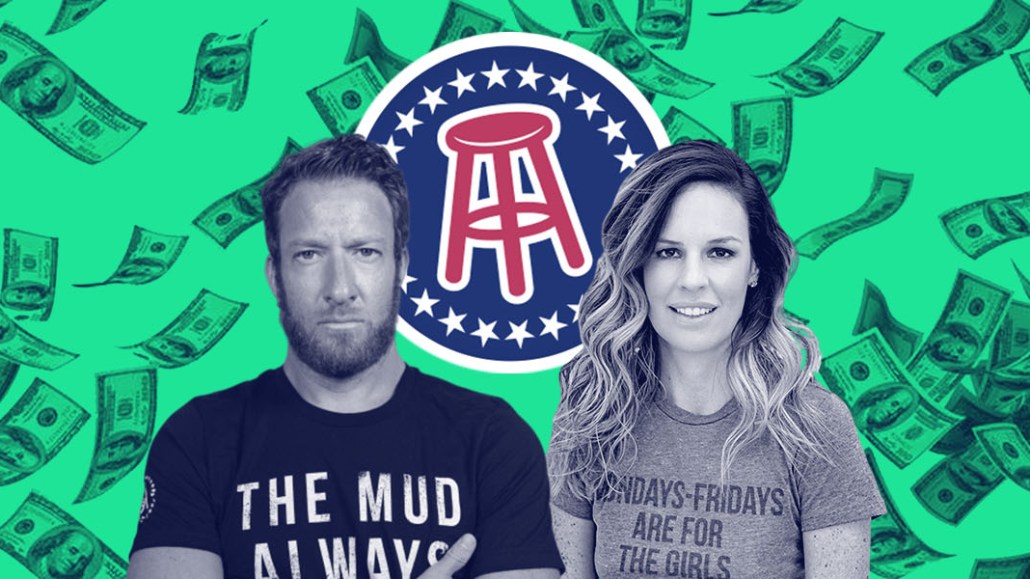 Barstool Sports' early bet on gambling came up big. On Wednesday  the sports- and gambling-focused publisher announced that Penn National Gaming, a gambling operator, plans to acquire Barstool, beginning by taking on a 36% stake for $163 million in cash and stock. If it makes an additional payment of $63 million in three years' time, Penn's stake will increase to 50%, and the operator will have options to further increase its stake or purchase Barstool in its entirety.
Although Barstool was regarded as a kind of curiosity in digital media, its embrace of things including podcasts, merchandise and branded content helped swell its valuation over the past few years. When the Chernin Group acquired a controlling stake in the company in 2016, Barstool Sports was worth about $15 million. Wednesday's transaction values Barstool at $450 million.
Digiday spoke with Barstool Sports' CEO Erika Nardini for a brief chat. The conversation has been edited and condensed.
Barstool Sports founder Dave Portnoy has said that this isn't going to change what Barstool does. But what is it going to enable you to do? 
Barstool Sports is a brand that's been around since 2003. Dave Portnoy originally started Barstool as a newspaper because he wanted to get into the casino business and they wouldn't let him.
But what it's really become in the last three and a half years is the fastest-growing lifestyle brand on the fastest-growing platforms on the planet. We're now starting to inch toward 100 million consumers.
What this opportunity provides us is a couple things. Penn's the single largest casino operator in the United States. This means every time we tour the country, we bring our entertainment shows, our golf classic, our pond hockey tournament, poker. Every time we bring ourselves to market, we now have a place to go. The second is that now the brand takes a new life of its own. The Barstool Sports brand will become Penn sports book brand. It'll be the Barstool sports book.
It will now compete with the people we helped build. We're going to go up against the FanDuels; we're going to go up against DraftKings; we're going up against MGM.
Are you worried about supplanting or making up for that revenue? Might that relationship change?
If I were them, I wouldn't be interested in working with me because I'm going to be promoting our own sports book.
I'm not worried about supplanting that revenue. If you look at how it is today, we've got a show on Tuesday for PointsBet. The Saturday morning show is for FanDuel. The Sunday show is for yet another partner. Our head has to be on a swivel all the time right now. We don't think that's the best thing for our consumer. What this enables us to do is instead of having to do something three times, we're going to do it with one brand. And that brand our fans know because it's our brand.
Sports gambling has taken over media and it seems like every sports media company is piling in. What does that do for your prospects holding that audience's attention?
We're an anomaly. Our talent has been betting for a long time. They actually know how to bet. It's honestly and authentically part of our zeitgeist. We also have a young, very desirable audience.
When you look at the legacy media companies, sure, everybody's inventing a gambling show right now. But one, their audiences are old. Two, it's not authentic; they've not been betting and talking about betting for the last 15 years. Three, they're approaching it the way traditional media always approaches things, where they they put three people behind a desk in a large studio.
The fourth thing is we're unencumbered by other partnerships. Traditional media has a lot of mouths to feed: They've got cable operators; they've got sports rights. They've got to be concerned about attrition.
I think of Barstool as a proto-DTC media company: You have an intimate understanding of what your audience likes and are obsessed with keeping them happy. What do you think today's news says about what's happening in media and where it's going?
It's an interesting state and time with media. The loss of ad dollars, time spent, attention and audience to the social media platforms is palpable. There's now inherent conflict between subscription products and broadcast products. There are seismic things happening. There are challenges inside legacy media companies.
We've always been very small and very nimble. We've grown quite big but we've remained nimble and we've gotten there by really only paying attention for one thing, which is our fans. You've seen big media companies, big sports betting companies come together. You've seen those partnerships establish in traditional ways, and I think you'll see it manifest in traditional ad spend. What you'll see from us is very different.
https://digiday.com/?p=358300