'We're playing offense': Verizon pivots its publishing strategy to focus on commerce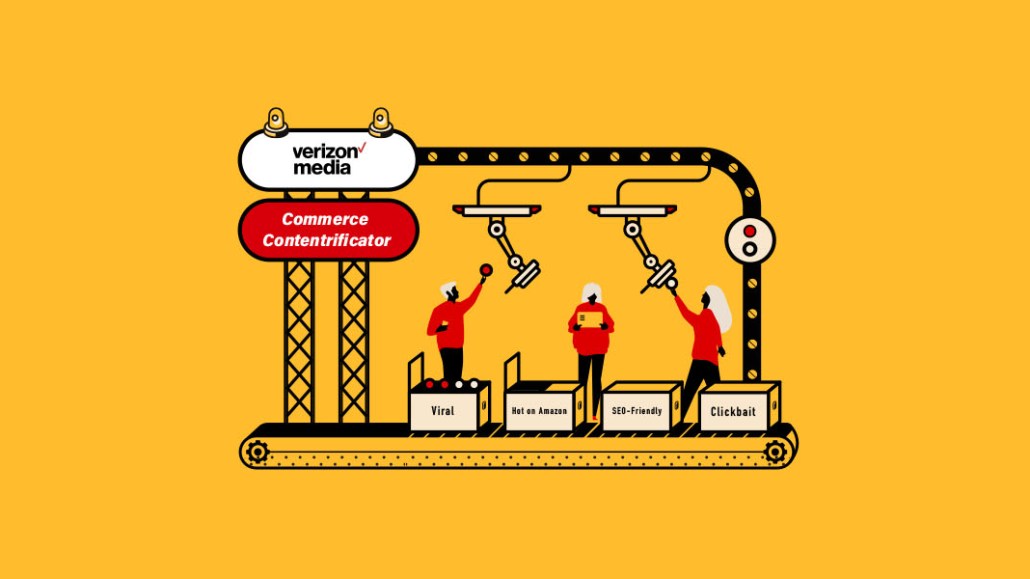 Verizon Media Group has long styled itself as an advertising platform. Now it wants to act like one that helps brands and retailers drive sales.
After years of cobbling together ad tech tools, the home to titles including Yahoo, AOL, HuffPost and Engadget is betting that commerce can drive a new phase of growth, led by a shoppable video series, tools that help its sites' writers embed products in their stories, and more technology to help their audiences shop both on and off its sites.
At the beginning of October, at an all-hands meeting headed by CEO Guru Gowrappan, a number of Verizon executives spent nearly an hour laying out a host of new products and programming changes designed to lay the foundation of something they hope can deliver one-third of their revenue in the next five years.
Some of these tools have helped Verizon Media develop strong relationships with retailers such as Walmart, which counts Verizon as one of its top drivers of affiliate transactions. But with many brands still wrapping their heads around affiliate commerce, direct-to-consumer techniques and how those fit into the rest of their marketing strategy, Verizon Media is hoping to prove that it can help a wide variety of marketers and advertisers in this way.
"I think the next year will be foundation-building," Gowrappan said. "Most advertisers know the net goal is to convert a consumer, but they don't get that level of deep tracking. We will be innovating on that and educating the market."
Across the portfolio, all of Yahoo's properties, plus Engadget, AOL, HuffPost and Autoblog all publish at least some commerce content. Some create a lot: 35% of the content on Yahoo Lifestyle is commerce content, for example. The goal is to increase that amount across the portfolio, though some titles have more room to develop this than others, said Alex Wallace, gm of entertainment, news and studio at Verizon Media. Wallace cited HuffPost and Engadget among the titles that she saw having some of the greatest potential to increase their commerce content output. Though not all sites may factor into future plans; Verizon Media is reportedly seeking to offload HuffPost, according to the Financial Times.
But like a growing number of commerce-focused publishers, Verizon Media also wants to change the way that content looks and feels. A recently built shoppable video player, for example, is deployed across just 15% of the commerce content on Yahoo Lifestyle & Entertainment. Verizon Media plans to increase that to at least 25% by the beginning of next year and increase the amount of shoppable video it publishes across the platform.
The video is just one new feature. At the internal presentation, product leaders also laid out a suite of new features, including site-native buy buttons, so-called "hot spot" technology that makes images on posts across Verizon Media Group sites shoppable.
On the back end, a new content management system, called Fireplace, designed to make it easier for Verizon Media Group's writers and content producers to add products and interactive, shoppable elements to stories, was unveiled.
To meet that growing need, Verizon Media is investing in more original shopping-focused video too. Beginning Nov. 1, Verizon Media will roll out a series of shopping-focused videos oriented the holiday season, a complement to six shoppable video series Verizon Media rolled out across Yahoo Lifestyle and In the Know earlier this year, including "Gotta Have It," "Add to Cart" and "You Need This."
That content, in theory, will help drive affiliate revenue. But it is also meant to help power other revenue opportunities, including branded content production and a coupon business that currently serves billions of coupons and special offers every day globally through Yahoo Mail and Yahoo Shopping. Verizon Media plans to target coupons to people that have read about the products and services written about across the ecosystem.
"What we're doing is creating a more direct through-line from content to discovery to commerce to transactions," Gowrappan told staff, saying that the products being built would serve as a "horizontal engine that intersects across verticals."
The strategy is also designed to broaden the meaning of Verizon Media Group's brands for its audience, a strategy that has underpinned many publishers' revenue diversification plans. "It's not just about revenue," said Chris Erwin, the founder of strategic advisory firm RockWater. "It's about reinforcing [the titles' value] to the audience and giving them another way to interact with a content brand."
Verizon Media Group's push into shopping comes at a moment when publications are looking for ways to diversify their revenue as they fight a losing battle against Google, Facebook and Amazon for digital advertising dollars. Like every other media company, Verizon Media Group took its lumps in that fight. It began the year by laying off 800 employees, or about 7% of its workforce, and resolving to focus on growing its video strategy, increasing business use of its ad products, and partnerships. The commerce strategy supports those priorities.
"We're finally stabilizing the business," Gowrappan said. "Now we're playing offense."
Even with all these changes, Gowrappan said that it will be months, if not years, before it changes the nature of the relationships Verizon Media has with its advertisers, which are still largely grounded in media spending. "We're treating this as incremental right now," Gowrappan said. "It doesn't pollute how things are done today."
That's partly because not every advertiser is set up to use services like those. But being built for where things are going could serve it well. "I think they're probably a little bit ahead of the curve, in a good way," said Carina Pologruto, the chief innovation officer at MarketSmith Inc., an agency focused on commerce and performance marketing. "What Verizon's doing is smart. They're looking for a way to have a competitive edge."
This story has been updated to include news that Verizon Media is exploring a sale of HuffPost. 
https://digiday.com/?p=349748