One month in, The Atlantic's membership program is in 'the thousands'
October 6, 2017 • 3 min read
• By
Digiday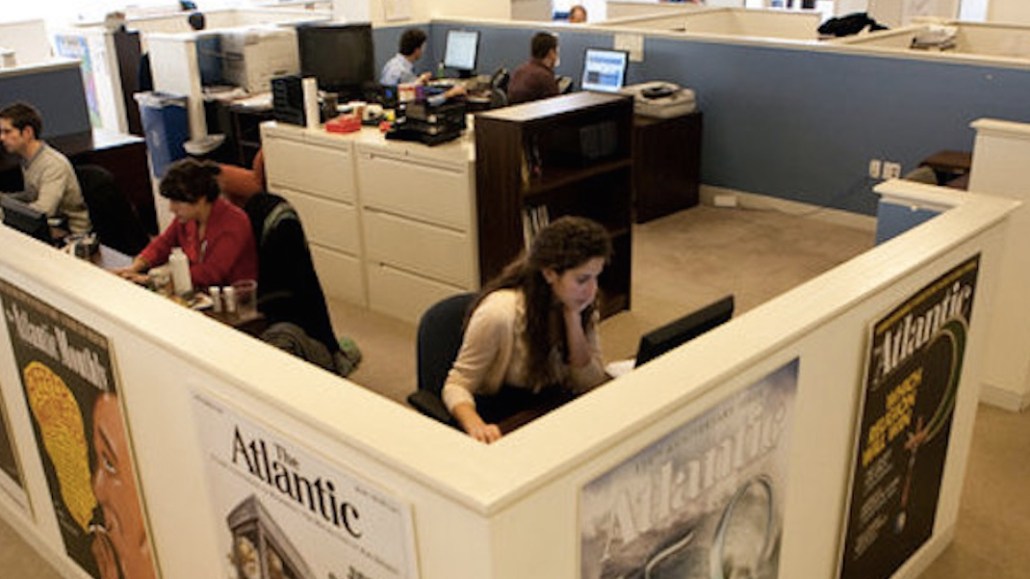 Many publishers are still learning what readers will pay for as they try to raise more revenue from the consumer side. A month after The Atlantic created The Masthead, a membership program aimed at its most loyal readers, it's found that contact with its journalists is one of the most valuable features.
The Masthead has grown the program gradually, testing it with a small beta group of 250 before opening it up to subscribers for $100 a year. This week, membership was opened to everyone, at a price of $120 a year. Starting narrow has enabled The Atlantic to isolate the feedback of its most devoted readers. It's been testing different content formats in email to the group and asked recipients to grade them on a scale of one to five.
A hallmark of the program is giving members ways to communicate with editorial staffers, and the highest-rated stories have been those that were a response to a member question or comment, like one about the history of the Korean War and one that answered a member's questions about staying safe as an immigrant.
Matt Thompson, executive editor of The Atlantic, said it was also notable that the most valued articles weren't about the biggest news of the day.
"Folks value some distance from the news cycle," he said. "Our members value more that we are responsive to them than that we're beholden to the news," he said. Having seen this, The Atlantic is working on creating a system that will let it get members' input on subjects it plans to report on for them, instead of just getting their feedback after the fact.
After one month, The Atlantic said membership is in "the thousands," and as time goes on, it'll have meaningful data about metrics like email open rates, engagement with different types of content and renewal rates.
Where the growth will level off remains to be seen. According to media analyst Ken Doctor, at most, 1 or 2 percent of a publication's monthly unique audience will pay for a digital subscription. Two percent of The Atlantic's digital audience, based on its May peak of 42.3 million, is 846,000. Conversion in the 3 to 8 percent range is possible for media companies with well-designed subscription offers and well-executed plans, though, said Patrick Appel, editor in chief of Traffic, a magazine that's owned by Piano, which helps publishers with paywalls. The conversion rate depends on factors like the quality of the offering and the loyalty of the audience, Appel said.
To market The Masthead more broadly, The Atlantic sent a letter to non-subscribers announcing the program; shared examples of members-only articles on social media; and plans to target on Facebook people who got to the Masthead landing page but didn't sign up. There also will be promotions of the program on TheAtlantic.com.
Next year the magazine plans to do more paid acquisition, add to The Masthead's two-person staff and test other reader-paid features beyond The Masthead. It also may try low- or no-cost trials, letting people share stories from behind the paywall and gifting options to grow membership.
A lot of publications have seen a subscription and readership bump in the Trump era, The Atlantic included. Sam Rosen, The Atlantic's head of growth, said while Trump has drawn awareness to the need for a free and independent press, the idea for The Masthead was conceived three years ago and isn't dependent on a Trump bump. "It's definitely a Trump-or-no-Trump situation," he said. "It's a much longer arc for us."
https://digiday.com/?p=257365