Why news publishers are eagerly bundling their subscriptions with brands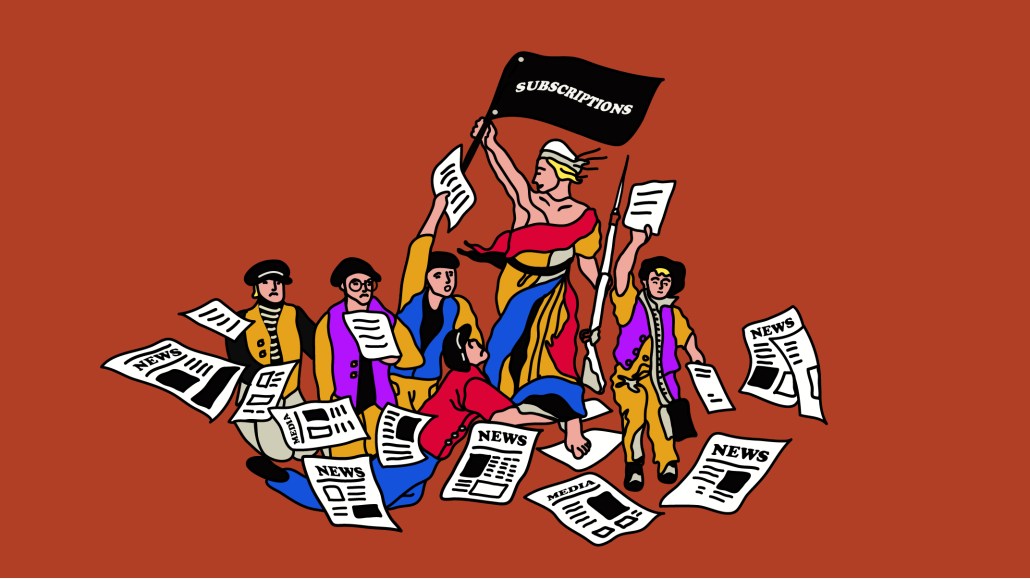 Ivy Liu
It's a new era of subscription bundling and it's a lot more sophisticated than selling readers on a two-for-one deal.
Publishers including Business Insider, the Wall Street Journal and the Washington Post are turning to financial and educational institutions and non-publisher brands to tap into the consumer base traditionally associated with those partners on subscription drives. The goal is to bring in subscribers that publications have identified as crossover target audiences beyond their traditional reach.
Business Insider, which has more than doubled its subscriber base since the beginning of 2020, is looking at its new partnership with American Express to continue on its growth path, according to Selma Stern, BI's svp of consumer subscriptions. She declined to disclose the total number of BI's subscribers and those associated with the American Express relationship.
Last week, BI started offering American Express credit card holders free six- or 12-month trials to the digital publication, depending on the type of credit card they use. This was the first brand-focused partnership specifically designed to drive subscriptions for BI and Stern said that American Express agreement had potential because its card holders have a high population density of small- and medium-sized business owners as well as others in the high-end business segment.
The Washington Post also sees an opportunity for subscription bundling with non-publisher brands, the news publication's chief marketing officer Miki King said in the most recent Digiday Publishing Summit in October.
In particular, she said, companies and organizations in education, healthcare and finance industries are the most appealing as there is a decent amount of overlap with the paper's coverage and the interests of the customers these partners can offer.
"Any of the areas where people are seeking info beyond what the provider of that service can give to them" offers a real opportunity for the Post, King added.
The Wall Street Journal has an additional reason for bundling with non-publisher brands.
Over five years, WSJ has accumulated over 40 bundling partnerships in 25 countries, but alongside the traditional bundles with other publishers that make up a portion of those deals, Jonathan Wright, global managing director of WSJ's parent company Dow Jones, said that partnerships with non-publishers have blossomed in specific regions like Asia.
And while commercial partnerships that include subscription bundling has "played a central role in accelerating our international subscriptions growth strategy," it can also be used as an add-on to more integrated partnerships with sponsors, Wright said.
In 2019, WSJ and Standard Chartered Bank signed what Wright called a "significant partnership deal" that gave WSJ and Barron's subscriptions to the bank's "top-tier" Asia-based customers. He would not disclose the terms of the deal. Other partners in recent years have included trading platforms, telcomm companies, membership groups, airlines and language schools, he said.
Wright said that the reason for the success in Asia in particular is "the fact that we maintain local language publications, which allows us to connect with a broader spectrum of partner publications regionally."
The benefit of connecting publisher and non-publishers together through this subscription bundling model goes beyond the top-line subscription revenue grab and the membership perks that a company's customers get with the access to free subscriptions, according to James Henderson, CEO and co-founder of subscription software company Zephr.
"People often think it's just about driving subscriptions, but it's not. It's about driving to a connected relationship where you continue to earn the right to be connected, but you are the business that can leverage the first-party data relationship," Henderson said.
And both the publisher and the brand can use that information to inform their businesses.
These partnerships are "mutually beneficial," Dow Jones' Wright said, because while the subscriptions are free to the non-publisher linked consumers, "partner organizations have also been able to improve their own key metrics, such as acquisition, engagement and retention of their customers by using our subscriptions and content."
https://digiday.com/?p=386459